While recipes aren't a big part of this website, from time to time, I come across a product so good, that I have to tell you about it.
(This article contains affiliate links, which means I might make a small commission at no extra cost to you if you join ButcherBox. This is my honest review of this product. I've been a customer for years, and I love it!)
I did a livestream of my favorite subscription box, Butcher Box, last month, and it was so popular, I've repeated it this month.
If you haven't heard, ButcherBox is a subscription box that offers sustainably-raised and sourced grass-fed and pasture-raised beef, pork, and chicken.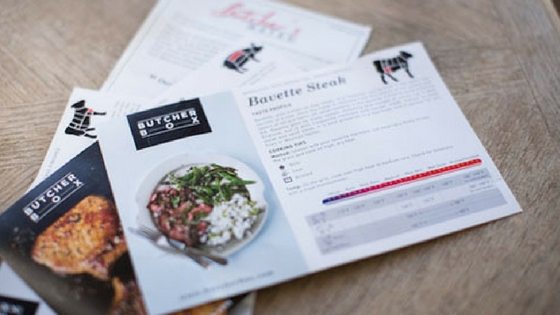 I get one sent to our farm every month – the all beef box – and I love that I can have grass fed, organic meat sent right to my house – something that's otherwise inaccessible in our area.
We choose the beef box because we can raise pigs and chickens….but not cattle.
I started a search for organic, humanely raised meat a while ago – I was tired of staring at hormone-raised, corn fed beef at the grocery.
It wasn't even fresh. It's a joke.
If you're looking for healthy, organic food that's humanely sourced and raised, then watch the video below & see why I love this subscription box so much.
If you decide you want to join ButcherBox, then use this link here: Butcher Box
Until October 31, new customers will get $25 off and a package of bacon with their first order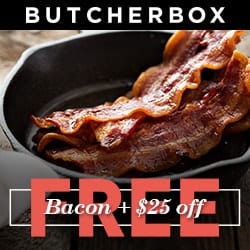 Don't even try to tell me you don't want free bacon. The world turns on free bacon. It's a good deal – check it out!
That's also my affiliate link, which means that when you treat your family to ButcherBox through that link, I earn a small commission, which allows me to feed my kids more organic grassfed beef. So thank you if you use it! Enjoy the video!
<!– Default Statcounter code for We-tried-butcher-box
https://thefrugalchicken.com/we-tried-butcher-box/ –>
<script type="text/javascript">
var sc_project=11964241;
var sc_invisible=1;
var sc_security="c7f7dd30″;
var sc_https=1;
var sc_remove_link=1;
</script>
<script type="text/javascript"
src="https://www.statcounter.com/counter/counter.js"
async></script>
<noscript><div class="statcounter"><img class="statcounter"
src="https://c.statcounter.com/11964241/0/c7f7dd30/1/"
alt="Web Analytics"></div></noscript>
<!– End of Statcounter Code –>
Maat van Uitert is a backyard chicken and sustainable living expert. She is also the author of Chickens: Naturally Raising A Sustainable Flock, which was a best seller in it's Amazon category. Maat has been featured on NBC, CBS, AOL Finance, Community Chickens, the Huffington Post, Chickens magazine, Backyard Poultry, and Countryside Magazine. She lives on her farm in Southeast Missouri with her husband, two children, and about a million chickens and ducks. You can follow Maat on Facebook here and Instagram here.