Table of Contents (Quickly Jump To Information)
Using DIY chicken coop plans to make a home for your hens is so fun – we built our own coops, and we know that when we need another one, we have the skill set to create it easily.
I get lots of questions about how to build a chicken coop, what chicken coops need, what the best chicken coop ideas are to keep your hens safe, and whether you should spend a lot of money on your coop (you definitely don't need to).
So I put together the ultimate list of free chicken coop plans – and I've examined them to make sure the plans are actually free (and available) and that the homes are appropriate accommodations for your flock.
If you have chickens, then here's 55+ free DIY chicken coop plans you can use to make a home for your flock!
Before we get started, many of these chicken coops call for hardware cloth. I recommend 1/2-inch hardware cloth like this. It's not to expensive and proven to keep chickens safe.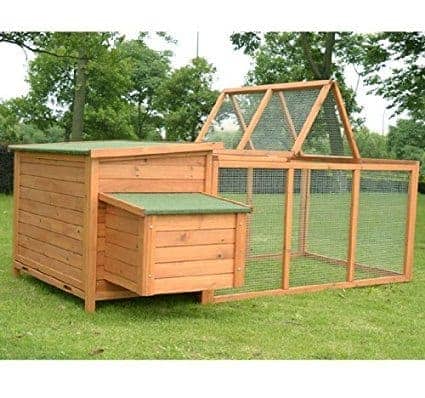 (Don't want to be bothered with building a chicken coop? Here's one you can buy on Amazon for less than $300, shipping included):
Click here to buy this coop on Amazon
Chicken Coop With Great Ventilation (for under $500)
We built this 8'x8′ chicken coop for less than $500 – and we built it in a weekend! We used 2×4 studs and 2×6's for the frame, and OSB for the siding. The roof is made of metal roofing material. It took us only a few hours to build, and the chickens love it! For the door, we used a $30 storm door you can get at any big box store (we bought ours at Home Depot). We currently keep 4 chickens in it. It kept them nice and cozy during a recent winter storm – all our chickens survived and we've never had any get respiratory issues in this coop!
Free Chicken Coop Plans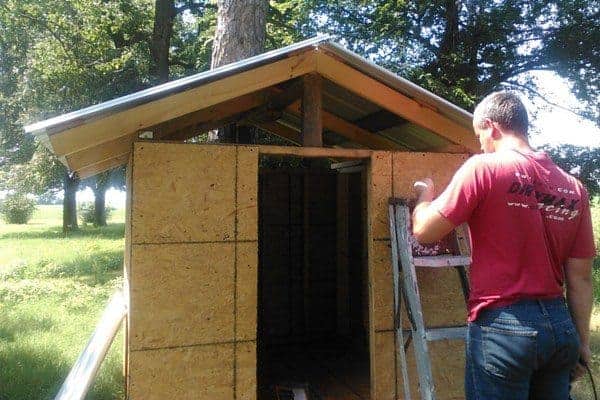 Here are the free plans we developed for a coop on our farm. Our chicken coop design can house 4-5 hens. It took us just a few hours to put this coop together, and just a couple hundred dollars. Years later, it's still housing chickens and works great!
I have detailed plans about how to build this coop here: Get the plans
You can also get a free printable version of the plans right here.
$50 DIY Tractor
We built this tractor for rabbits, but it can easily house 3 hens.
The best part is it cost us less than $50 to make. Particularly if you have chicks, you'll want to try to make this tractor!
It uses a dog crate (which is secure against predators, as long as you set it up correctly) and a wood top, which keeps your darling chicks safe from hawks.
In case you didn't know, hawks are one of the biggest predators of chickens, and can easily kill an entire flock very quickly. So, it's important to make sure your chickens are safe!
The 'South City' Chicken Coop​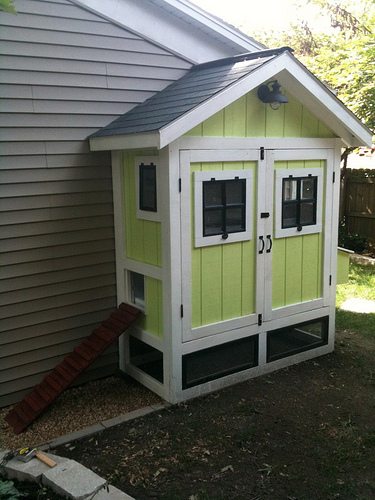 This cute chicken house has lots of natural light, and plenty of ventilation from open windows and vents. The windows can be opened or closed depending on weather conditions. Big enough for 3 hens.
This would look adorable in your backyard, and even your neighbors will love seeing your chickens in it! I love cute chicken houses!
My 6 Chicks's Chicken Coop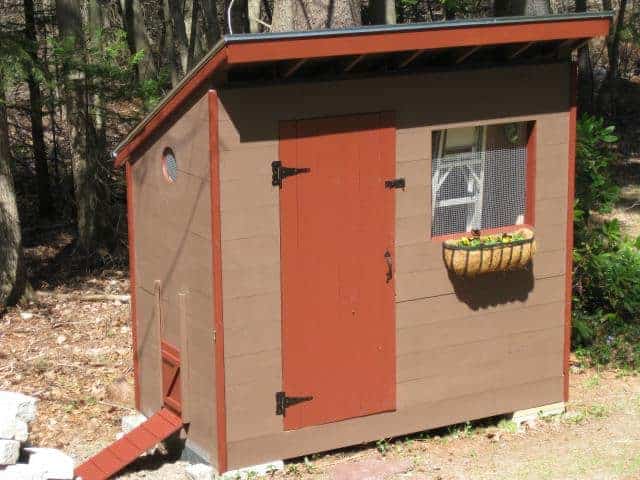 This DIY chicken coop has removable roosts for easy cleaning, a large door for easy cleaning, electricity for the heated waterer, lights, and infrared camera. It also has good ventilation with windows, end vents, and roof vents. This is another one of those cute chicken houses you can make!
These are very important features to keep your chickens cool in summer!
Home Depot Easy To Build Coop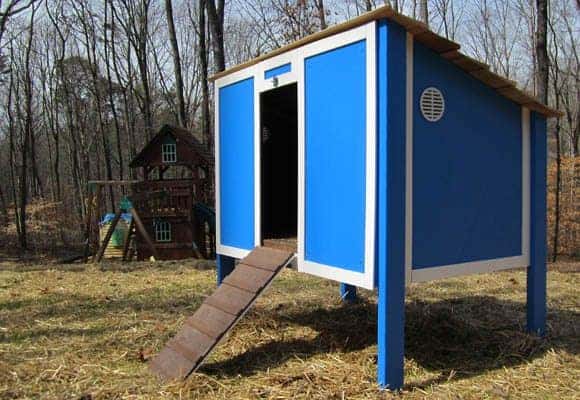 This DIY chicken coop can be completed in a weekend! How convenient! Can house 3-4 hens if your flock will free range.
Farmer Kitty's Chick Coop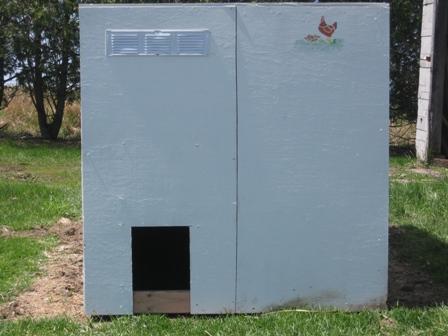 This DIY chicken coop will work without a lot of hassle. Designed after wooden calf hutches. 8 feet by 4 feet, so will easily house 3 hens.
Shed Chicken Coop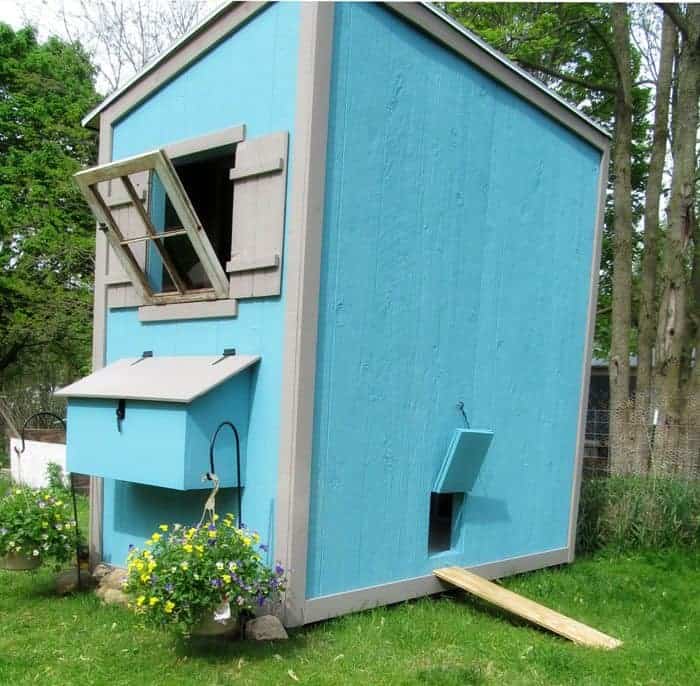 If you use these chicken coop plans, just make sure you put a door that you can fit through so you can clean it. This one can comfortably house 3 hens. It is 4-foot by 8-foot. Great nesting boxes so you get healthy eggs.
Hoop Coop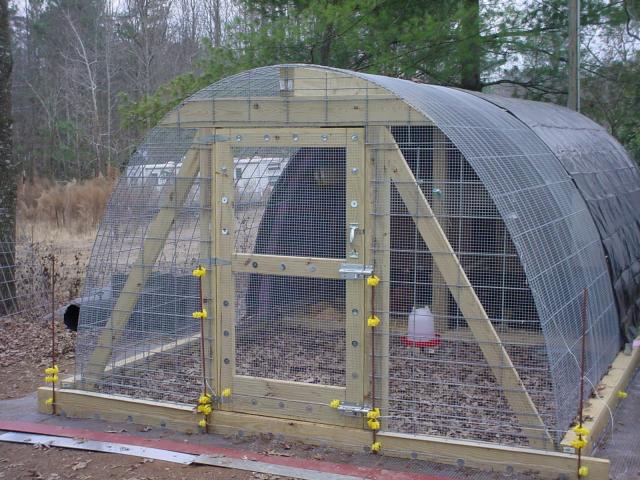 These DIY chicken coop plans are inexpensive and easy to build. LOVE how easy the cattle panels make building the frame a snap and they will last a long time and are sturdy. The 16 ft x 10 ft space can hold 16 hens.
Pastured Poultry Pen
Inexpensive to build with these plans. Movable PVC coop so your hens can feel like they're free ranging.
Easy DIY Chicken Coop Plans
Plans for a coop that can house 4 – 5 birds. Coop is 28 inches by 40 inches. Chicken coop run is 40 inches by 144 inches.
The Kerr Center Chicken Tractor 1.0
This DIY chicken coop (or tractor) is 60 inches wide and 8 inches long. The original cost approximately $290.00 to construct, but if you repurpose lumber or upcycle pallets, it will cost you less.
Kansas Barn Chicken Coop Plans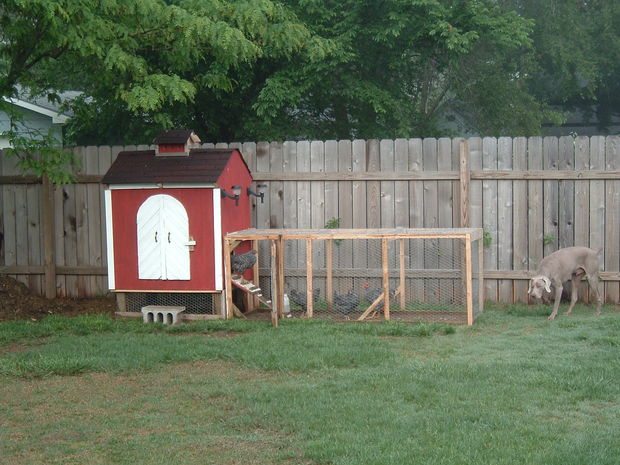 This pretty chicken coop is meant for 3-5 laying hens. Inspired by some Kansas barns and perfect if you have neighbors.
Large Chicken Coop Design
4-foot by 8-foot coop that can house 3 hens.
Green Living Chicken Coop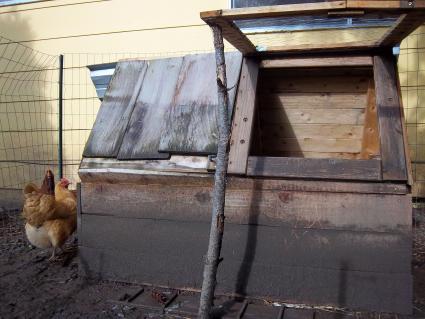 Small coop that takes advantage of your house heat. Not the best option if its warm where you live, but great for cooler areas, especially in winter to keep your backyard chickens warm.
The Feather Factory Chicken Coop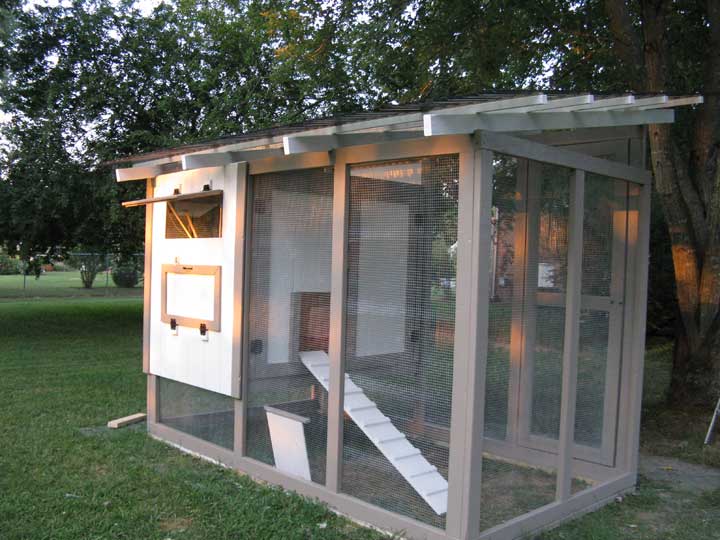 Attractive DIY plans that can house up to 5 birds. Great if you're handy and want something good looking. Super cute and makes feeding your chickens easy since it's tall enough for a person to stand in.
6 Hen Chicken House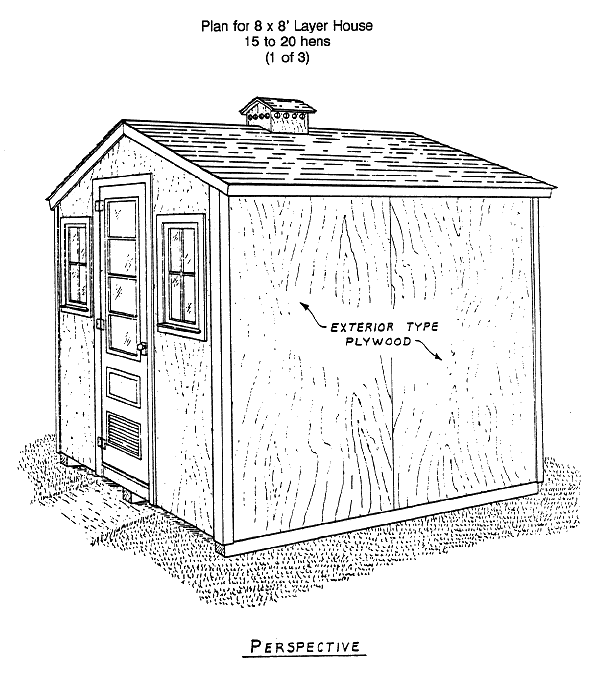 Easy to follow plans for a well-constructed coop. 8×8 foot coop can house 6 hens.
Downeast Thunder Farm Chicken Coop Plans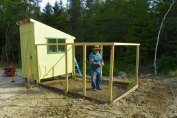 32 square foot coop can house 3 birds. Boasts an outside door for egg collection, north facing opening windows covered with chicken wire and south facing windows for sun. If you live in a hot environment, you might want to make windows on both sides open for ventilation.
A-Frame Chicken Coop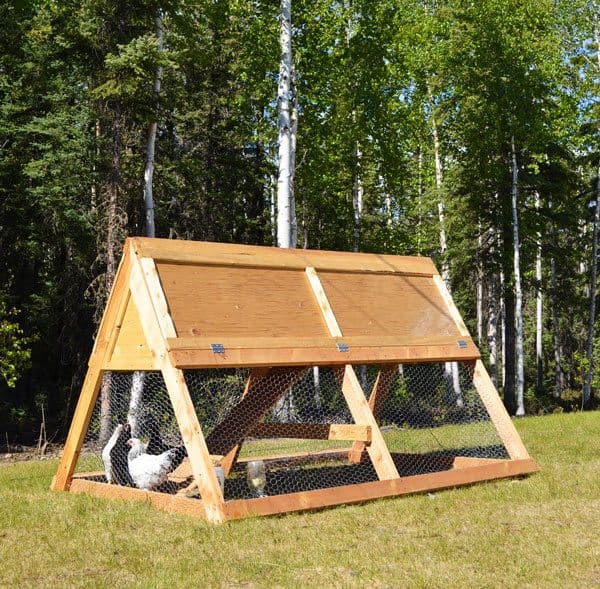 Great option if your hens can't free range, and can easily be adapted to become a tractor. Original built for less than $100. Can house up to 4 hens.
Fox's Log Cabin Chicken Coop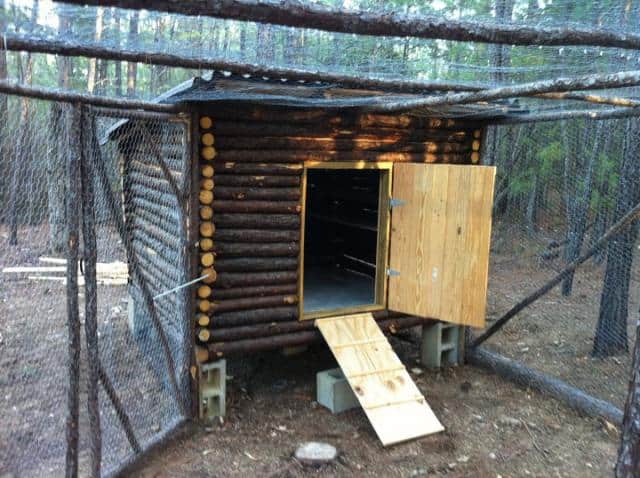 6-foot by 6-foot DIY coop can house up to 3 hens if they will be cooped all the time. Original built for $400.
Tarter Farm Chicken Coop
Coop is 20 feet by 20 feet, and has 6 nesting boxes. Can house up to 40 hens.
Small Backyard DIY Chicken Coop
Can fit 2 chickens.
Sunrise Chicks Chicken Coop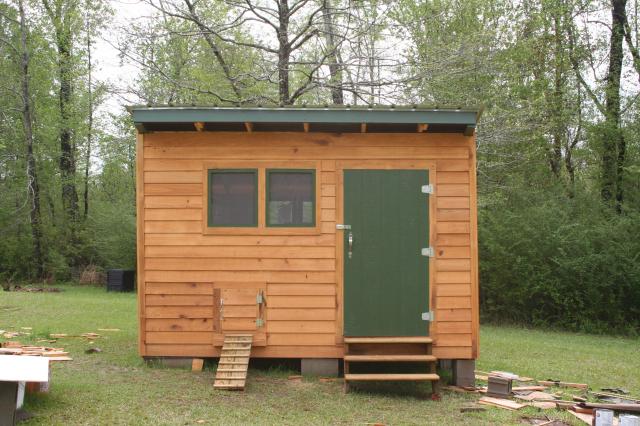 This chicken coop is large and roomy and can fit at least 10 chickens. Looks great in any backyard, and the ramp would make it perfect as a duck house. Definitely one of the cute chicken houses you can make!
13 Hen DIY Chicken Coop
Coop is 132 feet squared, and has 3 nesting boxes. If you use these free plans, you might want to add more nesting boxes or a dust bath for chickens.
Coq au Vin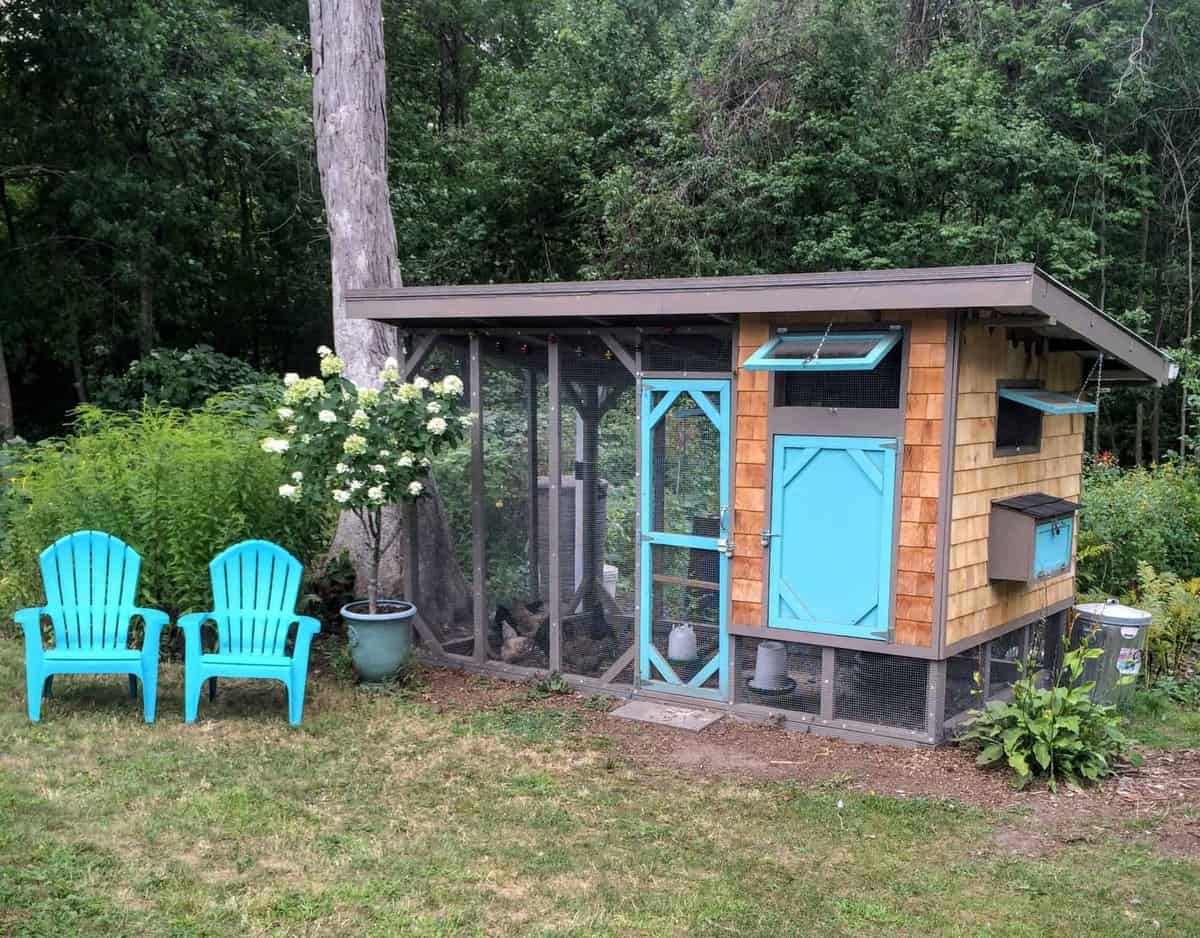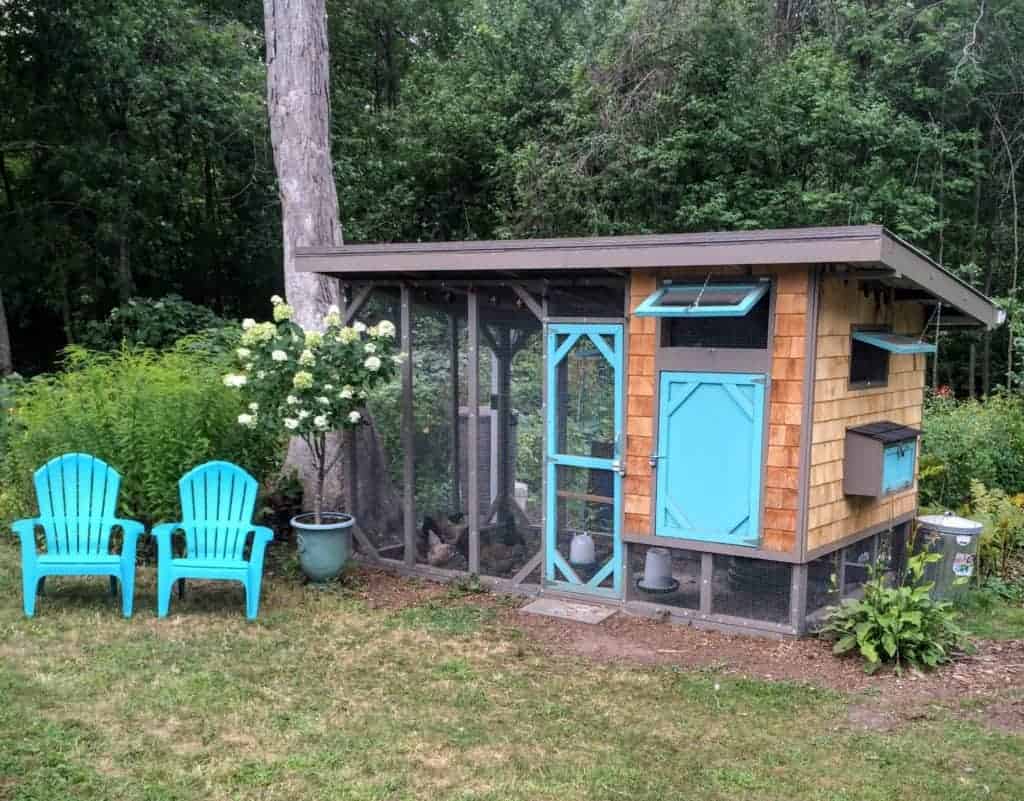 This DIY coop houses up to 6 chickens. The original cost about $1500. The 4×4 wood posts are painted and put on cinder blocks that the creator buried and leveled in gravel at ground level to reinforce the structure.
Such a cute color and such a cute chicken house!
Baby Crib DIY Chicken Coop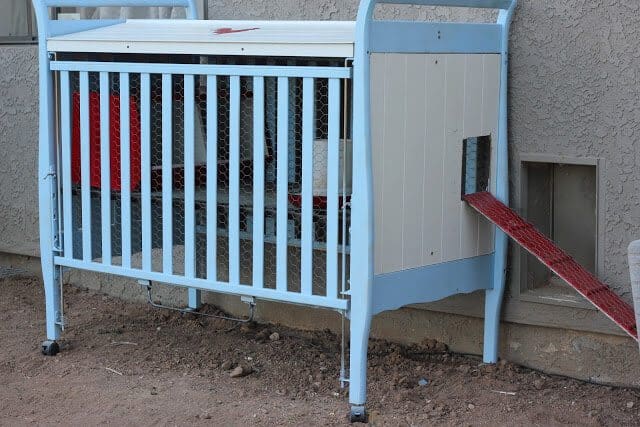 A good idea for recycling a used baby crib that you can't donate. The drop side comes down so you can gather eggs easily. Can house 2-3 hens in it. If you live in a cool area, you will need to think about how to insulate it in the winter so your flock stays warm and your chicken's water doesn't freeze easily.
Trampoline DIY Chicken Coop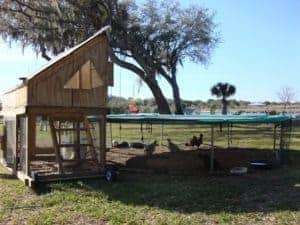 Roomy and can house quite a few hens. You will need to make sure it's predator proof.
City Farm Chicken Coop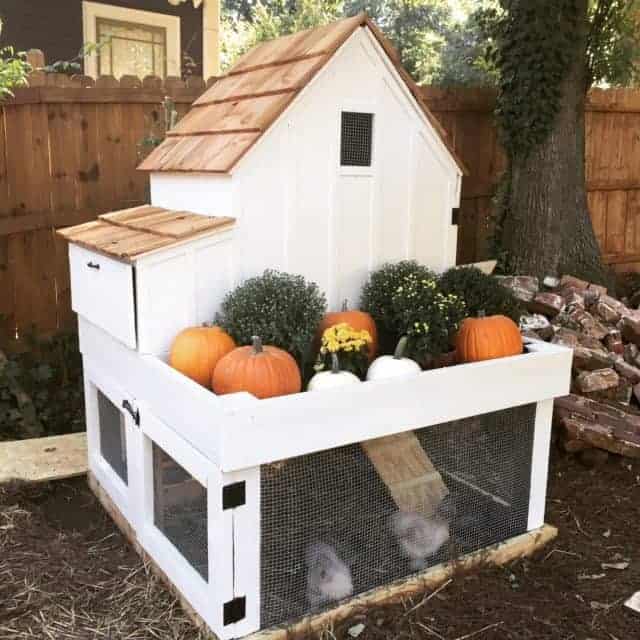 Original was built for about $350. This is a cute little coop that can house 4 hens. And Silkies are perfect chickens as pets!
Cute Trevor Made Chicken Coop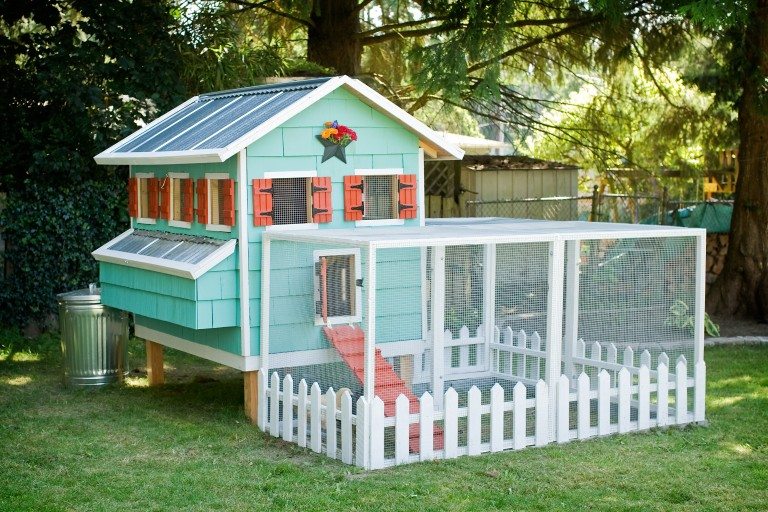 DIY plans for a coop large enough to house up to 12 chickens. Original builders raised the floor of the coop about 2 feet above the ground both to deter predators and to give the hens a shady place to hang out during warm weather. I just love all of these creative and cute chicken houses!
The REAL Housewives of Riverton Chicken Coop Plans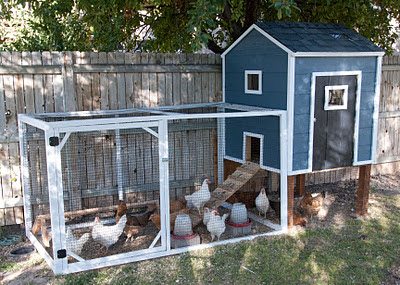 Stylish chicken coop built for about $290. Can house up to 5 chickens.
Chick Brooding Cabinet Coop
If you have chicks, you'll need a brooder. Here's DIY chicken brooder plans you can make out of an old cabinet.
"The Coop" est. 2013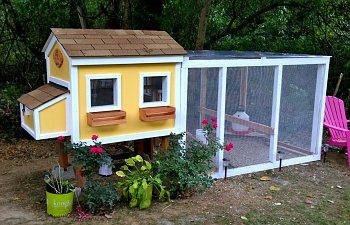 This cute DIY chicken coop is 12 square feet, and can house 3 hens if they free range (2 if not). Has a nesting box and is 2 feet off the ground.
PRETTY AND FUNCTIONAL CHICKEN COOP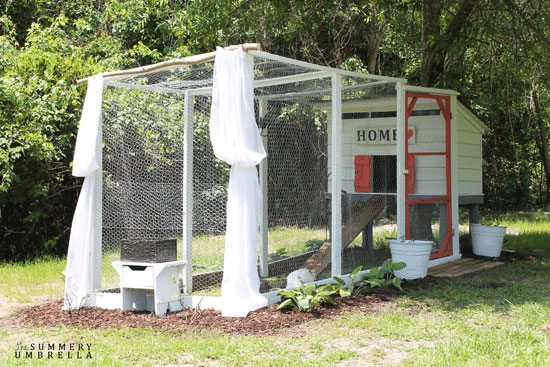 Has three doors for easy access: One on the front for the chicken flock to exit, one to collect eggs, and one for easy cleaning. Can house 4 hens.
Bluegrass Coop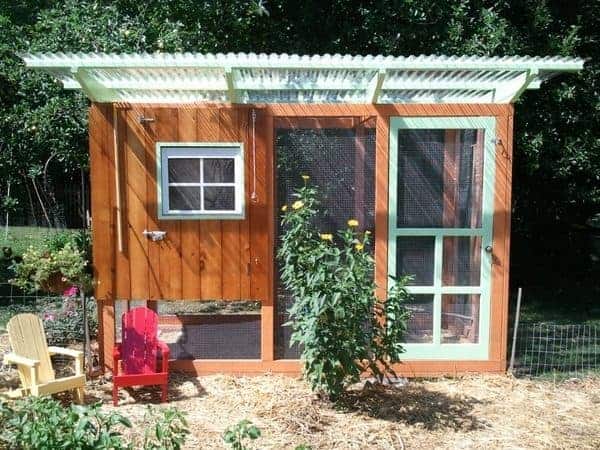 Has wire under the coop to keep out predators. Cute and functional coop.
Red, White, and Blue Chicken Coop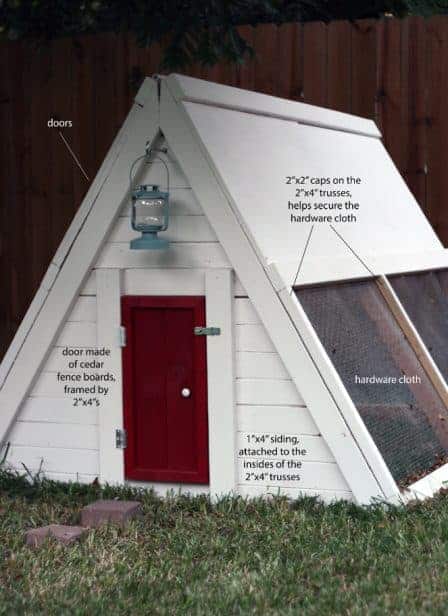 A-frame DIY coop with enough room for 4 hens. Very rustic and sturdy.
The Eggcelsior
Built for free, can fit up to 6 hens.
Geodesic Dome Chicken House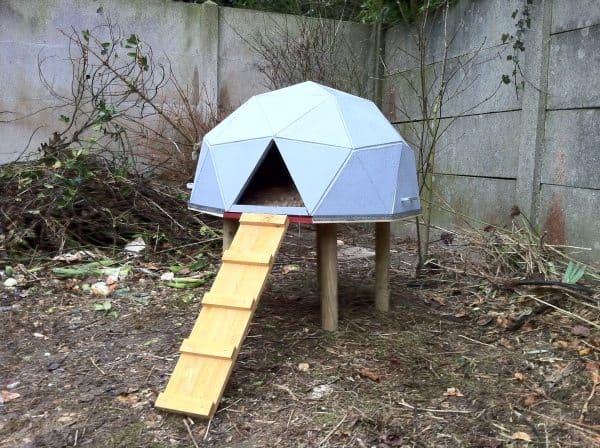 Houses 2-3 hens. Cheap to make, and the design means it will be warmer in winter than a traditional chicken coop. Raised off the ground so the chicken flock is safe from moisture creeping up from the ground – good for your hens' lungs.
Doghouse Coop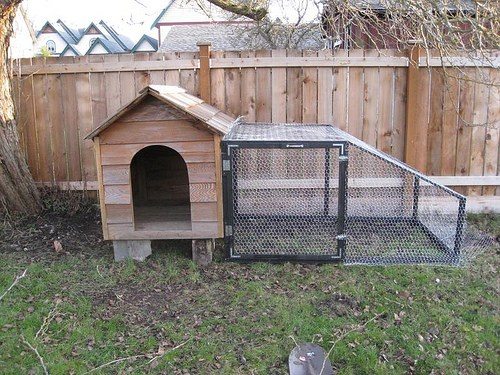 This DIY chicken coop is 12 square feet and can house 2-3 hens. The original builder used a branch as a perch – a good idea that chickens love.
The Chicken Cube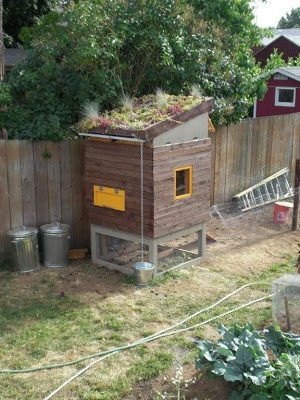 Cute dual-purpose coop – keep your chickens inside, and grow free food for the on the top!
Wee Kirk Coop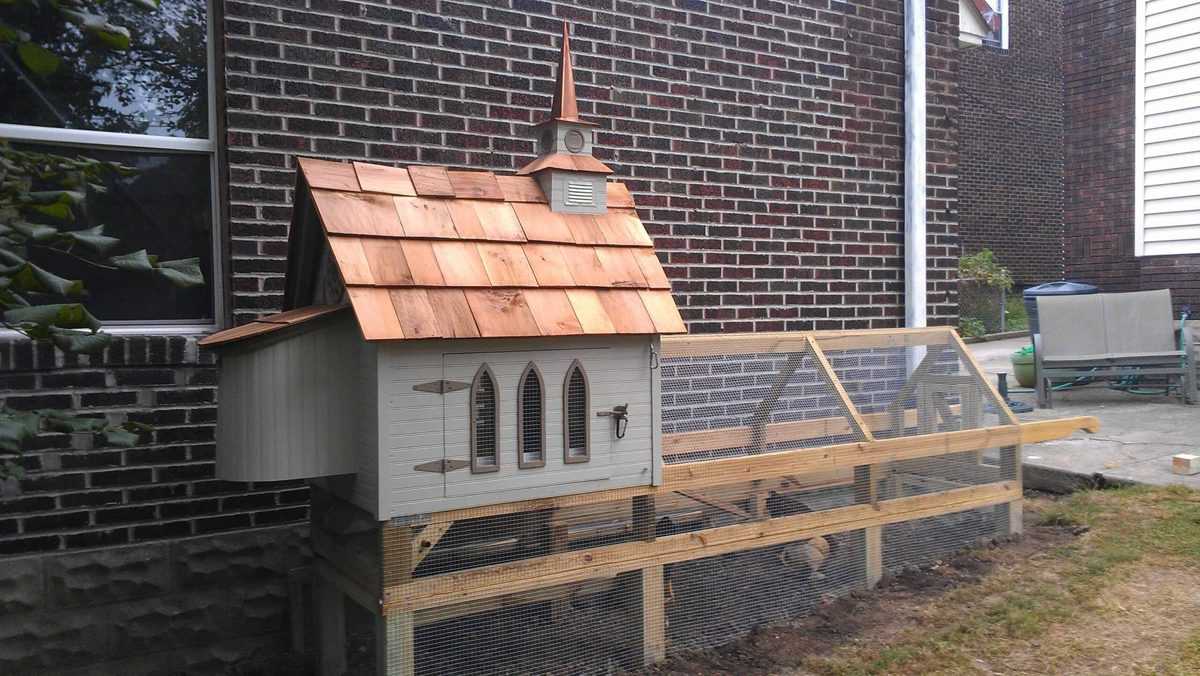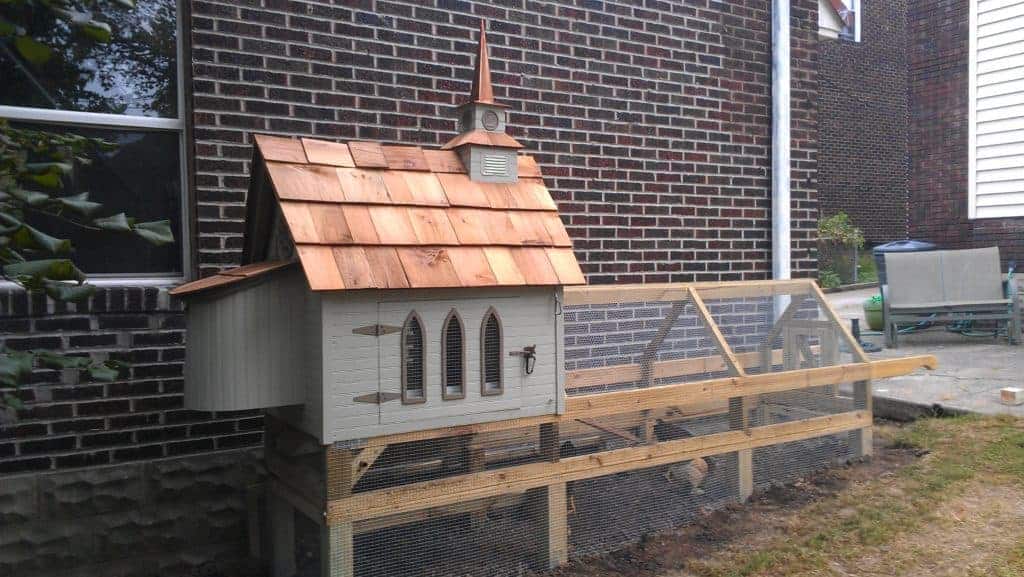 A cute chicken coop shaped like a church. Doubles as a chicken tractor. Can house up to 4 hens. One of many wonderful backyard chicken run ideas.
THE CHOO CHOO COOP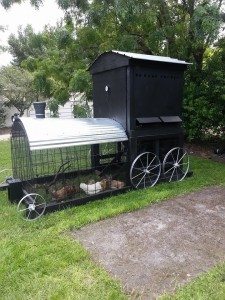 DIY chicken coop that looks like a train. This is certainly another one (of many) cute chicken houses! It has a double-top door for gathering eggs and for changing food and water. Can house 3-4 hens.
Pallet DIY Chicken Coop Plans
Pallet Palace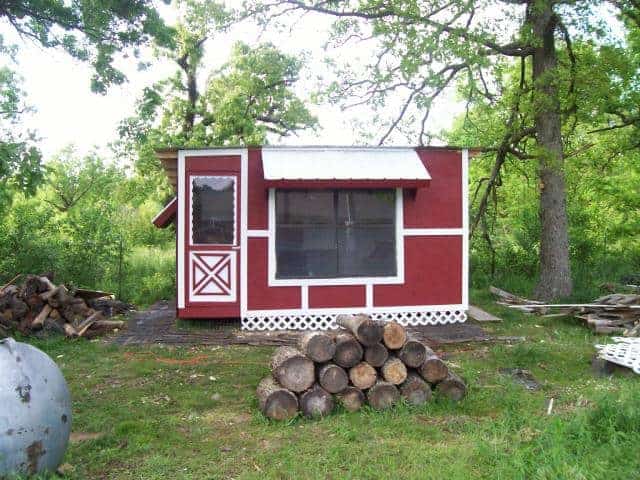 Totally made out of free pallets. This design is great for chicken coop builders who don't want to frame walls, roofs, etc. It also saves you quite a bit of money on lumber costs for you can get pallets free!
Judy's Free Pallet Chicken Coop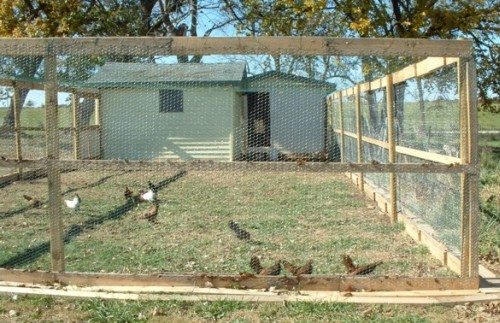 Another free pallet DIY chicken coop. The only things purchased were the vinyl siding and the roofing, and the nails and hinges. The builders saved about $1000 in lumber by using the free pallets. It also showcases one of the many clever backyard chicken run ideas mentioned in this DIY chicken coop list.
Wire Spool Chicken Coop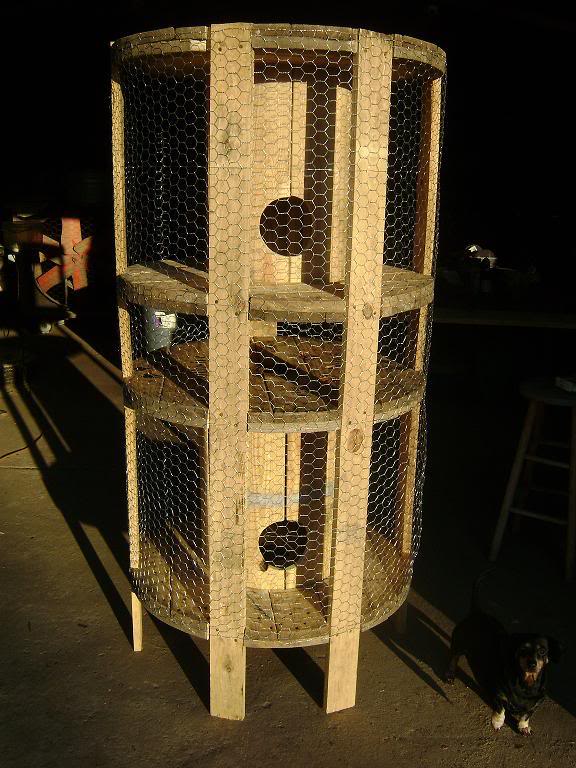 Made from free recycled wire spools. Total cost was $45 after the chicken wire was purchased.
3 Sided Pallet Coop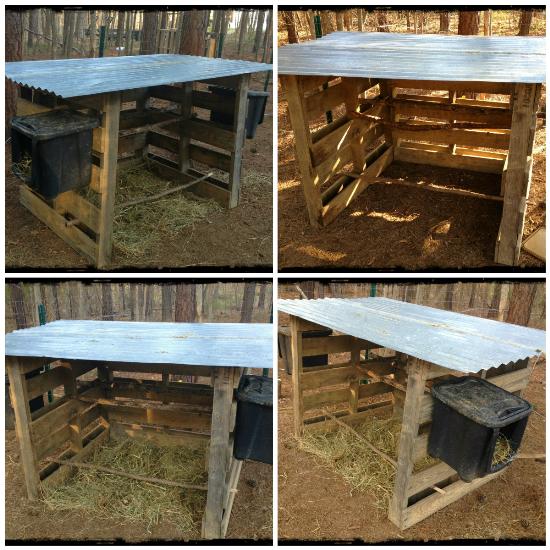 When the original was built, the plans creator used recycled pallet coops, and only paid for the tin roof. If you use these plans, you might want to add a door to keep your hens safe from predators.
Modern Design Chicken Coop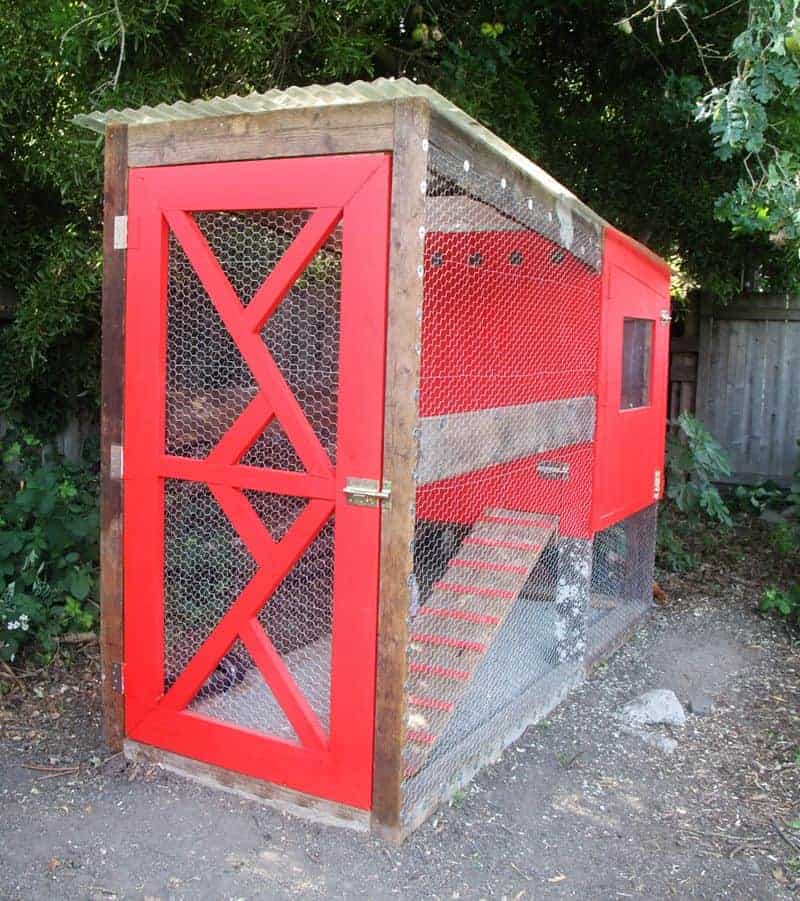 This chicken coop is made entirely out of reclaimed wood. Predator proof with skylights, vinyl flooring, nesting boxes, roosting bars, and lots of ventilation. Perfect for 4 free ranging hens.
Chicken Coop From Pallets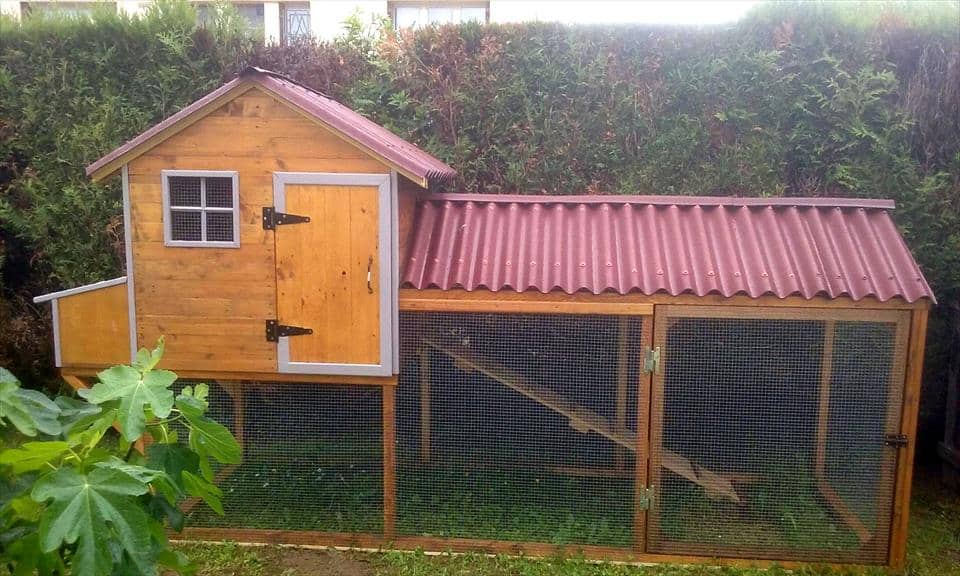 Great design and cute chicken coop made from free pallets. Has a metal chevron roof with curved texture. Can house up to 6 chickens.
Another Rustic Pallet DIY Chicken Coop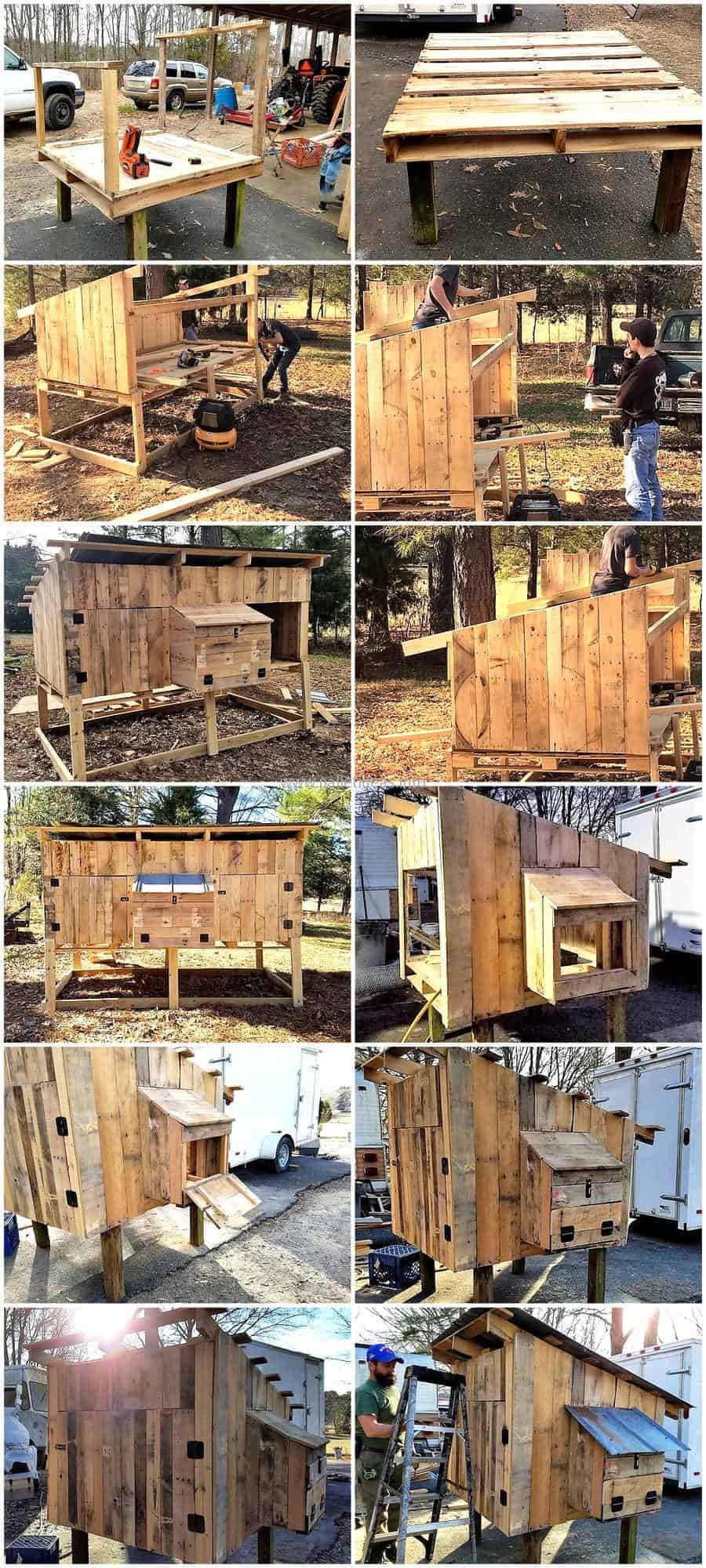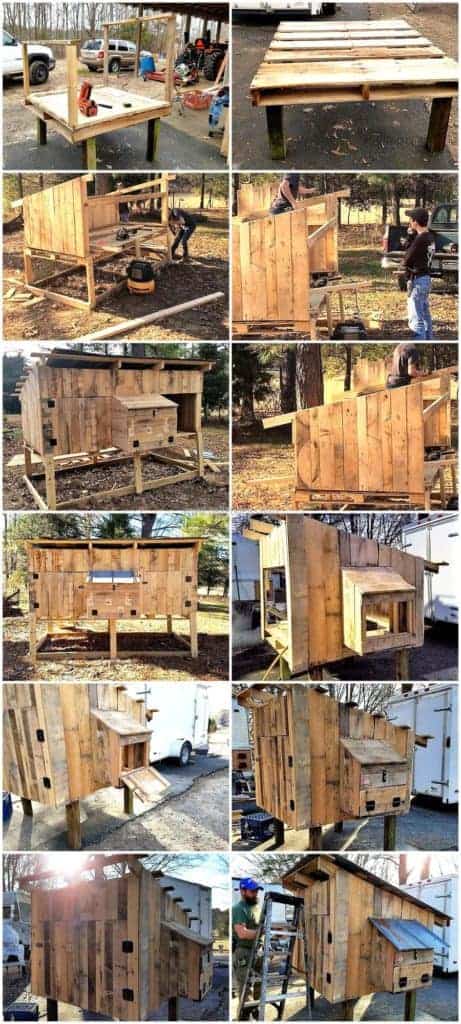 DIY wood pallet chicken coop plans that can house up to 4 chickens.
8×10 Large Chicken Coop
Can house up to 8 chickens (the original plans say up to 30 hens, but that's way too many for the space.)
DIY Chicken Coop Plans Made Out Of Swing Sets
Steadfast's Chicken Coop
Chicken coop made out of an old swing set. Original was built for $1000. Looks like it can house up to 6 hens.
Swing Set Into an Upcycled Chicken Coop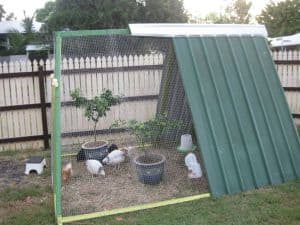 Another swing set created into a coop for about 4 chickens.
Other Chicken Coop Plans
Tongue and Groove Cedar Coop
Can house up to 4 chickens. The original cost about $400 and is made of tongue and groove cedar – should last a long time outside.
The Chicken Ranch: Eggceptional Lays
Upcycled children's playhouse. Total cost was only $3, and it houses up to 5 chickens.
THE RUSTIC / WHIMSICAL COOP
Built for $35, and houses up to 8 hens. Old windows-turned-doors are fully functional and open out to make cleaning easy.
Build Easy Chicken Coop
This chicken coop should comfortably house at least 4 hens,if your flock will free range. Has 4.5 sq ft of space per chicken, 3 nesting boxes, a door, ventilation, lots of light and a human-sized door.
Head spinning yet?
If you want to buy one, you can get a great chicken coop like this one on Amazon.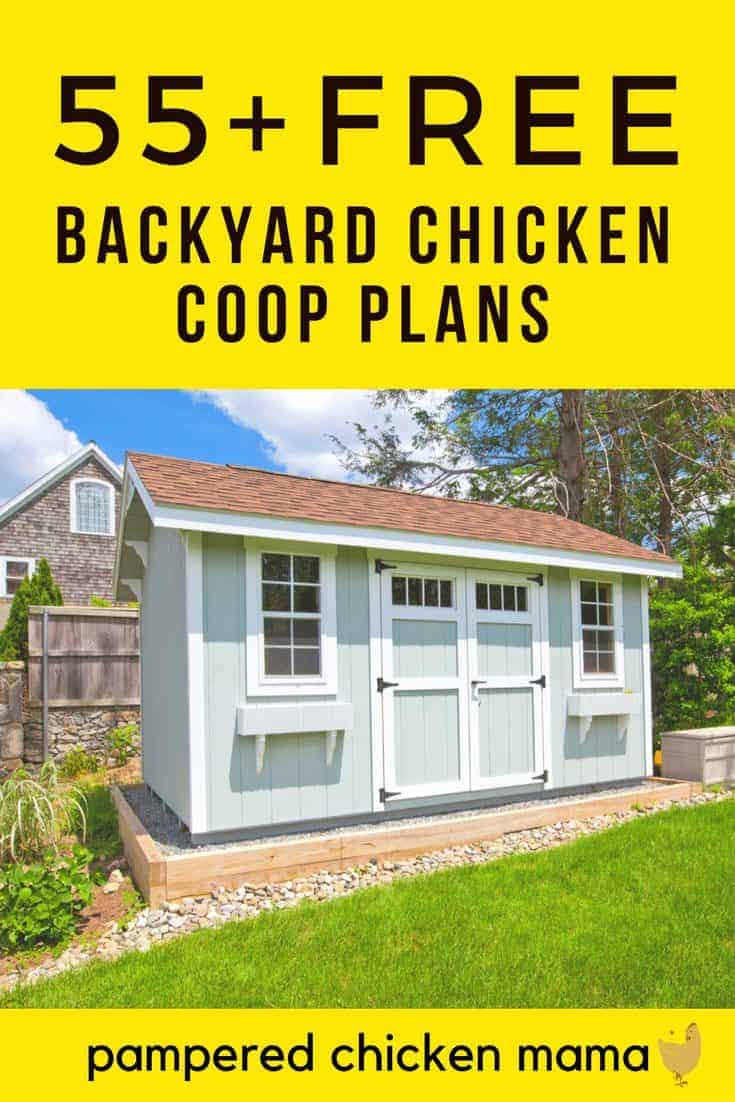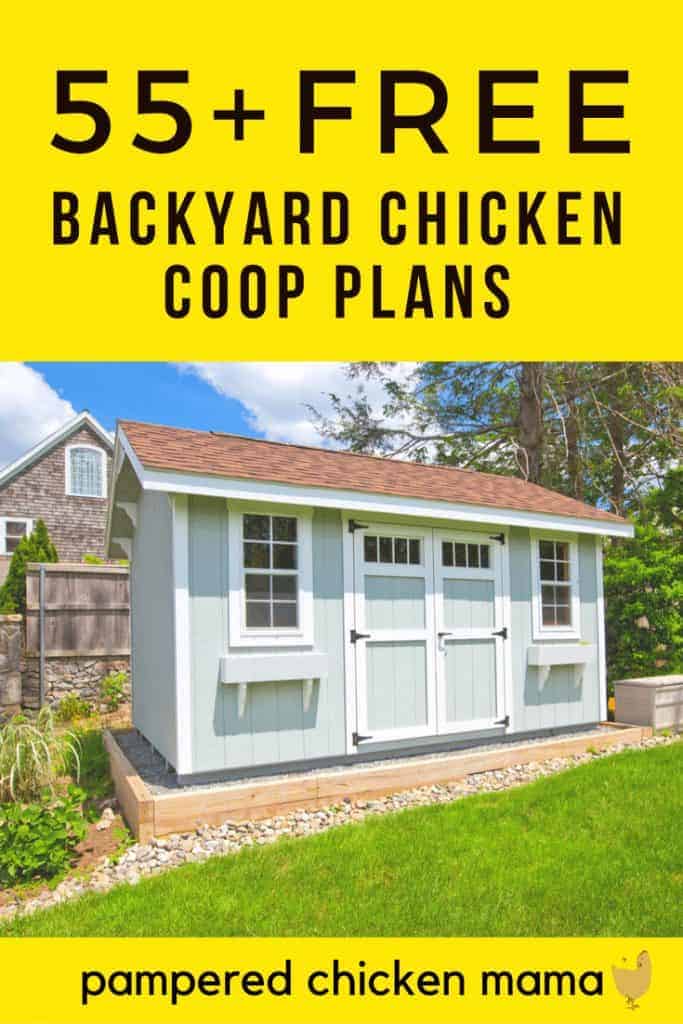 Maat van Uitert is a backyard chicken and sustainable living expert. She is also the author of Chickens: Naturally Raising A Sustainable Flock, which was a best seller in it's Amazon category. Maat has been featured on NBC, CBS, AOL Finance, Community Chickens, the Huffington Post, Chickens magazine, Backyard Poultry, and Countryside Magazine. She lives on her farm in Southeast Missouri with her husband, two children, and about a million chickens and ducks. You can follow Maat on Facebook here and Instagram here.