The best treasures are often the hardest to find – but if you're looking for the best hatcheries to buy Blue Laced Red Wyandottes, you've come to the right place.
Imagine the state of the world if everyone had a goblet that provided them with eternal life. In a way, it might cheapen the experience.
Or, if you're one of those individuals with a notorious history with your in-laws, it might mean that they would constantly be ringing your spouse to complain about you.
Luckily, when we think about the Blue Laced Red Wyandottes, it's not annoying in-laws that we have to worry about, but rather, just how beautiful and special these birds are.
They were developed in New York State and Wisconsin in the late 1800s, and the color range is enormous! But the best variety of Wyandotte, the Blue Laced Red variety, is the hardest to come by. They are that special version of the elixir of life that add incredible depth of color to the flock with their blue splashes at the tips of their feathers.
These dual-purpose chickens truly are a sight to behold. What makes them so valuable, though, is the fact that they do not breed true. In order to get their special coloring, breeders must breed quite carefully, and even then, there is a chance that the offspring won't have the remarkable coloring that these exquisite birds are known for!
As a result of the challenge of breeding them, Blue Laced Red Wyandottes tend to be a bit more expensive than most chicken breeds.
There are a number of hatcheries around the USA that offer them, however, so while the task of getting these special birds is nothing to laugh at, finding them is not as laborious as ages of research, dark web adventures, or run-ins with Nazis. Below are ten of the best places to find Blue Laced Red Wyandotte Chickens!
Table of Contents (Quickly Jump To Information)
What Are Blue Laced Red Wyandottes?
If you are looking to start a backyard flock of productive, winter-hardy egg layers, you might want to consider raising Blue Laced Red Wyandottes.
These chickens are excellent mothers, often going broody but best known for their blue color that's expressed through blue lacing. This breed of chicken also makes an excellent pet and can be raised for meat, too.
A heritage American breed, the Blue Laced Red Wyandotte will lay up to 260 eggs per year. Roosters generally lay around eight and a half pounds while hens are about six and a half. Docile and productive, these chickens are some you've got to consider raising!
10 Best Hatcheries to Buy Blue Laced Red Wyandottes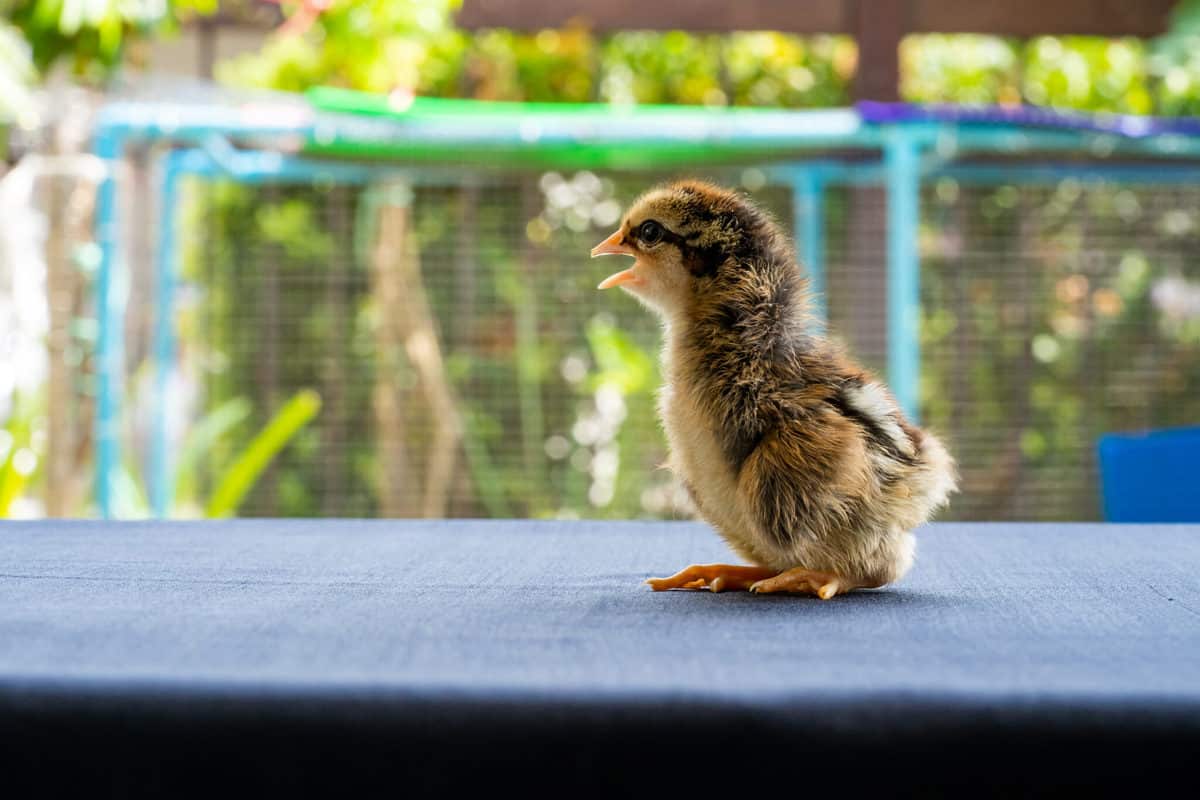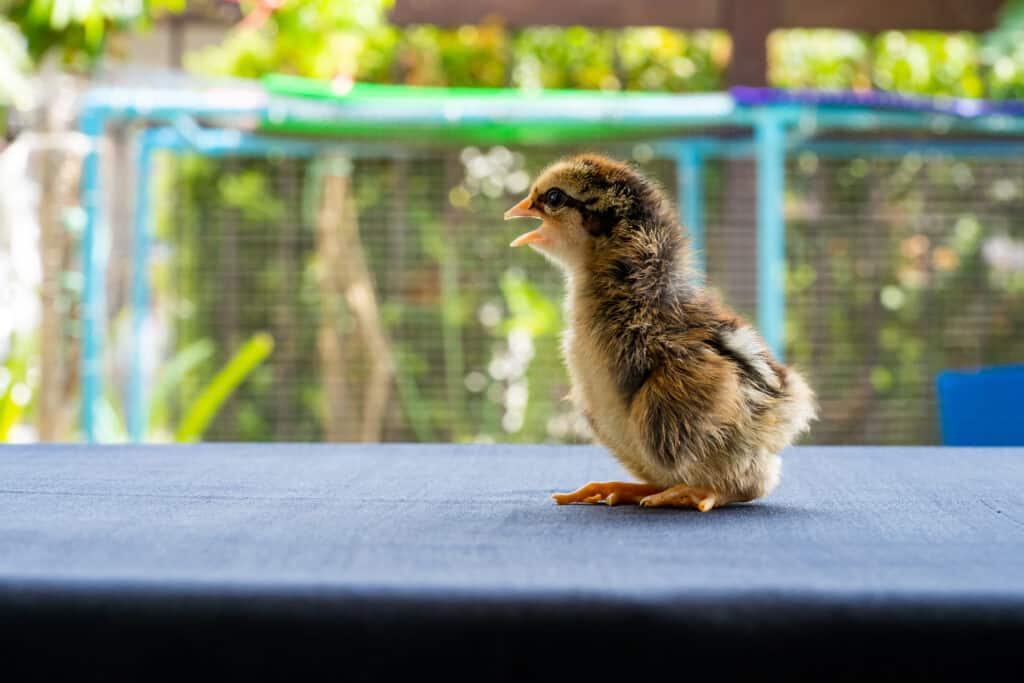 Average Straight-Run Blue Laced Red Wyandotte Chicken Price: $11.13
Meyer Hatchery is based in Polk, Ohio, and boasts itself as the "premier Poultry Source." Priding itself on customer service and availability, Meyer Hatchery provides a variety of chicken breeds to meet customer demands for color and diversity. They welcome mixing and matching of breeds of the same poultry type to meet minimum order requirement for safe shipping. Not sure what kind of breed is right for you? Be sure to check out this comprehensive list.
To help with orders, they have a calendar of hatchings.
Meyer has a variety of means of communication, including multiple phone numbers, fax, and email. They also run a blog that covers everything from breeds to plant pairing with chickens, feed, cooking recipes, fowl entertainment, and survival tips.
Looking for some other good resources when it comes to entertaining and treating your flock? Be sure to grab some of these mealworms for your birds. They're entertaining and a great source of nutrition!
Advantages
Website is up-to-date in real time.
Accepts checks and credit cards.
Guarantees gender of chicks either through refund or store credit.
Optional vaccination.
Member of the National Poultry Improvement Plan (NPIP), and provide NPIP VS Form 9-3 free of charge.
Offer orders of over 100 chicks.
Disadvantages
Limited store hours that change with the season.
Average Not Sexed Blue Laced Red Wyandotte Chick: $3.90
Cackle Hatchery proudly boasts that they have been hatching and shipping since 1936. A third-generation hatchery based in Missouri, their mission is to provide customers with quality poultry for showing, meat, enjoyment, and egg production. They ship throughout the USA, including Alaska, Puerto Rico, and Hawaii. They offer nearly 200 different types of chickens at all stages.
Cackle also offers many other kinds of poultry including ducks, water fowl, game birds, turkeys, and other fowl. They are also a good source for supplies and book.
Advantages
Discounts if you buy male chicks.
Vaccinations available.
Only need 3 birds to ship (or just one for male birds).
Disadvantages
Limited availability (February through August).
Sold as baby chicks only.
Average Unsexed Blue Laced Red Wyandotte Chicken Price: $3.90
Murray McMurray started his chicken business in 1917. As a banker, he sold his chicks to locals through the bank and by 1919, he had developed his own stock of chickens. During the Great Depression, he devoted himself to chickens full time. Since then, Murray McMurray Hatchery has developed into one of the largest chick hatcheries in the country. They sell more than just chickens, with ducks, geese, guineas, turkeys, other fowl and game birds all in the catalogue.
Sexed male chicks tend to be the cheapest, meaning you can get some serious savings if you're planning on raising these birds primarily for meat. You can also buy pullets or mix and match your order with chicks of other breeds, too.
Advantages:
Bulk discounts available.
Excellent breed availability through August .
Disadvantages:
Minimum order of six birds at a time.
Available only as chicks.
Average Straight-Run Blue Laced Red Wyandotte Chicken Price: $11.15
My Pet Chicken got started in 2005 by Traci Torres and her husband, Derek Sasaki, two novices to the chicken world who had a dream to help other novices in their farmers' goals. To do this, the put free how-to information on the web and offered some unique products and services.
The website launched in 2005 and in 2006, their flock had grown to the point to where they started offering chicks for sale from their headquarters in Monroe, CT. The site has been mentioned in another of publications, and serves tens of millions of page views per year.
Advantages
Offers Marek's vaccinations on all standard chicks at the click of a button.
Consistent hours of operation.
A good source for questions about ordering chickens, chicken care, and about raising chickens.
Full refund for any bird that has been incorrectly sexed.
Disadvantages
Limited availability.
Does not have a storefront.
There is a 10-chick maximum on this breed.
Average Straight-Run Red Laced Blue Wyandotte Chicken Price: $3.78
Located in Bancroft, IA, Welp Hatchery was founded way back in 1929 by Joseph H. Welp. Without a doubt, it's one of the best hatcheries to buy Blue Laced Red Wyandottes.
While their specialty is Cornish Rock Broilers, they have diversified to include a wide range of chicken breeds. To simplify their orders, they have a catalogue available for viewing or downloading. From their shipping points in Iowa, New Mexico, Minnesota, and Wisconsin, this hatchery truly has a wide reach.
Advantages
Can choose the breeding date on the product page.
Marek's immunization is a one-click process.
Disadvantages
Average Straight-Run Red Laced Blue Wyandotte Chicken Price: $7.32
Another established brand if you're looking for chicks is Hoover's Hatchery. Hoover's supplies many farm and garden supply stores in the United States with their chicks, making them a smart choice if you want to skip the middleman and order from the hatchery directly.
Plus, Hoover's offers free shipping on practically everything you order. You'll have to buy at least 15 chicks; so Hoover's might not be the best option if you live in a city with chicken restrictions. However, as long as you're willing to buy in bulk, it's a smart choice. You can even mix and match your order by adding other birds of other chicken breeds along with poultry species like pheasants, turkeys, guineas, ducks, and more.
Another benefit of ordering from Hoover's Hatchery? Despite the fact that this hatchery is located in Iowa, not necessarily a warm-weather state, it hatches chicks all throughout the year – a must-know feature if you plan on buying chicks around Christmastime.
Advantages:
Excellent guarantee and refund policy in case of shipping problems.
Hatches chicks during the winter, one of the few hatcheries to do so.
Sells other kinds of poultry too.
Disadvantages:
Large minimum order.
Offers chicks only.
Average Straight-Run Red Laced Blue Wyandotte Chicken Price: $15.00
Elk Valley Farm specializes in raw milk products and rare heritage poultry. They are located in Eagle Point, OR and focus on quality over quantity. With their focus on environmental stewardship, they provide only the highest quality meat, white and brown eggs, and milk. The eggs they produce are vetted for beauty and breed standards, which means that all of their birds have tested negative for diseases and are readily available for shipping all around the USA.
Advantages
Has a convenient breeding chart for predictions of hatched coloring.
Bred with a focus on sustainability and environmental stewardship.
Offer both local pick-up and shipping.
No minimums for chicks picked up on the farm.
Disadvantages
Color ratios of naturally hatched chicks come as what is available from sale.
Do not accept returns.
Does not ship to Alaska or Hawaii.
Average Not-Sexed Day-Old Blue Laced Red Wyandotte Chicken Price: $15.35
As a family-owned business, Purely Poultry has some of the best customer service around. They pride themselves on their knowledge of their products, selection, and how-to details related to everything they offer, including ducks, backyard chickens, geese, and lots of other birds!
Located in Durand, WI, they guarantee live birds with every order, which is a good promise, indeed!
Advantages:
Each order backed by live arrival guarantee.
Small order minimum on chicks.
Other kinds of poultry offered, too.
Disadvantages:
Not a huge advantage to buying multiple chicks – discounts are minimal.
Average Straight-Run Blue Laced Red Wyandotte Chicken Price: $6.00
Chickens for Backyards is an online poultry store that ships orders from Phillipsburg, MO. It sells over 100 breeds of day-old chicks, ducks, geese, turkeys, and guineas with orders as low as three fowl. They have a mix and match option for all breeds, which can be shipped all in the same order.
Shipping schedules run from February through October. On their website, they offer a comprehensive FAQ page and Chick Care information.
PS – don't forget to pick up your chick starter! As the Chickens for Backyard website will remind you, starting with the right feed is essential. This chick starter, mixed with herbs and apple cider vinegar, is a great option to keep your flock healthy.
Advantages
Orders can be cancelled up to 24 hours before shipping.
Free shipping on supplies.
Comprehensive FAQ that covers a range of questions from care, feed, shipping, sexing, local laws relating to chicken farming, and terms.
Disadvantages
Offer a 90% sexing guarantee, and will refund 90% of the purchase price once the 90% guarantee is surpassed.
Limited Availability.
Average Straight-Run Red Laced Blue Wyandotte Chicken Price: $4.00
Hatch Poultry is unique among many vendors in that their primary focus is quails rather than chickens. That is not to say that they lack an extensive selection of backyard chickens, with no fewer than 17 different breeds available, including Leghorns, Sai Pan, Jungle Fowl, Rhode Island Whites, Wyandottes, Ayam Cemani, and Silkies.
They got their start in Maine, and have spread all over the state as well as branching out to Florida, California, Ohio, and Texas.
Advantages
Offer discounts to commercial customers.
Offer no less than a 50% hatch rate.
Free domestic shipping on orders over $75.
Disadvantages
Orders have a 7-day wait before placement in the shipping calendar.
Which of These is the Best Hatchery for Blue Laced Red Wyandottes?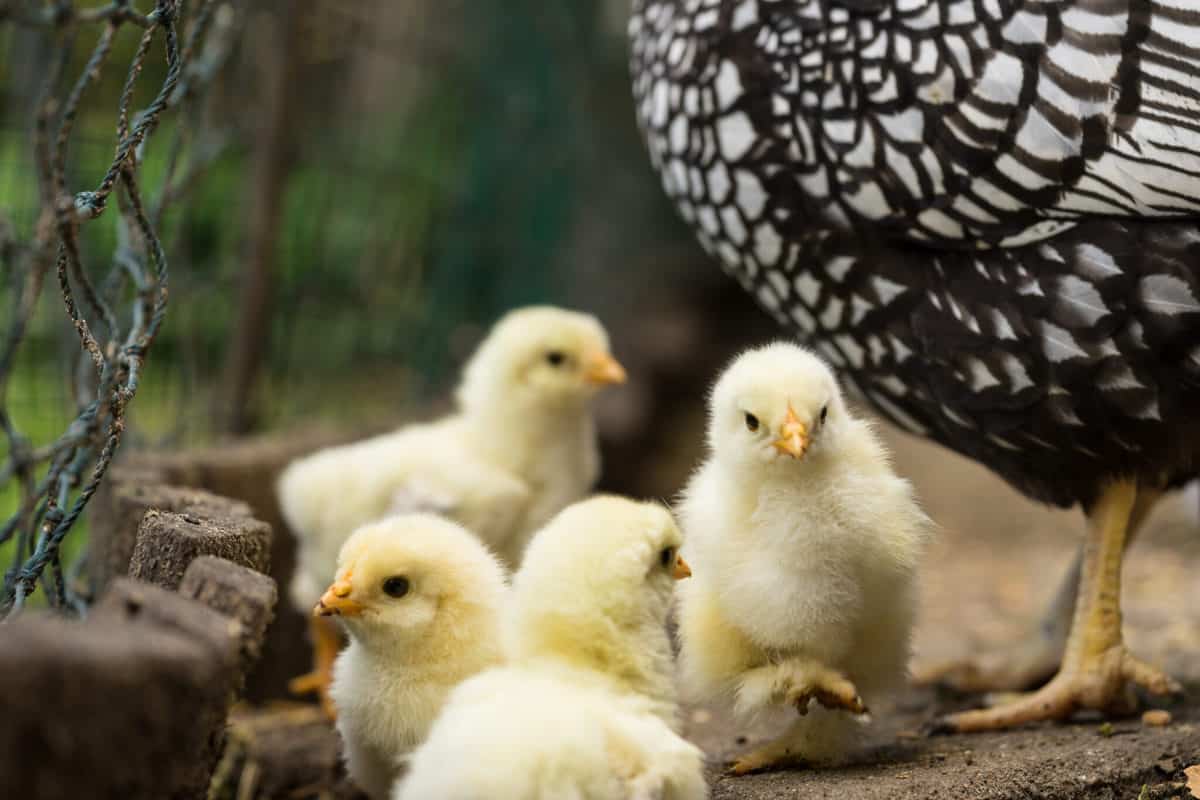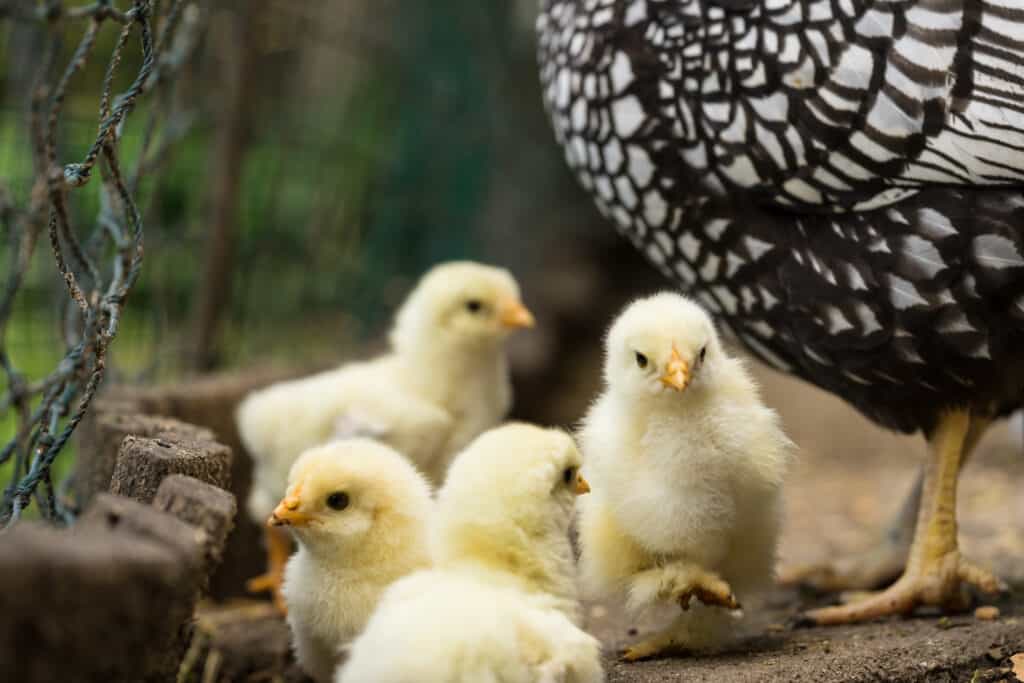 Blue Laced Red Wyandottes are gorgeous chickens that are not only great to look at, but also make wonderful pets. Laying up to 200 brown eggs per year, these beautiful chickens are often raised for their blue lacing, their brown eggs, and their utility for meat production.
While there's no single best hatchery to buy this poultry breed, you'll want to consider some of the top breeders listed above. Whether you're buying baby chicks or pullets, these hatcheries are perfect for starting a backyard flock of any poultry breed – but particularly for Blue Laced Red Wyandottes!
Related Articles:
Maat van Uitert is a backyard chicken and sustainable living expert. She is also the author of Chickens: Naturally Raising A Sustainable Flock, which was a best seller in it's Amazon category. Maat has been featured on NBC, CBS, AOL Finance, Community Chickens, the Huffington Post, Chickens magazine, Backyard Poultry, and Countryside Magazine. She lives on her farm in Southeast Missouri with her husband, two children, and about a million chickens and ducks. You can follow Maat on Facebook here and Instagram here.