When one hears the name "Jersey Giant," it might be understandable to envision a massive giant tromping and stomping over the hills. Luckily for poultry lovers, these robust fowl are nothing at all like immense monsters upsetting livestock and unearthing trees.
They are, however, the winner of the "biggest chicken breed." Jersey Giant roosters can grow to a massive 15 lbs and reach stately heights of up to 26 inches. Their female counterparts can reach up to 11 pounds and are as tall as 20 inches. These are some BIG birds!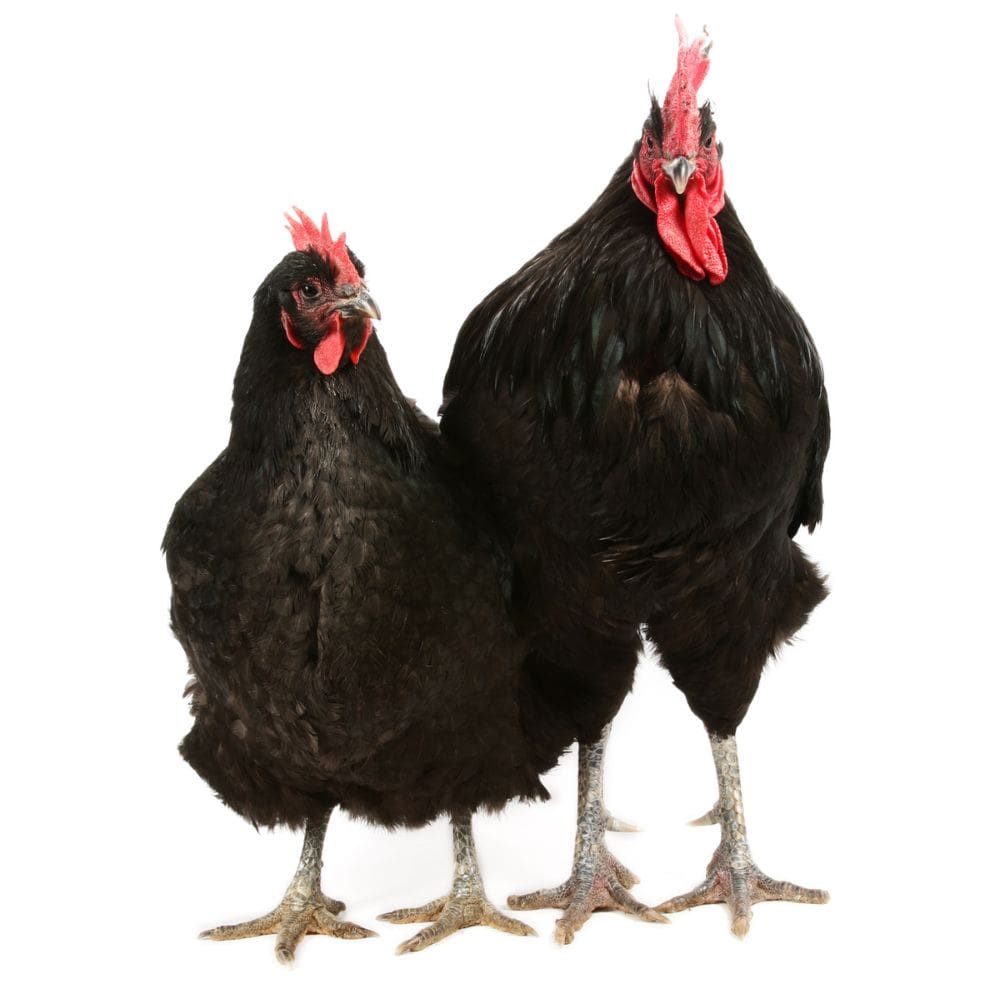 They are quite colorful, too, with their Black, Blue, and White variants being recognized by the American Poultry Association. A fourth color – Splash – is not recognized by the APA because it is a genetic quirk of a color that can sometimes result from breeding two Blues.
Jerseys are best as an addition to homes looking for an excellent show breed, some amazing broilers, or hens that lay between 150 and 200 brown eggs per year. This breed is quite popular and has a definite group of followers, in essence, it has its own fan club! Let's find out why.
Table of Contents (Quickly Jump To Information)
What is the Jersey Giant?
Jersey Giants originated in New Jersey in the good ole USA in the late 1800s and that's how they got their name. They were first called the Jersey Black Giant because Black was the last name of the two brothers that developed them.
You can read more about large egg-laying chickens here, but the most important thing to know about Jersey Giant chickens is that they are great chickens with incredible personalities. And if you are looking for a chicken breed that's great for egg production as well as serving as a solid meat bird, this is the one.
Jersey Giant chickens are perfect free-range birds, offering decent egg production without compromising on egg size or meat.
There are different colors of Jersey Giants, but the most common is black. They have stunning black plumage(feathers) with shimmery green highlights throughout. The beetle green sheen really shows in the sunlight.
They have brown eyes, red wattles, a red single comb, and black legs. Their beak is mostly black with a yellow splash on the tip.
In addition to the black variety, there is also a white variety and a blue variety. These giants can weigh up to 13 pounds!
Jersey Giant Temperament
They have been called gentle giants and for good reason. They are huge and they are extremely gentle and friendly. Due to their large size – much like Brahmas – they may be intimidating (especially to children) but they don't deserve it. These large birds are all heart and snuggles!
Jersey Giant Chicken Egg Production
Jersey Giant hens aren't exactly egg machines, but they keep up with about 150 to 200 eggs per year. Eggs are as expected, giant in size and light brown in color.
They are known for being good layers in winter! Bonus!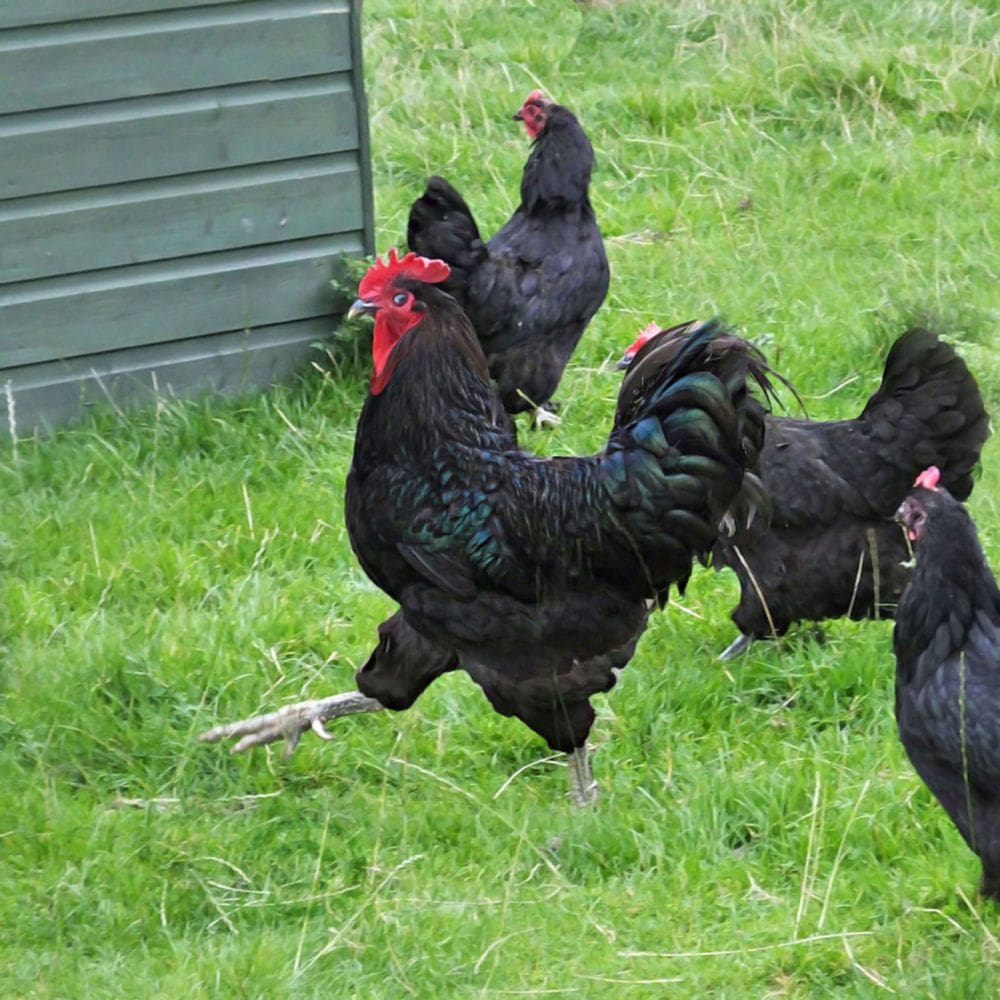 Where To Buy Jersey Giants?
Ready to start raising Jersey Giants? Pick up some high-quality herbal chick starter here and check out the list below of the best hatcheries to buy Jersey Giant chicks.
With a credit card at your side, it won't be long before these immense birds are growing in your own coops and runs! You can also check with local breeders in your area.
5 Best Hatcheries to Buy Jersey Giant Chickens
Find more information and prices here: Meyer Hatchery
Meyer Hatchery is based in Polk, Ohio, and boasts itself as the "premier Poultry Source." Priding itself on customer service and availability, Meyer Hatchery provides a variety of chicken breeds to meet customer demands for color and diversity. They welcome the mixing and matching of breeds of the same poultry type to meet minimum order quantity requirements for safe shipping. To help with orders, they have a calendar of hatchings.
Meyer has a variety of means of communication, including multiple phone numbers, fax, and email. They also run a blog that covers everything from breeds to plant pairing with chickens, feed, cooking recipes, fowl entertainment, and survival tips. Meyer offers Black Jersey Giant Chickens.
FYI – looking for egg-cellent chicken feed? Have a look at our layer feed for sale here.
Advantages
Website is up-to-date in real time.
Accepts checks and credit cards.
Guarantees gender of chicks either through refund or store credit.
Optional Marek's vaccination.
Member of the National Poultry Improvement Plan (NPIP), and provide NPIP VS Form 9-3 free of charge.
Offer orders of over 100 chicks.
Disadvantages
Limited store hours that change with the season.
Limited availability.
Find more information and prices here: Cackle Hatchery
Cackle Hatchery proudly boasts that they have been hatching and shipping since 1936. A third-generation hatchery based in Missouri, their mission is to provide customers with quality poultry for showing, meat, enjoyment, and eggs. They ship throughout the USA, including Alaska, Puerto Rico, and Hawaii. They offer nearly 200 different types of chickens at all stages.
Cackle also offers many other kinds of poultry including ducks, waterfowl, game birds, turkeys, and other fowl. They are also a good source of supplies and books. Cackle Hatchery offers both Black and White Jersey Giant Chickens.
Advantages
Discounts if you buy male chicks.
Vaccinations available.
Only need 3 birds to ship (or just one for male birds).
Disadvantages
Limited availability (February through July).
Find more information and prices here: Hoover's Hatchery
Hoover's Hatchery supplies many farm and garden supply stores in the United States with their chicks, making them a smart choice if you want to skip the middleman and order from the hatchery directly.
Plus, Hoover's offers free shipping on practically everything you order. You'll have to buy at least 15 chicks; so Hoover's might not be the best option if you live in a city with chicken restrictions. However, as long as you're willing to buy in bulk, it's a smart choice. You can even mix and match your order by adding other birds of other chicken breeds along with poultry species like pheasants, turkeys, guineas, ducks, and more.
Another benefit of ordering from Hoover's Hatchery? Despite the fact that this hatchery is located in Iowa, not necessarily a warm-weather state, it hatches chicks all throughout the year – a must-know feature if you plan on buying chicks around Christmastime. Hoover's Hatchery offers only Black Jersey Giant Chickens.
Advantages
Excellent guarantee and refund policy in case of shipping problems.
Hatches chicks during the winter – one of the few hatcheries to do so.
Sells other kinds of poultry too.
Disadvantages
Large minimum order quantity.
Find more information and prices here: Murray McMurray Hatchery
Murray McMurray started his chicken business in 1917. As a banker, he sold his chicks to locals through the bank and by 1919, he had developed his own stock of chickens. During the Great Depression, he devoted himself to chickens full time. Since then, Murray McMurray Hatchery has developed into one of the largest chick hatcheries in the country. They sell more than just chickens, with ducks, geese, guineas, turkeys, other fowl and game birds all in the catalogue.
Sexed male chicks tend to be the cheapest, meaning you can get some serious savings if you're planning on raising these birds primarily for meat. You can also buy pullets or mix and match your order with chicks of other heritage chicken breeds, too. McMurray's Hatchery offers both Black and White Jersey Giants.
Advantages
Males are extremely inexpensive
Bulk discounts available
Disadvantages
Minimum order of six birds at a time
Find more information and prices here: Welp Hatchery
Located in Bancroft, IA, Welp Hatchery was founded way back in 1929 by Joseph H. Welp. While their specialty is Cornish Rock Broilers, they have diversified to include a wide range of chicken breeds. To simplify their orders, they have a catalog available for viewing or downloading. From its shipping points in Iowa, New Mexico, Minnesota, and Wisconsin, this hatchery truly has a wide reach. They offer both Black and Blue Jersey Giants.
Advantages
Can choose the breeding date on the product page.
Marek's immunization is a one-click process.
Minimum orders of 5.
Wintertime availability for select breeds (including Blue Jersey Giants!)
Disadvantages
Related Articles
Maat van Uitert is a backyard chicken and sustainable living expert. She is also the author of Chickens: Naturally Raising A Sustainable Flock, which was a best seller in it's Amazon category. Maat has been featured on NBC, CBS, AOL Finance, Community Chickens, the Huffington Post, Chickens magazine, Backyard Poultry, and Countryside Magazine. She lives on her farm in Southeast Missouri with her husband, two children, and about a million chickens and ducks. You can follow Maat on Facebook here and Instagram here.