If you're looking for some of the best hatcheries to buy Rhode Island Red chickens, you won't have to search too long (or travel all that far). These birds are some of the most popular ones you can buy.
Rhode Island might be the smallest state in the USA, but hasn't stopped it from making a big name for itself in the world of chickens.
Since they first got started as a breed in 1830, the Rhode Island Red has since become one of the most prominent dual-purpose chickens out there. They are large birds that are perfect regardless of whether you want to raise them for eggs or for meat. They even make great pets!
Friendly, cold-hardy, and excellent layers, these amazing birds are one of the foundations for sex-link chickens, which are not a breed of chicken, but rather, a type of chicken whose gender is immediately identifiable upon their birth.
Rhode Island Reds lay about four eggs per week. They also produce a respectable sized carcass for the dinner table, if you decide to raise them to maturity. These heritage birds are attractive, curious, friendly, and independent to boot.
With such widespread value, RIRs (as they are often written as) are often sought after. If you are in the market for one, then you are in luck, my friend! Below is a list of TEN of the most prominent locations where you go if you want to add Rhode Island Reds to your family coop.
What Are Rhode Island Reds?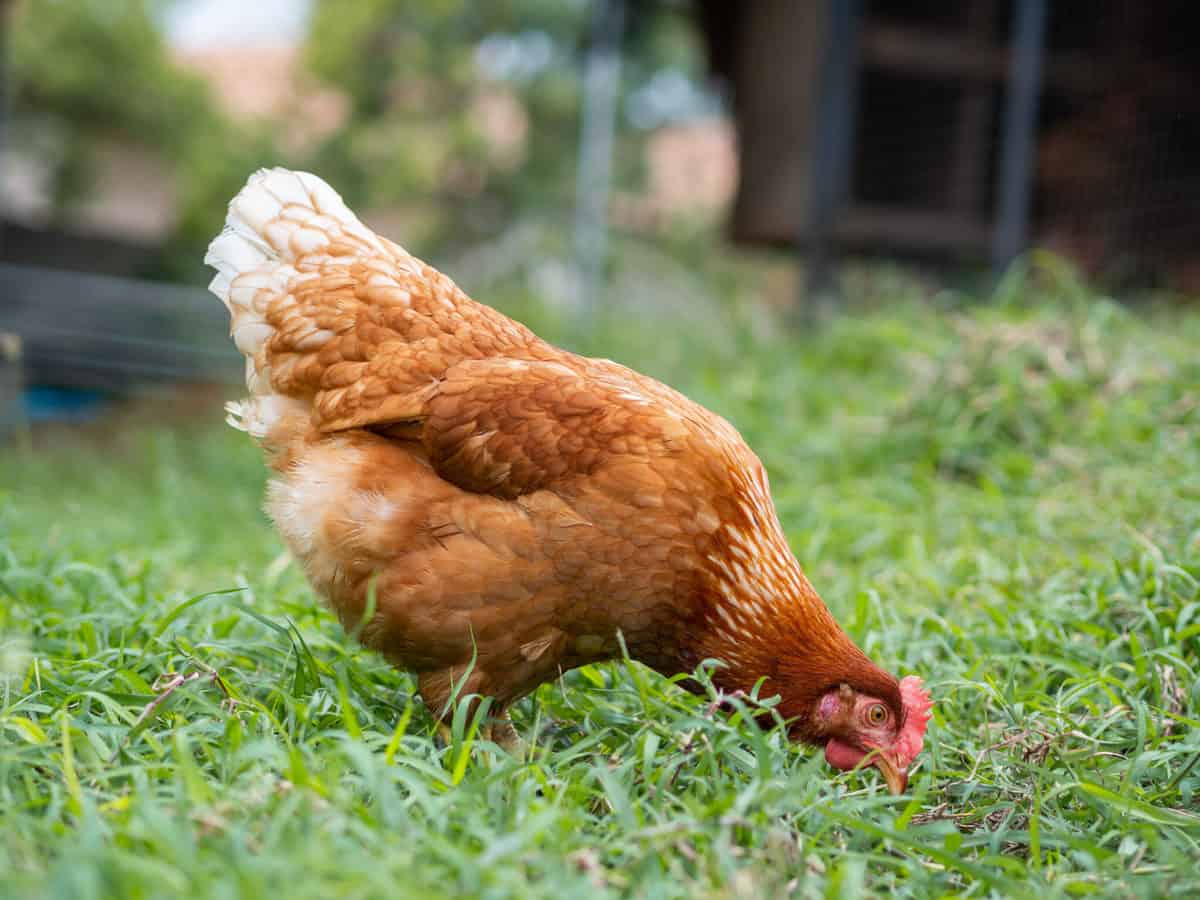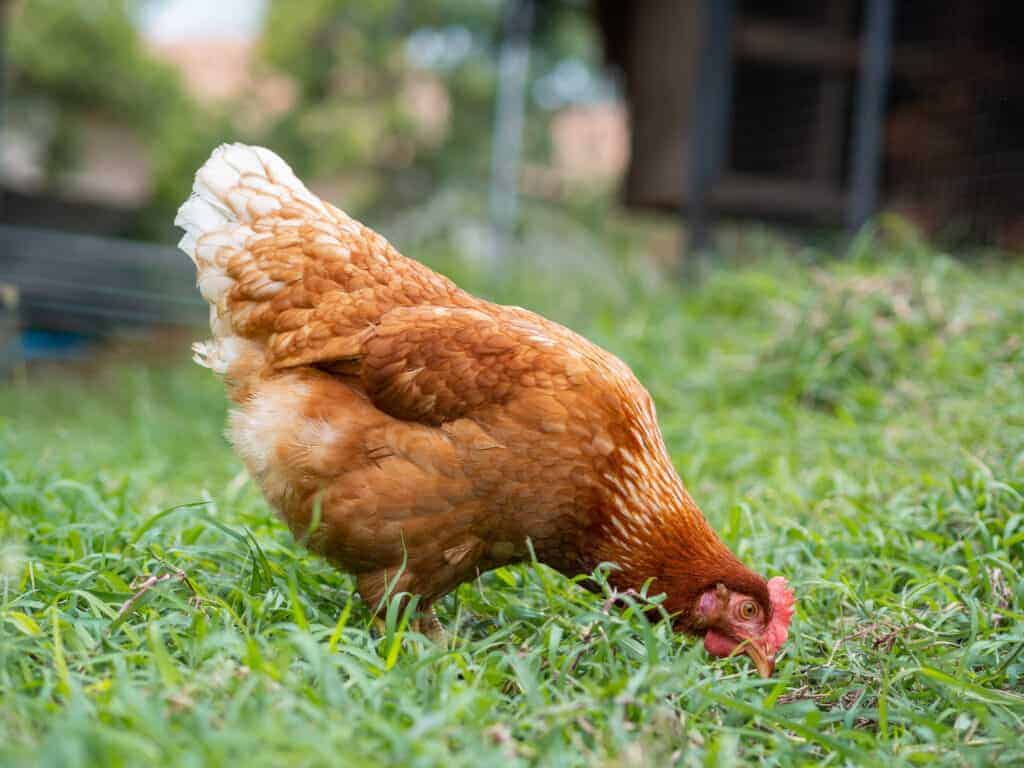 Rhode Island Reds are brown egg layers that are known for their egg production and are also excellent meat birds. These dual purpose birds are one of many breeds of chickens that are known as heritage breeds, with other popular options including Plymouth Rocks, Wyandottes, and more.
Tolerant of just about any climate, these egg layers are a hardy breed that are known for their adaptability. They do well as pets as well as around children – and are also beuatiful chickens to look at.
The average Rhode Island Red will lay around four or five eggs each week with a brown egg color. These meat birds are ready for the dinner table in just a few months, with each bird dressing out to a 5-7 lb carcass, on average.
One member of the I Love Backyard Chickens Facebook group had this to say about her chooks:
RIRs are my favorite. Nice size, good layers, nice brown eggs, pretty feathers, can free range, or not. They are friendly but like any family sometimes I have a bully, or one the pecks my boot because I not giving treats fast enough

Susan Zarrillo

10 Best Hatcheries to Buy Rhode Island Red Chickens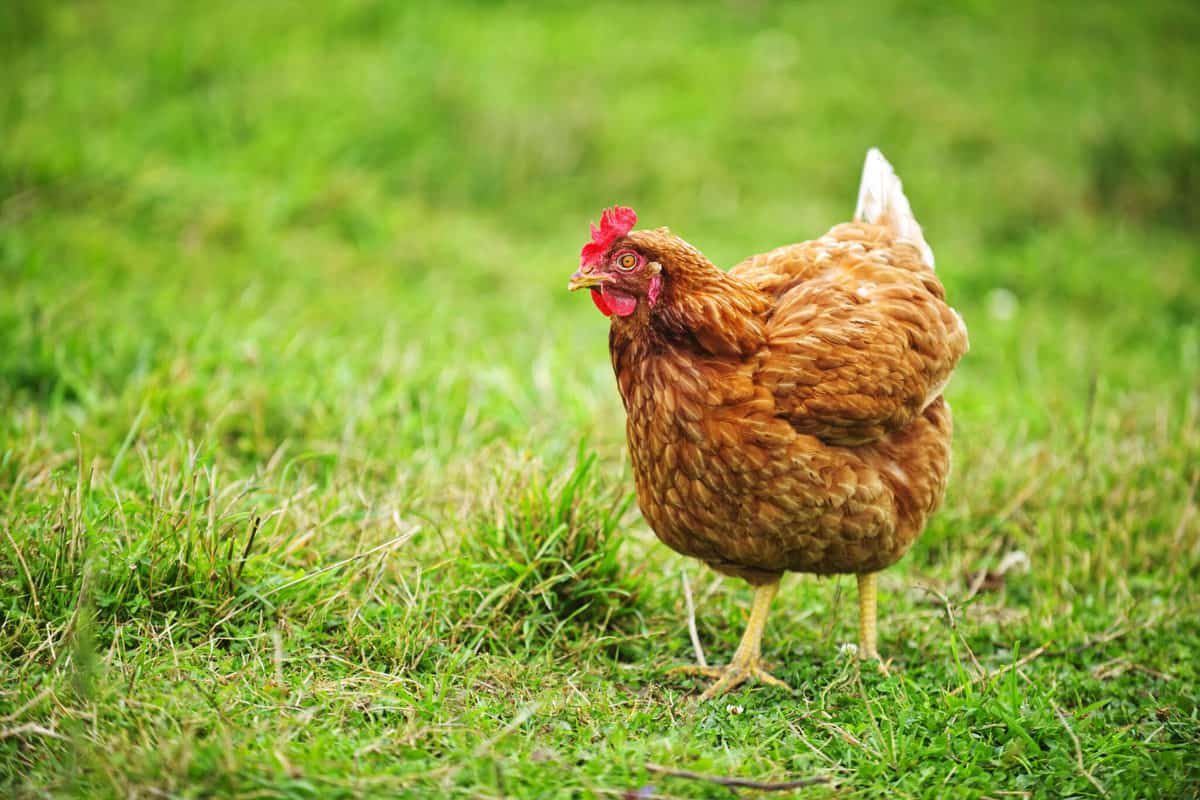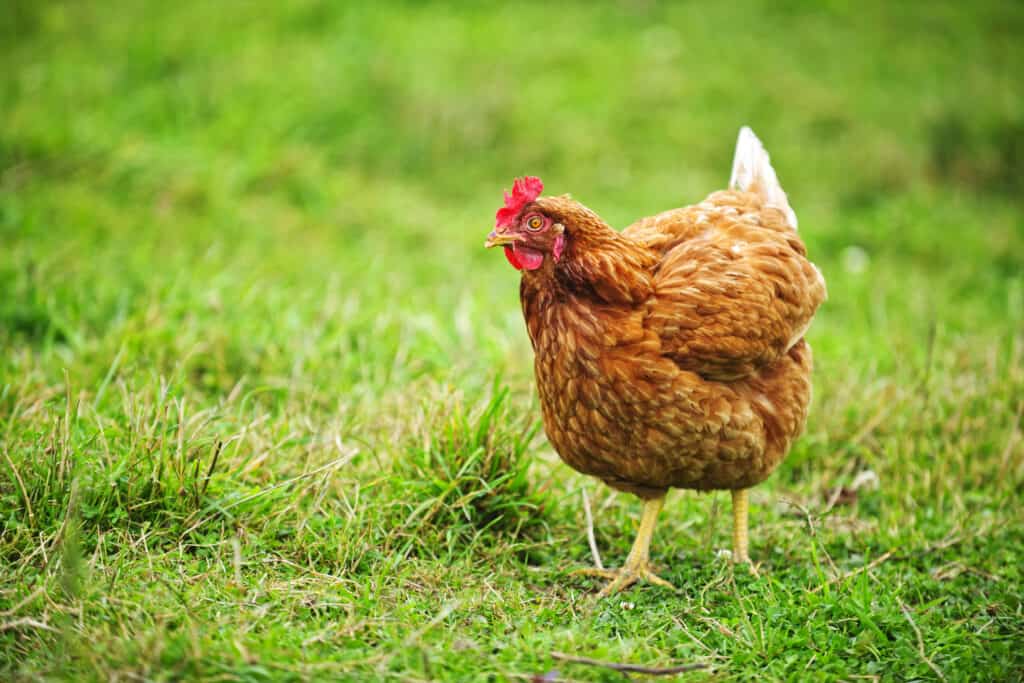 Average Straight-Run Rhode Island Red Chicken Price: $3.04
Meyer Hatchery is based in Polk, Ohio, and boasts itself as the "Premier Poultry Source." Priding itself on customer service and availability, Meyer Hatchery provides a variety of chicken breeds to meet customer demands for color and diversity. They welcome mixing and matching of breeds of the same poultry type to meet minimum order requirement for safe shipping. To help with orders, they have a calendar of hatchings.
Meyer has a variety of means of communication, including multiple phone numbers, fax, and email. They also run a blog that covers everything from breeds to plant pairing with chickens, feed, cooking recipes, fowl entertainment, and survival tips.
Advantages
Website is up-to-date in real time.
Accepts checks and credit cards.
Guarantees gender of chicks either through refund or store credit.
Optional vaccination.
Member of the National Poultry Improvement Plan (NPIP), and provide NPIP VS Form 9-3 free of charge.
Offer orders of over 100 chicks.
Disadvantages
Limited store hours that change with the season.
Average Straight-Run Rhode Island Red Chicken Price: $2.85
Cackle Hatchery proudly boasts that they have been hatching and shipping since 1936. A third-generation hatchery based in Missouri, their mission is to provide customers with quality poultry for showing, meat, enjoyment, and eggs. They ship throughout the USA, including Alaska, Puerto Rico, and Hawaii. They offer nearly 200 different types of chickens at all stages.
Cackle also offers many other kinds of poultry including ducks, game birds, turkeys, water fowl, and other fowl. They are also a good source for supplies and books.
Advantages
Discounts if you buy male chicks.
Vaccinations available.
Only need 3 birds to ship (or just one for male birds).
Offer both Standard and Bantam RIRs!
Disadvantages
Limited availability (February through September).
Sold as baby chicks only.
Average Straight-Run Rhode Island Red Chicken Price: $3.33
Murray McMurray started his chicken business in 1917. As a banker, he sold his chicks to locals through the bank and by 1919, he had developed his own stock of chickens. During the Great Depression, he devoted himself to chickens full time. Since then, Murray McMurray Hatchery has developed into one of the largest chick hatcheries in the country. They sell more than just chickens, with ducks, geese, guineas, turkeys, other fowl and game birds all in the catalogue.
Sexed male chicks tend to be the cheapest, meaning you can get some serious savings if you're planning on raising these birds primarily for meat. You can also buy pullets or mix and match your order with chicks of other breeds, too.
Advantages:
Males are extremely inexpensive.
Bulk discounts available.
Excellent breed availability.
Disadvantages:
Minimum order of six birds at a time.
Average Straight-Run Rhode Island Red Chicken Price: $3.21
Another established brand if you're looking for chicks is Hoover's Hatchery. Hoover's supplies many farm and garden supply stores in the United States with their chicks, making them a smart choice if you want to skip the middleman and order from the hatchery directly.
Plus, Hoover's offers free shipping on practically everything you order. You'll have to buy at least 15 chicks; so Hoover's might not be the best option if you live in a city with chicken restrictions. However, as long as you're willing to buy in bulk, it's a smart choice. You can even mix and match your order by adding other birds of other chicken breeds along with poultry species like pheasants, turkeys, guineas, ducks, and more.

Another benefit of ordering from Hoover's Hatchery? Despite the fact that this hatchery is located in Iowa, not necessarily a warm-weather state, it hatches chicks all throughout the year – a must-know feature if you plan on buying chicks around Christmastime.
Advantages:
Excellent guarantee and refund policy in case of shipping problems.
Hatches chicks during the winter, one of the few hatcheries to do so.
Sells other kinds of poultry too.
Disadvantages:
Average Straight-Run Rhode Island Red Chicken Price: $2.45
Valley Farms Hatchery is located in Alabama and is one of the few large commercial chick hatcheries located in the southern United States. If you live in the south, that's one good reason to give Valley Farms a try – you won't have to ship your new Rhode Island Red chickens long distances, which can cut down dramatically on shipping stress.
You can buy fertile hatching eggs along with Rhode Island Red chicks from this hatchery. You'll find some of the lowest price, here, too, with a minimum order of just three chicks. If you buy males, interestingly, the order minimum is just one bird. Buying in bulk poses several advantages though, especially if you can buy more than 50 birds at once – you'll get significant savings.
Advantages:
Each order is backed by a 100% live delivery guarantee, no matter where you live.
One chick minimum order if you're buying males.
Optional Marek's vaccination.
Disadvantages:
Average Straight-Run Rhode Island Red Chicken Price: $3.62
As a family-owned business, Purely Poultry was started in a college dorm room as a one-stop source for all poultry need. They pride themselves on their knowledge of their products, selection, and how-to details related to everything they offer, including ducks, chickens, geese, and lots of other birds! With their dedication to their products and customers, Purely Poultry has some of the best customer service around.
Located in Durand, WI, they guarantee live birds with every order, which is a good promise, indeed!
Advantages:
Each order backed by live arrival guarantee.
Small order minimum on chicks.
Other kinds of poultry offered, too.
Disadvantages:
Not huge advantages to buying multiple chicks – discounts are minimal.
Average Straight Run Rhode Island Red Pullets– $40.00
The Chick hatchery is Michigan's "premier source for superior quality poultry." With a creed that revolves around the sharing and joy of raising chickens, they operate in no-kill facilities. They raise their chickens humanely, with any unsold chicks going to Amish farms. Much of the experience of raising chickens is the awareness of the individual chicken and the relationship between food and our own health.
Their Rhode Island Red 8-12 week Pullets are available throughout the year! Shipped out on Tuesdays and arrive between one and two days.
Advantages
All poultry guaranteed live delivery.
Offers discounts on orders of larger quantities of birds, which helps significantly cut down on rates.
Bantam varieties are available from February through August.
Disadvantages
Ships a maximum of 12 total pullets.
Relatively expensive for pullets.
Does not ship to Hawaii or outside the USA.
Average Straight-Run Rhode Island Red Chicken Price: $3.95
Chickens for Backyards is an online poultry store that ships orders from Phillipsburg, MO. It sells over 100 breeds of day-old chicks, ducks, geese, turkeys, and guineas with orders as low as three fowl. They have a mix and match option for all breeds, which can be shipped all in the same order.
Shipping schedules run from February through October. On their website, they offer a comprehensive FAQ page and Chick Care information. On the Rhode Island Red product page, there is a breakdown of the bird and information on the live chick guarantee.
Advantages
Orders can be cancelled up to 24 hours before shipping.
Free shipping on supplies.
Comprehensive FAQ that covers a range of questions from care, feed, shipping, sexing, local laws relating to chicken farming, and terms.
Disadvantages
Losses must be reported within 3 days of arrival.
Limited availability.
Average Straight-Run Rhode Island Red Chicken Price: $4.05
Townline Hatchery, out of Zeeland, MI, prides itself on its hands-on approach that its entire experienced staff observes. In fact, they have an entire series of how to raise birds! Their FAQ section is already quite comprehensive, and they encourage customers to contact them with any questions not already covered. They provide customers with 26 different breed of bird.
The only disadvantage to ordering from Townline is that you'll have to buy in bulk. The hatchery has a minimum order of fifteen chicks, which can be a challenge if you live in a city that has restrictions on how many birds you can raise (most towns cap it at six hens). However, if you're planning on shopping for a large flock anyway, Townline is the way to go – the hatchery offers a discount of several dollars per bird when you buy more than 100 chicks.
Advantages:
Superior customer service
Excellent reputation as one of the longest-standing hatcheries
Great for buying chicks in large quantities
Disadvantages:
Not many hatching dates available for fall, winter, or early spring shipping
Average 4-5 Week-Old Rhode Island Red Price: $27.00
Claborn Farms is based in Ross, TX and its founder got started raising chickens about 20 years ago to supplement and improve upon the food that was being served in their kitchens. A working farm, they do allow pick-up of chickens but their ideal means of communication is email. They spend a great deal of time with their chickens, which results in very human-friendly birds that are just waiting to join you in your own homes!
Claborn Farms write some very positive things about the Rhode Island Red and mentions "perfection" as far as chicken breeds go.
Advantages (of buying at this hatchery)
With Chickens being shipped at 4-5 weeks started pullets are guaranteed.
Offer refunds in lieu of replacements.
Can cancel orders up to 15 days before shipment.
Disadvantages (of buying at this hatchery)
No day-old chicks available.
RIRs are not show quality.
How to Raise Rhode Island Red Chickens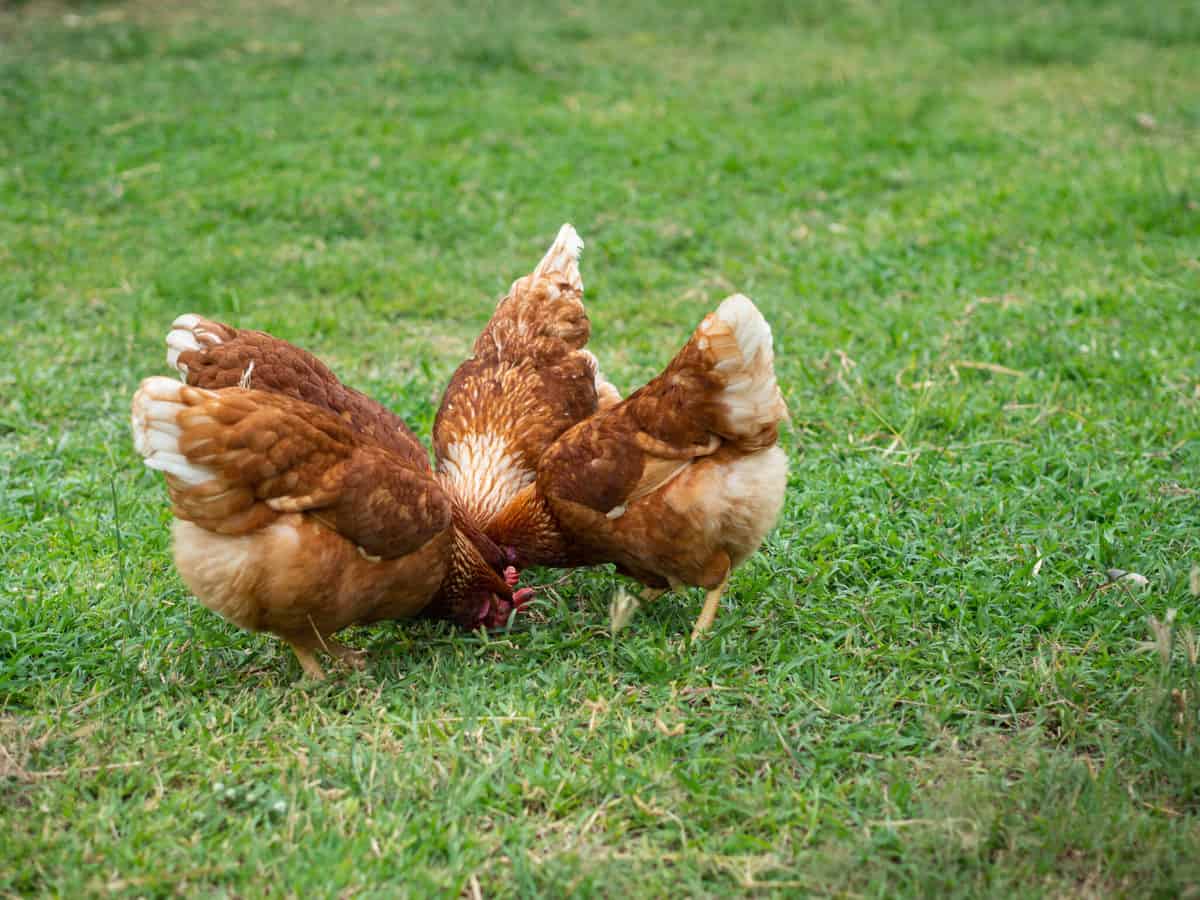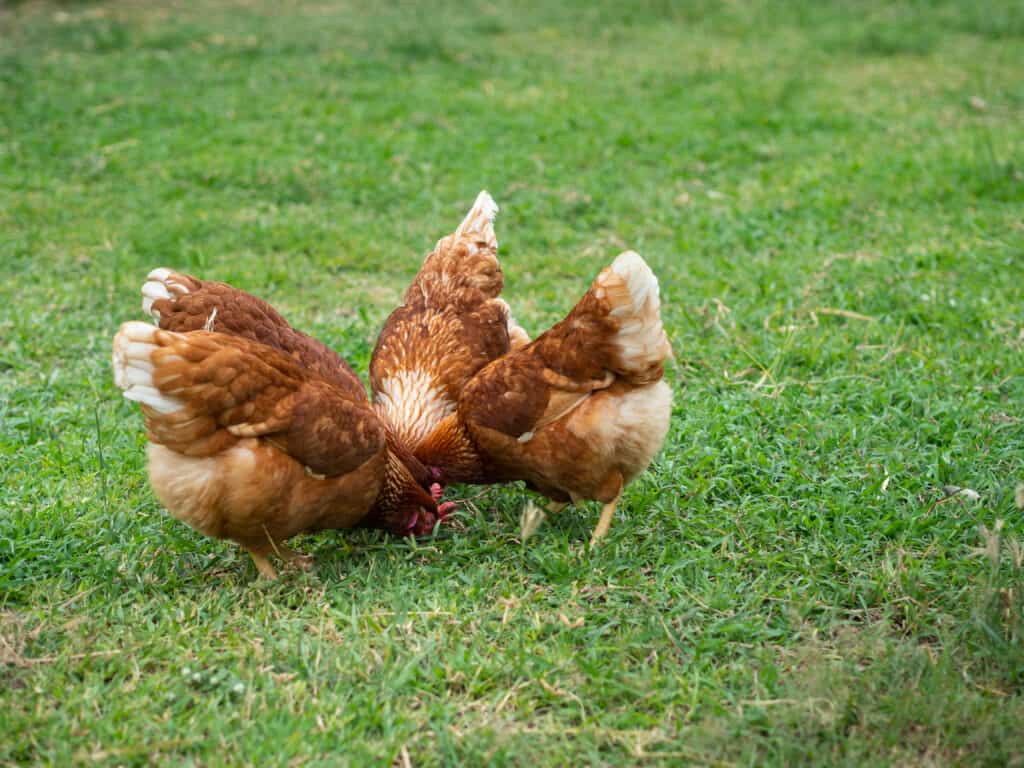 Ready to start your own flock of Rhode Island Red chickens? Whether you're adding these chicks to an existing flock or starting from scratch, make sure you stock up on all the essentials before you bring your little guys and gals home.
To start with, you're going to need a high-quality chick starter, like this one. It will provide your feathered friends with all the protein and other nutrients they need to get off to a good start. Make sure your coop has plenty of room for your birds – ideally, at least three square feet of space apiece, ideally more if they won't be free ranging. You will need at least one nest box for every four birds, too. We recommend filling your nesting boxes with great smelling nesting herbs to boost your birds' production!
Your Rhode Island Reds won't start laying eggs right away – you will have to wait a few months for that. But once they do, you can look forward to around four large brown eggs each week. You'll love cooking these up for your friends and family, but trust us, you'll love raising Rhode Island Reds even more!
Related Articles:
Maat van Uitert is a backyard chicken and sustainable living expert. She is also the author of Chickens: Naturally Raising A Sustainable Flock, which was a best seller in it's Amazon category. Maat has been featured on NBC, CBS, AOL Finance, Community Chickens, the Huffington Post, Chickens magazine, Backyard Poultry, and Countryside Magazine. She lives on her farm in Southeast Missouri with her husband, two children, and about a million chickens and ducks. You can follow Maat on Facebook here and Instagram here.