I don't know about all of you, but my office is definitely the messiest place in my home. I spend quite a bit of time in my office every day and I'll admit to not having a very organized (or pretty) office.
As I'm writing this I'm staring at a huge pile of papers, notebooks, and binders. So ya, my office décor needs a little bit of an update.
So I've been searching the web this week to find office décor/organization ideas. And oh my, did I find so many great ideas!!! I LOVE the idea of having an office that is organized and looks nice, so I thought I would share some of my favorite office decorations that are ADORABLE, but also very functional.
[This page might contain affiliate links, which means for any item you purchase using our links, we earn a small commission at no extra cost to you. Thanks for supporting our website and being a part of the Pampered Chicken Mama family!]
Forget the plastic tray drawer organizers, and get these stunning wood drawer organizers! Aren't they absolutely amazing? I love how versatile these trays could be! You could use them for organizing the inside of a drawer or they could be used on a desk or a side table as part of your office décor. Find them here: Old Fashioned Drawer Organizer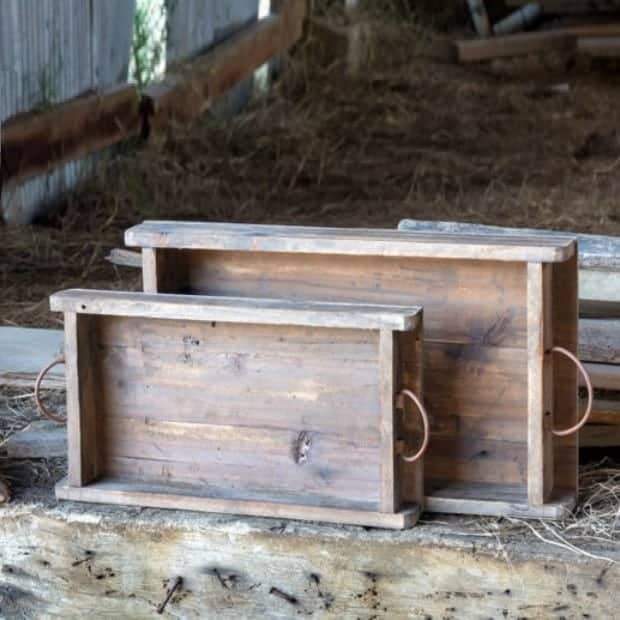 Seriously, I didn't know they made pretty trash cans…My trash cans are the small plastic ones you can get for a dollar. But after seeing this rustic metal trash can, I might have to upgrade! I love the way that this trash can would blend seamlessly into your office décor. Find it here: Rustic Metal Trash Can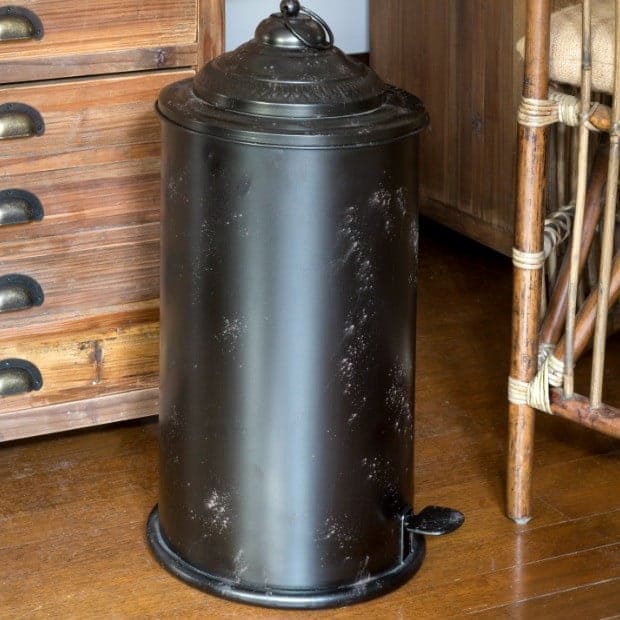 So I'm pretty sure I need this metal storage basket to organize that pile of papers and binders we talked about earlier. This basket would be perfect for organizing papers and notebooks in your office! Find it here: Metal Storage Basket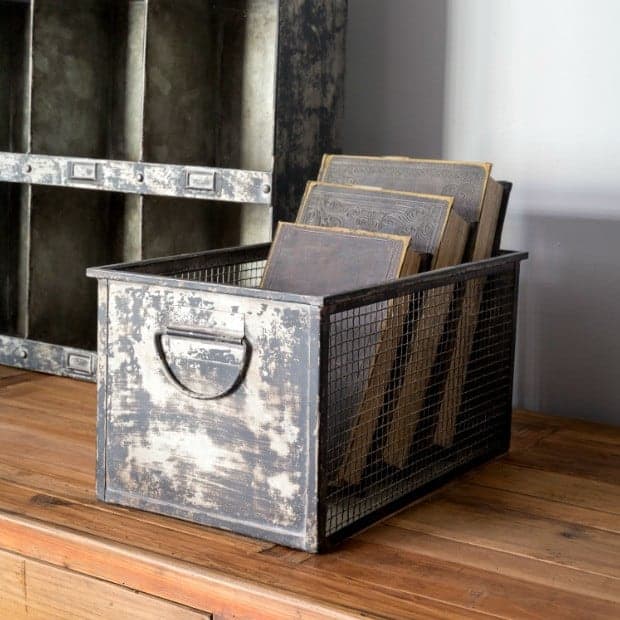 This lamp is the perfect blend of rustic farmhouse style and functionality. I love that you can pull this lamp out to get better light and then tuck it away again. This would be perfect for an office or a reading nook! Find it here: Table Lamp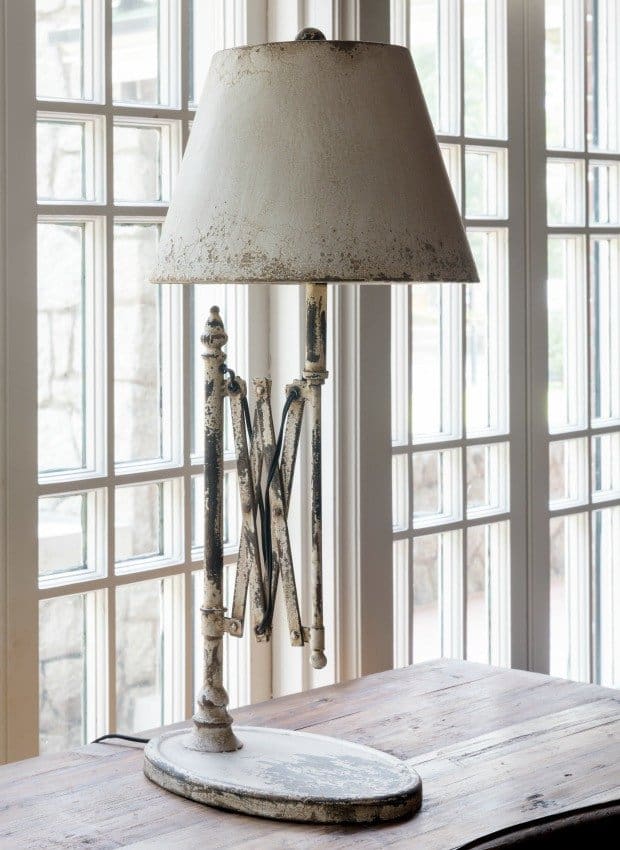 Don't you love this three bucket stand? It would be great for storing paint brushes, but there are so many other ways you could use this item! I think this would be perfect for storing pens and pencils, or you could put in some small plants and have a mini herb garden in your office! This holder has so many different uses which makes it perfect for any office! Find it here: Paintbrush Holder and Stand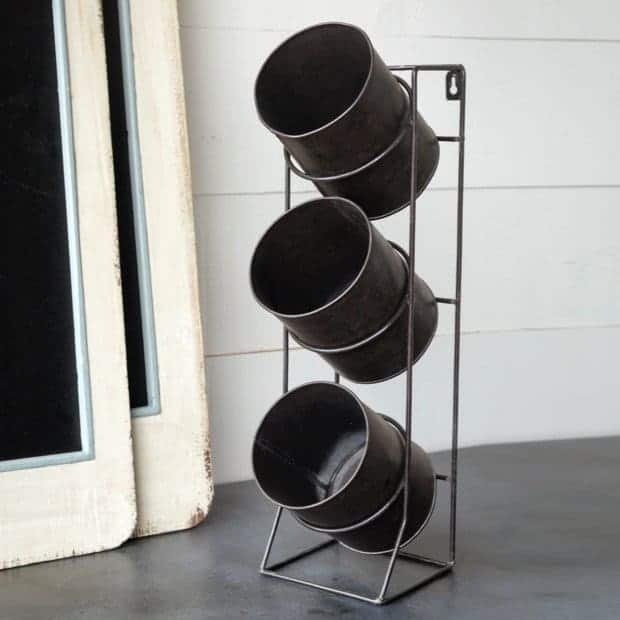 Updating knobs can make a huge difference in your décor. It's simple to do and it's a cheap and easy update! I love these glass door knobs and I think they would look stunning for the drawers and cabinets of a desk! Find them here: Glass Door Knobs
What I love about this storage cabinet is that I could tuck away all of my extra clutter inside! It's a great way to organize all of the little things that don't seem to have a place! I can see this fitting perfectly in a small corner of an office to give you extra storage space! Find it here: Wood and Metal Barn Door Storage Cabinet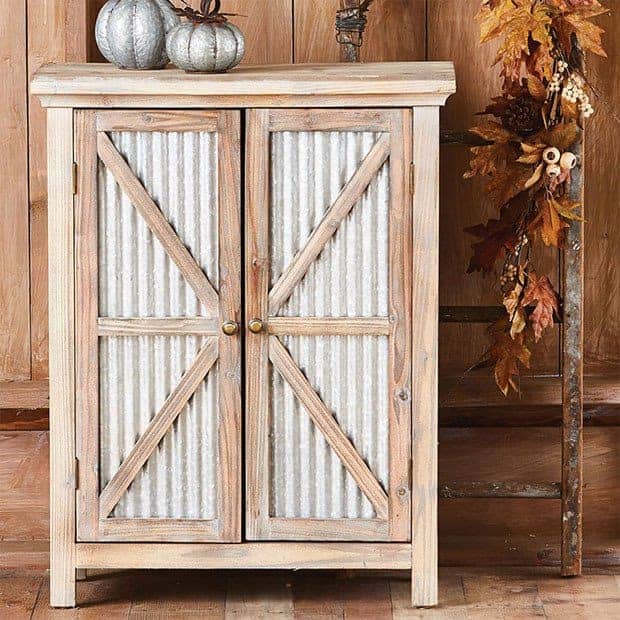 I love this metal organizer because it would be perfect for organizing all of the jackets, keys, and purses that always seem to end up in my office! I love the rustic metal look and I love how functional it is for an office! Find it here: Mounted Metal Organizer
I love these floating wall shelves! They are perfect for the farmhouse décor theme and you could also store some vintage books or keepsakes in them! Find them here: Round Floating Wall Shelf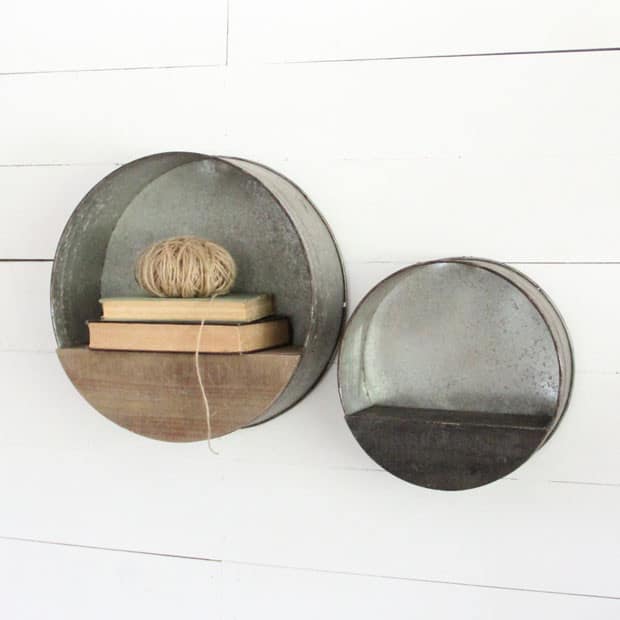 Are you thinking about redecorating your office? Which of these ideas is your favorite?
Maat van Uitert is a backyard chicken and sustainable living expert. She is also the author of Chickens: Naturally Raising A Sustainable Flock, which was a best seller in it's Amazon category. Maat has been featured on NBC, CBS, AOL Finance, Community Chickens, the Huffington Post, Chickens magazine, Backyard Poultry, and Countryside Magazine. She lives on her farm in Southeast Missouri with her husband, two children, and about a million chickens and ducks. You can follow Maat on Facebook here and Instagram here.