Who doesn't want to own Silkie chickens? They're fun, sweet-natured, and they make you breakfast! In short, they're the perfect pet.
Yep – you can definitely keep chickens as pets, and Silkies make GREAT pets, especially for households with children. I also know MANY seniors who keep Silkies because they're easier to care for than a dog, and they're great company.
For special needs children, Silkies can also be a great pet because:
They're quiet

Submit to being held on laps (while other

breeds of chickens

will flap and squawk)

They look like fluffy balls straight out of a Dr. Seuss story, and

Their feathers are soft to touch – great for children with sensory issues.
In this article, you'll find all the Silkie chickens information and facts you need to help you decide if you want to add them to your flock.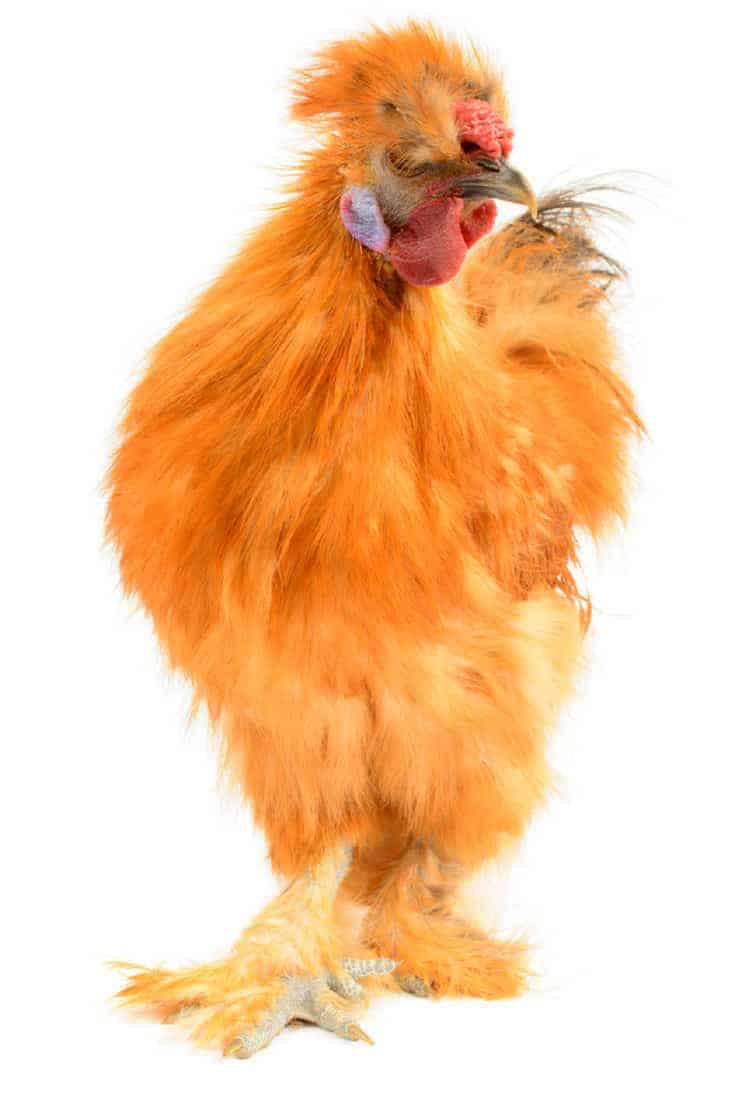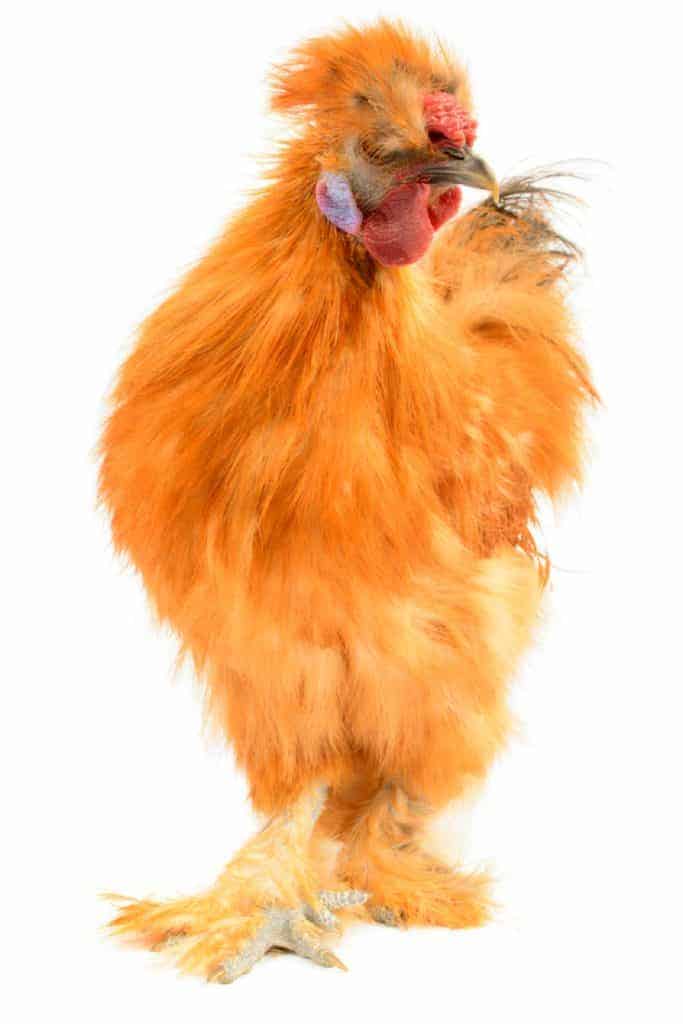 Silkie Chickens Information & Breed Characteristics
What are Silkie chickens?
Where do Silkies originate from?
Silkies are an ancient breed that has their origins in Asia, most likely in China. Because of their black skin, their Chinese language name is wu gu ji, which means "black-boned chicken."
Marco Polo was the first Westerner to write about Silkies – and in his books about his travels on the Asian continent in the 1200's, he referred to them as a "furry chicken."
Similarly, Renaissance writer Ulisse Aldrovandi referred to Silkie chickens as "wool-bearing chickens" and "clothed with hair like that of a black cat."
As you can see, Silkies have made quite an impression on humans for centuries!
Why are they called Silkies?
They're called Silkies because their feathers resemble the down on chicks – and it feels "silky."
What do Silkies look like?
How big do Silkies get?
Silkies weigh about 2-3 pounds and are about the size of a Chihuahua dog.
What's the Silkie breed standard?
When you think of Silkies, you probably think of the bantam size – and according to the American Standard of Perfection, the perfect size for a silkie chicken hen is about 2 pounds.
The American Standard of Perfection has very specific requirements for Silkies. The comb and wattles should be a "deep mulberry, approaching black" with a "Leaden blue" beak. The legs of both hens and roosters should be straight with no more or less than 5 toes.
What are their feathers like?
Funky feathers like fluff balls of joy! Silkies are a bit different than other chickens. Yes, the hens lay eggs, but did you know they also don't have "normal" feathers like other backyard chickens?
Their feathers are similar to down, and it's a bit like silk – hence the name "Silkie." Because of their feathers, Silkie chickens can't fly, but they do love to run for a treat!
Their feathers are structured different than other chicken feathers – they do not have barbicels, so they do not have the physical structure needed to allow Silkies to fly.
If you get Silkies for sale as chicks, you'll love how they develop "Mohawks" when they turn into teenagers! It takes a while for the down to grow out to its full length, so there's some lovably awkward stages!
Do Silkies have black skin?
Silkies are also well known for their skin – while most other chicken breeds (such as Speckled Sussex and Araucana chickens) have white skin, Silkies have black or even blue skin.
You might notice your silkies have blue skin, particularly on their ears! As they mature, you'll also notice their combs and wattles have a reddish hue to them.
How high can Silkies jump?
Because they don't really fly, silkies can't roost like other chickens. So, they can only jump a couple feet at a time.
Do silkies roost? Well, they DO enjoy sleeping off the ground, even if they can't roost up high.
You'll want to give your silkies an easy way to get higher. We put bales of hay in our coop for the silkies to jump up on – and they can get 5-6 feet in the air easily.
How many toes do Silkies have?
Unlike other chickens, Silkies have an extra 1 or two toes on their feet! (Just like a polydactyl cat!)
The scientific reason is because Silkies have a genetic mutation that allows them to grow the extra toes. I'm not sure if it has much purpose out in the "real world" of the coop, but they sure do look cool!
What colors are Silkies?
Silkie chickens come in all sorts of colors, such as black, blue, buff, grey, partridge, white, cuckoo, lavender, red, and splash.
While the American Standard of Perfection doesn't recognize all these colors, you should choose the color that's right for you – especially if your keeping Silkie chickens as pets. After all, color doesn't matter as much as temperament!
There's also bearded Silkie chickens – which have an extra adorable tuft of feathers!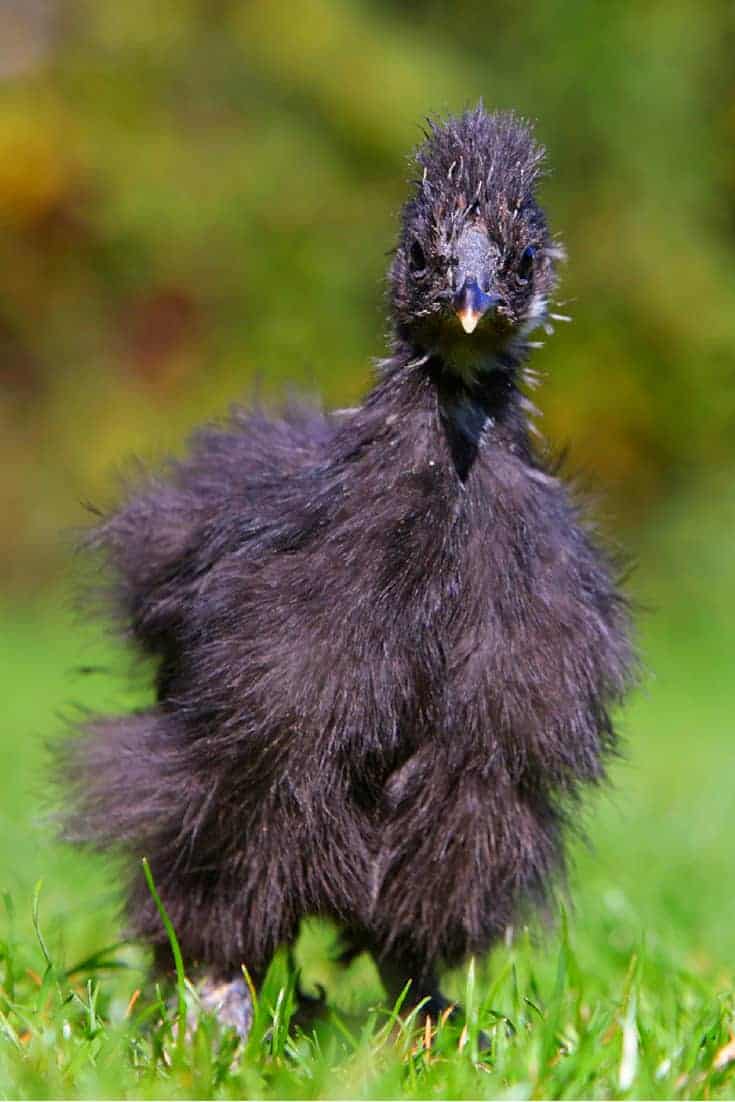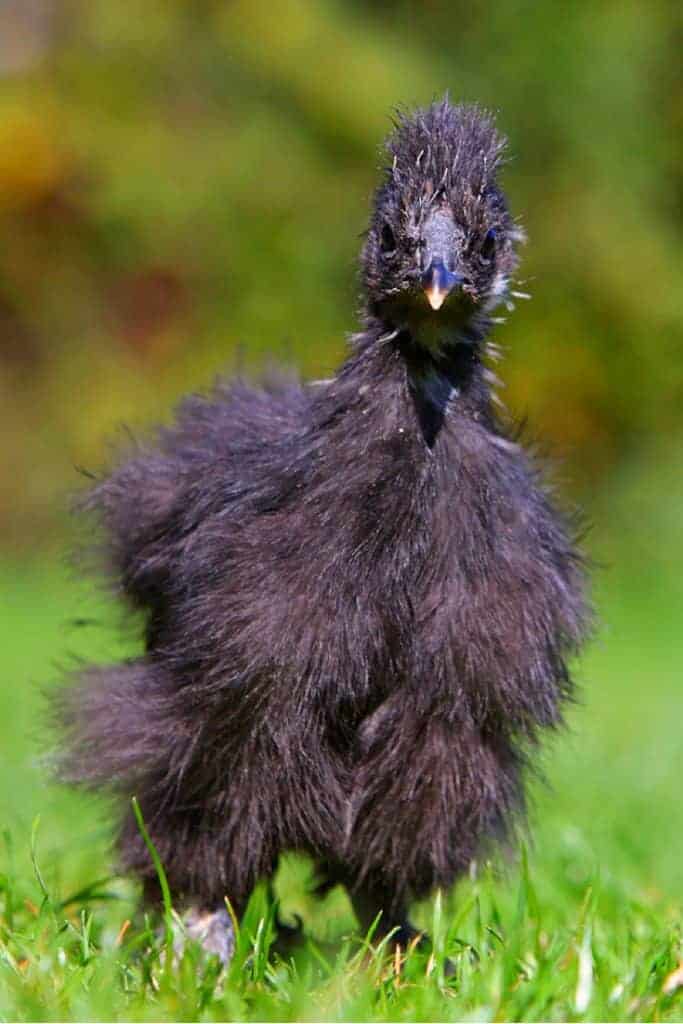 Do Silkies have feathered feet?
Yes, they do – and it's part of their charm! In the United States, silkies are ornamental birds, so they're bred to grow feathers on their feet. Most owners love it!
What age do Silkie chickens start crowing? Do Silkies crow?
If your silkie is a rooster, he should start crowing at about 7 months. However, not all silkies will crow. It depends on the individual chicken.
Our silkie roosters don't crow or make much noise at all – which makes them ideal for suburban households that don't want to disturb their neighbors.

What are Silkie chickens like as pets?
Do they make good pets?
Silkies make GREAT pets, especially for households with children. I also know MANY seniors who keep Silkies because they're easier to care for than a dog, and they're great company.
Are Silkies good with children?
YES! Silkies are quiet birds who enjoy human company. They're more willing to be held than other chickens and will put up with small children and fast movements more than other breeds.
You can see our chicken breeds for children recommendations here.
Why do people keep them as pets?
Silkies can also be a great pet because:
They're quiet

Submit to being held on laps (while other breeds of chickens will flap and squawk)

They look like fluffy balls straight out of a Dr. Seuss story, and

Their feathers are soft to touch – great for children with sensory issues
Are Silkies friendly?
Yes, especially if raised as pets from birth. They're quiet, and when they've bonded to their human, they often follow their owners around. Many seniors keep silkies because they're friendlier than other chicken breeds and enjoy being around their humans.
How long do Silkie chickens live for?
Silkies, like other chickens, can live for 4-8 years, when kept in ideal conditions and fed correctly.
To give your silkie the best quality of life, you should keep them in a coop with fresh water and plenty of high quality feed. You should also give your pet chicken medical care when needed and herbal supplements to support her health.
Buying Silkies
How much is a Silkie chicken worth?
Whatever someone will pay for it! Most Silkie chicks that are sold as pets cost less than $5 – and you might find them at your local farm store for less.
Silkies that are show quality might cost hundreds of dollars, while ones hatched at a high quality breeder might cost less.
Where can I buy Silkie chickens?
Hatcheries, your local farm store, or private breeders. See our list here of where to buy chickens.
When you buy them, look for the extra toe – that's a pretty good indicator the chicken actually is a Silkie. You should also bring a knowledgeable friend who can help you select chicks that appear healthy.
We've had good luck finding them at farm stores like Tractor Supply.
General Care
How long do Silkie chickens need a heat lamp?
Approximately 16 weeks of age. Like other chicks, Silkies need their brooders to be between 90-95 degrees for their first week of life (and reduce the temperature by 5 degrees every week.)
If it's warm in your area, your Silkies should be fine once they can handle temperatures of 70 degrees.
If it's cold, and your Silkies are under 16 weeks of age, you might need to supplement with a heat source until they're older. We don't recommend heat LAMPS because they can cause fires. We've used heating pads and been okay.
Do Silkie chickens need a heat lamp during winter?
Not generally, although this will depend on how cold your area gets. They're generally fine in temperatures as low as 0 degrees.
In colder temperatures, you might have to provide a heat source. If you have just a couple, the easiest and safest way to ensure they're warm is to bring them in at night. They'll be fine in a dog crate.
Heat lamps are dangerous and can ignite a fire, so we don't recommend them.
Can Silkies stand cold temperatures? Are Silkie chickens cold hardy?
One thing to watch out for is caring for Silkie chickens in winter – because they don't have regular feathers, they can't "fluff" them like other chickens to keep warm.
Just keep an eye on your fluffy butts and if they seem cold (or if it's going to be very cold in your area), give them a way to stay warm.
They're generally fine in temperatures as low as 0 degrees. It's extremely important to make sure your silkies aren't outside when it's cold and wet – in freezing rain, for example.
Because their feathers are finer, they won't stay as warm as other chickens. Freezing rain, sleet, or snow can turn deadly for your Silkies – so in inclement weather, leave them in their coop.
Do Silkies get along with chickens?
Yes – even though they look different, Silkies are quiet flock members, and get along well with other chickens.
Because they're docile, you might find your Silkies are picked on more than your other flock members – just keep an eye out, and separate if any issues arise.
How do you introduce Silkies to an existing flock?
Just like you would any other chicken – by letting established flock members see their new friend without touching the Silkie.
Then, after 48-72 hours, you can try to integrate the Silkie with the rest of your flock.
You still might see squabbles, but as long as everyone is healthy and not hurt, they will stop in a couple days.
Feeding Silkies
What do you feed Silkies?
Silkies eat the same feed as regular chickens – a high-quality layer feed (for hens) or a high quality chick starter (for baby chicks). They don't need any special feeds.
For treats, you can feed Silkies mealworms, herbs, kitchen scraps, leafy greens, black soldier fly larvae, or river shrimp.
Do they eat a lot?
Silkies are smaller chickens, and they eat less than standard size breeds. They still should be fed about 1-2 cups of feed daily – and you can feed them leafy greens, black soldier fly larvae, herbs, mealworms, and other treats to boost their diet. This is also a great way to bond with your silkies!
Silkie health issues
You might read on the internet that Silkies are more disease prone than other breeds and you should get your Silkie chickens vaccinated – I have not experienced this, and I would venture to say that Silkies are a hardy breed.
Silkie Eggs
What color eggs do Silkies lay?
They lay off white eggs or cream colored eggs.
How many eggs do Silkie chickens lay? Do they edible eggs?
They lay 3-4 times a week – so they're not the champion layers of the backyard chicken world, but they have other qualities to make up for it!
Do Silkies like to hatch eggs?
Yes! Many people keep silkies because the hens "go broody" and want to hatch eggs – any eggs!
They're wonderful pets that look funny and make great companion chickens for children and adults. They're friendly, calm, and love human company….that is, unless they've decided to hatch eggs!
Yes, Silkies tend to "go broody" more than other breeds, and many people keep this breed of chicken specifically to incubate eggs on their farm. Now, this isn't a guarantee your hen will want to hatch chicken eggs!
How many eggs can a Silkie hen sit on?
As many as she can fit under her! The amount will depend on the size of your fluffy butt.
Hens prefer to sit on an odd number of eggs – it's not unheard of to see silkie chickens sitting on 11 or 13 eggs!
Maat van Uitert is a backyard chicken and sustainable living expert. She is also the author of Chickens: Naturally Raising A Sustainable Flock, which was a best seller in it's Amazon category. Maat has been featured on NBC, CBS, AOL Finance, Community Chickens, the Huffington Post, Chickens magazine, Backyard Poultry, and Countryside Magazine. She lives on her farm in Southeast Missouri with her husband, two children, and about a million chickens and ducks. You can follow Maat on Facebook here and Instagram here.