For this review, we were sent a free Omlet Universal Automatic Chicken Coop Door to test. All opinions are our own and represent our own experience with this product.
In this article, we'll show how we installed the Omlet Universal Automatic Chicken Coop Door in a coop we built ourselves.
(We reviewed the automatic coop door when it's installed in an Omlet chicken coop here.)
Below are our results, how we installed it, and overall recommendations!
Table of Contents (Quickly Jump To Information)
What it is
The Omlet Universal Automatic Coop Door is a heavy-duty plastic automatic coop door, frame, motor, and programming panel unit. You can install it in your Eglu Cube or on your own chicken coop (we show you below how to install it on your own coop). If your chickens free range, you can also install the door to hardware cloth and other wire so your chickens can easily access your lawn.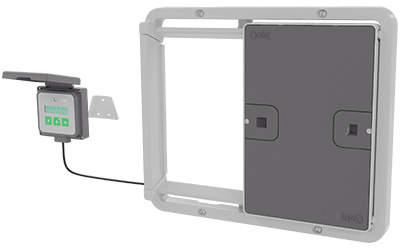 Omlet's Universal Automatic Chicken Coop Door comes with all the necessary hardware to install it – all you'll need is a screwdriver. The programming panel requires AA batteries.
The panel can be set to open and close at a specific hour, or you can use the light setting to close at dusk and open at dawn. This setting will naturally follow the seasons – no additional programming necessary. You will still need to replace batteries regularly.
This product retails on the Omlet website for $189.99, with free shipping.
Where to Buy Omlet's Universal Automatic Chicken Coop Door
You can purchase this door on Omlet's website here (and shipping is free – always a good thing!).
What the company claims
Quoted directly from the Omlet website:
Powered by battery

Can be installed in any coop

Easy to install, no maintenance required

Operated by light sensor or timer

Built-in safety sensors

Reliable in all weather conditions

Improves coop security and insulation
Installing the Omlet's Universal Automatic Chicken Coop Door Into Our DIY Coop
We built this duck coop a while back, and were super excited to receive the Omlet's Universal Automatic Chicken Coop Door to test! Ducks tend to have a harder time getting in and out of our coops (they can't jump a well as chickens, and don't have quite the same leg strength). So, we needed a safe and easy way for them to get in and out of their new home.
Coop security is also a big concern – while our existing coop is predator proof, we need our new coop to also protect our ducks. Unlike chickens, ducks can't roost or fly away from predators. At the same time, especially during the summer, they can't be locked up in their coop for hours after sunup – it's too hot!
So, the Omlet Universal Automatic Coop Door is a great solution to several problems on our farm. We can program it to open and close at specific times, and our ducks can have access to their run – long before we're awake!
To install the Omlet's Universal Automatic Chicken Coop Door, we used:
The door kit Omlet sent us

An electric screwdriver

A sawzall to create a door opening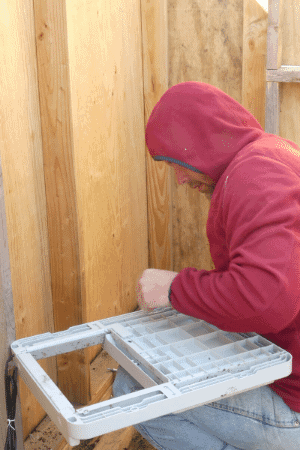 Creating a door opening
To install the door kit, you'll first need to create a door opening (this is where your ducks will actually exit the coop). To make this super easy, just trace the door opening in the Universal Automatic Chicken Coop Door.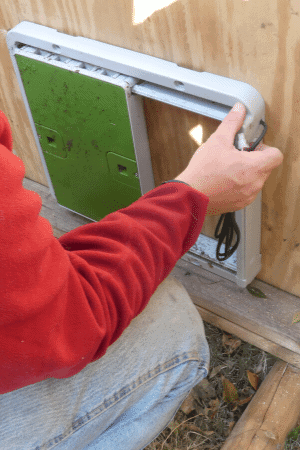 Then, use the sawzall to make the opening.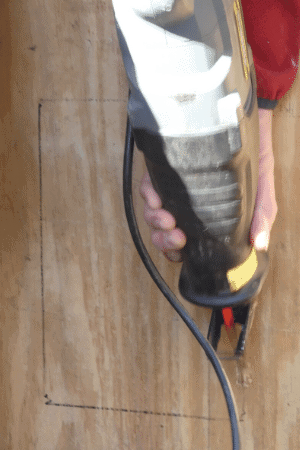 The finished door opening: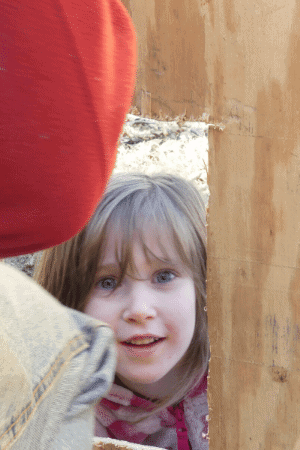 Installing the Universal Automatic Chicken Coop Door kit
The kit comes with all the hardware you'll need. For this part, we followed the directions in the instruction manual that accompanied the door kit. They were easy to follow – so installation only took a few minutes.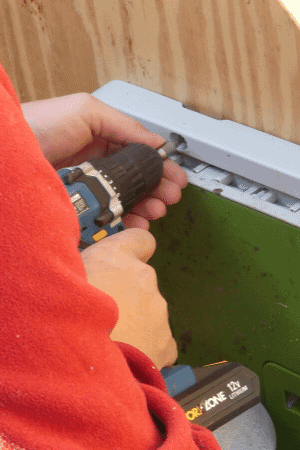 Programming the Universal Automatic Chicken Coop Door
While the sunlight feature is a nice option, because our ducks need to be herded into the coop every night, we programmed the door to open and close at specific times so we could better plan our day. (For more information about the daylight setting, please consult Omlet's website here).The keypad took a bit of reading the instructions and getting used to the different buttons, but once we figured it out, programming the door was a snap.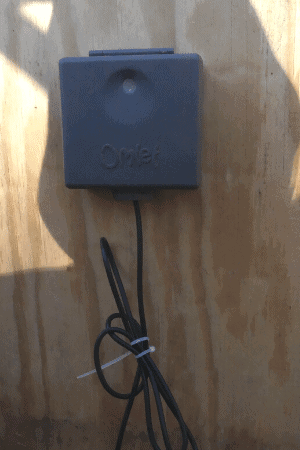 The finished install: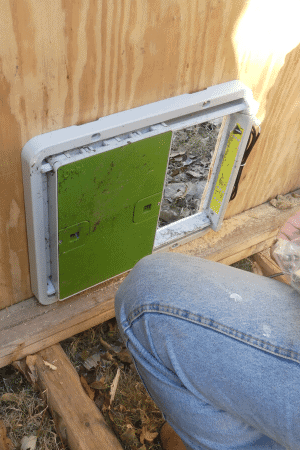 Does Omlet's Automatic Coop Door live up to its claims?
Yes! This door is very easy to install in any coop, and the door operates as expected. Our ducks figured out how to use it, and we're happy to know our ducks are safe and sound at night.
What we like
Door frame means easy installation with better security
We love how easy this was to install and that's because it comes "pre-hung" with a door frame. It's also an added safety feature: without a frame, it's easier for predators and scavengers to maneuver around the door and enter your coop.
Better predator control
The door can't easily be moved by predators. In some systems, predators like raccoons can easily lift the door. We've also had doors that don't close all the way due to dirt build up. That does not seem to be the case with the Omlet Automatic Coop Door.
Competitively priced
While we received this product for free to test, I would have bought it anyway. The price of $189.99 is very reasonable, and less expensive than other similar products on the market. As far as DIY coop doors go, it's well worth the investment for some peace of mind!
What don't we like
There's nothing we really don't like about this system. But there are some things to watch out for (read below).
Is it useful for chicken owners?
Yes! Your flock will love this automatic coop door. We recommend Omlet's Automatic Coop Door for flocks of all sizes and ages (just know that you'll have to teach young chicks and ducklings to go into the coop before the door closes). The best part is that it automates opening and closing the coop, so you can sleep soundly at night and not worry about predators!
What to watch out for:
Be sure to install it on thicker wood, or have metal cutters handy
We noticed that some of the screws are very long – about 4" long. After installing the automatic door, the end of the screws were visible on the outside of the coop, which can be dangerous. To remedy this, we had to remove the extra bit.
Door might be a bit small for some ducks, or a mass exodus
The door opening is quite small – it's definitely large enough for a single chicken or duck to use. Our ducks like to leave their coop in a mass exodus (meaning, all at once, preferably with lots of arguing about who will go first). It's impossible for more than one duck to use the door at the same time. So, if your ducks are similar, be prepared for some loud, angry quacking.
Do night check for stragglers
Because the door automatically closes, you'll have to check for stragglers. Another option is to have the door close well after dark (say, 30 minutes). In areas with a lot of predators, this isn't ideal, however, so my recommendation is to just do a night check and herd in any latecomers.
Summary
The Omlet Universal Automatic Coop Door is a great addition to any coop, and your flock will love it!
Maat van Uitert is a backyard chicken and sustainable living expert. She is also the author of Chickens: Naturally Raising A Sustainable Flock, which was a best seller in it's Amazon category. Maat has been featured on NBC, CBS, AOL Finance, Community Chickens, the Huffington Post, Chickens magazine, Backyard Poultry, and Countryside Magazine. She lives on her farm in Southeast Missouri with her husband, two children, and about a million chickens and ducks. You can follow Maat on Facebook here and Instagram here.