For this review, we were sent a free Omlet Universal Automatic Chicken Coop Door to test. All opinions are our own and represent our own experience with this product.
In this article, we'll cover our review of the automatic coop door when it's installed in an Omlet chicken coop. For this review, we used our Eglu Cube.
In a subsequent review, we'll show how we installed the same automatic door in a coop we built ourselves.
Below are our first impressions, testing results and overall recommendations! Read on to find out about our experience.
Table of Contents (Quickly Jump To Information)
What it is
The Omlet Universal Automatic Coop Door is an all-in-one auto coop door, frame, motor, and programming panel. It can be used on the Eglu Cube or on your own chicken coop (you don't need an Omlet coop to enjoy this product – it works with all coops).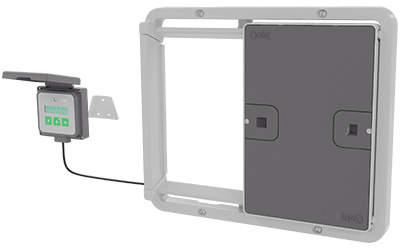 It's plastic, with a motor, and comes with all the necessary hardware to install it. The electric panel that allows you to program the door requires AA batteries.
According to the website "Omlet's Universal Automatic Chicken Coop Door can be set to close at dusk and open at dawn. This setting will naturally follow the seasons."
Although we did not test this feature, the door can be attached to hardware cloth and other wire so your chickens can easily access their run, if you want them to free range.
This product retails on the Omlet website for $189.99, with free shipping.
Where to buy Omlet's Universal Automatic Chicken Coop Door
You can purchase this door on Omlet's website here (and shipping is free – always a good thing!).
What the company claims
Quoted directly from the Omlet website:
Easy to install, no maintenance required

Operated by light sensor or timer

Powered by battery

Improves coop security and insulation

Compatible with the Eglu Cube

Reliable in all weather conditions

Built-in safety sensors
Our experience
This is our third product we've tested from Omlet (we also tested the Eglu Go), and we were super excited to give the automatic coop doors a test drive! One thing you might notice is this section of our review is short – that's because the Omlet Universal Automatic Coop Door was very easy to install!
We installed it in our Eglu Cube, which we reviewed a few years ago, and is still going strong (which says something for the craftsmanship of Omlet's products!)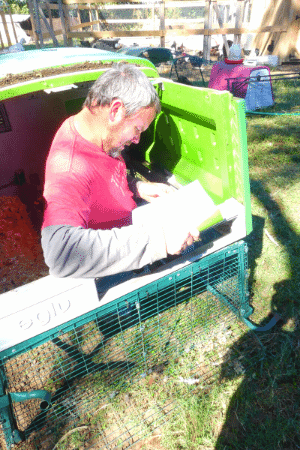 The Omlet Universal Automatic Chicken Coop Door came with instructions that were easy to follow – so installation only took a few minutes. The chickens were a bit confused the first night – we had to open the door again for our barred rock rooster, who was a bit late to the show, and the door closed before he could get inside.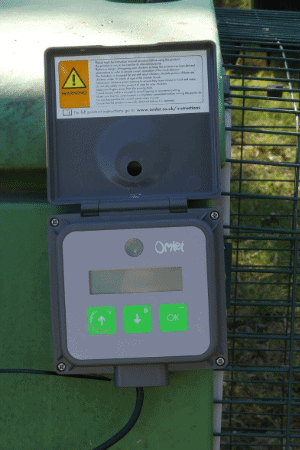 But the other chickens figured out quickly how to use it, and the door opened bright and early the next morning. The keypad that lets you program the door took a bit of reading the instructions and getting used to the different buttons, but once we figured it out, programming the door was a snap.
We also tested the manual feature, since our flock heads into the coop at different times at dusk. It worked well (even for me, who can't figure out most new devices), and it's nice to know we can open and close the door easily. (The Eglu Cube also has several other doors, so if we need to check on a flock mate, we don't need to disarm the auto coop door).
The next day, we tested the "Light Setting" which allows you to program the door to open at dawn and close at dusk. The door did open and close at the right times! (For more information about this setting, please consult Omlet's website here).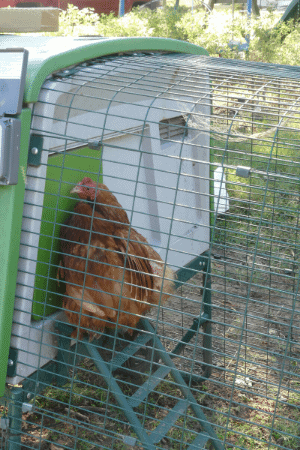 Does Omlet's Automatic Coop Door live up to its claims?
Yes! This door makes chicken keeping a breeze, and the door operates as expected. It was easy to install, and we appreciate all the safety features!
What we like
Door frame means easy installation with better security
The door comes with a frame – so even if you install it into a wooden coop, you won't need to worry about framing it (without a frame, it can lead to security issues, and it's one of our biggest qualms about past auto doors we reviewed.).
Better predator control
The door can't easily be moved by predators. In some systems, predators like raccoons can easily lift the door. We've also had doors that don't close all the way due to dirt build up. That does not seem to be the case with the Omlet Automatic Coop Door.
Competitively priced
While we received this product for free to test, I would have bought it anyway. The price of $189.99 is very reasonable, and less expensive than other similar products on the market. It's well worth the investment for some peace of mind!
What don't we like
If I have to be nit picky – and this is a very nit picky thing – I would say it's not super aesthetically pleasing. On our Eglu Cube, the operation panel sits on the outside of the coop, and the wires that connect from the door to the panel are hard to hide. However, realistically, this wouldn't turn me off of this product because it's easy to use and the chickens like it.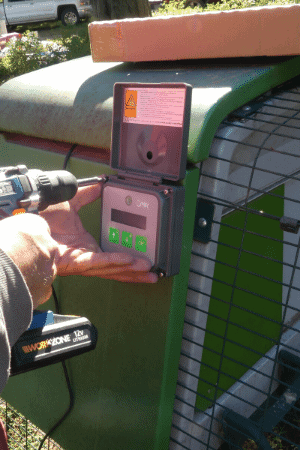 Is it useful for chicken owners?
Yes! Your flock will love this automatic coop door. We recommend Omlet's Automatic Coop Door for flocks of all sizes and ages (just know that you'll have to teach young chicks and ducklings to go into the coop before the door closes). The best part is that it automates opening and closing the coop, so you can sleep soundly at night and not worry about predators!
What to watch out for:
Had to take Eglu Cube apart
We tested this on an Eglu Cube, and to install it, we had to take the roof off of the coop and crawl inside the opening. So, if you have an Omlet coop, you'll have an extra step. But it only took us a few minutes.
Haven't tested it on geese or turkeys
We don't have geese or turkeys on our farm, so we couldn't test it with larger fowl. However, the door is very large, and we've seen our full-sized goat slip through tighter spaces, so I'm confident all classes of poultry can easily use the Omlet Automatic Coop Door.
Do night check for stragglers
Because the door automatically closes, you'll have to check for stragglers. Another option is to have the door close well after dark (say, 30 minutes). In areas with a lot of predators, this isn't ideal, however, so my recommendation is to just do a night check and herd in any latecomers.
Summary
The Omlet Universal Automatic Coop Door is a great addition to any coop, and your flock will love it!
Maat van Uitert is a backyard chicken and sustainable living expert. She is also the author of Chickens: Naturally Raising A Sustainable Flock, which was a best seller in it's Amazon category. Maat has been featured on NBC, CBS, AOL Finance, Community Chickens, the Huffington Post, Chickens magazine, Backyard Poultry, and Countryside Magazine. She lives on her farm in Southeast Missouri with her husband, two children, and about a million chickens and ducks. You can follow Maat on Facebook here and Instagram here.