Today we're going to talk about how to make your own makeup at home!
On a normal day, I typically don't wear any makeup, but it's nice sometimes to get a little bit dressed up. I love using natural products and I think it's great to make your own makeup at home!
Natural products are better for your skin and when you make your own makeup you get to control exactly what ingredients are in the products you use.
Now obviously I'm not a dermatologist, so I can't guarantee that a switch to natural products will work for your skin. But it worked for me, so I'm sharing my experience with you.
A couple of months ago I talked about my favorite natural makeup products and brands (you can find that article here) However, I know a lot of you are interested in making your own makeup from home, so I decided that I would share some of my favorite homemade makeup product recipes.
Something to keep in mind is that making your own makeup is a very personal process.
Different products will work best for different people, so use this article as a stepping stone for experimenting with making your own makeup products. You'll have to adjust these "recipes" for your own skin tone and for your skin!
Also remember that if you're making the switch to natural makeup, be patient. I'm not going to claim that natural makeup "does the job" exactly the same as conventional makeup products. Because honestly in my experience it doesn't. But it's an adjustment that you have to be willing to make and it all depends on how willing you are to adjust your expectations for makeup. So keep that in mind:)
Also please remember that just because something is natural doesn't mean that you skin will love it! None of these ingredients are harmful, but that doesn't mean you should slather it on without testing it first.
I recommend that you start by making small batches of makeup and then try it in a small area of your skin like the inside of your wrist or a small area of your face to make sure you don't have any allergies to any of the ingredients.
So let's get started! Here are some of my favorite homemade makeup recipes!
Foundation
Personally I typically only wear a face powder, unless it's a special occasion. If you're interested in learning how to make your own liquid/cream foundation you can head over to this article here: Natural Liquid Foundation
Here's how I make my own powdered foundation. Keep in mind that I can't give you an exact measurement because this recipe will be different for every skin tone.
Ingredients
Base: Arrow root powder
Color: Cocoa powder
If you have light skin, use more arrow root powder. If you have dark skin use more cocoa powder. Slowly adjust the color (add arrow root to make it lighter and cocoa powder to make it darker) until the mixture is right for your skin tone!
You can then place the mixture in a small mason jar to store!
Bronzer
My bronzer recipe is exactly the same as above! Use arrow root powder and cocoa, but add more cocoa to make the mixture slightly darker! I like doing it this way because it makes it simpler and I don't have to go and buy different ingredients (because I'm cheap LOL!)
Mascara
I'll be honest with y'all. I have not attempted to make my own mascara yet…I love my favorite mascara brand and I'm holding on to it for now…But I found an amazing tutorial for homemade mascara that you can use if you want to start making your own! You can find it here: Homemade Mascara

Blush
Homemade blush is fun to make because you can easily adjust the color depending on your preference!
Ingredients:
Arrow root powder
cocoa (optional)
beet root powder
You can make your own beet root powder if you want to save some money. Here's a recipe for how to make your own beet root powder at home: Homemade Beet Root Powder
All you have to do is mix the arrow root powder with the beet root powder until you reach the desired color! Simple! Store in a small mason jar!
Eyeshadow
Eyeshadow is fun to make at home because you can experiment with making different colors and shades! You can use arrow root powder as the base and then combine it with different combinations of nutmeg, cocoa, beet root powder, and turmeric to create your own shades! If you want specific recipes for different color shades head on over to this article! It has different recipes for different shades of homemade eyeshadow: Homemade Eyeshadow
Eyeliner
I have yet to attempt making my own eyeliner, so I don't have a personal recipe to share with you. But I love this recipe from the Coconut Momma! There are only 3 simple ingredients! I'm also excited to try out this recipe: Homemade Eyeliner
Homemade Lip Balm
I love homemade lip balm and my favorite recipe is for lemon balm lip goo.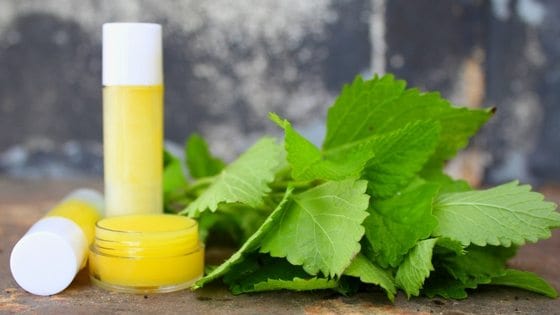 For this recipe you will need:
You can use any brand of essential oils, but I've done a lot of research and recommend Young Living oils.
Directions
First off you'll need to infuse your lemon balm in oil if you haven't already (Follow this link here to learn how to infuse oils with herbs).
In a mason jar combine all of your ingredients.
If you want to add a little bit of color to your lip balm you could try adding some beet root powder to the mixture. I've never tried this since I'm not a huge fan of lipstick or colored lip gloss, but just experiment with how much beet root powder you need to create your desired color!
Make a double boiler by placing the mason jar in a pot of water. Heat until the beeswax is melted, stirring occasionally so the ingredients mix well.
Once melted, use a funnel to pour the mixture into tubes or other lip balm containers. Allow to cool undisturbed. The lip balm should be somewhat soft and easy to apply to your skin.
You can also try my pumpkin spice lip balm recipe here!
Have you made your own makeup before? What is your favorite makeup product to make at home?
Maat van Uitert is a backyard chicken and sustainable living expert. She is also the author of Chickens: Naturally Raising A Sustainable Flock, which was a best seller in it's Amazon category. Maat has been featured on NBC, CBS, AOL Finance, Community Chickens, the Huffington Post, Chickens magazine, Backyard Poultry, and Countryside Magazine. She lives on her farm in Southeast Missouri with her husband, two children, and about a million chickens and ducks. You can follow Maat on Facebook here and Instagram here.