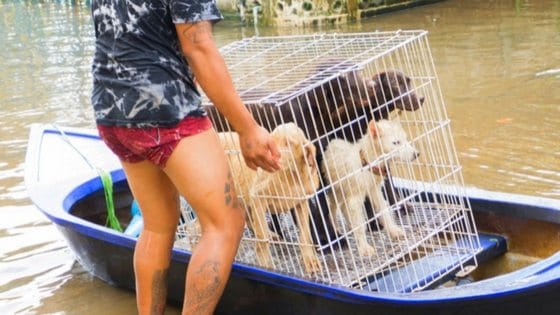 Hurricane Harvey didn't just impact millions of people – it was also devastating to pets and livestock who lost their families.
Rescuers have spent hundreds of man hours rescuing pets from the rising waters, braving the floods that could have killed them to bring dogs, cats, horses and more to safety.
Shockingly, in many cases, the animals weren't just abandoned to save themselves – many of them were purposely locked up by their humans to meet whatever fate awaited.
Luckily, rescuers got to these 10 lucky pets before the rising waves ended their lives.
Here's 10 heartwarming stories of humans who went out of their way to rescue pets and in some cases, reunite them with their owners!
This dog who jumped into a rescuer's Jeep, and thanks to one man and the power of Twitter, was reunited with his family.
Displaced dog jumped into my jeep. Please share to help find owner! #harvey #hurricane #displacedpets pic.twitter.com/0C6Ve9bN78

— Aaron Jayjack (@aaronjayjack) August 26, 2017
These 120 cats from the Cattery Cat Shelter who were evacuated by the SPCA of Texas before Hurricane Harvey hit Corpus Christi:
BREAKING: Hurricane Harvey Evacuations: Our feline friends from the Cattery Cat Shelter in Corpus Christi have arrived!! They are doing good pic.twitter.com/T0CRySCoKr

— SPCA of Texas (@spcaoftexas) August 25, 2017
These adorable kittens rescued by a brave woman from underneath a porch in Houston:
I walking through my neighbor hood looking for any animals that need help… and found some kittens stuck under some ones porch #Harvey pic.twitter.com/93OIQ7fm0S

— Savannah Hoeffner (@SavannahHTX_) August 27, 2017
These adorable baby squirrels who were taken in by the Wildlife Center of Texas:
The Wildlife Center of Texas has taken in 60 wild baby animals, mostly squirrels because of #Harvey and expecting many more. @kprc2 pic.twitter.com/x3en7FmccX

— Allen Reid (@Allen_Reid) August 27, 2017
A 3 week old baby squirrel brought into the Wildlife Center of Texas during #Harvey One of 60 wild baby animals so far. @KPRC2 pic.twitter.com/gXl0ZhobMb

— Allen Reid (@Allen_Reid) August 27, 2017
These poor dogs thankfully rescued from locked kennel before the water got too high:
If you have animals and can't get them out let me know so I can come get them. To the sick assholes that left these two poor dogs locked in a kennel on your porch to drown, hope God had a special plan for you.

Posted by Jared Carter on Sunday, August 27, 2017
This lucky dog that was rescued from flooding waters by concerned citizens:
A dog was saved from the flooded streets of the sun chase neighborhood in Hamshire. pic.twitter.com/AXzEWzdZes

— Jacque Masse (@jmasse12news) August 28, 2017
These panicking horses locked in a flooded pen and saved by a brave teen before the worst happened:
Frankie & Bear, two stranded dogs lucky to be saved by rescuers:
UPDATE: Frankie & Bear are safe. The two dogs we saw sitting in a boat in a flooded neighborhood have been rescued… https://t.co/HOX03V5Typ pic.twitter.com/oo3IDt81R2

— ed lavandera (@edlavaCNN) August 29, 2017
This unfortunate dog that was tied to a post and saved by a photographer:
HEARTBREAKING: This was Saturday. An abandoned dog left alone during the flood in TX. The photographer rescued it

(? – @DailyMail ) #Harvey pic.twitter.com/UepRjSlfXK

— Matt Rodewald FOX 10 (@Matt_Fox10) August 28, 2017
This pet pig, whose family refused to leave him behind:
"Harvey the Hurricane Hawk" who took shelter in a man's vehicle after becoming injured and unable to get to safety:
WATCH: A man in Houston claims a hawk would not leave his taxi cab as Hurricane Harvey barreled toward Texas Friday morning. pic.twitter.com/j2nZbarkvZ

— NBC News (@NBCNews) August 26, 2017
(Harvey is currently being cared for by the Texas Wildlife Rehab Coalition.)
This VERY vocal pig rescued from high water in Texas.
One loud and lucky pig rescued from #Harvey high water #Fox26 pic.twitter.com/DRxGaCsVvC

— Greg Groogan (@GrooganFox26) August 28, 2017
This herd of cattle who were thankfully moooooved to safety by Texas police:
WATCH: Texas police move a massive herd of cattle to higher ground outside of Houston pic.twitter.com/e6Dz2Dkrlr

— NBC News (@NBCNews) August 28, 2017