Table of Contents (Quickly Jump To Information)
If you're looking for a surefire way to keep your flock from getting the stuck-in-the-coop blues, build a grazing box for your chickens.
And the best part? Building a grazing box for your chickens (using chicken wire or hardware cloth) won't cost you a ton of money!
You might already know your chickens need boredom busters so they don't start fighting and picking at each other's feathers.
Building your chickens a grazing box for herbs and healthy greens will help reduce unnecessary stress in your flock, and give them a healthy, constructive hobby – and you'll get healthier eggs too!
The main benefit of a grazing box is that as the herbs and greens grow through the hardware cloth, your chickens can eat them, but can't devastate them or scratch them up by the roots.
For just a few minutes of work on your part, your chickens will be rewarded with a healthy, fresh treat again and again.
Here's how to build a grazing box for your flock for under $15!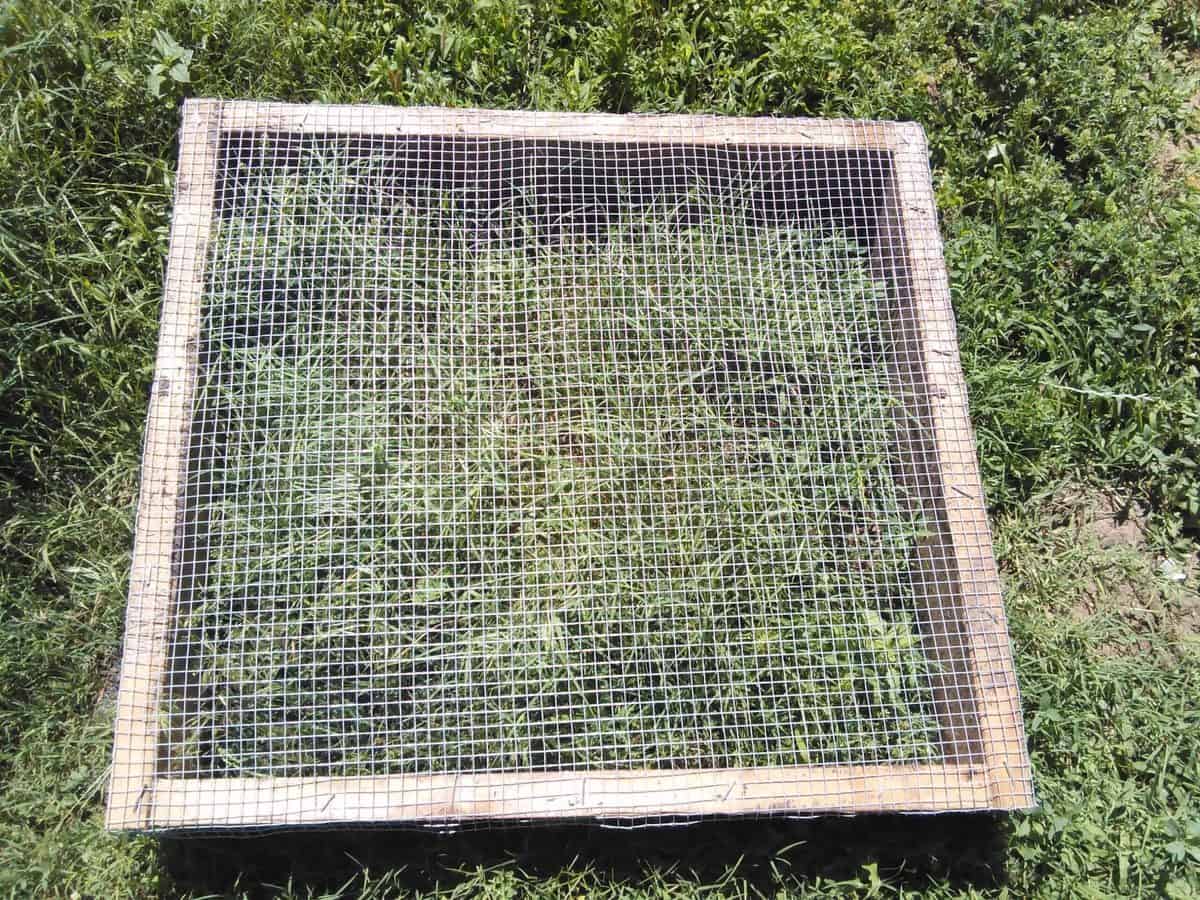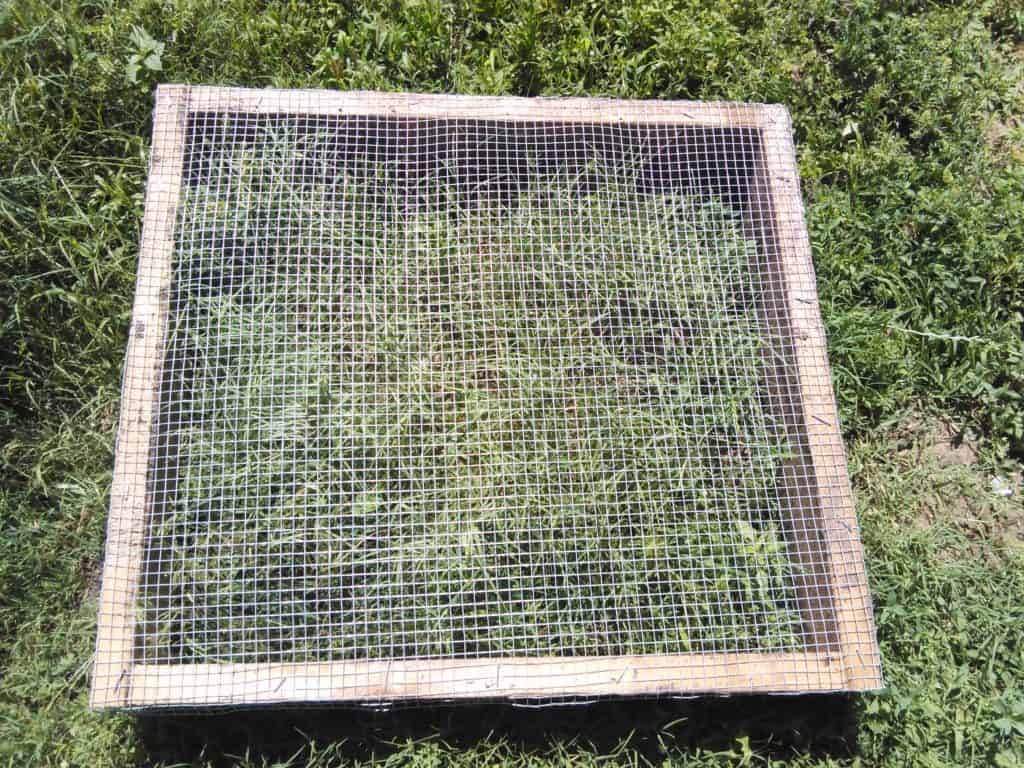 What you'll need:
One 2x6x10 heat-treated board, cut into four 2'6" pieces

½-inch or 1-inch hardware cloth (at least 2'6" by 2'6")

Staples or finishing nails

Eight 4" wood screws

Hammer

Screwdriver

Stapler (if using staples)

Wire cutters

Seeds for herbs and greens, or starts if you have them

Good soil or composted manure

Our Costs (yours might vary):
Wood: $4.89

Hardware cloth: $5.97 for 36"x10'

Screws: Leftover from a previous project

Finishing nails: $0.99 from a dollar store
How To Build A Grazing Box For Your Chickens
This project easily scales, so if you have a lot of chickens and you want a larger box, you can easily make your design larger or smaller as needed.
For a flock of 5-10 chickens, the size of the box in this article works very well.
Cut the wood into four pieces, each 2'6" long and screw them together.
It's important to use heat treated wood that hasn't been exposed to chemicals so your chickens stay safe while snacking on their treats.
We purchased new wood for this project from a trusted source, costing us less than $5 at a local lumber yard.
Using a circular saw or a handsaw, cut the wood into four separate pieces, each 2'6" long.
Screw the pieces together to form the box. We used 4-inch wood screws for this project to make sure the pieces were secured together, and we could move it around without danger of it falling apart.
While it might be tempting to use a thinner piece of wood, the box won't be as sturdy, so I recommend sticking with the 2x6s.
Add the hardware cloth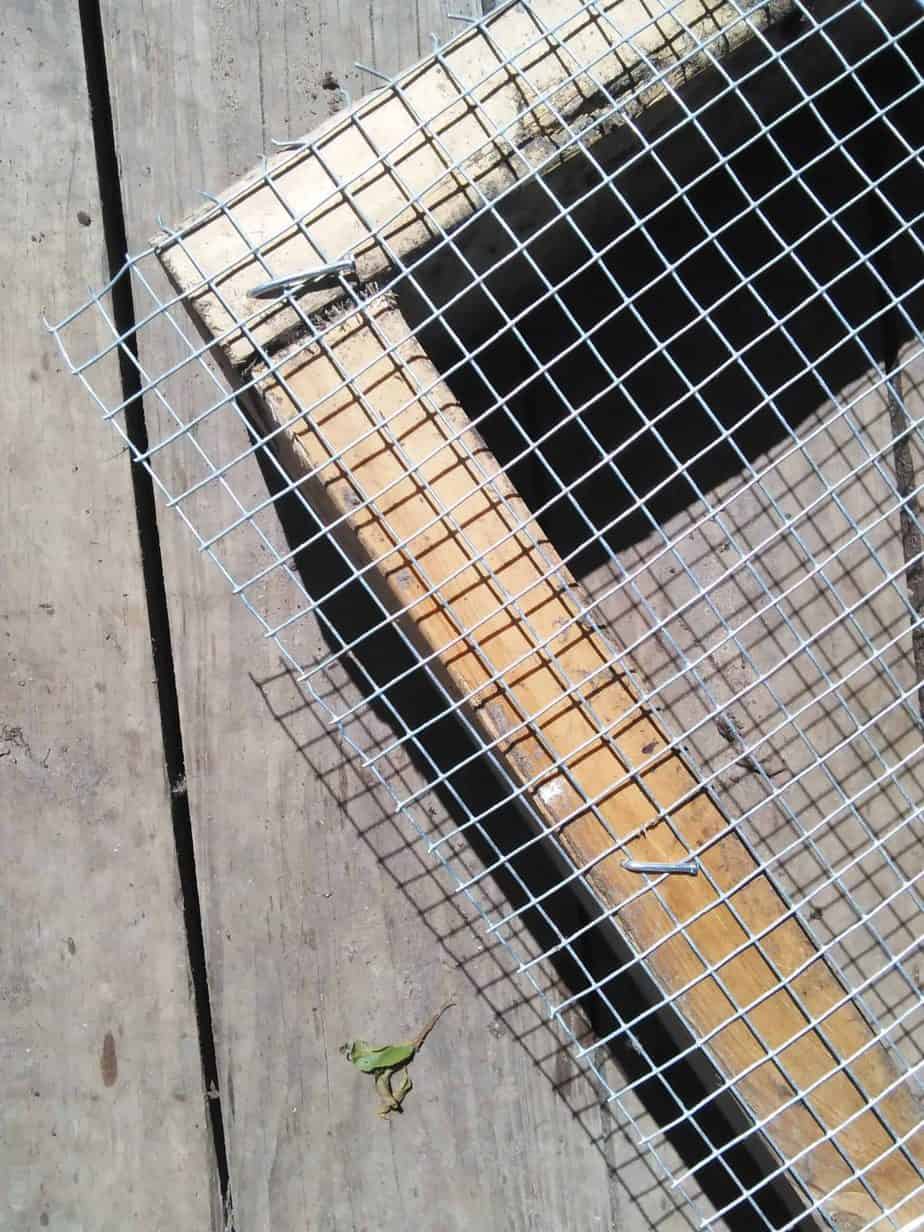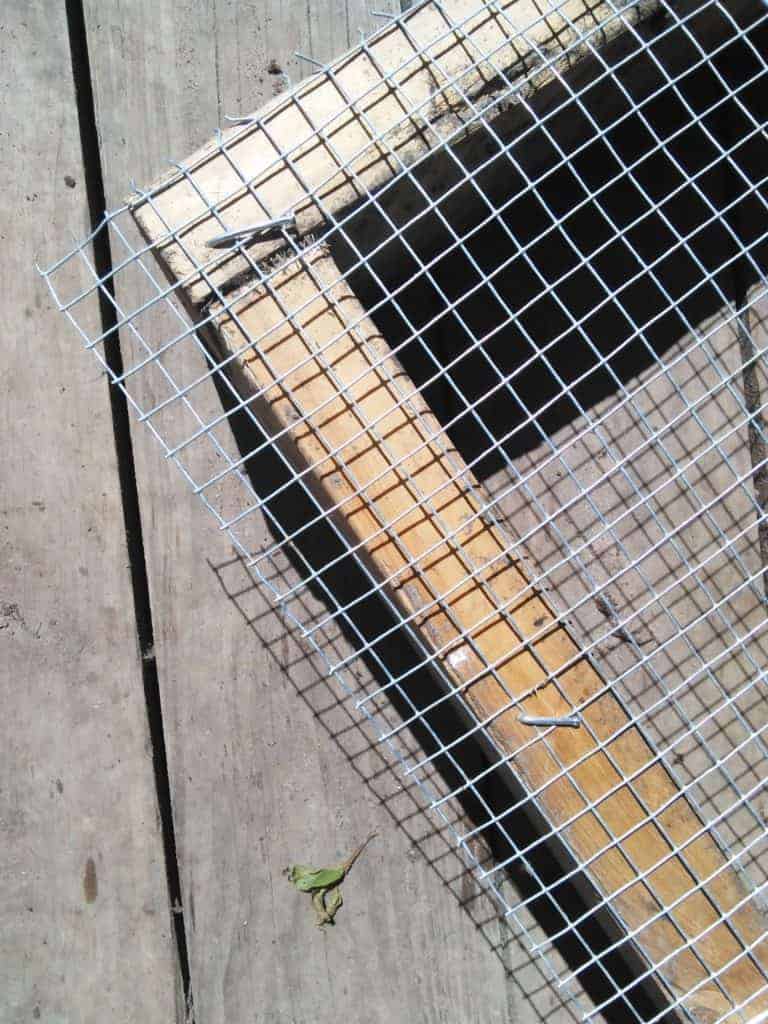 Decide whether you'll use staples or nails to attach the hardware cloth to the box.
We used finishing nails because we already had them on the farm and they're easy to bend, but staples work just as well. Just make sure the hardware cloth is secure to protect the growing herbs and greens.
Both finishing nails and staples withstand chickens well.
Cut the hardware cloth so there's only a slight overhang. Be sure to tamp down the edges of the hardware cloth with the hammer so there's no chance one of your chickens won't get cut on a sharp edge.
Identify where you'll place it in the coop
Ideally, you will choose where you'll keep the grazing box in your coop before building, which will give you a good idea of how big to make it.
But if you're like me, and tend to just make stuff before figuring out where to put it, then now is the time to measure out a 2'6" by 2'6" square in your coop so your chickens can easily access it.
Make sure you choose an area that drains well and doesn't flood. It should also be near a water source, or otherwise be an easy place to water.
Before putting the grazing box in the coop, first amend the area where you plan to keep it to make sure you can actually grow greens or herbs there.
Add a good quality topsoil or composted manure to the area, then plant your seeds or starts. Top with the grazing box, making sure the hardware cloth is facing up.
It will take a few weeks before the greens are large enough to eat, but when they are, your hens will get a treat!
I recommend finding something to cover the grazing box with as the seeds sprout and grow.
As we all know, chickens like to poop…and they'll poop all over your grazing box as the grass is growing. So, it's necessary to protect it with a clear cover; a large piece of plastic is a good option.
I recommend keeping it away from your chicken feeder so poop doesn't get over the feeder as well.
What to grow in your grazing box
Now that we've built the grazing box for your chickens, you might wonder what's best to grow in it.
Here's some options your chickens will love:
Alfalfa grass – high in protein
Oregano – supports a healthy environment
Sage – natural dewormer
Calendula – Flowers have lots of beta carotine, supports healthy yolks
Parsley – source of many essential vitamins
Garlic (for leaves/scapes) – supports a healthy immune system
Wheat grass – great source of protein, vitamins
Barley grass – great source of protein, vitamins
Kale/Mustard/Other greens – great source of protein, essential vitamins
Grab my free cheat sheet about 7 herbs you can start feeding your chickens today and in just 10 minutes, you'll have healthier hens at TheFrugalChicken.com/ChickenHerbs
We also love and recommend this wheat berries product. It's non-GMO and makes growing wheat grass so easy!
OUR MOST POPULAR FODDER SEEDS!

$19.99

Non-GMO Wheat Seeds for Sprouting Fodder (Wheat Grass)

3 POUNDS

✔️ SUSTAINABLY GROWN IN MISSOURI

✔️ ENCOURAGES POSITIVE BEHAVIORS LIKE FORAGING
I'd like to hear from you!
Do you think you'll build a grazing box for your chickens? Leave a comment below!
Maat van Uitert is a backyard chicken and sustainable living expert. She is also the author of Chickens: Naturally Raising A Sustainable Flock, which was a best seller in it's Amazon category. Maat has been featured on NBC, CBS, AOL Finance, Community Chickens, the Huffington Post, Chickens magazine, Backyard Poultry, and Countryside Magazine. She lives on her farm in Southeast Missouri with her husband, two children, and about a million chickens and ducks. You can follow Maat on Facebook here and Instagram here.