If you're raising backyard chickens, then you've likely also come across the pesky problem of raising mice and rats. A good quality feeder solves unwanted food freeloaders and keeps your feed fresh and bacteria free. In this article, you'll find DIY chicken feeder ideas that'll keep your coop a clean and happy place for your flock.
Rats and mice are a problem because not only do they eat your chickens' food, they leave droppings, attack young chicks, and spread disease.
So, keeping them out and away from your flock is critical.
Let's go over what you need to know, and how you can make your own DIY no waste chicken feeder.
(If you don't want to make one, here's the no waste chicken feeders I recommend. There's links to different ones on Amazon and they're all high quality and affordable).
Table of Contents (Quickly Jump To Information)
What Can I Make A Chicken Feeder Out Of?
Anything can be a chicken feeder as long as it can be removed from the coop for cleaning and it holds food.
But if you're here, you likely want something more sophisticated AND that'll keep pests away from your chicken feed.
A bowl is great, but it won't keep mice and rats out during winter, when they're more likely to try to build nests in the nooks and crannies of your coop.
It'll also attract ants, and give your flock a way to throw their feed everywhere – making clean up a nightmare.
So, let's look at different DIY chicken feeder ideas that you can try at home!
List Of Possible Materials For A DIY Chicken Feeder:
Wood

PVC

Tupperware bins

Repurposed food-grade barrels

Metal

Rubber
The possibilities are really endless – this is just a brief list of possible materials. You might even have them on hand if you build your own chicken coop!

We've found it easiest to make a no waste feeder from PVC, from parts sourced at any hardware store. Another easy option are the repurposed food-grade barrels. (See our DIY horse feeder tutorial here – it can easily be adapted for poultry).
In my experience, these are the two simplest chicken feeder ideas to implement.
While wood seems like a good idea, and it's readily available, it's not very easy to clean, and it can harbor bacteria in the grain.
If you have access to welder (a simple one is around $100 at hardware stores), a metal chicken feeder is great also.
5 Gallon Bucket DIY Automatic Chicken Feeders
Making a DIY chicken water feeder out of a 5 gallon bucket takes just minutes. This one is my favorite!
While this video is about how to make an automatic chicken water feeder out of a 5 gallon bucket, this idea can very easily be adapted for feed.
It costs about $12, and will take 5 minutes of your time.
Easy access to feed and water will improve egg production and lower the chances of your chickens developing bad habits like feather picking (which can easily be confused with chicken mites, so make sure they're truly bored).
Click here for the tutorial for 5 gallon bucket automatic chicken feeder waterer
Here's a second idea, using an an extra PVC component
Wood DIY Zero Waste Chicken Feeder
Wondering how to make a chicken feeder out of wood? This idea is good – but just note that it's made out of wood. So, you'll need to take extra care to clean it.
If you have wood hanging around, though, it's very easy to make!
If I were to improve on it, I would add a second door at the bottom, so it can be shut at night to keep rodents out. (While chicken wire will keep most rodents out, keeping the feed closed at night will reduce the temptation to raid your coop, and reduce your mouse population.)
Here's a second idea that looks easy to execute
PVC Pipe Feeder
We recently built one of these for our chicken coop, and it's an easy chicken feeder idea to execute.
You'll need to decide whether you want to drill holes into a PVC pipe for individual feeding holes, or remove the top portion of the pipe for easy group access.
You'll also need to make sure there's enough holes for each chicken – so if you have a large flock, like I do, then making access as easy as possible will also make your life simpler.
PVC Feeder Idea #1 (group automatic feeder)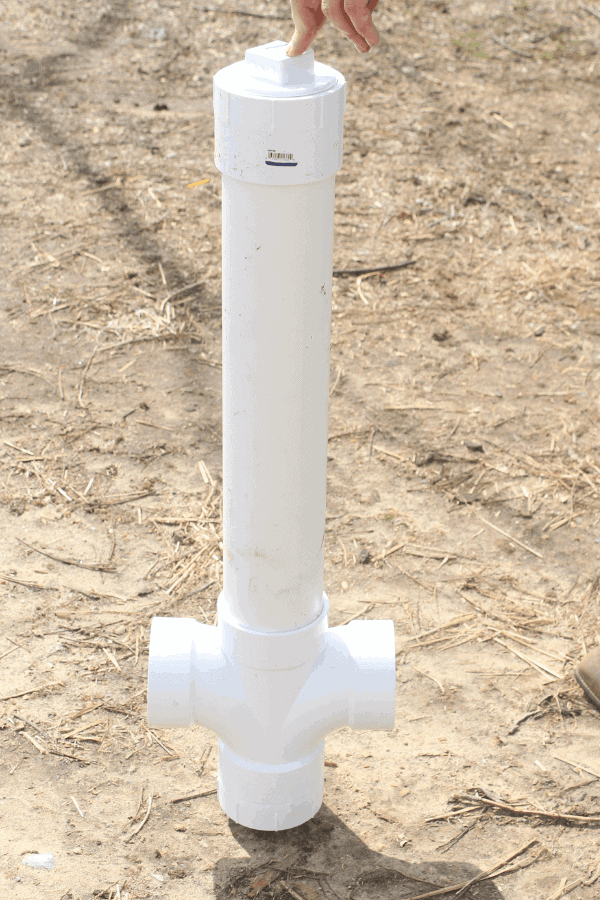 PVC Feeder Idea #2 here (multiple individual feeder holes)
PVC feeder idea #3 (single feeder hole)
DIY Rain Proof Chicken Feeder
If you want to locate your feeder outside the coop, then you'll need to make sure it keeps the grain dry. Sometimes chickens can be picky about the texture of their feed, and might turn their beaks up at mushy mash.
Muddy feed also molds fast (and can shorten your backyard chickens' lifespan) – so, it should always be a priority to ensure your chicken feeder keeps your flock's food safe from the elements that could cause it to spoil.
The easiest way to execute this chicken feeder idea is to add a rain hood or cap onto a PVC feeder.
This idea is made from an old kitty litter bin. Just be sure to clean the bucket before using it (and clean the bucket more often than this author has)
You can also try to make the PVC feeder below – this one has a rain hood you can find at any hardware store. The only caveat is that because of the rain hood, it can't be closed – so rats can still get in.

However, it IS a no waste feeder. You will need to make multiple ones, however, if you have a larger flock.
DIY No Waste Chicken Feeder Bin From A Tote
If you have a plastic tote (aka Tupperware bin) hanging around, you can make an easy no waste feeder from it. You'll need to drill holes into it (2-3 inch holes) and add PVC pipes. You can use glue to hold the PVC in place.
It's easy to clean, reduces food spoilage, and keeps your feed dry!
DIY Hanging Automatic Feeder
DIY YouTube chicken feeders are easy to execute because you usually get step by step instructions. If you have a lot of time, and are handy, then this chicken feeder idea might be for you. Looking at the video, it feeds chickens a few grains at a time when they poke at a hanging element.
It's clever, but I think it also can be improved upon. I personally would opt for one of the feeders above (but it might work well for your situation!), especially if you feed a mash (it looks like this will only work with pellets or a textured feed)
It'll also certainly keep rats out of your food. For more intelligent and mischief-loving breeds, like Speckled Sussex, a feeder like this will entertain them for hours.
DIY Baby Chick Feeder
For chicken feeder ideas for your chicks, here are some incredibly creative and simple chicken feeder ideas for you to try.
It's always a good idea to keep plastic out of landfills! These look like they can me made in just a few minutes
I love how this one re-uses a yogurt container
DIY Chicken Feed Recipe
If you're interested in feeding your chickens with organic and non-GMO feed that will keep them healthy and happy without costing you a lot of money then you'll find this recipe helpful:
Get my best organic non-GMO chicken feed recipe here
Don't want to make it yourself? You can buy my favorite 100% NON-GMO layer feed here
What Do You Feed Organic Chickens?
A high-quality layer feed with 16% protein and supplemented with nutrients is the best thing to feed backyard chickens. You can make your own feed using my layer feed recipe here, or find a high-quality non-GMO chicken feed here. You can also supplement their diet with table scraps, alternative chicken feeds like dried insects, and high quality chicken treats. It's also critical to know what chickens can't eat, like avocado and dried beans.
Here's a brief table of what chickens can eat (not comprehensive):
Fruit
Legumes
Vegetables
Seeds
Proteins
Dairy
Grains

Berries

Peanuts

Spinach

Sunflower

Mealworms

Milk

Wheat

Cantaloupe

Alfalfa Hay

Tomatoes

Flax

Black Soldier Fly Larvae

Greek Yogurt

(Plain)

Oats

Watermelon

Peas

Squash & Pumpkin

Pumpkin

Dried River Shrimp

Cheese

Rye

Bananas

Clover

Kale

Hemp

Eggs

Whey

Millet
You can also find a list of what chickens eat here.
Here's a list of what chickens SHOULD NOT eat:
| | | | | |
| --- | --- | --- | --- | --- |
| Vegetables | Fruit | Legumes | Grains | Other |
| Potato skins | Avocado skins & pits | Dried beans | Dry rice | Salt |
| Onions | Apple seeds | Uncooked beans | | Chocolate |
| Chards | Peach pits | | | Lots of sugar |
| | Rhubarb leaves | | | Coffee |
Should I Hang My Chicken Feeder?
Yes, hang the chicken feeder to keep vermin out of it and so your chickens don't poop in their grain. Be sure to at an appropriate height – 8 to 12 inches off the ground is best. You can also hang it about the middle of your bird's back, if you think 12 inches is too high. In addition, by hanging your chicken feeders, you prevent vermin and predators from getting to the food.
How High Should I Hang My Chicken Feeder?
8 to 12 inches off the ground is best. You can also hang it about the middle of your bird's back, if you think 12 inches is too high. Remember that some chicken breeds like Silkies can't fly, and Cochin bantams and Sebrights are very short, so make sure your feeder is at the right height for everyone to get a meal.
How Do I Keep Rats Out Of My Chicken Feeder?
To keep rats out of your feeder, you'll need to use a feeder that closes. Also store food away, and make sure to clean up any spills as they are likely to attract unwanted guests. You can check out my automatic chicken feeder ideas here.
Maat van Uitert is a backyard chicken and sustainable living expert. She is also the author of Chickens: Naturally Raising A Sustainable Flock, which was a best seller in it's Amazon category. Maat has been featured on NBC, CBS, AOL Finance, Community Chickens, the Huffington Post, Chickens magazine, Backyard Poultry, and Countryside Magazine. She lives on her farm in Southeast Missouri with her husband, two children, and about a million chickens and ducks. You can follow Maat on Facebook here and Instagram here.