Table of Contents (Quickly Jump To Information)
For this review, Duncan's Poultry sent us their 30 LB Space Saver Wall Feeder to test. It arrived quickly via UPS, and fully assembled inside the box.
Below are our first impressions and overall recommendation regarding this feeder!
(Want to see all the feeders we recommend?)
Product Description
Duncan's Poultry 30 LB Space Saver Wall Feeder is a galvanized steel automatic feeder meant to be hung up on a wall of your coop.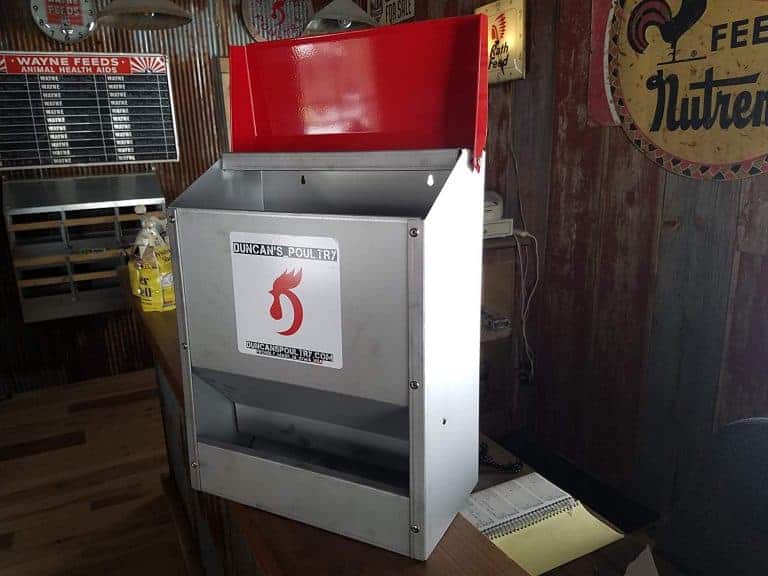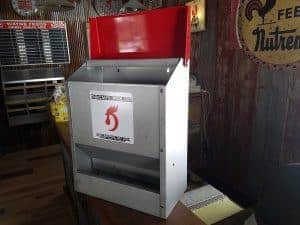 The website claims the feeder will hold 30 pounds of a layer mash, crumbles, and (possibly) pellets. The main body is stainless steel colored, and the lid is galvanized steel painted red.
The feeder is 15 inches by 8 inches, with an 18 inch depth (so, you can fill 18 inches up with feed).
The feeder is $59 on Amazon, which makes it an affordable option for all budgets.
Where to buy the Duncan's Poultry 30 LB Space Saver Wall Feeder
You can purchase this feeder on Amazon right here. The feeder has gotten great reviews!
What the company claims
Holds 30 lbs of feed

15 Inches wide

Will fit between the wall studs

Hinged lid that stays open while you refill it.

Integrated lip helps cut down on wasted feed.

Works great with crumbles, mash or pellets

Made of heavy gauge galvanized steel.

14″ Wide X 8″ Deep x 18″ Tall.

Comes Fully Assembled
Our experience
We were pleased with the look of the Duncan's Poultry 30 LB Space Saver Wall Feeder right out of the box – it certainly is made of galvanized steel (which makes the coop look nice!). The top is painted red, and there's a "Duncan's Poultry" logo on the front.
On the back were two cut outs for the screws. It made it REALLY easy to figure out how to hang the feeder.
Sometimes, the construction of an object can make it harder to hang – they can prevent the object from sitting flush against the wall, and cause the object to wiggle or be unstable. In this case, the Duncan's Poultry 30 LB Space Saver Wall Feeder hangs very sturdily, and doesn't wiggle.
We tested the feeder with 30 pounds of our layer feed. Duncan's feeders DO hold that amount, which saves us a lot of time (since we don't need to fill it every day), and I can sleep at night knowing that if I can't get to the coop ASAP in the mornings, the chickens still have access to feed.
Hanging it took just a couple minutes, and we were up and running within 5 minutes. Filling it with layer feed was very simple, and easy for one person to handle.
The chickens took another 5 minutes to figure out how to find the feed, and it's been smooth sailing since. We've refilled the Duncan's Poultry 30 LB Space Saver Wall Feeder every other day, or every 2 days, depending on how hungry the flock is.
The top stays open during the entire refilling process, and it's easy to close once we're done. It's not easy for a non-human to get it open, and we've noticed that the goat hasn't been able to knock it off the wall, which is a HUGE accomplishment.
Does the Duncan's Poultry 30 LB Space Saver Wall Feeder live up to its claims?
YES! This sleek and modern automatic chicken feeder saves space, came fully assembled, holds 30 pounds of feed, and the chickens love it! They immediately knew how to use it (even the 10 week old chicks!), and it stood up to the ultimate test of whether the goat could knock it over or disassemble it
(Other products we've reviewed were trashed in 24 hours by the goat, so this is saying something about the quality of the Duncan's Poultry 30 LB Space Saver Wall Feeder!)
What don't we like
Clean up might be a bit tricky. Unless your coop floor is dirt, it's not really the best idea to spray the Duncan's Poultry 30 LB Space Saver Wall Feeder inside the coop, so you will have to remove the feeder to spray it with a hose, or use cleaning wipes if you don't want to remove it.
There's lots of little crevices, so be sure to pay attention to corners and lips where feed can get embedded and mold if not removed during cleaning.
Is it useful for chicken owners?
We recommend this feeder for flock owners with less than 10 chickens in their flock. We're impressed with how easy this feeder was to refill so our hens have consistent access to their mash. It's a safe and time saving chicken feeder your flock will enjoy.
If you have more than 10 chickens, purchase a second unit.
What to watch out for
If you have more than 10 chickens, it's best to buy a second feeder. Because the width is only 15 inches, it'll be difficult for every flock member to eat at the same time.
Note that if you want to use this with baby chicks (under 8 weeks), you will have to hang the feeder so it's flush with the ground (which can attract bugs), and make sure the chicks know there's feed in it. Because of this, we don't recommend using it with chickens until they're at least 10 weeks old.
There's no cover for the lower lip where chickens eat from, so if vermin are an issue in your coop, they'll get a free meal.
Summary
Duncan's Poultry 30 pound hanging feeder lives up to its promises, and is a great addition to every coop. We give it 5 stars for design, usefulness, safety, durability, and ease of use! Our chickens use it daily and love it!
Maat van Uitert is a backyard chicken and sustainable living expert. She is also the author of Chickens: Naturally Raising A Sustainable Flock, which was a best seller in it's Amazon category. Maat has been featured on NBC, CBS, AOL Finance, Community Chickens, the Huffington Post, Chickens magazine, Backyard Poultry, and Countryside Magazine. She lives on her farm in Southeast Missouri with her husband, two children, and about a million chickens and ducks. You can follow Maat on Facebook here and Instagram here.