Trying to figure out the best hatcheries to buy Frizzle chickens? You've come to the right place!
If you're looking for one of the most adorable chicken breeds out there, then you might be in the market for a Frizzle. These chickens are a bit different. Not in just one way, but in a whole lot of different ways.
Perhaps the biggest difference is their feathering. Instead of growing feathers that lie flat against the body, a frizzle's feathers curl outward and away from the body! In effect, this makes these lovable chickens look more than a bit like a feather duster (though we would strongly discourage confusing your Frizzle for a duster).
These curly feathers account for every single feather on their body, and as a result, they might look unruly and untamed, like your curly hair does in humid weather. But don't be tricked! One of the most consistent qualities of a Frizzle is a wonderful, lovable temperament.
Their even-keel temperament is every bit a defining trait as their curvaceous "locks."
Not sure that the Frizzle chicken is the right choice for you? If so, here are some other super friendly chicken breeds you can raise.
The most challenging aspect of finding these wonderful birds is finding one. Unlike standard breeds, a Frizzle doesn't breed true.
Instead, their curly feathering is the result of recessive genes. If the hen has the curly gene and the rooster has the curly gene, then there is a 25% chance that their offspring will be a Frizzle.
That might seem low, but that's genetics for you! The good news is that a Frizzle could potentially appear in a number of different chicken breeds. In the list below, not only will we be sharing with you locations where you can find your own Frizzles, but also what breeds of Frizzles are available.
Ideal Poultry offers a wonderful piece of information that any future Frizzle owner should consider when buying these windswept-looking birds: "Frizzle plumage is determined by two sets of genes which are quite difficult to manage.
Various combinations of these two sets of genes results in plumage of three types – natural, frizzle and extreme frizzle or curly, therefore it is possible to order frizzles and receive some chicks that do not appear to be frizzled, although they carry the frizzle gene."
Frizzle chickens are normally bred and raised for their appearance alone. Often raised as pets or for exhibition, they aren't known for being especially productive.
Table of Contents (Quickly Jump To Information)
9 Best Hatcheries to Buy Frizzle Chickens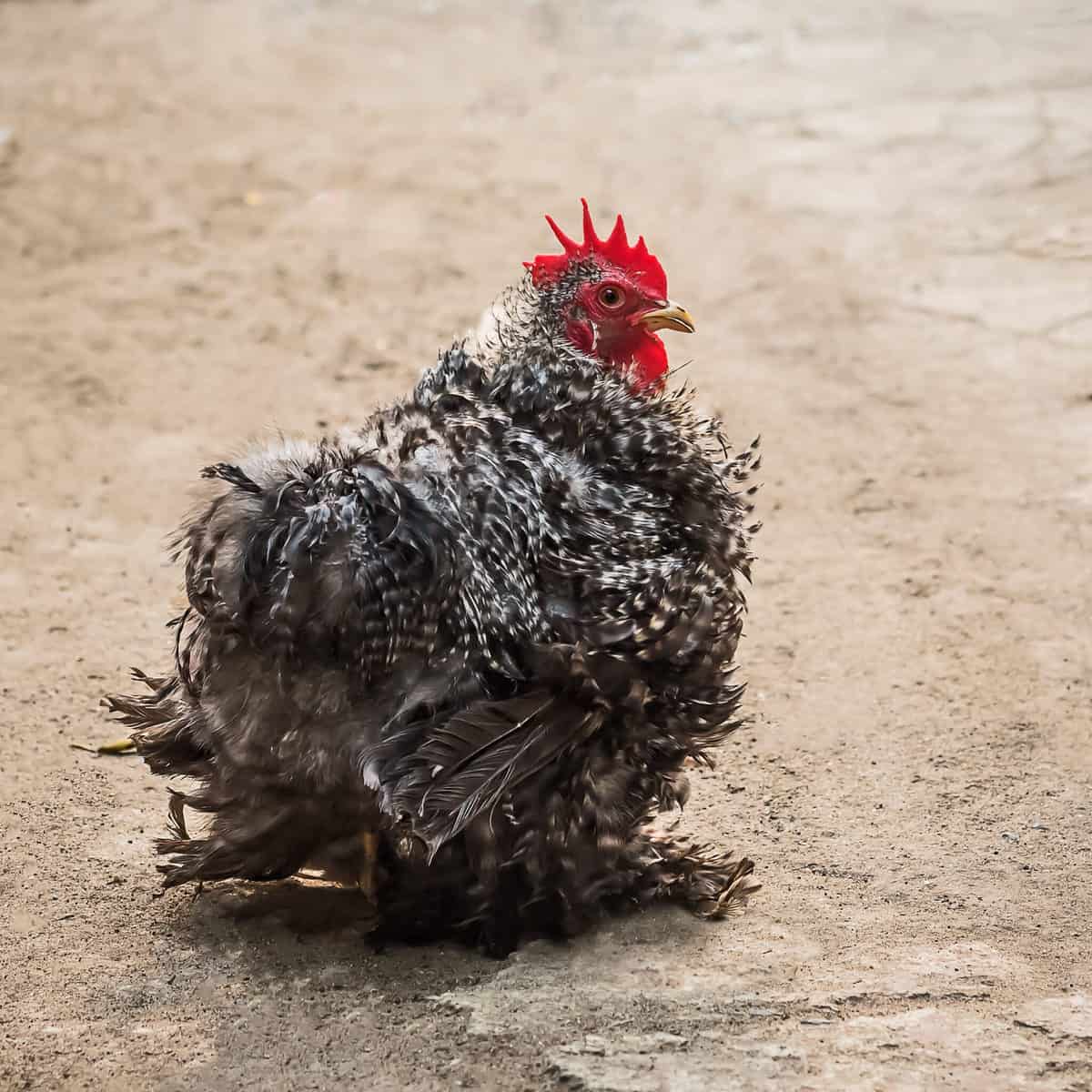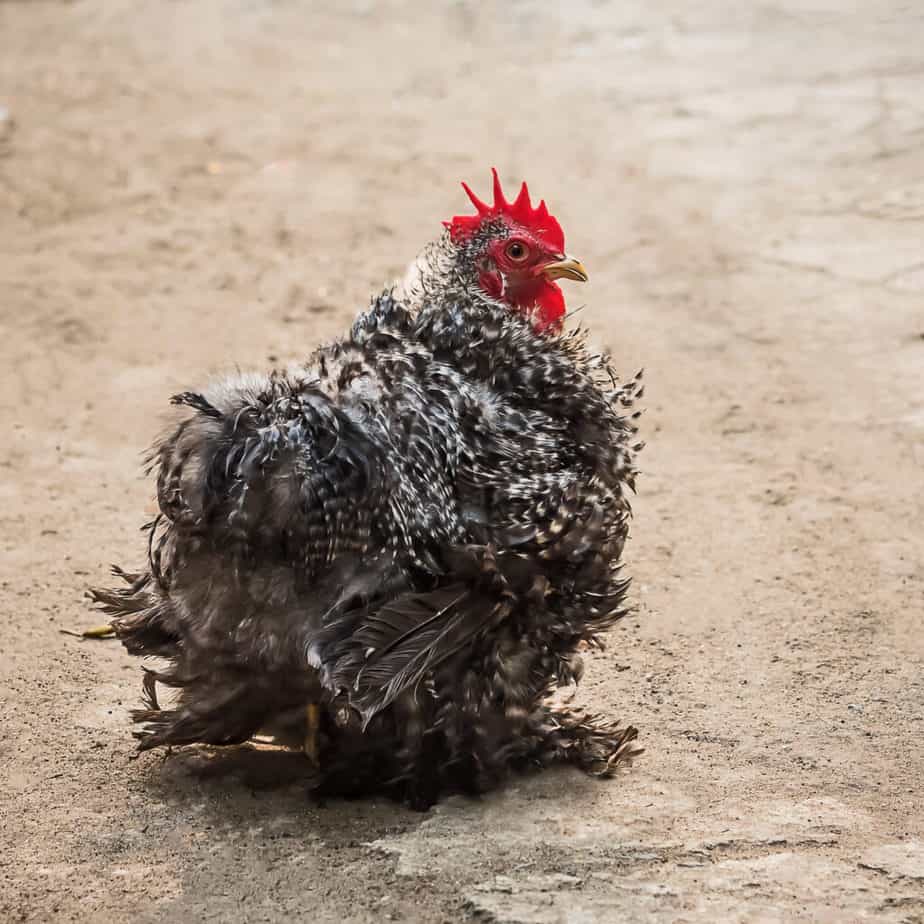 Average Straight-Run Assorted Cochin Bantam Frizzle: $4.06
Ideal Poultry has been hatching eggs since 1937. As they near their centennial anniversary, they have developed quite a distinctive boasting right: that they are the largest supplier of backyard poultry in the USA! With a headquarters located in Cameron, Texas, Ideal Poultry can fulfill all of your poultry needs through their website, mailing list, and easy access payment options.
With generations of experience, they have a FAQ page that answers loads of very important questions that a novice chicken owner might have.
Advantages
Optional Marek's vaccine for 20¢ per bird (here's a list of other vaccines your chickens might need, too).
Discounts range starting at orders of 25 or more.
Assorted Frizzle Cochin Bantams are a selection of Black, Red or White Frizzle Cochin Bantams.
An order of Frizzle chicks will be an assortment of the three varieties of Cochin Bantams.
Have a minimum dollar value on poultry: $30.
In the event of baby chick death during shipping, they will either reship chicks or credit your account.
Disadvantages
Ship exclusively to the USA.
Average Straight-Run Black Frizzle Cochin Bantam Chicken Price: $4.34
Meyer Hatchery is based in Polk, Ohio, and boasts itself as the "Premier Poultry Source." Priding itself on customer service and availability, Meyer Hatchery provides a variety of chicken breeds to meet customer demands for color and diversity.
They welcome mixing and matching of breeds of the same poultry type to meet minimum order requirement for safe shipping. To help with orders, they have a calendar of hatchings.
Meyer has a variety of means of communication, including multiple phone numbers, fax, and email. They also run a blog that covers everything from breeds to plant pairing with chickens, feed, cooking recipes, fowl entertainment, and survival tips.
Frizzle chicks are available through August, September, and October.
Advantages
Discounts start with orders of 25 or more chicks.
Website is up-to-date in real time.
Accepts checks and credit cards.
Optional vaccination.
Member of the National Poultry Improvement Plan (NPIP), and provide NPIP VS Form 9-3 free of charge.
Offer orders of over 100 chicks.
Disadvantages
Limited store hours that change with the season.
Average Straight-Run Black Frizzle Cochin Bantam Chicken Price: $4.20
My Pet Chicken got started in 2005 by Traci Torres and her husband, Derek Sasaki, two novices to the chicken world who had a dream to help other novices in their farmers' goals. To do this, the put free how-to information on the web and offered some unique products and services.
The website launched in 2005 and in 2006, their flock had grown to the point to where they started offering chicks for sale from their headquarters in Monroe, CT.
The site has been mentioned in another of publications, and serves tens of millions of page views per year with some of the best customer service. Without a doubt, My Pet Chicken is one of the best hatcheries to buy frizzle chickens.
But wait! Before you order your chicks, make sure you pick up some baby chick starter. You can't raise chicks without it.
Advantages
Offers Marek's vaccinations on all standard chicks at the click of a button.
Consistent hours of operation.
A good source for questions about ordering baby chicks, chicken care, and about raising baby chicks.
Full refund for any bird that has been incorrectly sexed.
Can ship a minimum of three baby chicks.
Disadvantages
Limited availability.
Does not have a storefront.
There is a 10-chick maximum on this breed.
Average Straight-Run Frizzle Cochin Bantam Chicken Price: $5.76
As a family-owned business, Purely Poultry has some of the best customer service around. They pride themselves on their knowledge of their products, selection, and how-to details related to everything they offer, including ducks, chickens, geese, and lots of other birds!
Located in Durand, WI, they guarantee live birds with every order, which is a good promise, indeed! Frizzle Cochin Bantams come in a variety of colors; Purely Poultry offers chicks in white, black, and red.
And what is a bantam chick you might ask? You can read more here!
Advantages:
Each order backed by live arrival guarantee.
Discounts start at orders of 25 chicks.
Small order minimum on chicks.
Other kinds of poultry offered, too.
Disadvantages:
Relatively expensive.
Not a huge advantage to buying multiple chicks – discounts are minimal.
Average Straight-Run Assorted Frizzle Cochin Bantam Chicken Price: $3.77
Located in Bancroft, IA, Welp Hatchery was founded way back in 1929 by Joseph H. Welp. While their specialty is Cornish Rock Broilers, they have diversified to include a wide range of chicken breeds. To simplify their orders, they have a catalogue available for viewing or downloading. From their shipping points in Iowa, New Mexico, Minnesota, and Wisconsin, this hatchery truly has a wide reach.
Their Frizzle Cochin Bantams come in three colors: black, red, and white.
Advantages
Can choose the breeding date on the product page.
Marek's immunization is a one-click process.
Offer free shipping.
Disadvantages
Average Straight-Run Assorted Bantam Frizzle Cochin Chicken Chick: $4.15
Stromberg's Chicks and Game Birds Unlimited has quite the name! It is appropriate, because they have a selection of birds to match the ambition of their name, with over 200 breeds available to their customers. This impressive family business got its start when Ernest and Josephine Stromberg brought 100 White Leghorn chicks to supplement the family income.
Whatever they did must have worked wonders, because 99 years later (as of 2020), they are still going strong! In addition to livestock, Stromberg's Publishing Company offers a number of books on poultry, poultry-related subjects, and myriad educational bulletins, all of which help make Stromberg's an excellent source of all your fowl needs.
The first farm was located in Doge, Iowa, but have since moved their headquarters to Hackensack, Minnesota. Including Hackensack, they ship from all locations: Woodland, CA; Wilkes-Barre, PA; Marshall, TX; Winter Haven, FL, and Clarkson, KY.
Advantages
13% discount offered on orders of 30 or more!
Free shipping on orders of $100 or more.
Chicks are shipped immediately upon hatching.
Disadvantages
Minimum orders of 5 chicks.
Alaska residents suffer additional shipping costs and no live bird guarantee on orders shipped there.
Average Straight-Run Cochin Bantam Chicken chick: $14.99
Holistic and humane, Mill Valley takes pride in the love they raise their chickens with. Indeed, they ensure that all bedding is devoid of metal wiring, that their chickens receive only the highest quality organic feed, and ensure plenty of natural lighting.
With all this care and attention, they have a single goal: to get you the highest quality chicks in the best possible health. And once your chicks get to you, you may want to give them some of these nesting herbs to continue their track record of good health!
From their headquarters in Marin County, CA, they not only raise chickens, but they design coops, and offer courses on raising chickens.
Advantages
All chicks are a flat rate (unless otherwise noted).
Provides a number of hatching dates.
All chicks come vaccinated for Marek's Disease.
Disadvantages
Cluttered product web page.
Pick up or limited shipping.
Straight Run Buff Orpington Frizzle Chicken Chick: $8.00
Straight Run White Cochin Frizzle Chicken Chick: $8.00
Straight Run Silver Laced Cochin Frizzle Chicken Chick: $8.00
Floridians, rejoice! Daffy's Place is right in your backyard. Host to a variety of chicken and ducks, Daffy's Place is located in Holt, Florida, and takes great pride in family-like treatment of all of the birds that come from their farm. They put an emphasis on humane treatment to all of their animals. They are conveniently available to potential clients through Twitter and Facebook.
Advantages
Local pickup and seasonal shipping.
Flat rate shipping for orders of 8 chicks.
Disadvantages
Advertize the sale of day-old chicks in groups of 8.
Relatively expensive, at $8.00 per chick.
Local pickup.
Straight Run White Frizzle Cochin Bantam Chicken Price: $5.75
Straight Run Black Frizzle Cochin Bantam Chicken Price: $5.75
Murray McMurray started his chicken business in 1917. As a banker, he sold his chicks to locals through the bank and by 1919, he had developed his own stock of chickens. During the Great Depression, he devoted himself to chickens full time.
Since then, Murray McMurray Hatchery has developed into one of the largest chick hatcheries in the country. They sell more than just chickens, with ducks, geese, guineas, turkeys, other fowl and game birds all in the catalogue.
Advantages:
Bulk discounts available.
Excellent breed availability through August.
Black and White Cochin Frizzles can be mixed and matched.
Disadvantages:
Minimum order of fifteen birds at a time.
Limited availability.
Without a doubt, Frizzle Chickens are truly a designer breed. Indeed, there is no guarantee that the lovely little peepers that you'll order will even have the remarkable curled feathers that make Frizzles so special! However, there is always the option of breeding your own.
The gene that produces the curly feathers is recessive, so even if your clutch don't show the curls, those genes are just hiding away, waiting for their chance to produce the next generation of style!
Where to Buy Baby Chicks Online – and Should I Buy Baby Chicks or Adult Birds?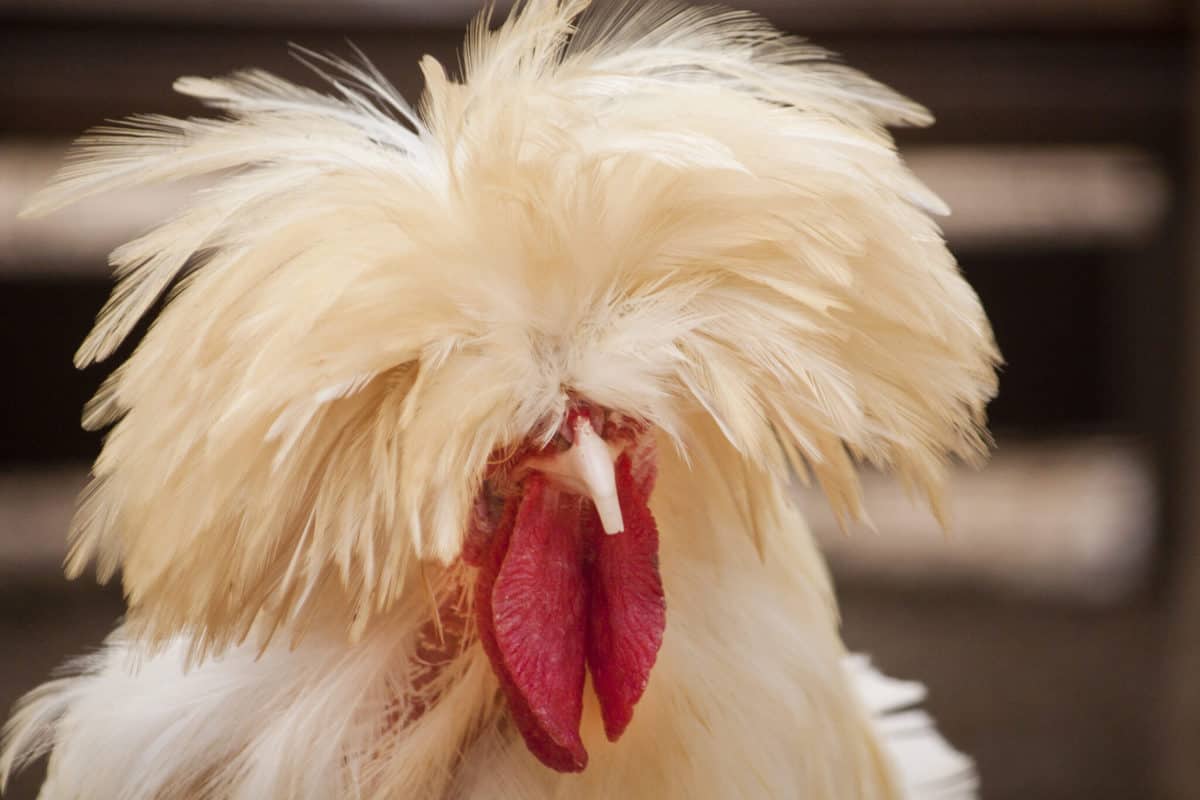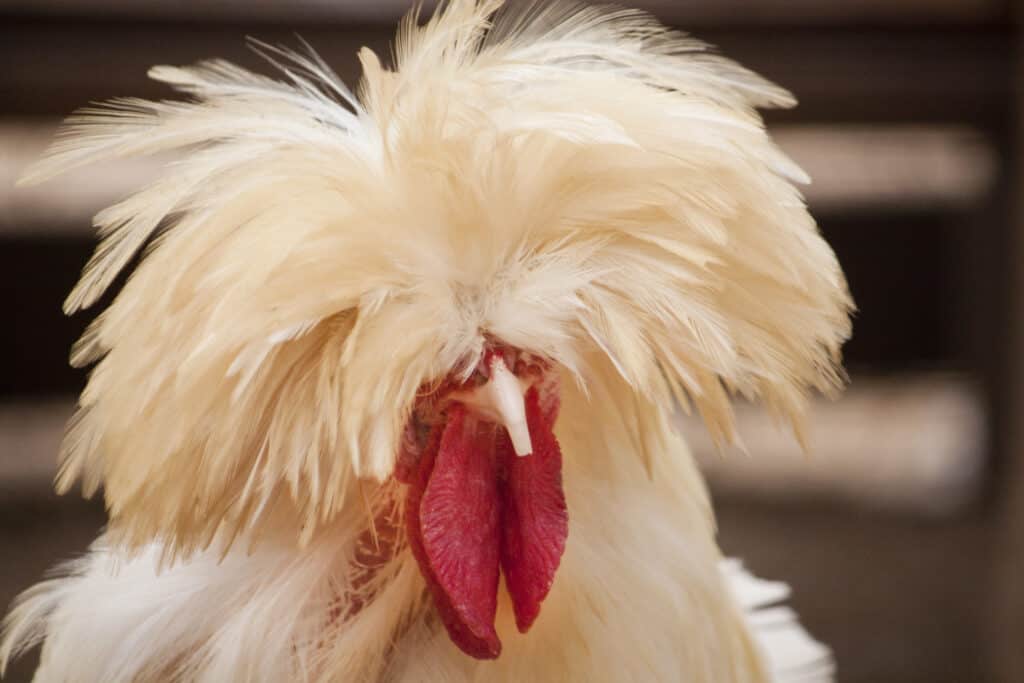 When it comes to buying birds online, there are lots of decisions you are going to have to make.
Should I buy baby chicks or adult birds? Should I raise free range or caged chickens? Which poultry breeds are right for me? What are the best times to order?
In most cases, the answers to these questions will vary depending on your needs and goals (although I almost always recommend free range birds when you can swing it).
Ultimately, you'll find quality poultry at any of these hatcheries listed above, and when it comes to raising adult birds versus baby chicks, you'll need to consider what kinds of facilities you have available. Baby chicks are cheaper to purchase, but you'll have to put more time, effort, and money into raising them than adult birds.
Consider these top online hatcheries as you're looking for the right chickens for your backyard – while there are lots of variables involved in chick care, you can't go wrong when you start with quality poultry from these leading companies!
Related Articles
Maat van Uitert is a backyard chicken and sustainable living expert. She is also the author of Chickens: Naturally Raising A Sustainable Flock, which was a best seller in it's Amazon category. Maat has been featured on NBC, CBS, AOL Finance, Community Chickens, the Huffington Post, Chickens magazine, Backyard Poultry, and Countryside Magazine. She lives on her farm in Southeast Missouri with her husband, two children, and about a million chickens and ducks. You can follow Maat on Facebook here and Instagram here.