If you're looking to learn about the Australorp chicken breed AND want to know the best hatcheries to buy them from, then congratulations! You've found the best one-stop shopping guide for Australorp chickens!
Australorp Chickens (especially the black variant) are gaining popularity because they're excellent layers of brown eggs AND a great option for meat due to their size. They are also extremely sweet birds, making them for great families.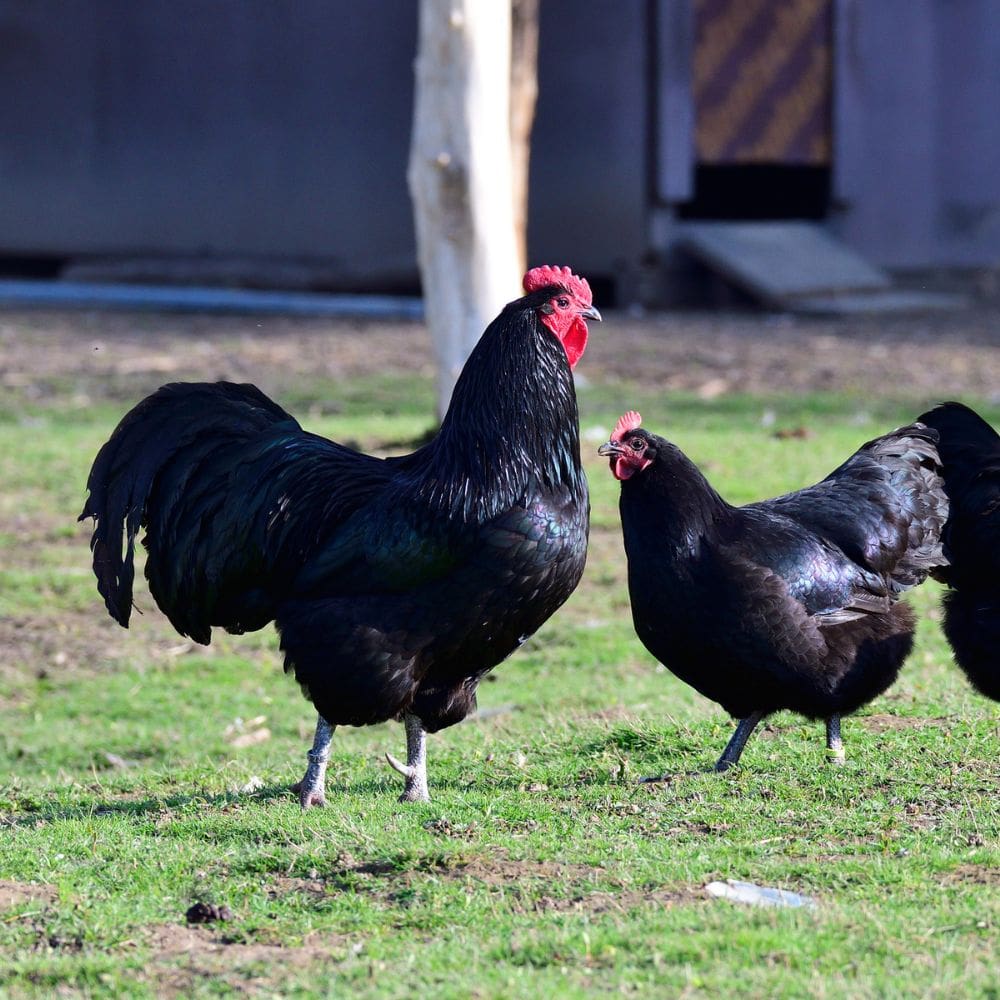 Table of Contents (Quickly Jump To Information)
Why Are They Called Australorps?
Here's a quick drive-by, mini history lesson. Back in the early 1900s William Cook's Orpingtons were taken from England to Australia. They were then crossed with Rhode Island Reds with the purpose of refining their egg laying ability.
This refined version of the orpington, became what we know today. They were imported into America in the early 1920s. The chicken powers that be had a hard time figuring out a name for this breed – they were called everything from Australian Utility Black Orpingtons to Australs.
But the final name ended up as Australorp which is a mixture of "Australia" and "Orpington."
Is There Anything Special About Australorp Chickens?
I'm so glad you asked 😉 Yes! Although some folks might be more excited about how many eggs they lay, I get most excited about the beetle green (and sometimes purple) iridescent color that shines within their plumage. It is magical in my opinion. AND they are beautiful soft feathers to boot!
I absolutely love looking at my black Australorp (which my kids named after their favorite Aunt Krissy).
Why Are Australorp Chickens So Popular?
These birds are so popular because of their excellence in dual purpose lives: males make excellent meat chickens weighing in at up to a whopping 10 pounds. These are LARGE birds! The female birds are excellent layers, with an average production run of about 300 eggs per year. Do you see the common link? EXCELLENCE!
Do Australorp Chickens Only Come In Black?
No, Australorp chickens can be found in a variety of colors. Although black is the original, and most popular, color there are a couple of other colors to choose from. I will warn you – only the black has the amazing beetle green (and sometimes purple) iridescent sheen to their black feathers.
The three standardized, and recognized by the American Poultry Association, colors are black, white, and blue. If you are anything like me when I was new to chickens – my heart leapt at the thought of a BLUE chicken. But blue in the chicken world is really more of a gray, sometimes with a tiny hint of lavender. Just so you know.
How Can You Tell an Australorp Rooster From a Hen?
Roosters have a more upright stance, carrying their tail high
Both males and females have a single, red comb – but the males will be taller
Roosters have long, flowing sickle feathers
Males will have spurs on their legs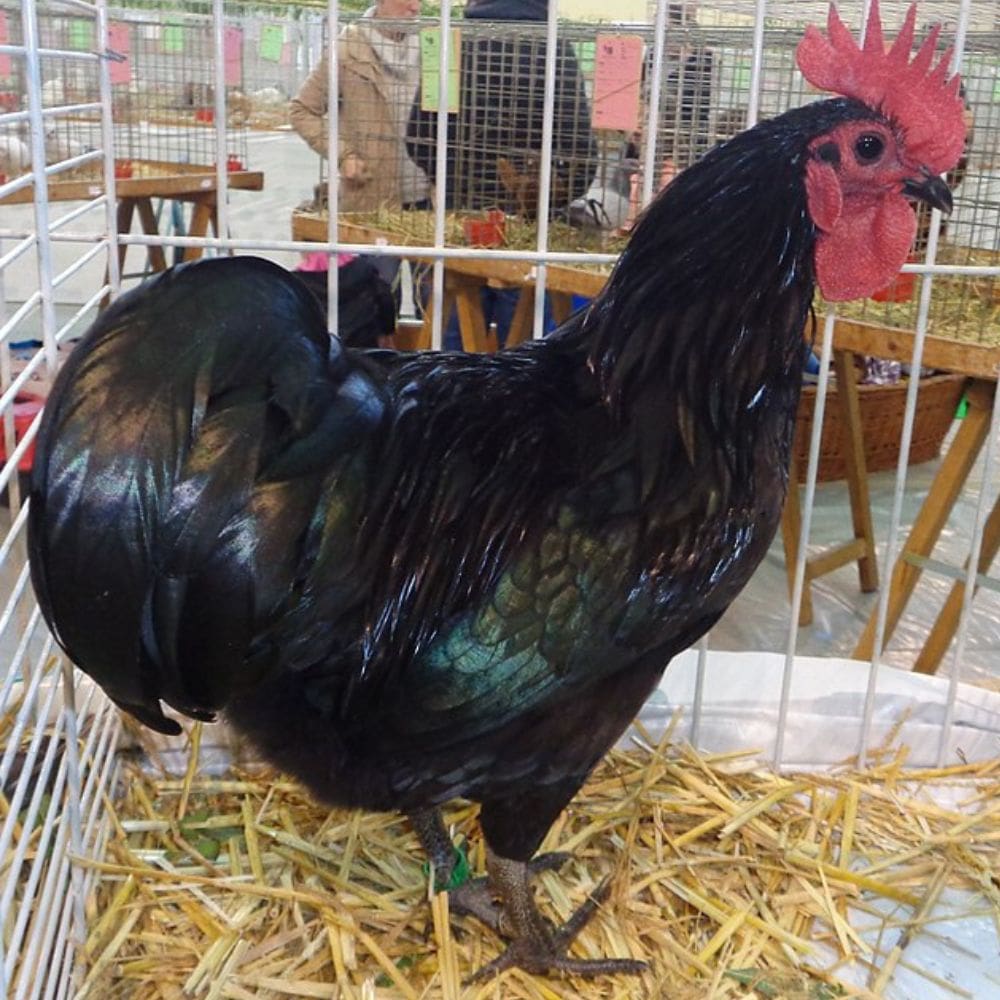 Are Australorp Chickens Hardy?
Yes and sort of. Australorp chickens are excellent winter-hardy birds, most chicken lovers agree with this. However, the most popular variety, the black Australorps, do need plenty of shade. Because they are black their feathers attract the sun and this makes them more susceptible to heat stroke. That being said, my Australorps have never had any issues.
Are Australorp Chickens Friendly?
This breed is VERY friendly! Australorps are really a docile breed. They are sweet, calm, members of the flock. These fluff muffins are truly a great all-in-one package and a delight to have around!
Australorp Chicken Egg Production
I've already mentioned, several times, that Australorps are great egg layers of brown eggs. And that they are. There are some stories, although I suppose they could be myths, that some Australorp hens set a world record of egg laying back in the 1920's. The word on the street is that the average of the record setters were around 310 eggs in a year.
Don't get too excited and order 100 of these birds though. The modern version of this breed are not known for laying 310 eggs a year. But they do lay an impressive number of eggs, about 300 per year.
I Want Some! Where Do I Buy Them?
Great temperament? Check! Gorgeous? Check! Dual purpose? Check! They DO check all the boxes.
So, where you can get these wonderful birds?
5 Best Hatcheries to Buy Australorp Chickens
Cackle Hatchery proudly boasts that they have been hatching and shipping since 1936. A third-generation hatchery based in Missouri, their mission is to provide customers with quality poultry for showing, meat, enjoyment, and eggs. They ship throughout the USA, including Alaska, Puerto Rico, and Hawaii. They offer nearly 200 different types of chickens at all stages.
Cackle also offers many other kinds of poultry including ducks, water fowl, game birds, turkeys, and other fowl. They are also a good source for supplies and books.
Check out prices from Cackle Hatchery here.
Advantages
Discounts if you buy male chicks
Vaccinations available
Only need 3 birds to ship (or just one for male birds)
Disadvantages
Limited availability (February through September)
Sold as baby chicks only.
Meyer Hatchery is based in Polk, Ohio, and boasts itself as the "premier Poultry Source." Priding itself on customer service and availability, Meyer Hatchery provides a variety of chicken breeds to meet customer demands for color and diversity. They welcome mixing and matching of breeds of the same poultry type to meet minimum order requirement for safe shipping. To help with orders, they have a calendar of hatchings.
Meyer has a variety of means of communication, including multiple phone numbers, fax, and email. They also run a blog that covers everything from breeds to plant pairing with chickens, feed, cooking recipes, fowl entertainment, and survival tips.
Check out prices from Meyer Hatchery here.
Advantages
Website is up-to-date in real time.
Accepts checks and credit cards
Guarantees gender of chicks either through refund or store credit.
Optional vaccination.
Member of the National Poultry Improvement Plan (NPIP), and provide NPIP VS Form 9-3 free of charge.
Offer orders of over 100 chicks.
Disadvantages
Limited store hours that change with the season.
Chickens for Backyards is an online poultry store that ships orders from Phillipsburg, MO. It sells over 100 breeds of day-old chicks, ducks, geese, turkeys, and guineas with orders as low as three fowl. They have a mix and match option for all breeds, which can be shipped all in the same order.
Shipping schedules run from February through October. On their website, they offer a comprehensive FAQ page and Chick Care information. On the Australorp product page, there is a breakdown of the bird and information on the live chick guarantee.
Check out prices from Chickens For Backyards here.
Advantages
Orders can be cancelled up to 24 hours before shipping.
Free shipping on supplies.
Comprehensive FAQ that covers a range of questions from care, feed, shipping, sexing, local laws relating to chicken farming, and terms.
Disadvantages
Offer a 90% sexing guarantee, and will refund 90% of the purchase price once the 90% guarantee is surpassed.
My Pet Chicken got started in 2005 by Traci Torres and her husband, Derek Sasaki, two novices to the chicken world who had a dream to help other novices in their farmers' goals. To do this, the put free how-to information on the web and offered some unique products and services.
The website launched in 2005 and in 2006, their flock had grown to the point to where they started offering chicks for sale from their headquarters in Monroe, CT. The site has been mentioned in another of publications, and serves tens of millions of page views per year.
Check out prices from My Pet Chicken here.
Advantages
Offers Marek's vaccinations on all standard chicks at the click of a button.
Consistent hours of operation.
A good source for questions about ordering chickens, chicken care, and about raising chickens.
Full refund for any bird that has been incorrectly sexed or if any arrive less than alive (which is rare).
Super easy to navigate website.
Disadvantages
Limited availability.
Does not have a storefront
Murray McMurray started his chicken business in 1917. As a banker, he sold his chicks to locals through the bank and by 1919, he had developed his own stock of chickens. During the Great Depression, he devoted himself to chickens full time. Since then, Murray McMurray Hatchery has developed into one of the largest chick hatcheries in the country. They sell more than just chickens, with ducks, geese, guineas, turkeys, other fowl and game birds all in the catalogue.
Sexed male chicks tend to be the cheapest, meaning you can get some serious savings if you're planning on raising these birds primarily for meat. You can also buy pullets or mix and match your order with chicks of other breeds, too.
Check out prices from Murray McMurray Hatchery here.
Advantages
Males are extremely inexpensive
Bulk discounts available
Excellent breed availability
Disadvantages
Minimum order of six birds at a time
Summary
If you're looking for brown egg layers that are also excellent dual purpose birds, you can't go wrong with an Australorp. All Australorps, including the Black Australorp, are great for people who want egg and meat birds with equally awesome yields.
Looking for more information on baby chicken care, then read this article we wrote. The most important things to have is a heat source, a waterer, and good quality chick food.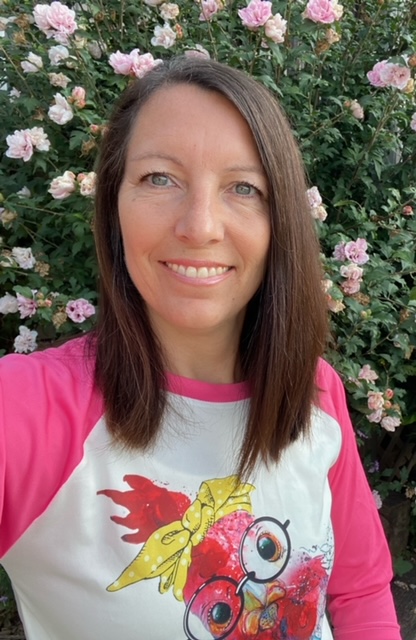 A happy wife, mother, teacher, writer, hobby farmer, lover of chickens, and contributor to Pampered Chicken Mama!