Are you looking for the best hatcheries to buy Delaware chickens? If so, you've come to the right place.
American breeds of chicken have been around since the foundation of the USA, and right at the top of that list – in terms of quality dual-purposing, look, style, and bloodline – are the Delawares.
These heritage breed birds are a relatively recent addition to the American bloodlines, but their impact is without question. Technically, they are a gem of layer, producing large brown eggs, a good size for potential broilers out there; additionally, they are one of the brood hens in red sex-link hybrids.
But really? One of the main attractions to barnyard breeding is the pet aspect of our birds! Delawares are a pure joy to keep in the backyard roosts. They are quiet. They are friendly. They are curious. And they are beautiful with their white feathering and dusting of dark brown at the tips of their neck and tail feathers.
Sadly, these amazing birds have been on the decline of late, and have even fallen into the "threatened" species category. Fortunately, these Northern gems are still available all throughout the United States.
To prove it, we've compiled a list of TEN hatcheries whose duty is to provide you with the means to add these Delaware Chickens to your backyards!
Table of Contents (Quickly Jump To Information)
10 Best Hatcheries to Buy Delaware Chickens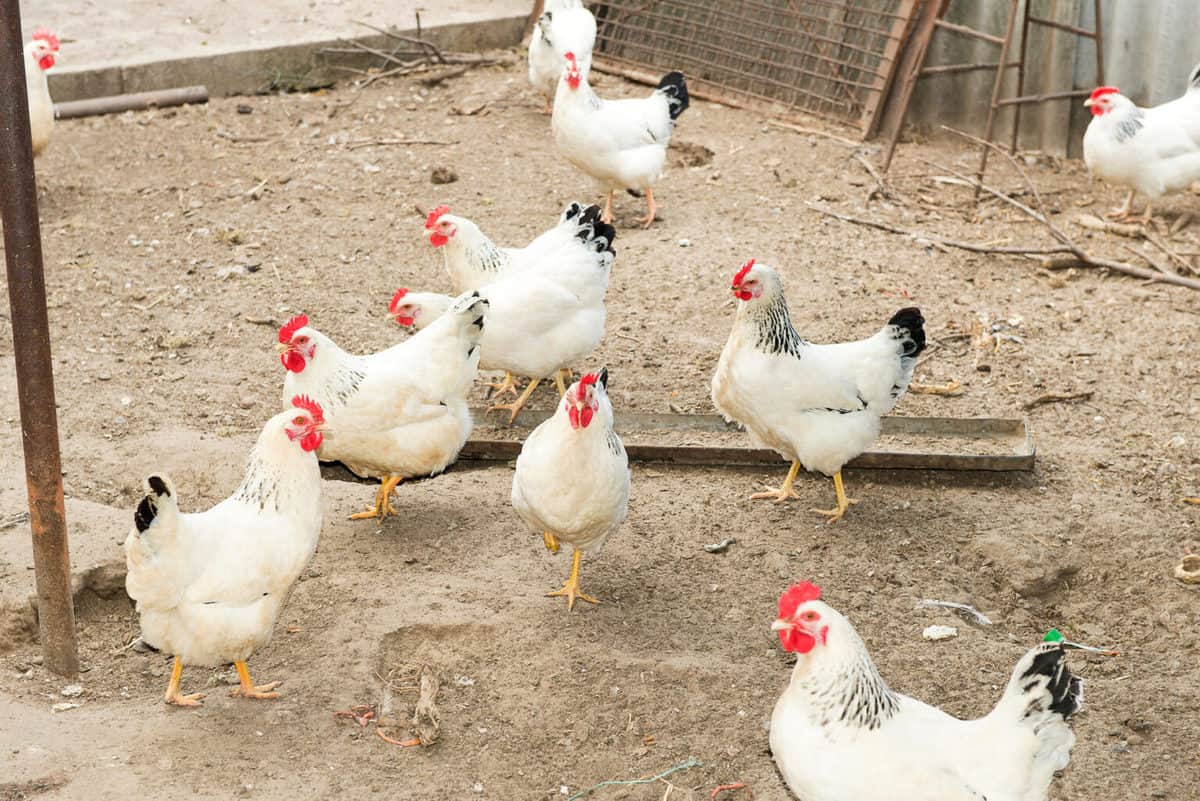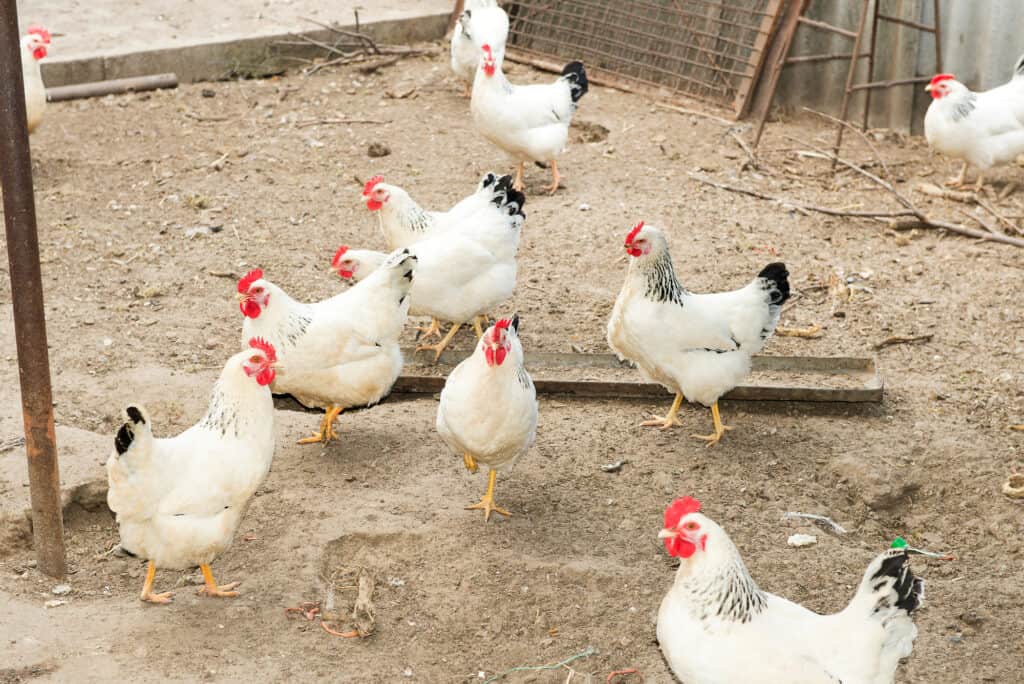 Average Straight-Run Delaware Chicken Price: $3.24
Meyer Hatchery is based in Polk, Ohio, and boasts itself as the "premier Poultry Source." Priding itself on customer service and availability, Meyer Hatchery provides a variety of chicken breeds to meet customer demands for color and diversity. They welcome mixing and matching of breeds of the same poultry type to meet minimum order requirement for safe shipping. To help with orders, they have a calendar of hatchings.
Meyer has a variety of means of communication, including multiple phone numbers, fax, and email. They also run a blog that covers everything from breeds to plant pairing with chickens, local feed, cooking recipes, fowl entertainment, and survival tips.
Looking for more great chicken feed? Check out our herbal egg layer feed here.
Advantages
Website is up-to-date in real time.
Accepts checks and credit cards
Guarantees gender of chicks either through refund or store credit.
Optional vaccination.
Member of the National Poultry Improvement Plan (NPIP), and provide NPIP VS Form 9-3 free of charge.
Offer orders of over 100 brown, white, and other egg-laying chicks.
Disadvantages
Limited store hours that change with the season.
Limited availability.
Average Straight-Run Delaware Chicken Price: $3.85
As a family-owned business, Purely Poultry has some of the best customer service in the poultry industry. They pride themselves on their knowledge of their products, selection, and how-to details related to everything they offer, including ducks, chickens, geese, and lots of other heritage breed birds!
Located in Durand, WI, they guarantee live birds with every order, which is a good promise, indeed!
Advantages:
Each order backed by live arrival guarantee
Small order minimum on chicks and pullets
Other kinds of poultry offered, too
Disadvantages:
Not a huge advantage to buying multiple chicks – discounts are minimal
Average Straight-Run Delaware Chicken Price: $3.05
Cackle Hatchery proudly boasts that they have been hatching and shipping since 1936. A third-generation hatchery based in Missouri, their mission is to provide customers with quality poultry for showing, meat, enjoyment, and both white and brown eggs. They ship throughout the USA, including Alaska, Puerto Rico, and Hawaii, making it one of the most widespread commercial hatcheries around. They offer nearly 200 different types of chickens at all stages.
Looking for chick starter to help your new additions get off to the right start? Here is a great option for you.
Cackle also offers many other kinds of poultry including ducks, water fowl, heritage breed birds, game birds (like Cornishes), turkeys, and other fowl. They are also a good source for supplies and books.
Advantages
Discounts if you buy male chicks
Vaccinations available
Only need 3 birds to ship (or just one for male birds)
Disadvantages
Limited availability (February through September)
Average Straight-Run Delaware Chicken Price: $3.90
Murray McMurray started his chicken business in 1917. As a banker, he sold his chicks to locals through the bank and by 1919, he had developed his own stock of chickens. During the Great Depression, he devoted himself to chickens full time.
Since then, Murray McMurray Hatchery has developed into one of the largest chick hatcheries in the country. They sell more than just chickens, with ducks, geese, guineas, turkeys, other fowl and game birds all in the catalogue. They even sell hatching eggs.
Without a doubt, Murray McMurray Hatchery is one of the best hatcheries to buy Delaware chickens. Sexed male chicks tend to be the cheapest, meaning you can get some serious savings if you're planning on raising these birds primarily for meat. You can also buy pullets, egg layers, or mix and match your order with chicks of other breeds, too.
Advantages:
Males are extremely inexpensive
Bulk discounts available
Excellent breed availability
Disadvantages:
Minimum order of six birds at a time
Average Straight-Run Delaware Chicken Price: $2.70
The Chick Hatchery is Michigan's "premier source for superior quality poultry." With a creed that revolves around the sharing and joy of raising chickens, they operate in no-kill facilities. They raise their chickens humanely, with any unsold chicks going to Amish farms. Much of the experience of raising chickens is the awareness of the individual chicken and the relationship between food and our own health.
Their Delaware Chickens are available from February to September.
Advantages
Ships a minimum of 3 of each sex.
All poultry guaranteed live delivery.
Offers discounts on orders of larger quantities of birds*.
Disadvantages
Limited availability – February to September.
Does not ship to Hawaii or outside the USA.
Average Straight-Run Delaware Chicken Price: $4.15
Chickens for Backyards is an online poultry store that ships orders from Phillipsburg, MO. It sells over 100 breeds of day-old chicks, ducks, geese, turkeys, and guineas with orders as low as three fowl. They have a mix and match option for all breeds, including egg layers, which can be shipped all in the same order.
Shipping schedules run from February through October. On their website, they offer a comprehensive FAQ page and Chick Care information.
Advantages
Orders can be cancelled up to 24 hours before shipping.
Free shipping on supplies.
Comprehensive FAQ that covers a range of questions from care, feed, shipping, sexing, local laws relating to chicken farming, and terms.
Disadvantages
Offer a 90% sexing guarantee, and will refund 90% of the purchase price once the 90% guarantee is surpassed.
Average Straight-Run Delaware Chicken Price: $19.99
Holistic and humane, Mill Valley takes pride in the love they raise their chickens with. Indeed, they ensure that all bedding is devoid of metal wiring, that their chickens receive only the highest quality organic and local feed, and ensure plenty of natural lighting.
With all this care and attention, they have a single goal: to get you the highest quality chicks in the best possible health. From their headquarters in Marin County, CA, they not only raise chickens, but they design coops, and offer courses on raising chickens.
Advantages
All chicks are a flat rate (unless otherwise noted).
Provides a number of hatching dates.
All chicks come vaccinated for Marek's Disease.
Offer a 90% sexing guarantee for all chicks.
Disadvantages
Cluttered product web page.
Pick up or limited shipping.
Comparatively expensive.
Average Straight-Run Delaware Chicken Price: $2.50
A Chicken Hatchery with that Southern flavor, Bob Berry retired from construction engineering in Ray City, GA with his memories of the Dominique and Delaware Chickens that he grew up with. With his wife Diane, he set out with these two breeds with the goal of personal care and sharing his joy with other chicken owners. When you buy from Bob's Biddies, you can guaranteed that these National Poultry Improvement Program (NPIP)-certified chickens are "backyard-grown and backyard-hatched."
Since starting, they have expanded their available breeds to include Buff Orpingtons, Ameraucana, Silkies, and others, though can any of these breeds truly compare to the Delawares that Bob first fell for?
Delware Chickens are available from January through June.
Advantages
Birds are professionally sexed.
Can be shipped with as short as a 3-week lead time.
Guarantee all chicks to arrive safely and alive.
Disadvantages
Minimum to ship is 25 chicks.
Average Straight-Run Delaware Chicken Price: $3.25
Freedom Ranger Hatchery is a family hatchery in the best possible concept of that. Getting its start in 2005 in Lancaster County, PA, duties are shared and split amongst several branches of the Detweiler and Fox families. Their cumulative passion is the creation of GMO free chickens that would make Jesus Christ proud. They offer about a dozen chicken breeds and a quarter as many kinds of ducks, as well as some other varieties of fowl.
Delaware Chickens are available in July through October.
Advantages
Can ship orders in excess of 100!
Optional Marek's Vaccinations for 5 cents.
A shipping schedule conveniently placed on the web page.
Ships to Hawaii.
Disadvantages
Limited variety of Chicken breeds.
Average Straight-Run Delaware Chicken Price: $2.90
From Texas to your home, Ideal Poultry has been providing chicken owners with stock since 1937! At Ideal, their excellent customer service agents seek to provide their clients with everything they might want, from exceptional birds, to smooth and safe shipping, to even supplying answers to any and all question that might be raised about their fantastic fowls! They ship 5 million chicks annually! And that doesn't even include the variety of non-chicken birds available.
Advantages
Can ship orders exceeding 100 chicks!
Easy-access breed availability calendars on the web pages for each breed.
Disadvantages
Expensive optional Marek's Vaccinations.
No direct access to shipping information on their website
Where to Buy Baby Chicks Online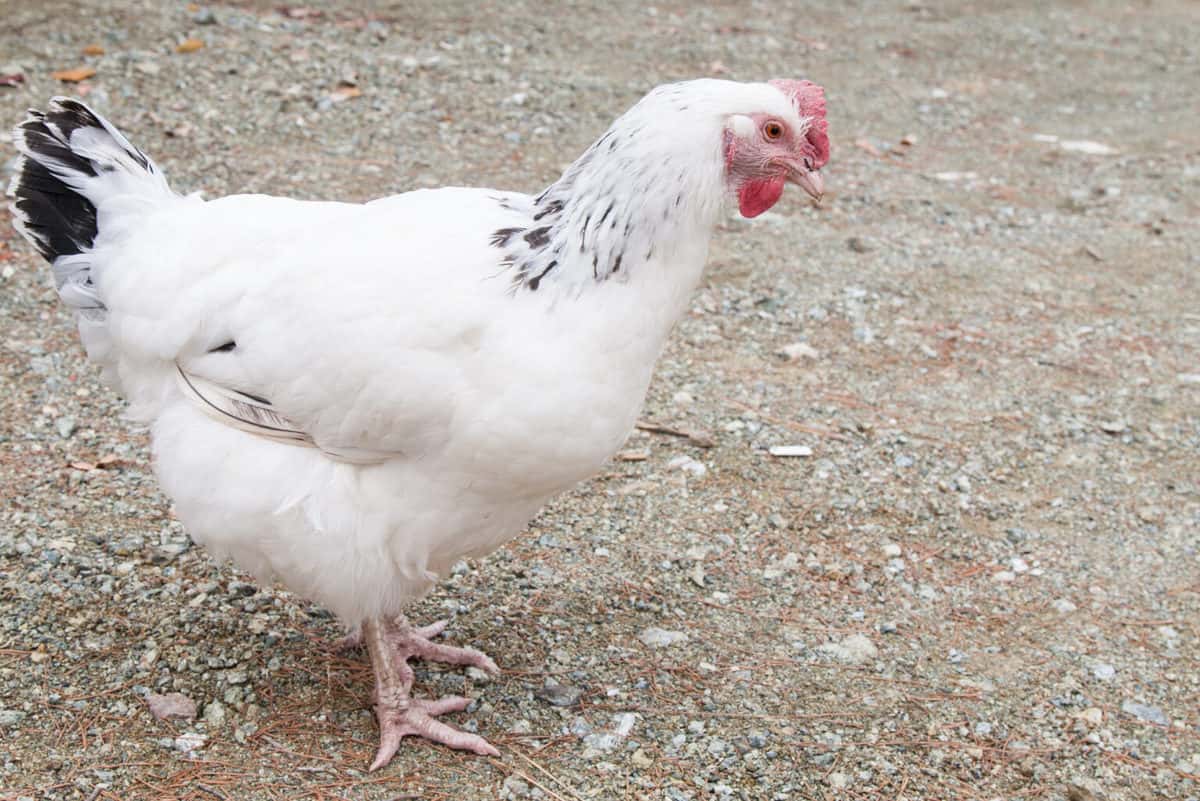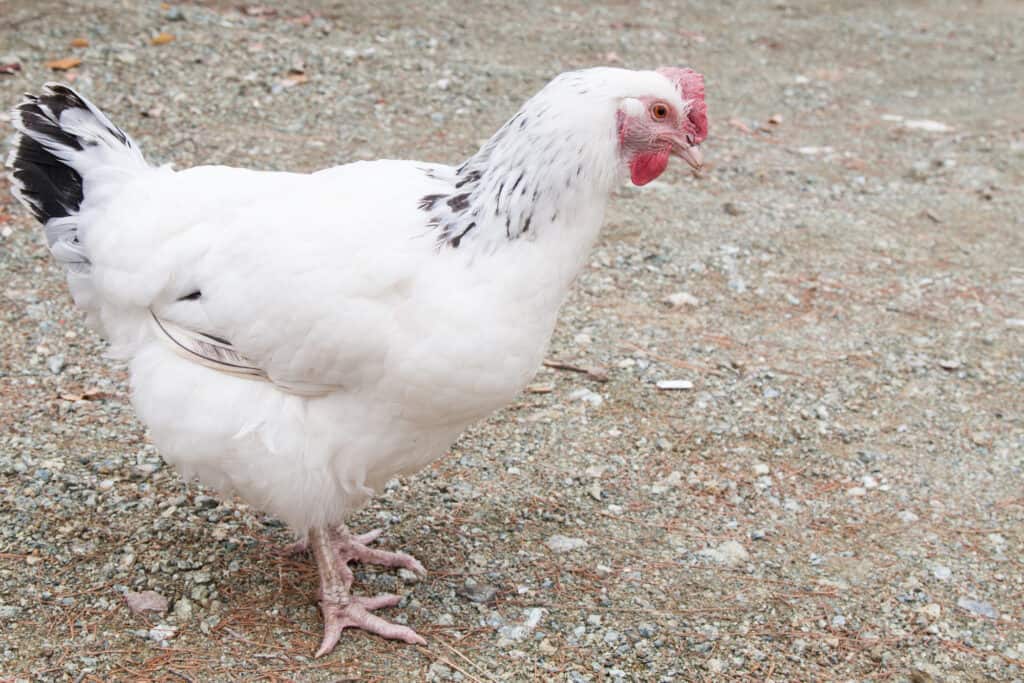 Should you buy baby chicks or adult birds? The choice is yours, but when you're in it for egg production, buying Delaware chicks or pullets is a smart choice. Most of these top online hatcheries sell both, so you shouldn't have trouble finding any of your favorite poultry breeds at any age.
Delaware chickens are perfect as meat birds and prized for their egg production, too. A favorite of the American Poultry Association and the backyard hobbyist alike, these animals should be at the top of anyone's list when you're trying to find free range chicks for sale.
Consider some of these hatcheries, and you'll get some of the best birds you can find.
Related Articles
Maat van Uitert is a backyard chicken and sustainable living expert. She is also the author of Chickens: Naturally Raising A Sustainable Flock, which was a best seller in it's Amazon category. Maat has been featured on NBC, CBS, AOL Finance, Community Chickens, the Huffington Post, Chickens magazine, Backyard Poultry, and Countryside Magazine. She lives on her farm in Southeast Missouri with her husband, two children, and about a million chickens and ducks. You can follow Maat on Facebook here and Instagram here.