Pin It
On Facebook, I see people asking why chickens can't fly, so I thought it would be a good topic for an article.
While it seems like chickens can't fly, our feathered friends DO have the CAPABILITY to get some airlift – they're just not that good at it. In fact, the longest recorded flight lasted 13 seconds, while the furthest distance recorded was 301.5 ft.
So, it's not that chickens can't fly…..they just suck at it. Here's a deeper explanation.
MY LATEST VIDEOS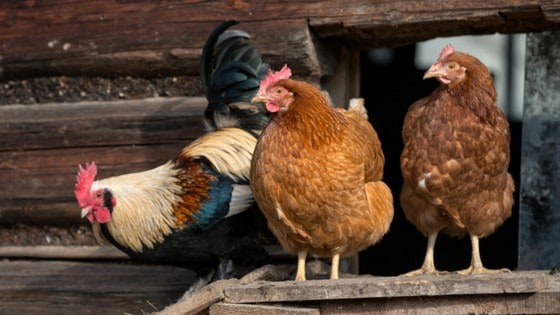 Why Chickens Can't Fly Well
While some chickens fly better than others, as a whole, chickens are not good at flying because of ancestry and selective breeding by humans.
Modern chickens are the noble descendants of the grey or red jungle fowl found in the wild in around Thailand, Myanmar, Vietnam, and Laos. Their ancestors did a pretty good job of flying, particularly if there was a predator involved.
However, since modern chickens have become a companion to humans, the need to fly for survival has been largely bred out – mostly for food purposes – and their wings have become vestigial.
Chickens adapted to spend time on the ground since their food is located on the ground (doesn't do them much good to stick to the air if they'll never catch a meal, right?). Their feet too are adapted for walking as opposed to perching.
Certain species also have been bred to be poor fliers (think Silkies or Frizzles) largely because they're ornamental breeds – so things like wingspan or other factors that allow a bird to fly were less important breed features than, say, unique feathering.
So, how high can chickens fly? Well, with enough determination, some chickens can fly over an 8 foot fence, although not all will be successful.
Chicken Breeds That Can Fly
Now, there are certain chicken breeds that can fly better than others, such as Wyandottes and Orpingtons. They're good for at least one foot off the ground for a short while, particularly if the neighbor's dog has decided to visit.
However, because they're heavy and not really built to fly, they'll get some lift off, but their wings cannot give them the lift power needed for them to fly for very long.
Heavier breeds survive a dog attack because they're fast runners (chickens can run faster than people – about 14 miles per hour. That's why when we want to catch them, we don't have a prayer in hell until nightfall).
Lighter breeds such as Leghorns, Ancona, and Araucanas to some extent, are better fliers – you might notice that they'll roost up in the trees during the night, while heavier breeds struggle to roost even a few feet up.
If they're safe from predators, you might wonder why chickens fly at all – it's not needed for survival, and they'll find all the treats they need on the ground.
Well, as you know, chickens are full of curiosity, and they'll fly largely to explore their surroundings and to interact with their flock mates. Who doesn't have a hen loves to discover new things, especially if it's food related? Ours go nuts when their tractor is moved to new grass!
Can Roosters Fly?
Like hens, it's not that these chickens can't fly – in fact, they're marginally better at it than hens. But the need has been largely bred out of them, and they no longer need the ability to stay safe from predators.