Table of Contents (Quickly Jump To Information)
Taking time with your hens is the highlight of anyone's day, and treats make it all the more special.
My hens come running when they see I have goodies (and sometimes jump ON me), and it's definitely adorable watching how excited they get.
Suet cakes (treats made with a fat to bind the ingredients together) are definitely a favorite around here, and they're a great treat to make sure your hens are getting enough fat in their diet as well as make sure they gobble down their herbs.
This week's treat for hens is a brand new recipe that includes our old favorites, sunflower seeds and oregano, with an extra twist: lemon balm and wheat berries.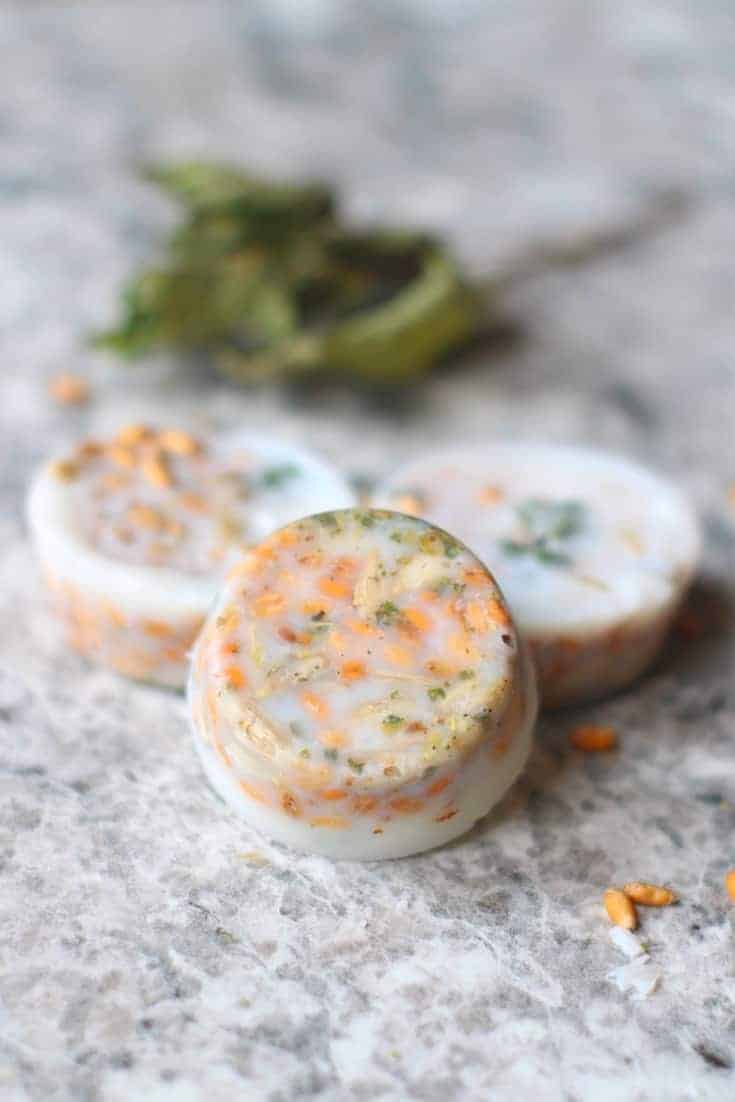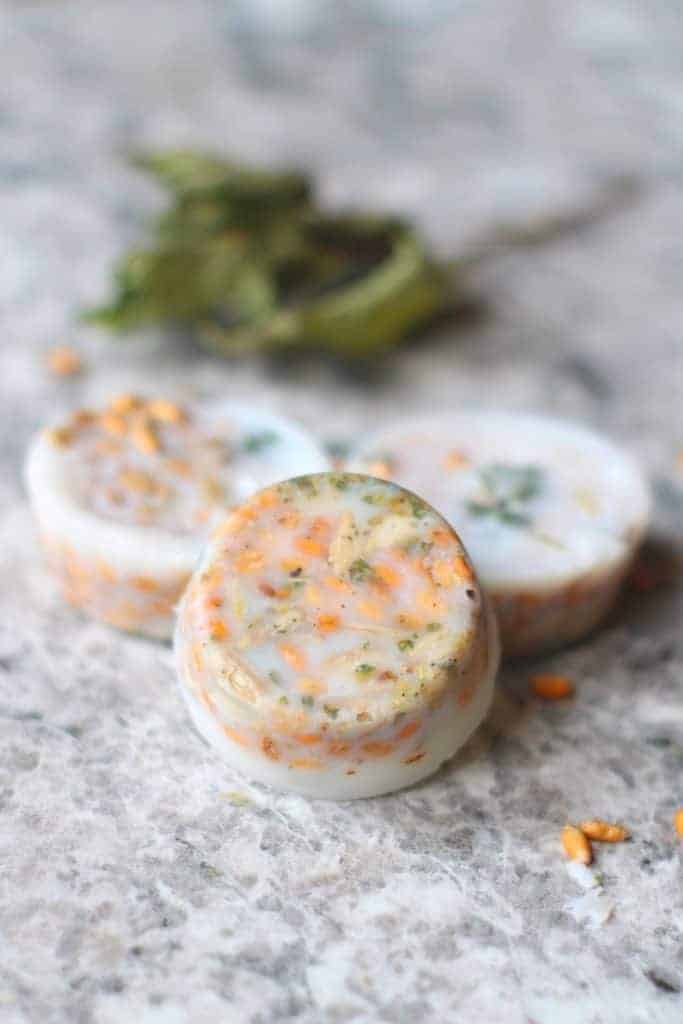 Why these ingredients?
I made these suet cakes using coconut oil because of its health benefits for you AND your chickens.
If you don't have any on hand, you can substitute tallow (rendered beef fat) or lard (rendered pork fat). You can also use leftover bacon grease (which chickens LOVE).
Coconut oil itself is great to help your chickens maintain their weight (has lots of healthy fats) AND it's known for its antibacterial properties. So if you're worried about your chickens as they free range and wander around in the dirt, the coconut oil is a great basis for any treats.
Oregano is also known for its antibacterial properties (it's become the darling of the chicken industry because of it), and contributes to overall health for your flock.
Lemon balm (aka Melissa) is well known as a natural antibacterial and has anti-inflammatory properties – great for helping your chickens' tummies.
It also has a bright, citrus scent, which will leave you feeling happy as you shred it for your chickens (if you have any left over, make it into a tea for yourself, which you can drink while spending time with your fluffy butts.)
So why wheat berries? Well, they're pretty inexpensive, and chicken love them. Non-GMO and organic wheat berries are a favorite of my chickens, and I know it'll be for yours as well.
Also, the great thing about wheat is you can either use it straight out of the bag in these treats OR you can sprout them for 2 or 3 days into fodder.
The act of sprouting makes the wheat berries more nutritious and hens LOVE them, and the sprouts are a great boredom buster.
If you're not sure how to sprout wheat into fodder for chickens, it's easy.
Sunflower seeds, if shelled, aren't worth trying to sprout, but chickens love them, and they're full of healthy fats that are great for your hens. I've yet to meet a chicken who DOESN'T go crazy for sunflower seeds!
In this recipe, I used shelled sunflower seeds, but if you prefer to leave the shells on, that's fine as well. Be sure to use black oil sunflower seeds.
I like to use a mini-cupcake pan for suet cakes because it makes great single-sized servings and they're not so huge your chickens take a few bites then ignore the rest.
The pans are also a great way to make sure each hen gets a treat. If you have a large flock or a bossy alpha hen, some of those down further on the totem pole might not get a chance at the larger treats.
Ready to make your hens some healthy treats?
Wheat Berry & Lemon Balm Happy Tummy Treats
Ingredients per chicken
¼ cup melted coconut oil
¼ tsp dried lemon balm
⅛ tsp dried oregano
2 tablespoons wheat berries
1 tablespoon sunflower seeds
Mini-cupcake pan
(If using a regular-sized cupcake pan, double or triple ingredients, and know that each treat is enough for 2 or 3 chickens. You can always cut them down to individual portions.)
Directions
Combine dry ingredients in a separate bowl. Melt the coconut oil so it's completely liquid.
As the coconut oil is melting, fill each cup in the cupcake tin with the dry ingredients. You want each tin to be nearly full.
When the coconut oil is completely melted, pour over the dry ingredients until the coconut oil reaches the top. Refrigerate until solid.
To remove, turn the pan upside down and knock on the bottom a few times until the treats are loosened. Serve to your chickens immediately.
Make yourself a cup of tea with any remaining lemon balm and drink while you enjoy watching your chickens gobble up their goodies!
Maat van Uitert is a backyard chicken and sustainable living expert. She is also the author of Chickens: Naturally Raising A Sustainable Flock, which was a best seller in it's Amazon category. Maat has been featured on NBC, CBS, AOL Finance, Community Chickens, the Huffington Post, Chickens magazine, Backyard Poultry, and Countryside Magazine. She lives on her farm in Southeast Missouri with her husband, two children, and about a million chickens and ducks. You can follow Maat on Facebook here and Instagram here.