Sunflower microgreens are a delicious addition to your recipe collection, and they're easy to grow in your kitchen.
Once "mature," you can harvest your sunflower microgreens, and their rich, nutty flavor and crunchy texture fit into every meal of the day. They pair particularly nicely with eggs at breakfast, soups, sandwiches, and wraps at lunch, and alongside meats and grains at dinner.
Chock full of vitamins, protein, and lecithin to break down fatty acids, sunflower microgreens are not only delicious, they also pack quite a nutritional punch. Growing them yourself is economical, satisfying, and fun. It's an easy crop for children to plant and grow and makes a great addition to their favorite meals, including pizza, tacos, and alphabet soup.
An as an added bonus, your chickens, ducks, other poultry, and rabbits will also jump at the chance to down some sunflower microgreens as part of their diet (and you might even save some money at the same time!)
Are you ready to exercise your green thumb by growing your own sunflower microgreens this planting season? Follow these ten easy steps!
Start by purchasing quality sunflower sprouting seeds.
You don't need to purchase the most expensive seeds, but you do want the black oil sunflower seed variety. Make sure the seeds you purchase are for sprouting – organic seeds are best so you can be sure they haven't been sprayed with harmful chemicals.
Click here to buy organic sunflower sprouting seeds on Amazon
Then purchase a growing pad, organic soil, seedling tray, and plastic cover, and set them aside for later use. (You can make your own organic soil as well).
Soak the seeds in warm water for at least 12 hours
Grab a mason jar and pour in enough seeds to cover your grow tray. Because we're growing microgreens, space isn't as big of an issue so be generous – you want a large enough harvest to make the effort worth it.
Be sure to keep the seeds covered as they soak to keep dust, bugs, etc out of the jar. This will speed up germination, and let you harvest the sunflower microgreens faster. You'll also waste less seeds.
If you don't want to go through the soaking process, then you can just plant the seeds directly in the grow tray.
But if you want to soak your seeds, then…
Drain and rinse the seeds thoroughly with cool water, then repeat the soaking process.
Again, use warm water and soak for an additional 12 hours. It's very important to rinse the seeds thoroughly so they don't get moldy.
At this point, you should start to see the seeds begin to sprout. It will look like they're growing tiny tails.
Pour potting soil into your grow tray and spread the seeds very thickly.
You can cover the seeds very lightly with additional soil, but it's not strictly necessary. Cover the tray with the plastic top so moisture is retained – make sure there is some ventilation, and remove the top if the seeds begin to mold.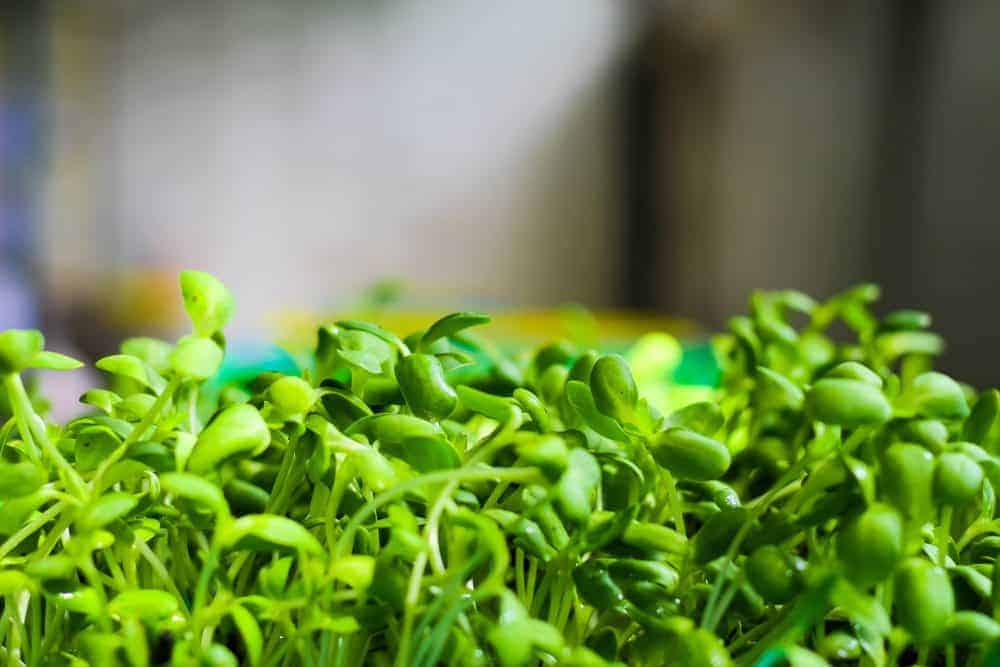 Water your sunflower microgreens by placing the tray inside a larger tray or tub.
This allows the seeds to receive water from the bottom without disturbing them from the top. You don't want to displace any of the dirt or disturb the seedlings' root structure.
As the seeds grow and start to push up, move them to a sunny spot (like a bright window) and continue to water them regularly.
You CAN use a grow light if you want, but it's not strictly necessary, since your sunflower microgreens will be harvested in a few days.
In a week to a week and a half, the sunflower shoots should be about 4" tall.
Harvest your sunflower microgreens!
Once they're about 4″ tall, it's time to harvest the fruits of your labor. Cut your sunflower microgreens right above soil level and store them in a sealable plastic bag. They should last 4-5 days in your refrigerator.
To use them, pull out the amount you need for each recipe, and rinse them carefully under cool, running water.
Use this easy method to grow these tasty greens whenever you want them. Because they're ready to harvest so quickly, they don't require a ton of planning ahead, and because they last for 4-5 days when refrigerated, they can also be ready to use when you're ready for them.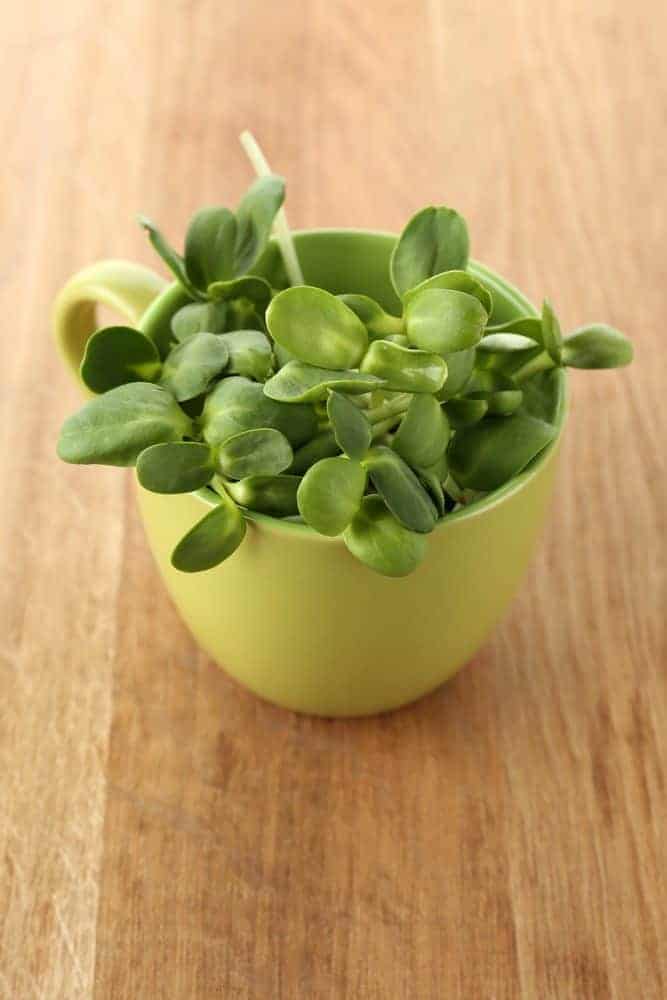 Ideas to use your sunflower microgreens
Try your first harvest in a simple summer salad:
Mix sunflower microgreens with peeled and cubed blood oranges and avocados, peeled and shredded carrots, and chopped walnuts or pecans. Dress with a light vinaigrette dressing and add slices of crusty, homemade bread for a delicious summer meal.
I'd like to hear from you!
What's your favorite way to use sunflower microgreens? Leave a comment below!
Maat van Uitert is a backyard chicken and sustainable living expert. She is also the author of Chickens: Naturally Raising A Sustainable Flock, which was a best seller in it's Amazon category. Maat has been featured on NBC, CBS, AOL Finance, Community Chickens, the Huffington Post, Chickens magazine, Backyard Poultry, and Countryside Magazine. She lives on her farm in Southeast Missouri with her husband, two children, and about a million chickens and ducks. You can follow Maat on Facebook here and Instagram here.