Pet birds don't get much better than Cream Legbar chickens. They lay blue eggs and you can tell which are males and which are females seconds after they hatch – super dreamy indeed!
This fascinating breed of chicken is a relative newcomer to the backyard flock scene, but because of their good looks, excellent egg-laying ability, docile personality, and sky-colored eggs, they've become extremely popular.
In this article, you'll discover everything there is to know about Cream Legbar chickens, from the breed history to how to care for them, and where to buy these feathered beauties.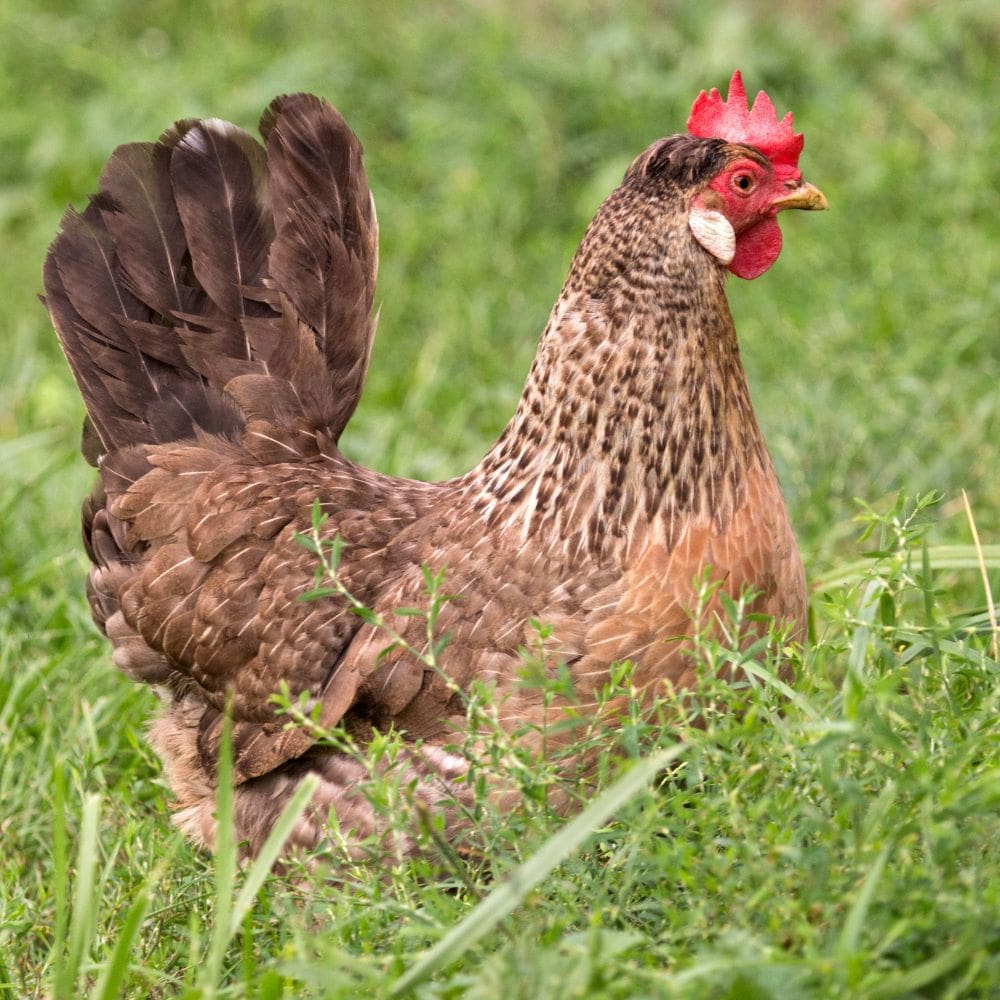 Table of Contents (Quickly Jump To Information)
5 Amazing Cream Legbar Chicken Facts
They're an unusual crested chicken breed

They are an auto-sexing

chicken (meaning you can tell the sex of the chicks at hatching)

They lay blue or blue/green eggs

The breed almost went extinct in the 70s because nobody wanted blue eggs (surprising since powder blue suits were all the rage)

It took several decades of study for the breed to form
History Of The Cream Legbar Breed
Established in the United Kingdom, Cream Legbars are getting more popular, but are still considered to be a fairly rare breed in the USA.
It was developed by Reginald Crundall Punnett and Michael Pease, researchers at Cambridge University, who wanted to create a breed that could easily be sexed at hatching (you can read more about how to sex a baby chick here).
These gentlemen crossed a Gold Legbar chicken (a hybrid of Barred Rocks and Brown Leghorns) with white Leghorns and Araucana chickens.
While this gets a bit technical about chicken genetics, the Araucanas brought the dilute creme gene to the mixture, which inhibits the gold gene from being expressed in the chicks (which is why Cream Legbars are a light grey or cream color).
It's also from the Araucanas that the Cream Legbar gets its crest and blue egg laying genes.
Thanks to this mixture, the chicks can be sexed after they hatch by examining their down. Like other autosexing chicken breeds, Cream Legbars have specific markings when they're born. The pullets have a dark brown stripe extending over the head, neck and tail, and barring around the eye. They also have a head spot.
Roosters have paler down, and less pronounced barring.
Breed Standard
According to breeding clubs, these are the required markings of Cream Legbar hens and roosters:
Roosters: Cream neck hackles, sparsely barred. Crests are cream and grey colored. Saddle hackle feathers are long and cream barred. The wings are also faintly barred.
Hens: The breast is salmon colored and the rest of the body is silver-grey with soft barring. The neck hackles and tail are covered with cream feathers with grey barring. Like the roosters, the crest should be cream and grey. The hens should lay blue or blue/green eggs, and should lay prolifically.
Unlike their Araucana ancestors, these chickens don't have the tufts.
You can read detailed breed standards here.
Cream Legbar Eggs
What Color Eggs Do Cream Legbars Lay?
Because of their Araucana heritage (and selective breeding), the crested Cream Legbar egg color is blue or blue/green. If your Cream Legbar hen doesn't lay blue eggs, then it's likely a hybrid (you can find out about other colored egg layers here.).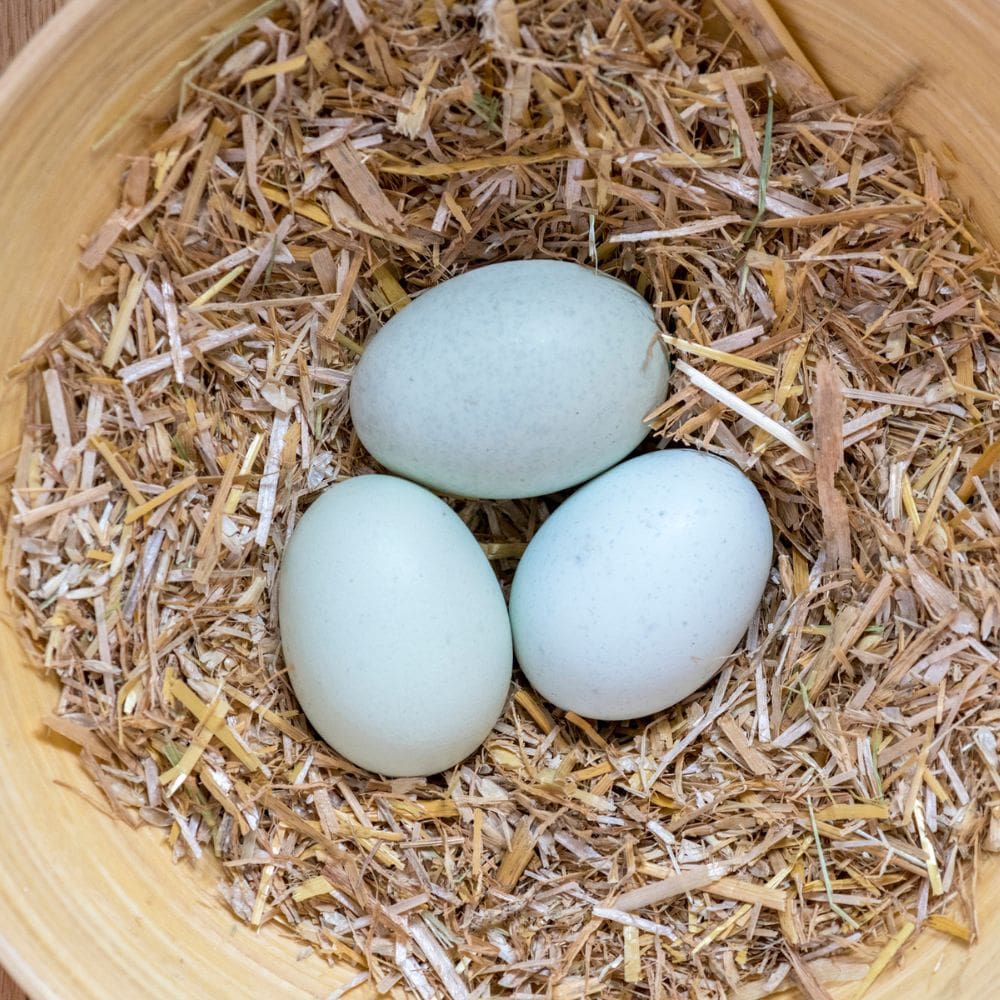 How Many Eggs Does A Cream Legbar Lay?
Cream Legbars lay about 280 eggs each year, and are noted for being very prolific egg layers. So, don't be surprised if you find lovely blue eggs in your nesting boxes 5 times a week!
You can learn more about which nesting boxes chickens prefer here.
What Age Do Cream Legbars Start Laying?
Like most chickens, Cream Legbars start laying their eggs at about 6 months of age. This will depend on different factors, however, such as her diet and the time of year. It's always best to feed your hens a high quality layer feed that's at least 16% protein. You can also supplement with extra treats, such as black soldier fly larvae and oyster shells for extra calcium.
Many readers ask "When do cream legbars start laying?" because their chickens are 7 months old, with no eggs in sight. Remember that if your hen turns 6 months old during winter, she is less likely to start laying. In fact, she might wait until spring before beginning egg production.
If your Cream Legbar hen stops laying eggs, you can troubleshoot egg laying problems here.
Keeping Cream Legbar Chickens as Pets
Are Cream Legbar Chickens Friendly?
The cream legbar temperament is usually docile, but it depends on how they're raised. Because they have Leghorn genetics, they can be a bit flighty (Leghorns are notorious for their flightiness). However, many owners report that if the Cream Legbar chicks are hand raised, they're very friendly and will take treats from your hand.
According to the breed standard, having a docile Cream Legbar is ideal.
Cream Legbars also have a bantam variety, and on the whole, bantams tend to be friendlier than full sized chickens. You can read more about bantams here.
Are Cream Legbar Roosters Aggressive?
Some breeders report that Cream Legbar roosters tend to be more aggressive than other chicken breeds, and are good protectors. So, if you're looking for a pet chicken for your children, then this breed might not be the best available (Silkies and Cochins are two options.)
Feeding Cream Legbar Chickens
Like most chickens, the best Cream Legbar diet includes a lot of protein. Chicks need a high protein diet to grow correctly- 18% protein chick starter is best.
Layers need it also so they can provide you with yummy eggs. The ideal diet for a hen includes a 16% protein layer feed and fresh, clean water every day.
If you want to save some money and keep rodents away from your hens, use a no-waste feeder like these. You can also build your own with these tutorials.
This is especially important since Cream Legbars (thanks to the Leghorn genes) have a very good feed to egg ratio, so they won't eat as much as bigger chickens. You want that feed to last as long as possible!
For nicely colored yolks, you can add herbs high in beta carotenes, such as calendula.
Your cream legbar flock should have 24 hour access to water (although they probably won't drink at night). An automatic waterer makes this easy. If you want to build your own, you can get my tutorial for a gravity waterer here.
Cream Legbar Chicken Lifespan
Cream Legbars tend to be healthy birds, and on a general basis, you can expect yours to live between 5-10 years. Note that the exact lifespan depends on lots of different factors, such as diet, shelter, and veterinary care. You can learn more about the factors that can effect how long your chickens live here.
Cream Legbar Vs. Ameraucana: Which Is Better?
When it comes to laying eggs, many owners report that Cream Legbars are more prolific layers. However, the Ameraucana is more likely to be friendlier and cuddlier. Ameraucana roosters are also usually pretty mellow.
Coops For Cream Legbar Chickens
The perfect Cream Legbar chicken habitat should be:
Safe from predators

Well ventilated

Draft-free

Easy to clean

10 square feet of space per chicken

Full of environmental interests such as branches and toys
While Cream Legbars are not very large, they can be flighty and nervous. It's best to stick to the 10 square feet of space per chicken rule of thumb.
These are also smaller birds, and easily picked off by predators, including dogs, raccoons, opossums, and larger predators like bears. Make sure your coop is 100% predator proof, and use a run or tractor to allow your flock some outdoors time.
You can learn how to build a predator proof coop here and figure out the best chicken wire here for your particular coop. If you want to know how to identify common chicken predators, you can read this article.
Cream Legbars are both cold hardy and heat hardy, but remember that they're still fairly small birds. So, your coop should keep them dry and warm in the winter so they don't freeze.
In the summer, your coop should have good cross breezes so they don't overheat. A few windows are always a good idea – just be sure to use screens or hardware cloth so no predators can eat your flock.
Chicken Health Issues
Parasites
All chickens can have trouble with parasites, like lice and mites. It's important to keep an eye on them so you can detect any problems right away. One of my favorite things to help out is my PestsBGone all natural nesting herbs, and your chickens will love it too.
Marek's Disease
When Greenfire Farms first imported Cream Legbar chickens, Marek's seemed to be a big issue. The breeder reported that this was partly due to the imported birds having no resistance to the strains of the virus we have in the USA. Subsequent generations seem more immune. However, it's not a bad idea to have your Cream Legbar chicks vaccinated for Mareks to be on the safe side.
Prolapse Vent
Because Cream Legbar hens are such prolific layers, there's a chance she might end up with a prolapsed vent. However, this seems unlikely, and reports are few and far between.
Where to Buy Cream Legbar Chickens
There are several major hatcheries and a few recommended breeders which you can buy your Cream Legbar chicks from.
With a breed like this – very popular and not very well publicized – it's easy to head to the wrong place and purchase chickens that LOOK like Cream Legbars, but won't lay blue eggs or are unhealthy. One popular cross I've seen is a Cream Legbar and a Welsummer chicken – they look like the real deal, but likely won't lay beautiful blue eggs.
Or, you might find the breeder doesn't know the difference between Cream Legbars, Ameraucanas, Easter Eggers, or Araucanas and accidentally sells you the wrong breed. You can learn the difference between these super blue egg layers here.
Because of their popularity, they tend to be much more expensive than other chicken breeds, which makes it tempting for people to pass off hybrids for purebred Cream Legbars.
When it comes to this breed, make sure you're prepared to spend a bit more at a reliable hatchery. Cream Legbar pullets are a bit more expensive than standard breeds.
Where To Buy Cream Legbars
Find more information and prices here: My Pet Chicken
Located in Connecticut. If you live on the East Coast, you'll want to use this hatchery so your chicks don't travel too far.
This has been one of the top hatcheries for decades in the United States. They carry day-old chicks that you can have shipped right to your door. The Cream Legbars on their site have gotten many 5-star reviews, and owners seem happy with their purchase.
Find more information and prices here: Meyer Hatchery
Located in Ohio. If you live in the Mid-Atlantic or Northern Midwest, this is a good hatchery to order from. Your chicks won't travel too far.
Meyer has a good reputation, and on their website, they show photos of beautiful sky-blue eggs that'll be perfect in any morning egg basket. They have great reviews too.
Find more information and prices here: Cackle Hatchery
Located in Missouri. A good hatchery to order from if you live in the Midwest, Texas, Oklahoma, Nebraska, Kansas, the Dakotas, etc. This is the hatchery I have the most experience with. Every time I've ordered from them, the chicks arrived ASAP and in good shape.
Their prices for Cream Legbar chicks are competitive. Note that as of the time of press, they only shipped these chicks through June, so get your orders in early.
The roosters in particular look very beautiful. You can read our review of Cackle Hatchery here.
Find more information and prices here: Murray McMurray
Located in Iowa. A good place to order from if you live in the Dakotas, Iowa, Minnesota, etc. I've ordered from this hatchery before (although not Cream Legbar chickens) and had a good experience.
Their prices are very competitive, and the photos on their website show pretty blue/green eggs, and hens with very impressive crest feathers!
Find more information and prices here: Greenfire Farms
One of the top breeders (if not THE top breeder) in the United States, Greenfire Farms, also has Cream Legbar chickens for sale. As one of the first importers of these chickens, they've helped establish solid flocks for other breeders, and only raise healthy birds you'll be proud to have in your flock.
You can expect to make more of an investment in your birds, but you'll have beautiful parent stock from which you can establish your own flocks.
Other Ways To Purchase Cream Legbar Chickens
You can join the Cream Legbar Club to connect with other enthusiasts (and possibly breeders).

Join Facebook groups and ask for breeder recommendations.

Here's a popular group

called Cream Legbar Breeders of America.
Maat van Uitert is a backyard chicken and sustainable living expert. She is also the author of Chickens: Naturally Raising A Sustainable Flock, which was a best seller in it's Amazon category. Maat has been featured on NBC, CBS, AOL Finance, Community Chickens, the Huffington Post, Chickens magazine, Backyard Poultry, and Countryside Magazine. She lives on her farm in Southeast Missouri with her husband, two children, and about a million chickens and ducks. You can follow Maat on Facebook here and Instagram here.