Are you ready for spring?

 

I can't hear you.

 

Are you ready for spring?!
I know I am. To beat these chilly blues, I've been planning my garden. Right now I'm deciding what to plant where. Last year, I made a few companion planting mistakes I'll be sure to avoid this year.
This year, my garden will be awesome. 
I've picked out a place for the radishes, near the house where the soil is loose but rich with the compost from plants of yesteryear. (I'm not the biggest fan of radishes, but they're about as instant gratification as gardening gets, and this year I want to try to pickle them!)
The kale will line the walkway that leads to our front door, since kale, which doesn't grow too tall, makes an attractive border, adding texture to our front lawn.
The cabbage will go in the front of the house, where I've been composting manure, and where they will be easily accessed.
It's also far away from my radishes, since radishes and cabbage don't grow well together. That was companion planting mistake #1 last fall. I planted my cabbages near my radishes, and neither did too great!
In fact, just like some foods just don't like each other, some veggies don't make good companion plants. Using a companion planting chart when planning your garden can help prevent costly mistakes.
As you plan your spring garden, use this easy companion planting guide to avoid 6 common companion planting mistakes: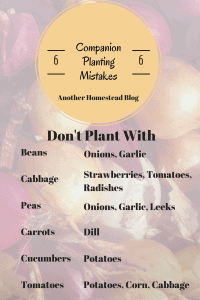 What will you plant in your garden this spring? Will you try companion planting? How will you avoid these 6 common companion planting mistakes?
If you're planning a garden this year, and want to try different seeds, consider the Seeds of the Month Club (affiliate link)! You'll get 8 packets of seasonally appropriate seeds delivered to your door for every month!
Unsure which plants you SHOULD plant together? Get my companion planting guide!
[contact-form][contact-field label='Email' type='email' required='1'/][/contact-form]
Until next time, happy dreaming!
I participated in Monday Madness Blog Hop, Good Tips Tuesday!