Wondering whether worming chickens is easy? What are some practical options? Can you treat with all-natural dewormers? In this article, we'll discuss the type of worms chickens can get, why they're so dangerous, and what to do about it! This is the Chicken Wormer Ultimate Guide!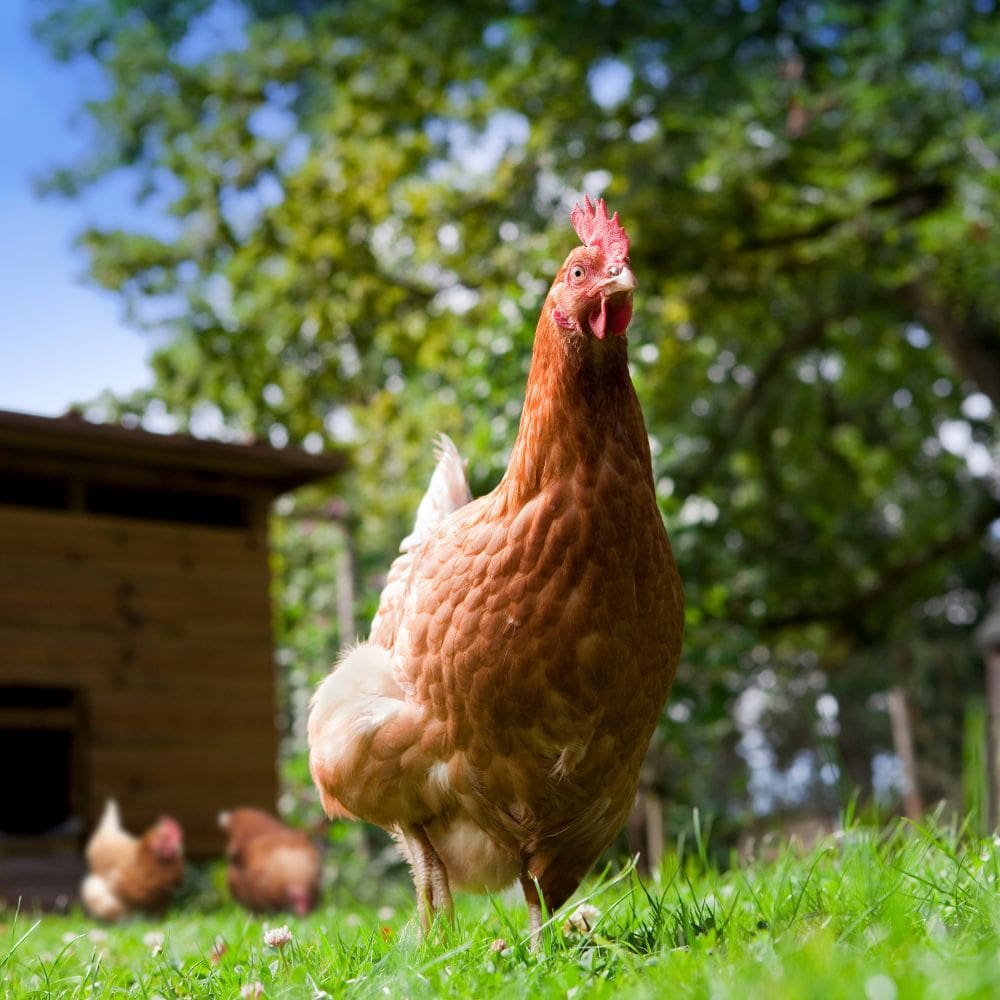 Think about it: A chicken mama walks into her hen house to collect eggs. She reaches into the first nest and frowns. The egg has an unusual covering of chicken poop. This is not a massive problem. It
just
requires some extra cleaning.
On to the next egg. It's plastered with poop. The farmer begins to suspect something is wrong. Then, onto the third nest, where the prize-winner roosts. She is neat and tidy, and never leaves messes on her eggs. But chicken poop also covers this egg, and there's some long white strands mixed in.
Something needs attention, and she wonders what's going on with her beloved birds. The list possible problems is a short one, and the solution is actually quite simple. These chickens have worms, and they need a better worming regimen.
Table of Contents (Quickly Jump To Information)
What Are Worms Exactly?
Worms are parasites that can create health problems in chickens. Worms can cause lots of health issues, such as:
poor nutrition (because the worms are stealing vitamins and minerals from your flock)
You might also notice your hen doesn't want to forage, and prefers to sit
quietly
in a corner.
How Do Chickens Get Worms?
A flock of chickens goes foraging, and might stumble upon a big, thick slug. It is a treat to the bird, but this yummy snack hides something insidious: a parasite. Your chickens swallow this parasite, and it finds a warm, comfortable place to live out its life cycle.
Chickens can also pick up worms from the soil, either by stepping on eggs, or ingesting eggs from dirt. Wild birds visiting their poultry cousins can also be a point of infection. Additionally, one chicken can effect her whole flock, since the worm's eggs might infect her feces.
Other hens might pick them up when walking around (which is why it's important to clean your coop
consistently
)
.
What Kind Of Worms Do Chickens Get?
Chickens can get a variety of worms, including:
Tapeworms (

Davainea proglottina

and

Raillietina cesticullus

)

Roundworms (

Ascaridia galli

)

Hair Worms/Capillary Worms (

Capillaria obsignata

)

Gapeworms (

Syngamus trachea

)

Caecal Worms (

Heterakis gallinarum

)
Each worm species effects chickens in different ways. But all worms are detrimental to your birds' health. Most worms fall into two distinct classes.
Direct –

a chicken picks up these worms by scratching or pecking through contaminated feces

. They spend their entire life cycles inside the chicken. Very often the eggs of these worms drop out of your chicken; they are quite durable and can hibernate for up to a year. Then, when another chicken picks them up, they then hatch, often by the thousands.

Indirect –

these worms inhabit things that your chickens might have foraged. They might be hiding inside slugs, for example. Then, inside your chicken, they find a nice warm habitat to live out their life cycle.

Indirect worms need a secondary host, such as an earthworm, before finding their permanent home inside your chickens

.
The following types of worms can infect your flock:
Caecal Worm
These are light grey to white in color and shaped like the letter S. They can grow to about ¾ inch. Caecal worms do not always show any symptoms in chickens. But chickens suffering a severe outbreak of these worms may look depressed or look worn out. The worms live in the ceca and have a direct life cycle.
Capillary Worms
These worms are so small that one cannot usually see them with the naked eye. They are also called Hairworms or Threadworms. They live in the crop, intestines, and ceca, but in severe outbreaks, they can also inhabit the throat or the mouth. These worms are usually found in earthworms and slugs. A chicken infected by capillary worms will be weak and anemic. Their comb will pale, and the bird might appear emaciated. They also might suffer diarrhea. Extreme cases can lead to the bird's death. They have both a Direct and Indirect life cycle.
Gape Worm
Gape worms
are red
, and grow to ¾ inch in length. A male and a female lock together, resulting in a Y-shaped organism. Gape worms inhabit the trachea and lungs. They feed on blood get from micro blood vessels.
The most common symptom is a shortness of breath, often accompanied by a gaping beak, stretching its neck, and head shaking
. The chickens will cough and
frequently
gasp for air and may also have a reduced appetite. They are Direct cycle parasites.
Gizzard Worms
These worms are very thin and grow to about 3/4 inch. They're uncommon in chickens (far more common in geese). Symptoms include:
a sickly

appearance (might include a hunched posture and sagging wings)
This can lead to death if left untreated. They have a Direct life cycle.
Roundworms
Most common of the various worms that your chickens might contract. Roundworms are visible by the naked eye, and can reach lengths of up to 6 inches. Other symptoms can include:
Extreme cases can also block the intestines, which can kill your bird. The infected bird will shed the roundworm eggs in her poop. Another hen can pick up these eggs, which will hatch in the new hen. Round worms have a Direct life cycle.
Tapeworms
Tapeworms are white, long, and flat. In chickens, they usually do not grow any longer than 13 inches. Segments of these worms can be visible in chicken feces – they look like bits of rice. Tapeworms live in different intestinal areas and feed on its host bird's diet.
As a result, the chicken will likely suffer an increased appetite, and will appear larger,
primarily
due to bloating
. If a juvenile bird becomes infected with tapeworms, its growth could
be stunted
.
Tapeworms have an Indirect life cycle; they need a host like beetles, earthworms, and other insects
.
How Can We Protect Chickens From Worms?
Your chickens are very likely to get worms, especially if they live outdoors. This is a sad fact of life, but it is an important one.
Stopping worms is not 100% about
preventing
worms from infecting your pets, but rather in
minimizing
the damage
.
The biggest risks are warm wet climates, and especially between late Spring and summer, when many parts of the USA endure heavy rains
.
Other areas of the country – the Pacific Northwest, for example – are
ideally
suited due to an almost year-round warm wet climate
.
Worm eggs do not like extreme temperatures and go dormant in weather that is too hot for them or too cold for them. They are also averse to climates that are too dry to sustain them. To prevent a muddy coop, mix a good amount of stone, gravel, or having straight concrete flooring. This can reduce the number of active worm eggs in your flock's home.
Keeping grass short can also behoove a smart chicken owner. This helps to maximize the amount of UV light from the sun that reaches worm eggs. These eggs are particularly susceptible to UV light, and sunlight can destroy them.
Be sure that your bedding is clean and dry. In wet weather, be sure to clean out your coop and chicken housing areas at least 2 to 3 times per week.
If you use the deep litter method, and your chickens seem to
constantly
have worms, consider a different bedding option
.
Should I Worm My Chickens?
Not sure if your chickens have worms? It's easiest to collect some feces and take it to your vet. They can run tests to determine if and what kind of parasites your chickens might have. These tests are usually inexpensive. You'll learn if your chickens actually need a worming regimen.
Worming regimens should not be year-long. You should do it only every so often (your vet can tell you how often). Parasites and chickens both can develop an immunity to the wormers. If this happens, it means you'll have a harder time killing off this particular strain of worms. So, continuing to use it will have no effect. You can ask your vet about rotating options if you want to prevent worms.
What Are The Best Wormers For Chickens?
There's lots of opinions out there about what wormers are ideal. Some chicken owners might claim you only need natural solutions. Others insist that they are not enough.
Ultimately
, you should decide for yourself, using our list below as a set of options. Be sure to consult your vet as well. A list of some of the most popular options are below.
Flubendazole/Fenbendazole
In the United States, there aren't any FDA-approved wormers for chickens. But elsewhere in the world, there's pharmaceutical options.
The UK has stringent standards when it comes to animal welfare, and Flubendazole
is approved
for this use
. Since you can give it to goats, horses, etc, it's worth asking your vet about it. If you can't find Flubendazole, ask your vet about Fenbendazole.
It's a common medicine for goats, horses, dogs, cats, etc. Fenbendazole is usually sold in farm stores under the trade name Safeguard
. Before proceeding, though it's always best to ask your vet for dosage amounts.
Ivermectin
Like Fenbendazole, this isn't specifically approved for chickens. But it's safe for other species. It's also proven effective. So it's worth talking to your vet about it. You can buy it at any farm store.
Apple cider vinegar
This remarkable item offers many benefits, including deterring some worms. It is not a 100% guaranteed treatment, but it's very cost-effective. It can also introduce healthy bacteria to your hens' digestive systems. You can learn how to make it yourself here.
Garlic
Garlic is the wonder herb. You can add small amounts to chicken feed. It might help discourage worms from settling in the belly. It also can support healthy digestive systems.
Chili/Cayenne
Worms dislike the spiciness of capsaicin, and will leave the host area. Like garlic, it discourages worms from settling in the digestive gut.
There's a long history of certain herbs "doing the trick" to keep parasites from bugging backyard chickens
. WormBGone Nesting Herbs includes the best herbs! Made with herbs
traditionally
used to promote healthy digestive systems and prevent worms. This is an affordable option many chicken owners love.
Vetrx Poultry Aid
You can apply this natural wormer
directly
on the effected chicken or put it into their water or in treats.
Durvet Ivermectin Pour On De-wormer
You can pour this wormer onto the infected area. It's a topical anti-wormer.
Fleming Wazine Chicken De-wormer
You can mix this solution into feed or water.
My Pet Chicken Organic WormGuard Plus with Flax Seed
This natural mix also claims to reduce odors and moisture in chicken coops.
Internal parasites are a massive problem that can effect your birds at any point in their lives. And it's not only their health at stake. Worming chickens can also effect your life. After all, a healthy, worm-free, bird will produce healthy eggs for consumption.
Maat van Uitert is a backyard chicken and sustainable living expert. She is also the author of Chickens: Naturally Raising A Sustainable Flock, which was a best seller in it's Amazon category. Maat has been featured on NBC, CBS, AOL Finance, Community Chickens, the Huffington Post, Chickens magazine, Backyard Poultry, and Countryside Magazine. She lives on her farm in Southeast Missouri with her husband, two children, and about a million chickens and ducks. You can follow Maat on Facebook here and Instagram here.