Heard of Delaware chickens? Did you know they're fast headed for extinction? For a chicken breed that was developed in 1940, the Delaware Chicken has the potential to be one of the shortest-lived breeds out there. So what is this breed, and why are they on the edge of extinction?
History of Delaware Chickens
George Ellis of Ocean View, Delaware is the father of this breed. He was looking to produce a fast-feathering bird that grew quickly – with the goal of promoting them in the competitive broiler market. As he experimented with a number of breeds and breed mixes, he stumbled upon the occasional Columbian pattern. He liked this barred spotting from the crossing of New Hampshire hens and Barred Plymouth Rock roosterse, and focused on developing stock so the color bred true. His "Indian River" chicken was the result. By 1952, when the Standard of Perfection recognized this bird, it changed its name to reflect its state of origin: The Delaware Chicken.
For a time, this striking mostly white bird was primed for the spot of number-one broiler, but it soon lost any chance it had when Perdue (yes, that Perdue) made the Cornish Rock (and its crosses) the go-to for its industrial warehouses. By popularizing the Cornish Rock, much of the private love and profitability of the Delaware fell to the wayside. Its slow decline has persisted to this day, and in 2009, the American Livestock Breed Conservancy listed it as critical. However, thanks to some serious dedication, breeders have brought them up to the "watched" list.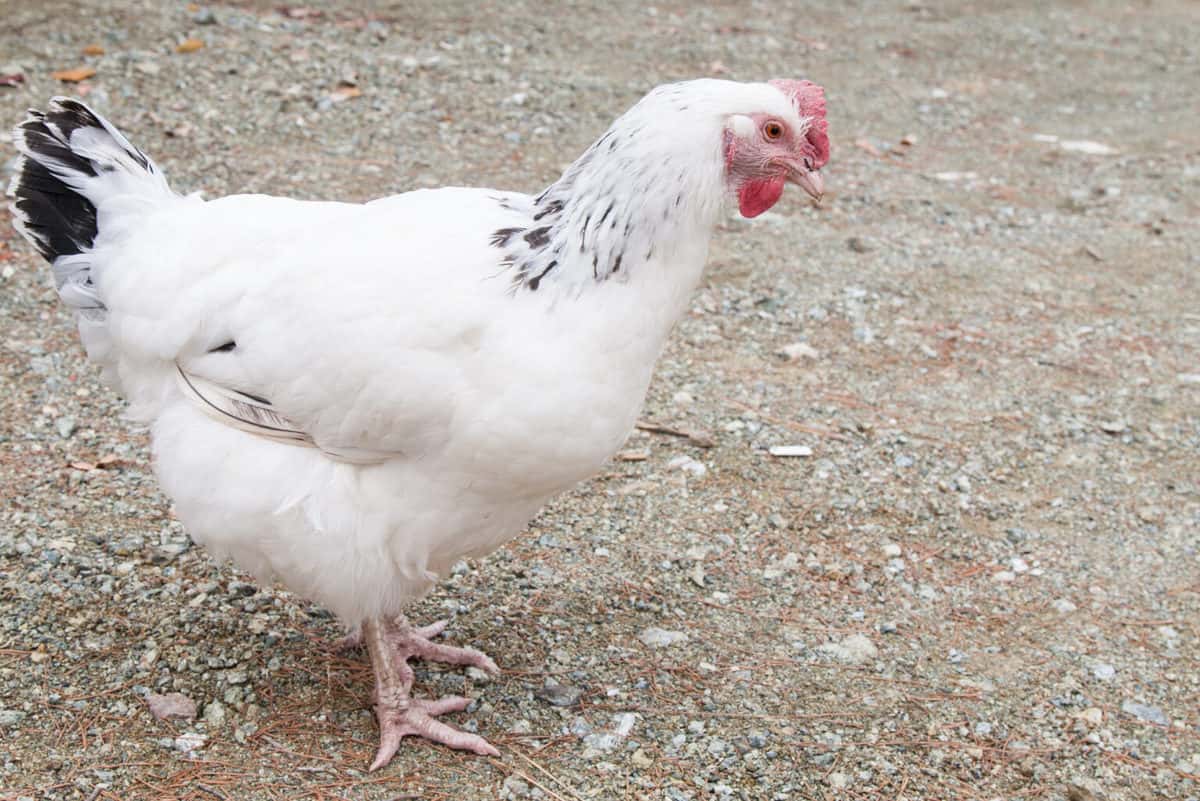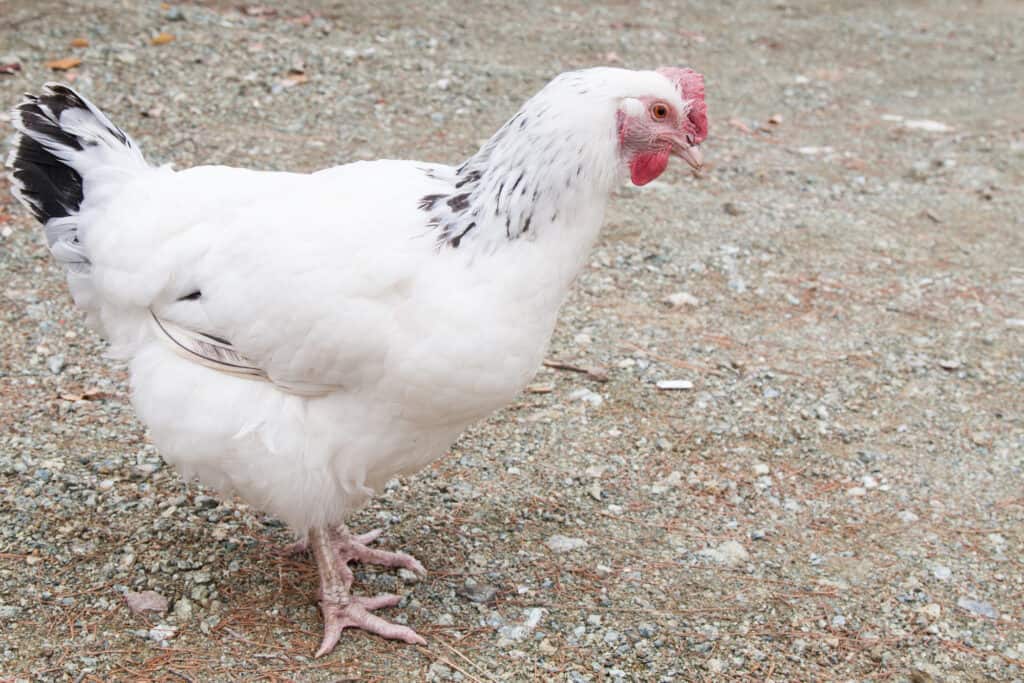 Why Should We Hope to Bring the Delaware Chicken Back?
For those for whom patriotism is important, the Delaware Chicken is distinctly American. Bred and raised in the USA, it never gained the traction needed to find itself imported to other countries. To this day, it can only be found in the USA. Delaware chickens are friendly, large, and excellent dual-purpose breeds. While they were originally not developed for small farms or private flocks, this hardy bird is an excellent egg layer, and a great addition to any backyard farm.
What do Delaware Chickens Look Like?
These are large birds that are mostly the purest of whites – except for their spotted banding of black at the backs of their neck and at the tips of their tails. This coloring is called Columbian, and it's very pretty. Roosters may even sometimes have the black barring on their wings. Their comb, wattle, and earflaps are a vivid bright red.
Their legs are equally bright, but yellow rather than red. The legs are clean from feathering. Roosters average around 8.5 lbs, and hens weigh in at 2 pounds lighter: 6.5 lbs. There are also bantam varieties that are 2 lbs(rooster), and 1.75 lbs (hens). Both varieties feather quickly and quick to fill out into a robust body.
Delawares are friendly and easily handled. They are calm enough to be with children (under supervision, just to be safe). They are reported to be a very sociable chicken, who enjoy babbling to their humans. If you are looking for a super-quiet bird, they might not be ideal. That said, they are not super noisy, either – they are just very sociable. They are also quite curious and intelligent.
Are Delaware Chickens Good Layers?
They lay between 100 and 150 large brown eggs per year. They might not be as good as championship egg-laying breeds, but they are certainly no slouch when it comes to egg productivity. They also have little interest in sitting on their eggs, and rarely go broody. For people looking to complement their flocks with a chicken that is very much "one of the girls," Delawares are an excellent selection.
Do They Require any Special Care or Housing?
Delawares are excellent in all climates, from warm to cold, so they don't need any special housing – just predator safe coops and runs. These birds thrive in free-range settings, or pens that give them enough space to roam. If you do live in colder climates, spreading Vaseline on their combs could prevent frostbite on the coldest days of the year.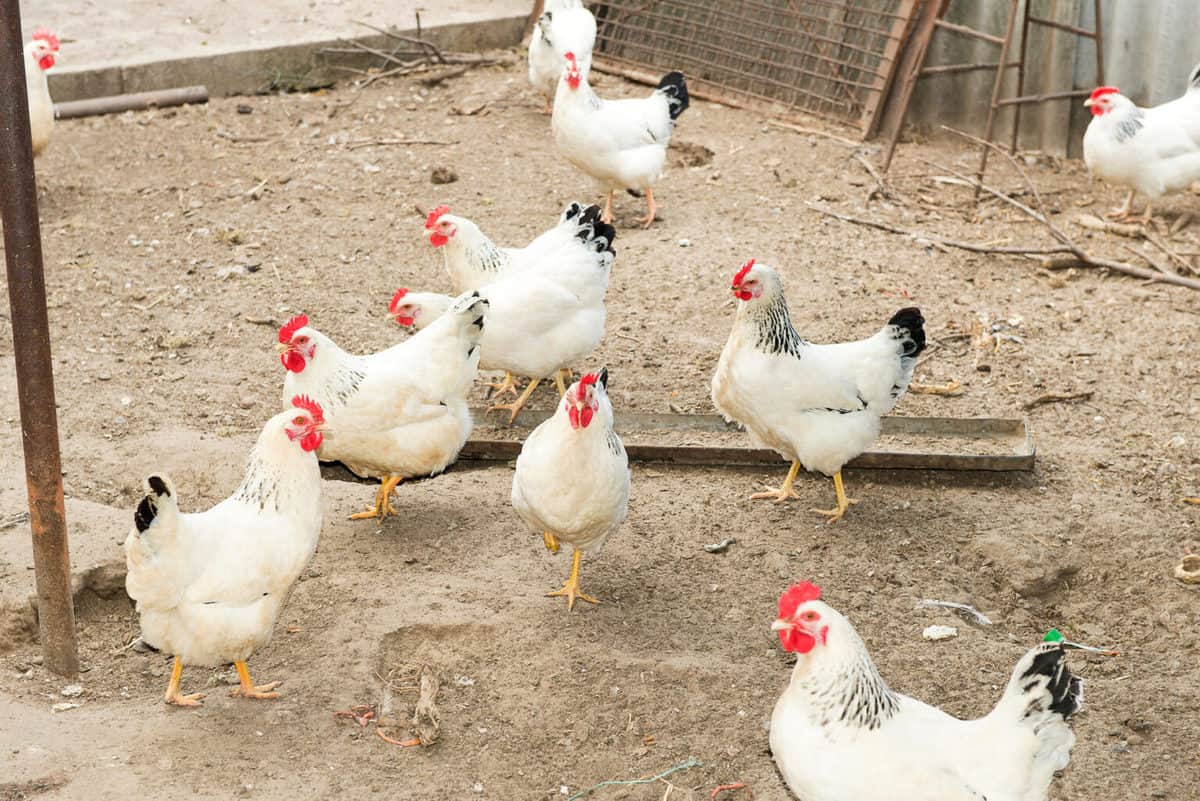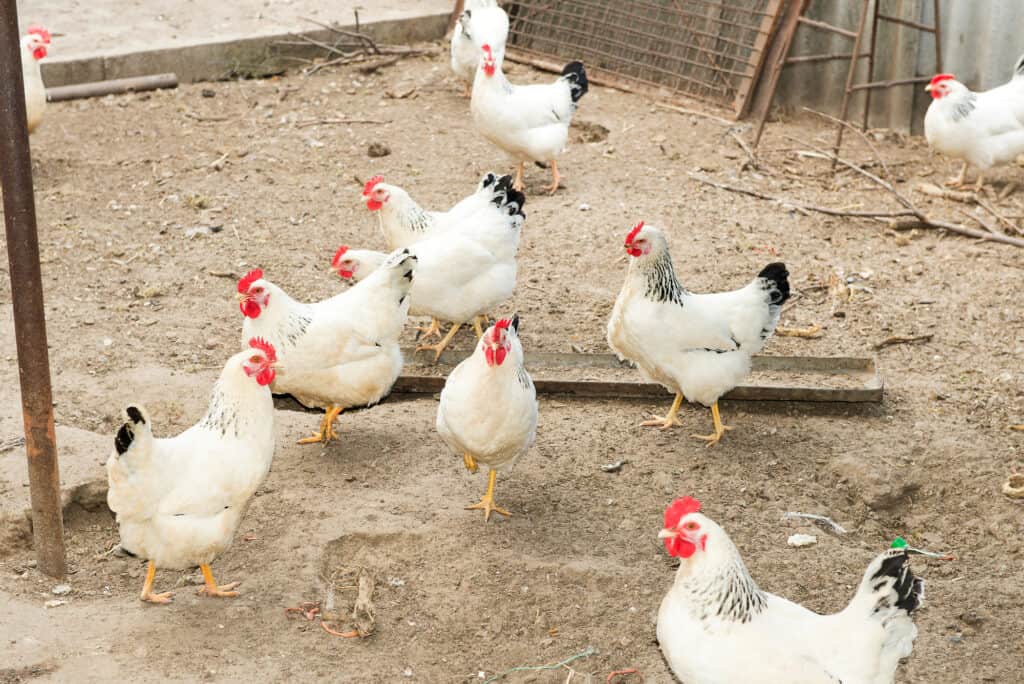 Where Can I Buy Delaware Chickens?
This breed might be on the "watch" list, but they are still available at a number of retailers. The more people who raise Delawares, the less likely they will go extinct!
My Pet Chicken, in Monroe, CT, has limited availability

Meyer Hatchery, in Polk, OH, offers them throughout the year

Purely Poultry, offers these fine birds and provides shipping across the nation

Murray McMurray Hatchery, in Webster City, IA, offers females, Unsexed, and male Delaware chickens. Murray McMurray also works closely with the Livestock Conservacy to repopulate at-risk breed.
Delaware chicken feature image courtesy of Josh Larios, from Seattle, USA
Maat van Uitert is a backyard chicken and sustainable living expert. She is also the author of Chickens: Naturally Raising A Sustainable Flock, which was a best seller in it's Amazon category. Maat has been featured on NBC, CBS, AOL Finance, Community Chickens, the Huffington Post, Chickens magazine, Backyard Poultry, and Countryside Magazine. She lives on her farm in Southeast Missouri with her husband, two children, and about a million chickens and ducks. You can follow Maat on Facebook here and Instagram here.