Looking for the best hatcheries to start a flock of Plymouth Rocks? You've come to the right place.
As beautiful as they are productive, Plymouth Rocks are easy to raise chickens that are not only friendly, but are incredibly easy to raise. These single-combed, clean-legged birds can be found in all kinds of colors and variations, including White Rock, Partridge Rock, and Buff Rock.
Plymouth Rocks are excellent egg layers – but there are plenty of other reasons to consider raising these birds, too.
Named in honor of the first American settlers, these chickens are some you absolutely need to consider raising. Here are the best places to buy your starter flock of chicks.
Table of Contents (Quickly Jump To Information)
What Are Plymouth Rock Chickens?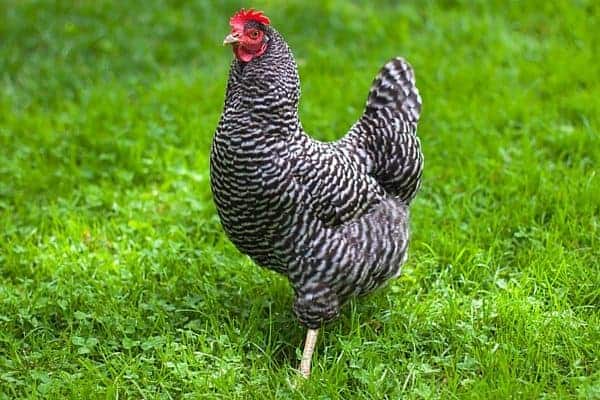 The Plymouth Rock is a breed of chicken that is known for its egg production and excellence as a meat bird. One of the most popular dual purpose breeds, there are several varieties of this breed of chicken for you to choose from, including White Plymouth Rocks, Blue Plymouth Rocks, Buff Rocks, the Barred Plymouth Rock, and more.
A docile breed, it has some of the best year-round egg production. Most start laying at around 4 1/2 to 5 months and lay significantly longer than other breeds, too. It does well in both cold and hot weather and is remarkably easy to handle.
Plymouth Rock chickens are prized by chicken keepers near and far. In fact, one member of the I Love Backyard Chickens Facebook group had this to say about the breed:
We have 30 of them. But there is one that is special for sure. All of them are very friendly but this one waits for us and goes to get eggs from each one and insists on being carried and cuddled.

Karen Johnson
10 Best Hatcheries to Start a Flock of Plymouth Rocks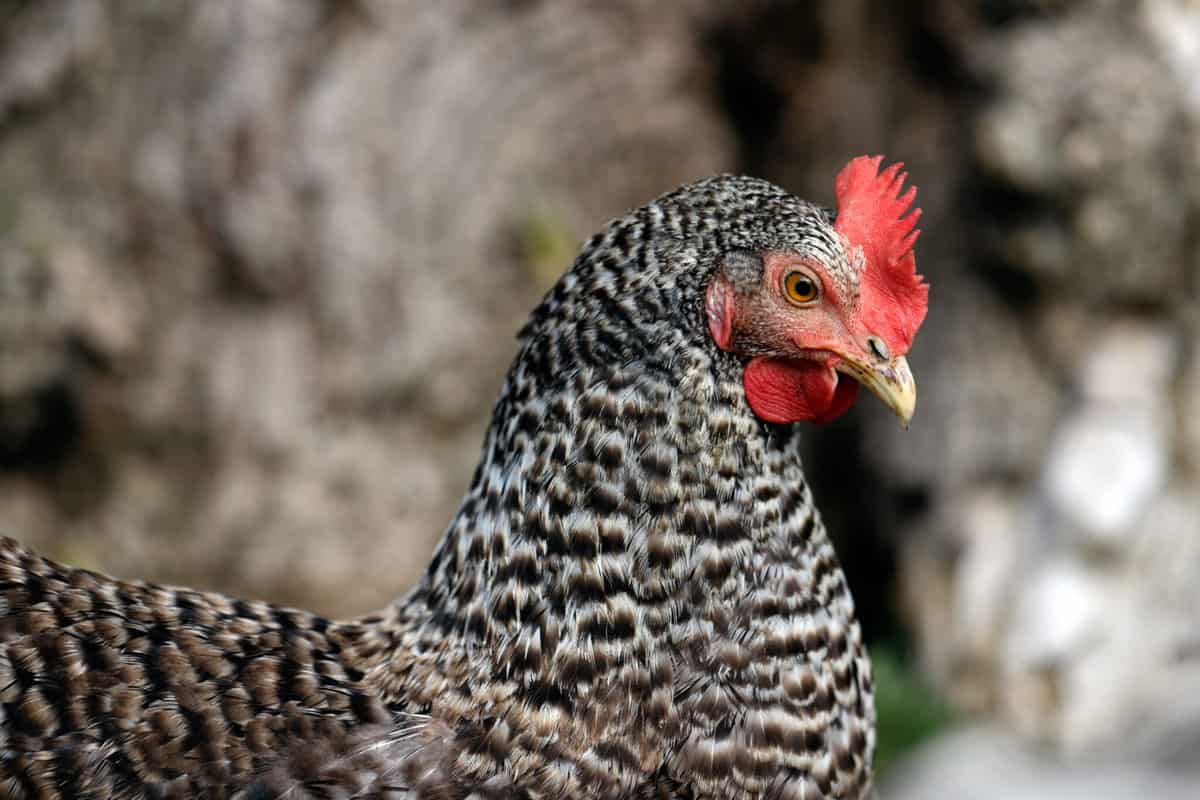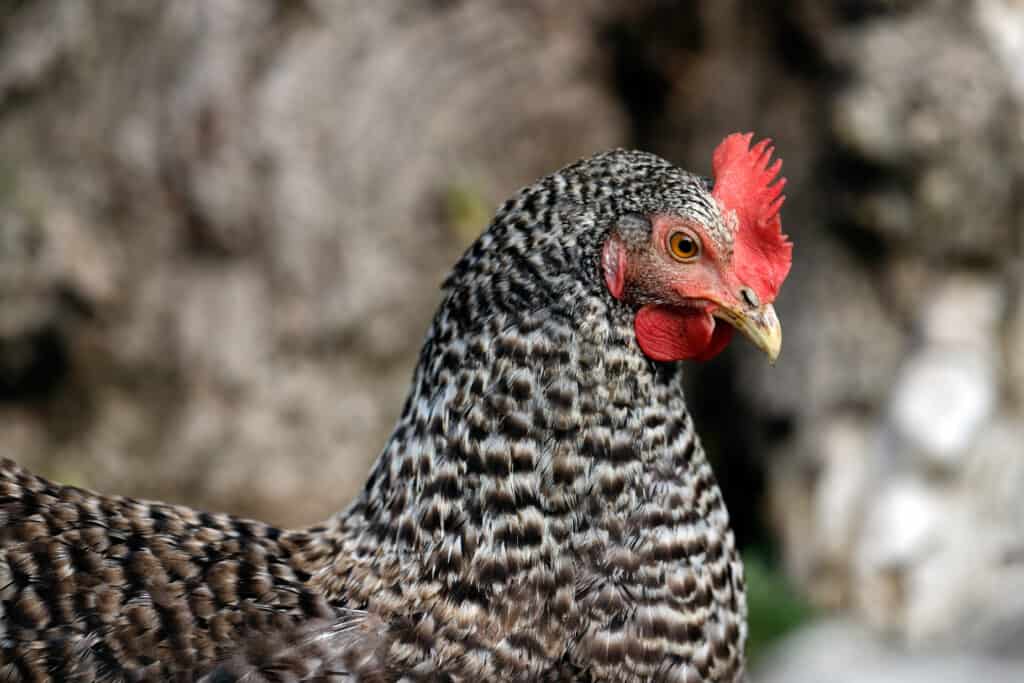 Location: Polk, OH
Average Straight-Run Plymouth Rock Chick Price: $3.04
Located in Ohio, Meyer Hatchery is one of the many chick hatcheries nestled in the country's heartland. It sells all kinds of chicken-raising supplies, including books, coops, and even hatching eggs and incubators.
Meyer Hatchery has a minimum chick order of just three birds. You can order at most times throughout the year and you'll still be able to raise a small backyard flock. Meyer's also offers on-site pick-up if you live nearby.
Advantages:
Can be vaccinated for Marek's
Shipped with gel vitamin pack
Small minimum chick order
Disadvantages:
Minimal discounts for buying in bulk
Location: Lebanon, MO
Average Straight-Run Plymouth Rock Chick Price: $2.85
Cackle Hatchery is a massive online hatchery that sells more than 185 different kinds of chickens. Not only can you buy regular chicken breeds, like Plymouth Rocks, but you can also find several rare breeds along with numerous bantam options.
Cackle also sells other species of poultry, such as ducks, geese, turkeys, game fowl, and more. The company also sells fertile hatching eggs if you want to try raising your own birds. In most cases, you'll have to buy at least 15 birds. However, this hatchery does offer a special "city/town" package that will allow you to purchase just five to ten birds. You'll pay a bit more per bird, though.
You can buy Plymouth Rocks seasonally from February through September.
Advantages:
Significant discounts for male chicks
Extra birds included with order in most cases
Sent with straw pads and heat packs
Disadvantages:
Limited availability at certain times of the year
Location: Phillipsburg, MO
Average Straight-Run Plymouth Rock Chick Price: $3.95
Another Midwest chick hatchery to consider is Chickens for Backyards. This hatchery sells day-old pullets, cockerels, and straight run birds.
Chickens for Backyards offers exceptional customer service. You'll get a hatch date emailed to you within just 30 minutes of placing your order. Your poultry will arrive just one to three days after that date.
This hatchery doesn't only sell chicks, either. You can stock up on all of the gear you need to raise backyard chickens here, including feeders, waterers, thermometers, and more.
Advantages:
Hatchery sells all kinds of chicken raising supplies
Website has plenty of chick care info
Ship date emailed upon checkout
Disadvantages:
Shipping can be expensive
Location: Monroe, CT
Average Straight-Run Plymouth Rock Chick Price: $3.05
My Pet Chicken specializes in small orders – you can purchase as few as three chicks. You Don't have to stick to just one breed, either. You can always mix and match so that you have a colorful flock of backyard layers.
Located in Connecticut, My Pet Chicken offers a great resource for new, first-time chicken owners. You'll find all kinds of helpful information on the company website, including plenty of resources that will guide you on how to start raising chickens.
My Pet Chicken offers all kinds of Plymouth Rock chickens, including the incredibly popular Barred Rock. Straight run birds start at just $3.05.
My Pet Chicken sells other kinds of equipment, too. This website and hatchery is definitely geared more toward "pet" chicken owners, specializing in gear like chicken diapers and saddles, among other things you might need.
Advantages:
One of the best places to find advice on raising chickens
Mix and match breeds to fill your order
Small minimum order requirements
Disadvantages:
Location: Walnut Creek, CA
Average Straight-Run Plymouth Rock Chick Price: $4.99
California Hatchery is one of the few hatcheries that ships to every location in the United States with zero restrictions. It's also one of the few hatcheries in the west. Since the hatchery specializes in hatching and selling exhibition-quality stock, you can be sure you're getting good, healthy chicks when you buy, too.
All orders are backed by a safe arrival guarantee. You only have to order three chicks at once. The company has excellent customer reviews, with past customers claiming that their chicks were not only sent on time, but were in incredibly good shape. The birds ship quickly and arrive in good health.
Advantages:
Marek's vaccination available
Company sells healthy chicks with fast shipping
Exhibition-quality stock
Disadvantages:
Location: Spring Valley, AL
Average Straight-Run Plymouth Rock Chick Price:
Valley Farms Hatchery is one of the few hatcheries located in the south, and it's also one of the best. Here, you'll get some of the lowest prices on chicks of any kinds. As long as you buy three birds, you will be able to have live chickens shipped right to your door.
Another benefit of shopping with Valley Farms is that you can buy just one bird – as long as you are buying a male. However, if you want to buy in bulk, purchasing more than 50 chicks at a time will yield you major discounts. Not only are all orders backed by a 100% live delivery guarantee, but you'll be able to buy things like hatching eggs and bantam birds here, too.
Valley Farms sells Plymouth Rock chicks at regular intervals throughout the year. You can also purchase a "Hatchery Choice Chicks" package in which you will receive a variety of egg layer birds. You can mix and match any birds on sale to meet the 15 chick order requirement.
Advantages:
Mix and match available
Chicks shipped most days of the week
Sexed and straight run birds available
Disadvantages:
Plymouth Rock chicks not available year-round
Location: Hackensack, MN
Average Straight-Run Plymouth Rock Chick Price:
Stromberg's is a hatchery located in Minnesota – and it's one of the best places to find Plymouth Rock chicks. This hatchery is one of the largest in the country, specializing in baby chicks of all breeds but also adult birds, hatching eggs, and equipment, too. You can buy everything from wild birdhouses to baby doves here!
When you buy Plymouth Rock chicks from Stromberg's, you'll pay zero shipping costs if you are buying hatching eggs. Although there is limited availability on chicks at certain points throughout the year, you can buy hatching eggs at any time.
Advantages:
Sold as hatching eggs and live chicks
Discounts for orders of 25, 50, and 100 chicks
Shipping costs are included on hatching eggs
Disadvantages:
You do not automatically get your shipping date at checkout
Location: Webster City, IA
Average Straight-Run Plymouth Rock Chick Price: $3.33
Murray McMurray Hatchery is one of the most well-respected chick hatcheries in the country – and it's also one of the best places to buy Plymouth Rock chickens. You will be able to buy poultry of all ages from this hatchery, but the day-old chicks are by far some of the most popular options.
One of the largest hatcheries around, Murray McMuirray is located in Iowa. You can get a significant discount if you're willing to buy only sexed male chicks – nearly $1 off per bird, in fact. You can also mix and match breeds if you want a large variety of colors and layers in your backyard flock.
Murray McMurray Hatchery sells all kinds of Plymouth Rock chickens, including Barred Rocks, Buff Rocks, and Silver Penciled Rocks. These birds have exhibition-level characteristics and can be mixed and matched to meet a six-chick minimum order.
Advantages:
Mix and match options available
Can sign up for free text notifications about your delivery
Discounts for male chicks
Disadvantages:
Limited chick availability during busy seasons
Location: Clifton Springs, NY
Average Straight-Run Plymouth Rock Chick Price: $3.33
If you live in New York, it's going to be difficult for you to find chicks anywhere nearby. Catch a Torii Farms, located in Clifton Springs, is one of the best hatcheries to buy Plymouth Rocks if you live in the Empire State – or anywhere in the country, for that matter.
Catch a Torii Farms offers regular sales and walk-in specials where you can get great deals on baby chicks, turkeys, guineas, and more. This reliable hatchery is new, only having been in business since 2011. Breeding stock chickens are raised in the best living conditions possible, with no chemicals or crowded cages used on the farm.
Advantages:
Hatches chicks weekly
Only five or more chicks required (just one if you are ordering males)
Started pullets available
Disadvantages:
Location: Rudd, IA
Average Straight-Run Plymouth Rock Chick Price: $3.21

Another one of the best Plymouth Rock chick hatcheries is Hoover's Hatchery. This hatchery offers free shipping, in most cases, as long as you order at least 15 birds. It probably isn't the best if you only want a handful of birds, but as long as you're willing to invest in more than a dozen, you'll be good to go.
Along with Plymouth Rock chicks, Hoover's Hatchery also sells chickens of other breeds along with hatching eggs and older birds. You can also buy poultry species like geese, bantams, ducks, guinea keets, pheasants, and more. Despite being located in Iowa, Hoover's Hatchery ships birds year-round.
Hoover's Hatchery sells Plymouth Rock chicks along with many other kinds of birds. You will only need to purchase five chicks per breed when you buy so you don't have to raise a large flock in order to purchase from this hatchery.
Advantages:
Chicks available year-round
Hatching eggs available
Low minimum order numbers
Disadvantages:
Have to order at least 15 chicks
Getting Started With Plymouth Rock Chickens: The Essentials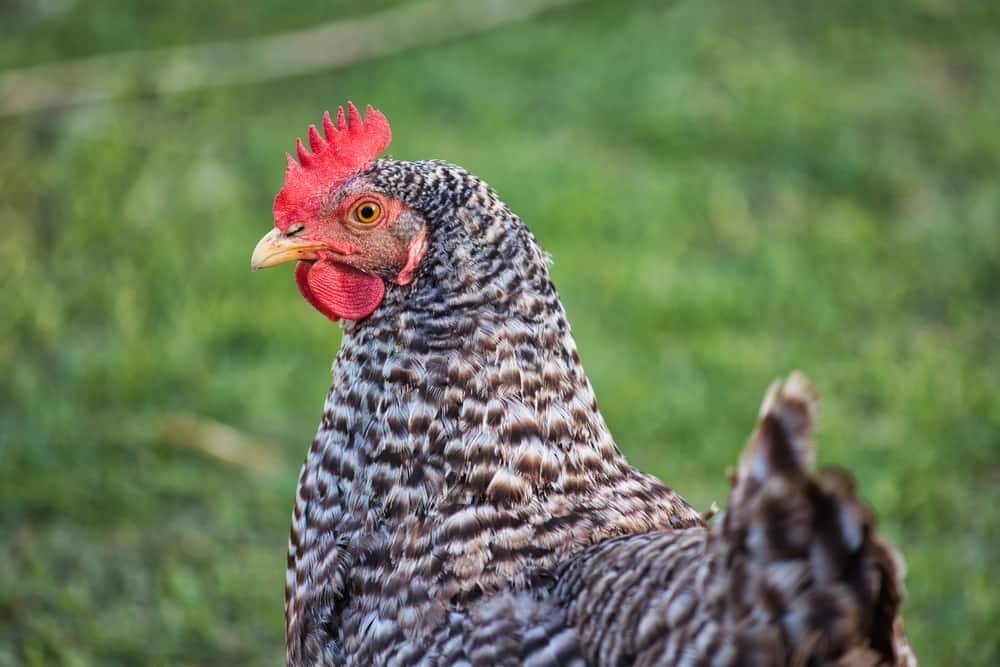 Plymouth Rocks are pretty low-maintenance birds. To raise them, you'll just need a large coop (these birds take up a fair amount of space!) with plenty of nesting space for all of your hens. Think one nesting box for every four hens, at a minimum. Fill your nesting boxes with these sweet-smelling herbs, and your hens won't be able to stay away.
Don't forget to stock up on all of your chick-raising gear, too. You won't want to put your chicks out in the coop the minute they arrive to you. Instead, they'll stay in a nice, cozy brooder until they're all feathered out (and quite a bit larger). While they're there, you can feed them this delicious chick starter mix. It has all the protein your chicks need to grow strong and healthy.
Ready to get started? Shop these 10 best hatcheries to start a flock of Plymouth Rock chickens – the rest is easy.
Related Articles:
Maat van Uitert is a backyard chicken and sustainable living expert. She is also the author of Chickens: Naturally Raising A Sustainable Flock, which was a best seller in it's Amazon category. Maat has been featured on NBC, CBS, AOL Finance, Community Chickens, the Huffington Post, Chickens magazine, Backyard Poultry, and Countryside Magazine. She lives on her farm in Southeast Missouri with her husband, two children, and about a million chickens and ducks. You can follow Maat on Facebook here and Instagram here.