Table of Contents (Quickly Jump To Information)
While there are a lot of herbs that are great for your backyard chickens, there are a few that are very important.
Their tiny bodies have to work hard, and while a good layer feed is ALWAYS the basis of any healthy diet, you don't need to stop there.
There's herbs you can provide your chickens that'll support healthy immune system functions – which is especially important when the mercury dips!
Here's the top 5 herbs you should keep handy!
Oregano
Oregano is one of my favorite herbs for backyard chickens. It supports healthy immune systems, and hens love to GOBBLE down the little green flecks.
You can offer fresh or dried oregano – both are great – and you'll want to use the leaves of the oregano plant. Mix with their feed, offer separately, OR make a "tea" by immersing them in water.
Whenever we have a chicken or duck that needs some extra TLC, I turn first to oregano!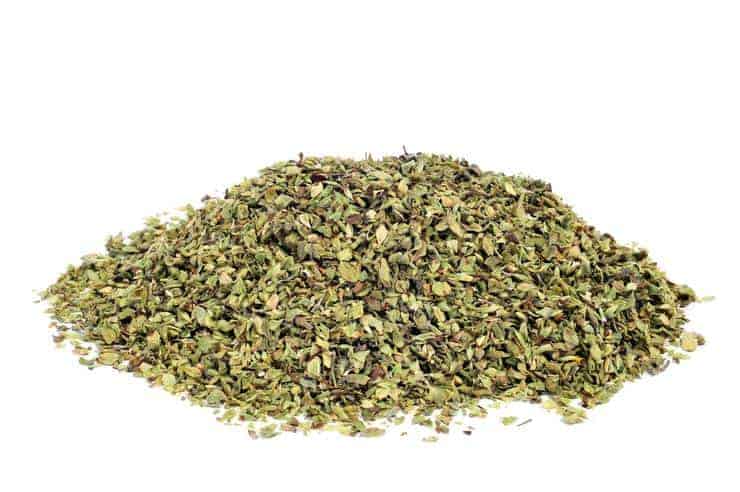 Echinacea
Without a doubt, you've heard of echinacea! Echinacea has been used traditionally to support healthy immune system functions for centuries, and it's a great herb for your chickens, too!
You can use the leaves or the roots of the echinacea plant – while the roots are more powerful, they're also more expensive. Chickens love picking at the leaves!
It's easiest to mix echinacea with their feed or use it as a top dress. If your chickens aren't sure what to do, add an extra treat such as mealworms or dried river shrimp to the mix – your flock will quickly figure it out!
To make it easier for chicken owners to get echinacea, we've included it in my herbal blend StrongHen (TM). Wherever you buy echinacea, be sure it's 100% pure!
Calendula
Calendula is not only good for giving your eggs the perfect golden yolk, but it's also great to offer your hens during the winter months. In fact, it's a bit of a "superherb" that's used in traditional herbalism for many things: to support skin, immune system functions, healthy digestion, and more!
As a bonus, it smells DIVINE.
The beta carotenes that gives these flowers their pretty yellow petals are also super healthy nutrients for your hens. Calendula has some antimicrobial properties, and is packed with many other vitamins that will help your flock be healthier during the cold winter months.
Plus your hens will love picking at these pretty yellow flowers, so it's a great winter boredom buster.
You'll want to use the dried flowers and/or petals. You can add to feed, create a tea (it makes a pretty sweet tea), or add to nesting boxes.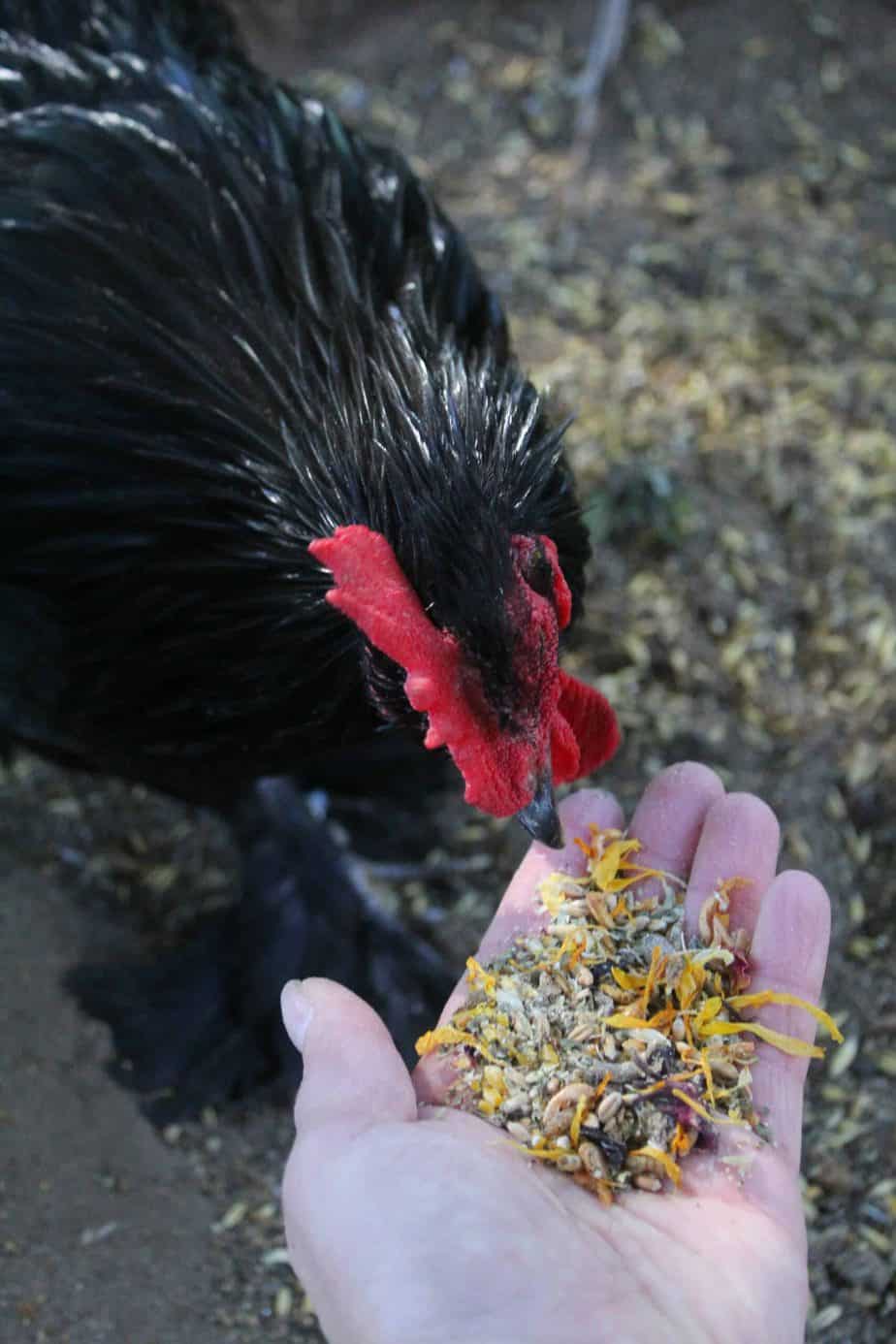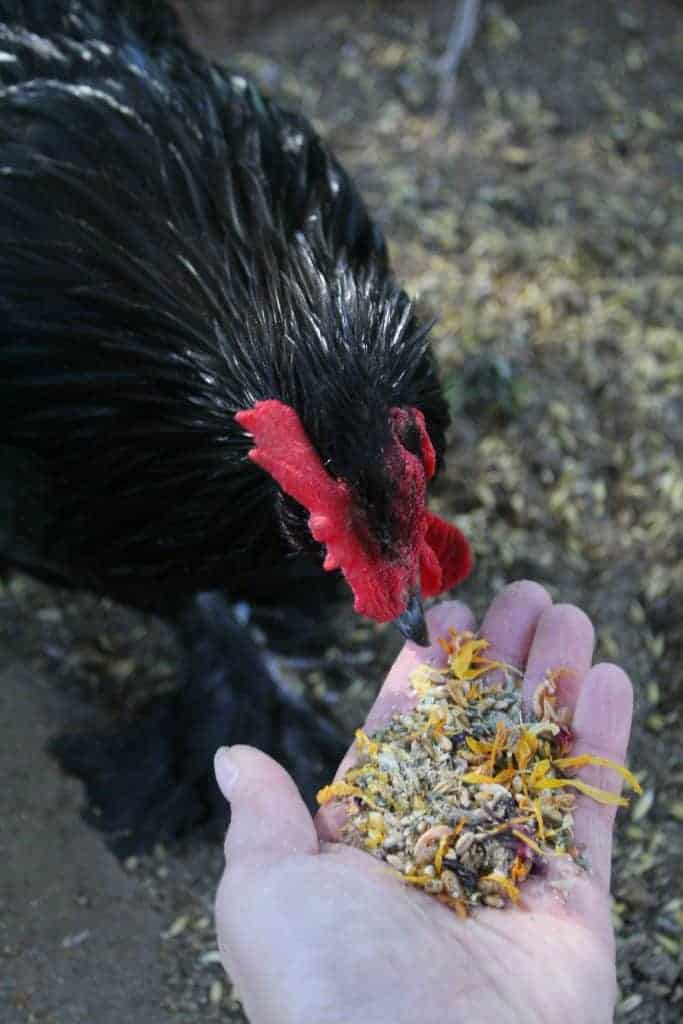 Elder
Elder is packed full of immune support power for your chickens. Elderberry has been used as a traditional herbal remedy for centuries and researchers are discovering that it's a powerful herb for keeping chickens healthy!
In a 2014 study, researchers found that elderberry helped prevent Infections Bronchitis Virus in chickens (source). For humans, elderberries and elder flower are used to support healthy immune functions. With chickens, you can use the berries and the flowers – hens love both!
While humans can use elder in a tincture, you'll want to stick with dried or fresh berries and/or dried flowers. Particularly if you offer dried berries, add it to their feed – your hens will love to pick at their tiny dark treats!
In our herbal blend StrongHen (TM), you'll find elderberries (along with most of the other herbs I mention in this list). It's an easy and economical way to get all these herbs in one product.
Garlic
Not only is garlic perfect for adding flavor to your meals, but it's also great for supporting the immune system of your backyard chickens!
Garlic has been traditionally used for generations to support healthy immune functions, and it's no different for chickens! The allicin in garlic gives the herb it's characteristic smell AND it's where the power of the herb originates.
It's easiest to offer garlic steeped in your flock's water. You can use fresh or dried garlic – both are great!
PCM StrongHen (TM)
My StrongHen herbal mix combines the powers of oregano, echinacea, garlic, elder, calendula, and other great herbs to keep your chicken's immune system strong. This mix is perfect for fall and winter because it gives your chickens the immune boost they need to stay healthy!
You can find PCM StrongHen here: StrongHen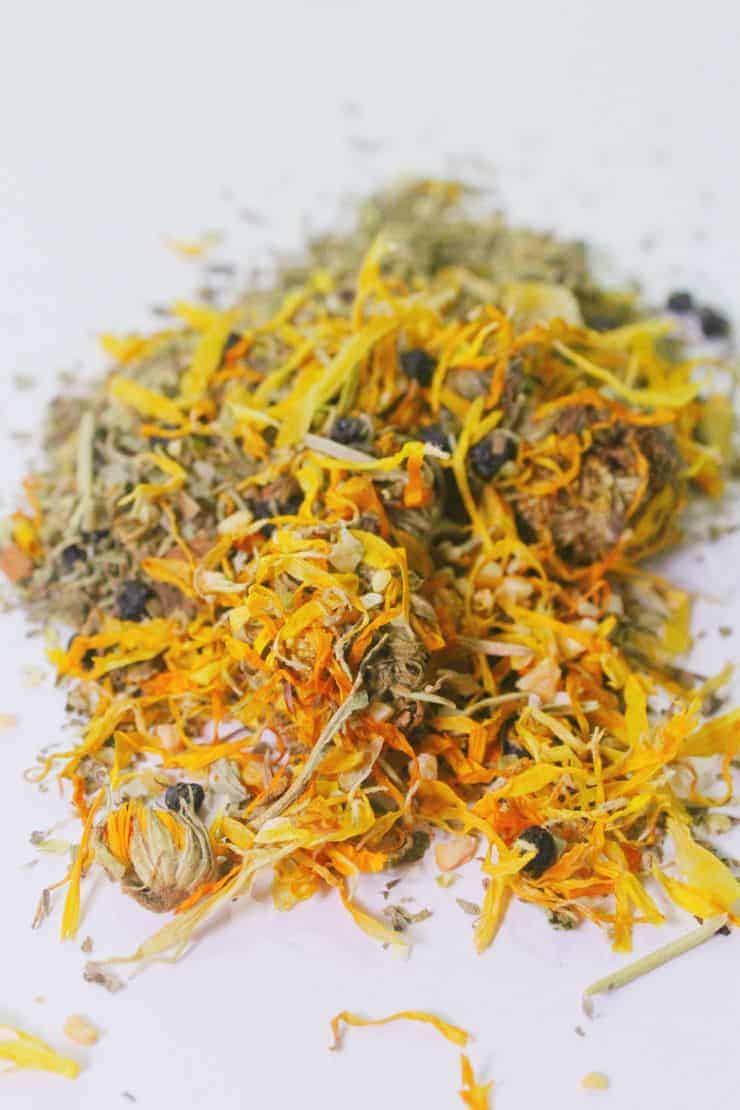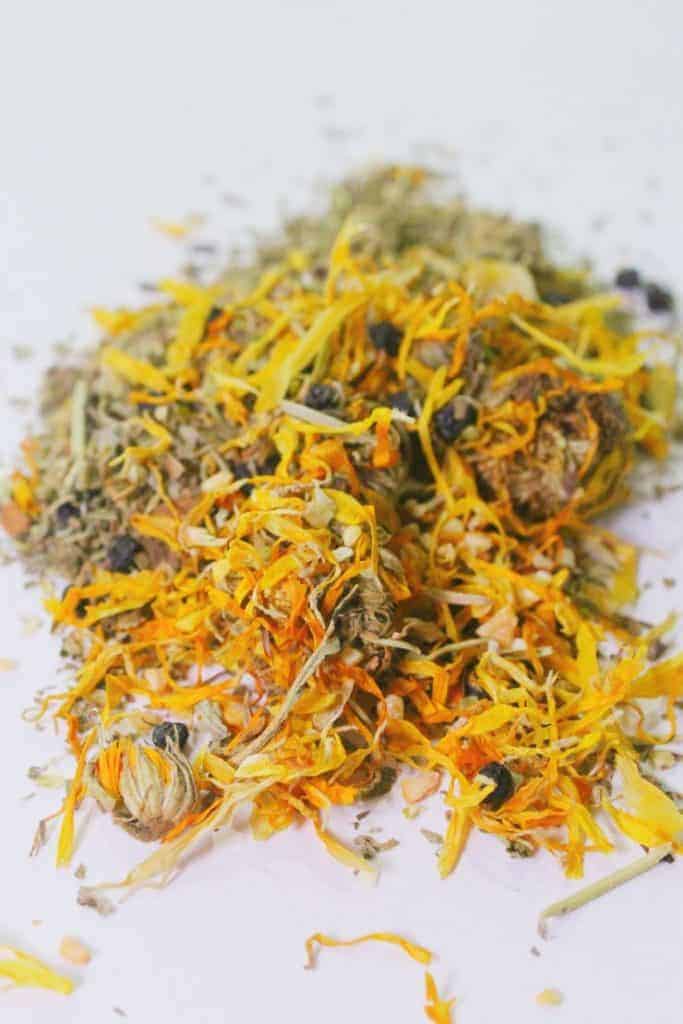 Have more questions about keeping your flock healthy in the winter? Check out these articles:

Maat van Uitert is a backyard chicken and sustainable living expert. She is also the author of Chickens: Naturally Raising A Sustainable Flock, which was a best seller in it's Amazon category. Maat has been featured on NBC, CBS, AOL Finance, Community Chickens, the Huffington Post, Chickens magazine, Backyard Poultry, and Countryside Magazine. She lives on her farm in Southeast Missouri with her husband, two children, and about a million chickens and ducks. You can follow Maat on Facebook here and Instagram here.