Table of Contents (Quickly Jump To Information)
Ready to start your garden, and wondering when to start seeds indoors under lights?
Well, I got answers for you. And it won't even cost you a dime.
This article is an excerpt from my best selling book, Organic By Choice: The (Secret) Rebel's Guide To Backyard Gardening. You can buy it on Amazon or directly from me (saves 20%, shipping is included, and get the digital version free).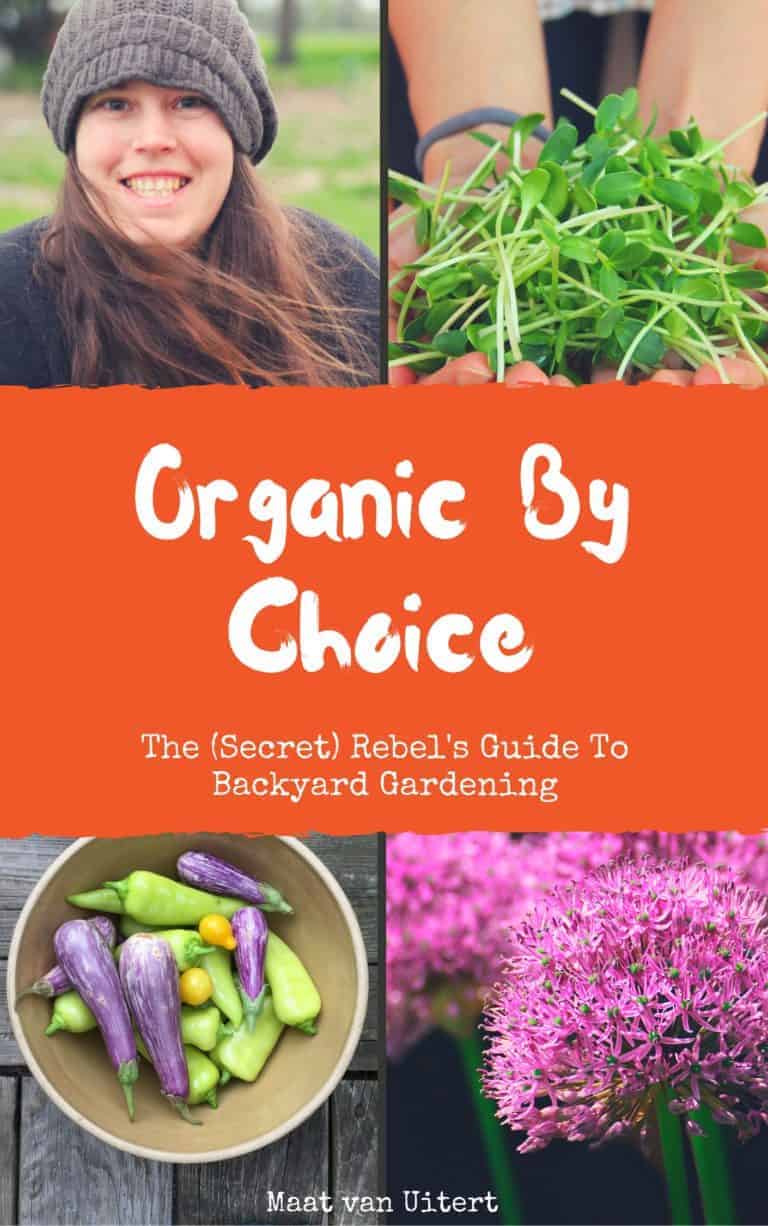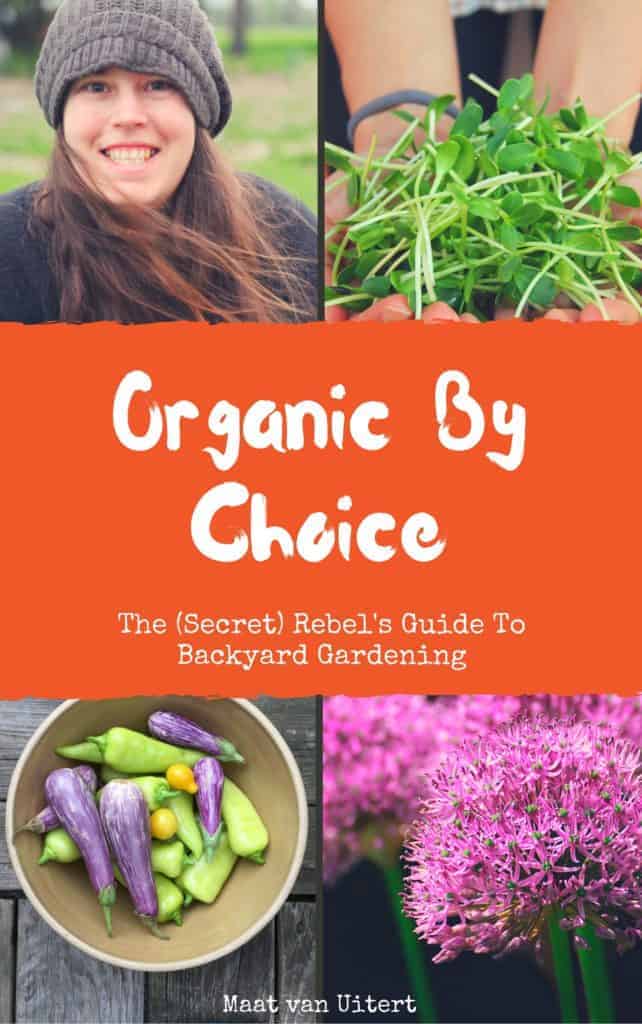 When you start seeds indoors, it's an effective and affordable way to get a good variety of plants budding in your garden.
Yes, you can buy starts, and sometimes, I even do that, especially with the more difficult to germinate varieties (looking at you, cauliflower.).
Indoor seed starting gives you a wide range of possibilities on how and what to grow, and knowing the basics and when to start seeds indoors will allow you to harvest organic crops earlier in the spring and into all summer long.
How to know when to start seeds indoors
Remember that when you're planning to start seeds indoors, timing is everything.
It's easy when all your seeds come in the mail and you're still being bombarded with catalogues to feel like you have to get everything done ASAP.
Breathe. Pace yourself.
Keep a "when to start seeds indoors chart" handy and make a schedule and try to tackle just a couple tasks a day so you avoid feeling rushed (more on this below).
A "when to start seeds indoors chart" will help you count back from your last expected frost date the indicated number of weeks growth is required for that particular seed before moving it outdoors.
Review your garden layout plans (if you haven't done that, here's my square foot gardening layout article) and have the right equipment handy.

Specifically, plan out the seeds that you're trying to grow and what part of your garden you'll grow them. Most seed companies include basic growing information on their packet labels.
Keep in mind that weather is unpredictable so "when to start seeds indoors" guides on your packets are just an approximate.
Review the "when to start seeds indoors chart" below for general guidance and Organic By Choice for specific guidance about the best time to start seeds in your area.
Some common dates for when to start seeds indoors
11 weeks before last frost date: Early greens like lettuce, spinach, mustard, collards, and kale. See my article "What seeds can you start in January?"
10 weeks: Herbs like basil and oregano, broccoli, onions, early greens
9 weeks: Pepper, onions, shallots, tomatoes, shallots
8 weeks: Peppers, tomatoes, leaf lettuce, cabbage
7 weeks: Lettuce, radicchio
6 weeks: All the above plus delicate herbs like calendula, thyme, and lemon balm
5 weeks: Tomatoes, melons, cucumber, squash
If you want a full chart plus expert growing tips, there's a full encyclopedia in my book, Organic By Choice.
Additional tips to start seeds indoors with success
Find the right container
There are plenty of seed growing containers out there, such as peat pots, seedling flats, and even egg cartons.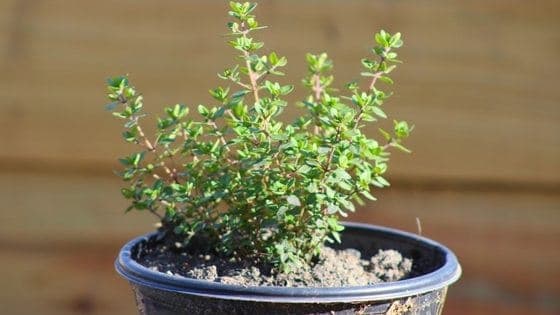 Pretty much, you can use anything as long as it can contain the growing medium for at least 2-3 inches deep, depending on the vegetable variety. (Don't forget to poke some drainage holes and label them.)
However, the key is finding the right size container. For example, you'll probably need a large growing container for lettuce, especially if you start it in January and plan to put it in your garden in April.
Take a look at your plants and decide how long they'll be in pots indoors. This is an indicator of how big the growing pot should be.

Use an effective growing medium
A good seed-starting mix must be fresh and sterile with a light and fluffy texture (I show you how to make an organic seed mix in Organic By Choice.).
This allows the medium to hold enough moisture to aid in germination. You can choose to buy commercial bagged mixes, coconut husk fibers, or compressed pellets of peat that expand when wet.
Provide adequate light
It is important to make sure that your seedlings get the right amount of sunlight to grow after they germinate.
Window sills often cannot provide enough light for seeds, so most gardeners use artificial lighting for starting seeds indoors under lights.
You can also use plant lights with a timer system.

Five Steps To Start Seeds Indoors
There are five easy steps to start your seeds indoors and move them to the garden to grow fully.
Use an organic seed-starter mix
You can use a commercial starter mix, or make your own (you can read more about how to do this in Organic by Choice).
Remember that at this stage, you won't need any compost (in fact, it can make things a bit difficult if it makes the soil very heavy).
Everything that your new babies need to grow is already in the seeds.

Know how deep you need to plant your seeds
Your seed packet will indicate when to start seeds indoors, but they might skip how DEEP to plant the seeds.
The rule of thumb is to plant seeds twice as deep as they are long. This works great for squash, cucumbers, etc, but what about tiny seeds like lettuce?
I tend to broadcast these seeds then thin because it's faster and less eye strain (those seeds are TINY!).
If you're braver than I am, you can plant 2-3 seeds and then thin. Similarly, plant 2-3 tomato seeds and then thin when the second set of leaves emerges so just the strongest seedling remains.
It's best to moisten the potting soil before planting seeds so they're not dislodged and disturbed.
Water seedlings only to keep the soil moist and not soggy
One favorite trick I use is to wait for the soil to slightly dry up in between watering sessions. A wet environment invites disease.
Feed with warmth and sun
As indicated above, using a light to start your seedlings and keep them going is a good idea. While seeds don't need light to germinate, they do need warmth.
The trick is not each vegetable variety requires the same amount of warmth. They like to keep us on our toes.
For example, spinach won't start if the soil temperature is over 70 degrees, but tomatoes won't germinate if the soil temp us UNDER 70 degrees. Knowing the warmth needed to germinate is really important (and something I show you in detail in Organic By Choice).
As for light, you can use artificial light for starting seeds indoors under lights, or choose a south facing location.
Hardening off
Once you've managed to start seeds indoors, you'll eventually want to put them outside in your garden. You can't just slap them outside, or they'll go into shock (especially if one day it's 40 degrees, the next 70, and the next 40 again).
No vegetable has time for that.
Gradually transitioning your seed start to the outdoor weather is key.
Knowing when when to start seeds indoors isn't difficult, and following these steps, you'll have more success starting an organic garden full of healthy vegetables!

Maat van Uitert is a backyard chicken and sustainable living expert. She is also the author of Chickens: Naturally Raising A Sustainable Flock, which was a best seller in it's Amazon category. Maat has been featured on NBC, CBS, AOL Finance, Community Chickens, the Huffington Post, Chickens magazine, Backyard Poultry, and Countryside Magazine. She lives on her farm in Southeast Missouri with her husband, two children, and about a million chickens and ducks. You can follow Maat on Facebook here and Instagram here.