This post is sponsored by Sweetnight.Store. While I was provided a free 10 inch, queen size flippable mattress to test, the review below is my honest opinion of the product.
As I'm getting older, I'm having a harder time being comfortable sleeping, and waking up easily.
I've suffered from neck and back pain for the past few years, and when you also factor in 2 small children with autism, and you can imagine I'm pretty beat by the end of the day.
When Sweetnight asked if I wanted to review their queen sized, 10 inch memory foam flippable mattress, I jumped on the opportunity – their website promised a cloud like experience, and with "breathable fabric for sleeping cool," I knew I had to give their mattresses a test drive!
Table of Contents (Quickly Jump To Information)
Getting Our Sweetnight Mattress
Our Sweetnight mattress arrived very quickly from Amazon. You wouldn't think a mattress would fit in a 4' box, but somehow, the Sweetnight staff managed to shove it in there!
We were sent a queen sized mattress to review, but there are different size options available.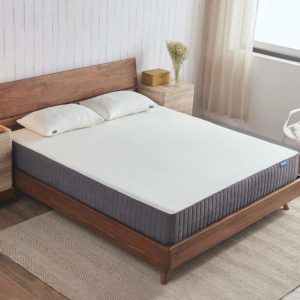 Getting the Sweetnight mattress from Amazon gave me confidence in the product because it shipped quickly – I got it within 48 hours. On Amazon, the queen size Sweetnight mattress has multiple 5 star reviews (with a 4.6 star overall review) – with over 400 reviews!
In addition, Sweetnight mattress foam is CertiPUR certified, which means they are made without using ozone depleting products and are free of heavy metals (important for anyone with children!)
After we unboxed the mattress, the directions said to wait 72 hours for it to reshape itself. However, our mattress only took about 24 hours to return to a fluffy shape, ready for bedtime.
It also came with a booklet that promised the mattress was as soft as a cloud. It WAS very soft from the moment we unwrapped it! Larry couldn't wait – he had to test it out immediately after it reshaped, and said it was the most comfortable mattress he'd ever laid on!
Actually Laying On Our New Sweetnight Mattress
The first thing we noticed is that the mattress is very soft – believe me, the "cloud like" experience promised in the booklet wasn't kidding! From the moment we laid on the mattress, we could feel our bodies relaxing as the memory foam gelled to our bodies.
Even my husband, who is pretty picky about mattresses, LOVES how soft (yet supportive!) the Sweetnight mattress is!
We tested both the soft side and the firm side, since the Sweetnight 10 inch queen size mattress is designed to be flippable. I personally prefer the firm side, but Larry prefers the softer side – so we've been using the softer side of the mattress (which is still supportive enough that I don't wake up with aches and pains).


Every week, I see a physical therapist for neck pain, so I asked of my neck and shoulders felt any different – she said the muscles in my shoulder blades felt looser. So I took that as a good sign!
I haven't woken up with neck pain since we started using this mattress.
All in all, our experience with Sweetnight Mattress has been excellent!
Where to Buy Sweetnight Mattresses
You can purchase these mattresses directly on the Sweetnight store (Sweetnight.store) or on Amazon by clicking here.
So, How Many Stars Did We Give It?
Sweetnight Mattresses are excellent, and the review team at Pampered Chicken Mama gives them 5 stars! The 10 inch, queen sized mattress we tested is super comfortable and cozy to sleep on, supportive, and everything their website promises. They're also reasonably priced (prices vary based on the different models, but compared to other options out there, they're very affordable).
Maat van Uitert is a backyard chicken and sustainable living expert. She is also the author of Chickens: Naturally Raising A Sustainable Flock, which was a best seller in it's Amazon category. Maat has been featured on NBC, CBS, AOL Finance, Community Chickens, the Huffington Post, Chickens magazine, Backyard Poultry, and Countryside Magazine. She lives on her farm in Southeast Missouri with her husband, two children, and about a million chickens and ducks. You can follow Maat on Facebook here and Instagram here.