Although we're still waiting for our tomatoes to come in, I know by August, we're going to be looking for ways to use them up, and I'm sure you are too!
That's why I've invited Alix and Hugo from A Hedgehog In The Kitchen to share another recipe with us!
I know a lot of you are gluten-free, and this recipe is super yummy, so I know you'll love it!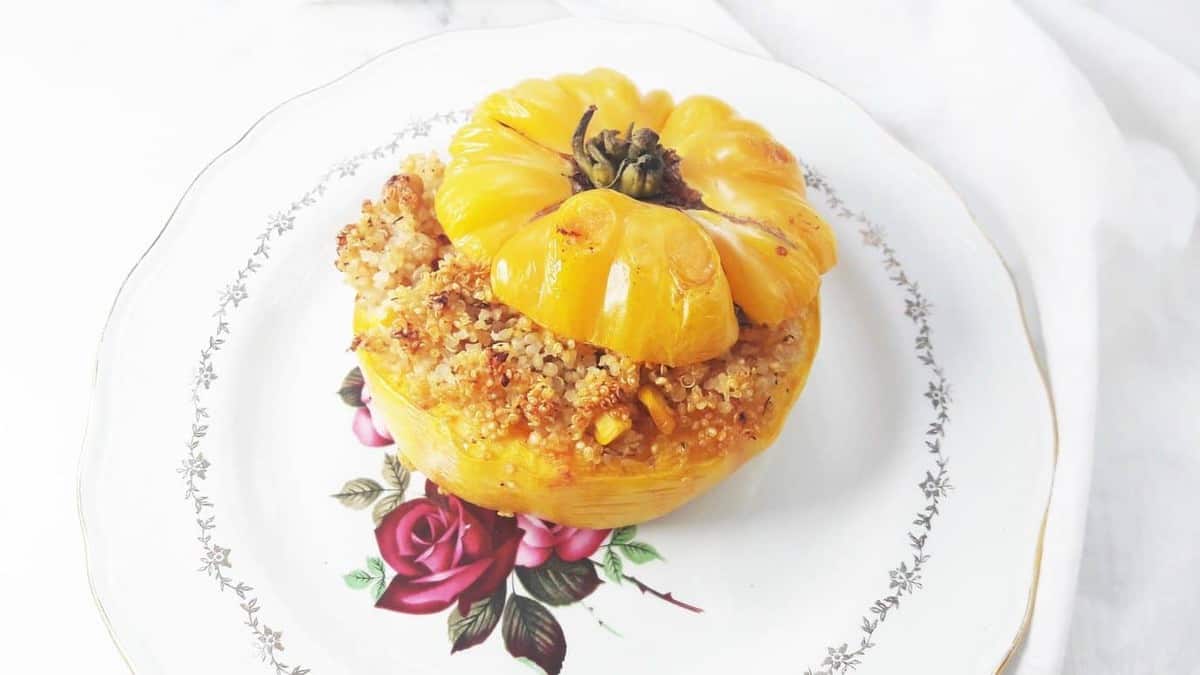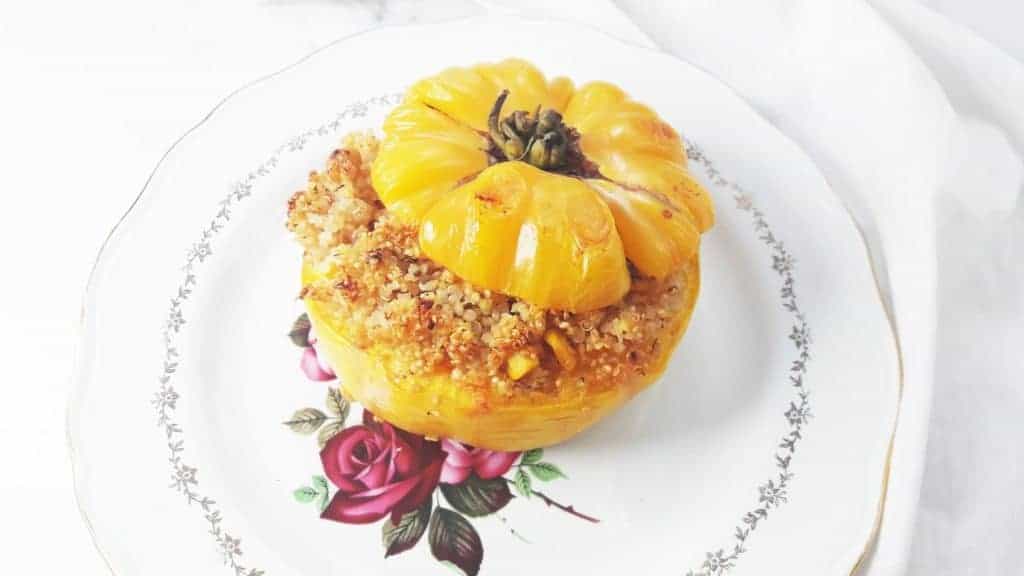 Gluten-Free Quinoa Stuffed Tomatoes
The sun is out, the birds are chirping and the streets of Paris are bright with the color of fresh heirloom tomatoes in every vegetable stall. This is the perfect moment of the year to make our favorite quinoa stuffed tomatoes! (Added bonus: this recipe is entirely gluten-free and bursting with flavor.)
Heirloom tomatoes are my absolute favorites. They are naturally gorgeous; some of the prettiest food in my opinion. I wait for them each year and buy them immediately when they start to line the fruit and vegetables stalls on our local market street: the Rue des Martyrs. Have you been to Paris?
Maybe one day we will have a lush garden growing so many heirloom tomatoes that we will just pop outside and gather them into a delightful little basket before bringing them into our kitchen and using them to make these juicy quinoa stuffed tomatoes. (A girl can dream!)
If you are growing heirloom tomatoes (or any large tomato), this recipe is a great way to use them. It's entirely gluten-free, stuffed with quinoa, chickpeas and corn, healing turmeric and tasty Herbes de Provence spices. Everything is topped off with a balsamic vinegar glaze.
If you are interested in eating gluten-free, we have put together a whole week of tasty gluten-free dinner recipes for you. You can grab your free GF meal plan here.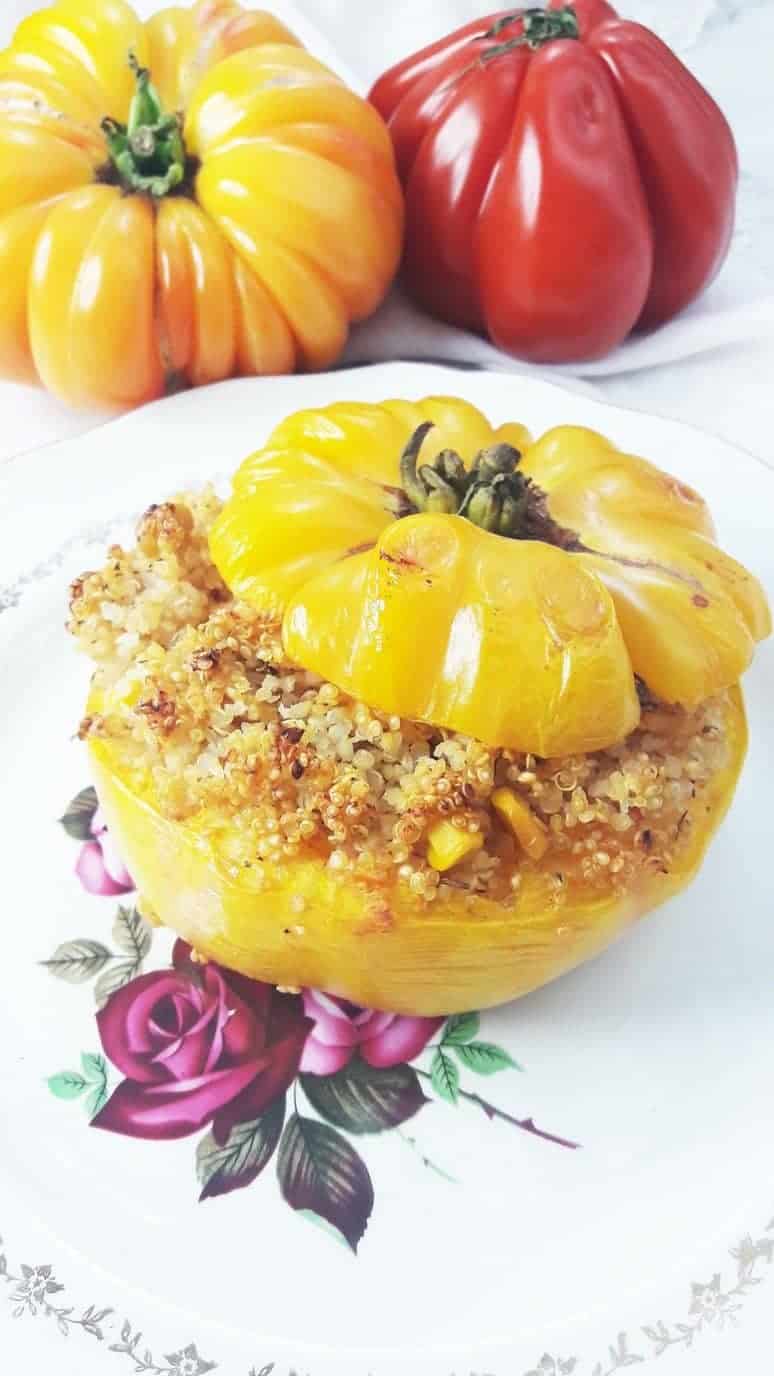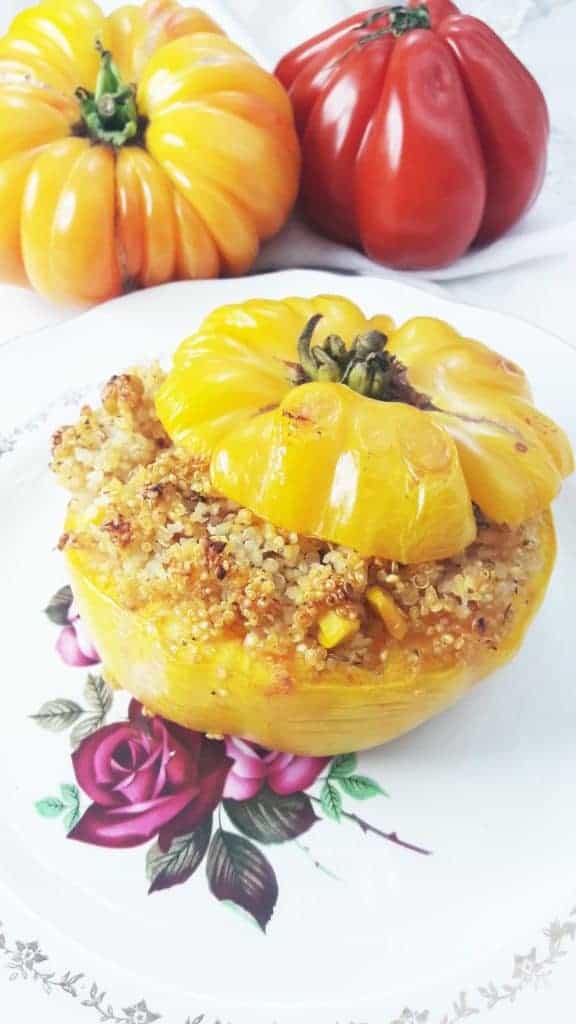 One of our favorite ingredients in this recipe is the turmeric. Turmeric is a super spice. It's naturally anti-inflammatory, keeps your brain healthy, helps reduce arthritis symptoms, wards off depression and even delays aging.
It also adds beautiful flavor and color to this recipe. If you'd like to learn more about the benefits of cooking with spices and how to incorporate them into your meals, get our free spice guide here.
This recipe is quick and simple to pull together. Just prepare the ingredients, stuff the tomatoes and put them in the oven. Your kids will love them too. You can serve them alone or on a bed of lettuce.
We made 2 stuffed tomatoes for a dinner at home à deux, but you could definitely double the quantities and make the recipe for a family of 4.
QUINOA STUFFED TOMATOES (GLUTEN-FREE)
For 2 people / preparation time : 10 minutes / Cook time: 45 minutes
1/2 cup of quinoa
2 heirloom tomatoes (or other large tomatoes)
1 tsp of turmeric
2 tbsp of chickpeas
2 tbsp of corn
1 tsp of Herbes de Provence
Salt and black pepper to taste
1 tbsp olive oil
2 tbsp balsamic vinegar

Prepare the quinoa according the instructions on the packet.
Remove the top of each tomato and put aside.
Set the juice aside.
Preheat oven to 350°F (180°C).
Mix the quinoa with the tomato juice you put aside, corn, chickpeas, Herbes de Provence spices, black pepper, olive oil and turmeric.
Stuff the tomatoes with the quinoa, corn and chickpea mixture and put them in the oven for 30 minutes.
Heat 2 tbsp of balsamic vinegar in a pan on medium heat for 2 minutes.
Drizzle balsamic vinegar over the tomatoes.
I'd like to hear from you!
Have you tried this recipe? How did you like it? Leave a comment below!
Maat van Uitert is a backyard chicken and sustainable living expert. She is also the author of Chickens: Naturally Raising A Sustainable Flock, which was a best seller in it's Amazon category. Maat has been featured on NBC, CBS, AOL Finance, Community Chickens, the Huffington Post, Chickens magazine, Backyard Poultry, and Countryside Magazine. She lives on her farm in Southeast Missouri with her husband, two children, and about a million chickens and ducks. You can follow Maat on Facebook here and Instagram here.