Summer is quickly approaching – which means eating outdoors, summer vacations, and light meals.
Today, I've invited Alix and Hugo from A Hedgehog in The Kitchen back to the blog to share a healthy wholewheat cauliflower pizza that you can make in your own kitchen!
Here's how to make this pizza that's yummy (your kids will ask for seconds!)
This wholewheat cauliflower pizza is one of our favorite types of food : healthy comfort food. The gooey sheep's cheese and emmental cheese, oven-baked cauliflower and red onions make this meal so tasty and welcoming after a long day.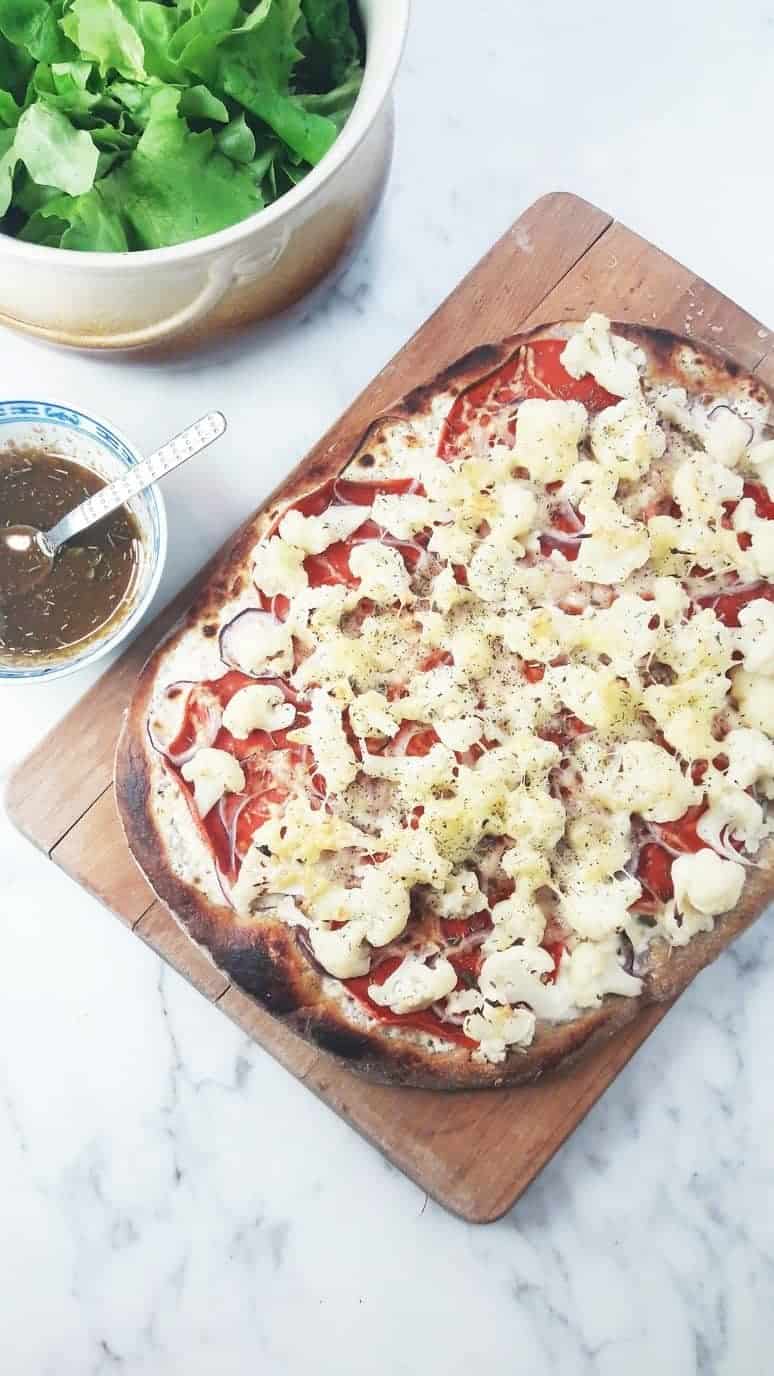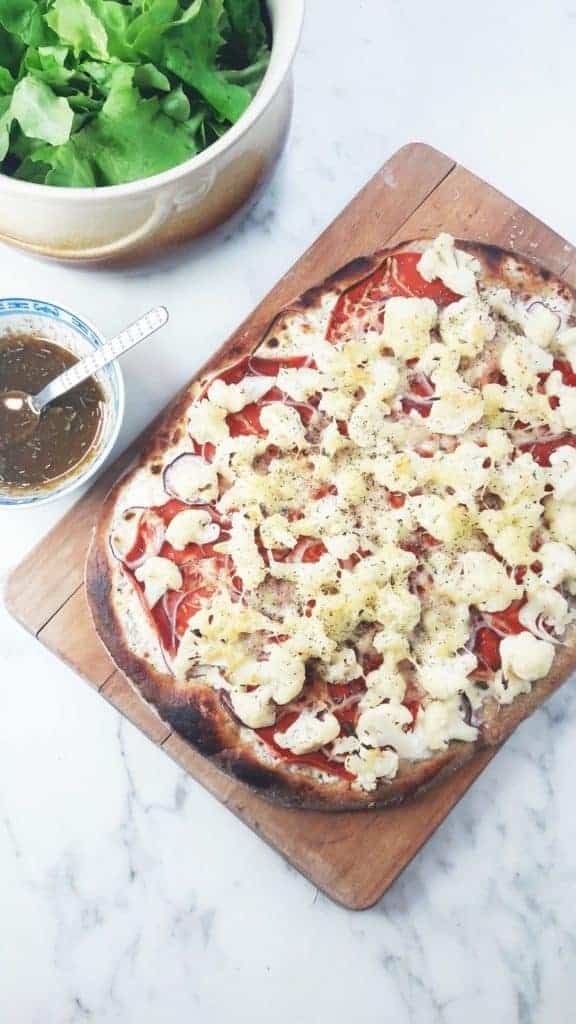 One of our favorite activities to do together is cooking. We love creating a fun new recipe, shopping for the ingredients at our local farmer's market and coming home and turning everything into a yummy meal.
We absolutely adore pizza! Homemade pizza is such a great meal because you gather your ingredients and just pop everything in the oven. It is quick, easy and makes your entire home smell so good! Our love of pizza has inspired some of our very best healthy, wholesome, real food recipes.
We typically replace white flour with wholewheat flour because it's healthier, easier to digest and gives the food a nice, nutty flavor. To make the crust of this wholewheat cauliflower pizza, you need just 5 simple ingredients and you're good to go : water, salt, sugar, dried yeast and olive oil. You'll love having this healthy, wholewheat, homemade pizza dough recipe on hand to make all of your favorite homemade pizzas. We use it when we make our Wholewheat Ratatouille Pizza
For the toppings, you will need cauliflower (homegrown is best if you're lucky enough to have it growing in your garden!), vegetarian "chorizo", red onion, sheep's cheese, grated emmental cheese, salt, pepper and chili pepper.
These are some of our favorite vegetarian pizza toppings. You could also use real chorizo or other sliced meat instead of a vegetarian substitute. Here in France, we love cooking with sheep's cheese and emmental cheese but you could definitely use your favorite local cheeses for this wholewheat cauliflower pizza recipe too!
Cauliflower is one of our favorite ingredients because it's delicious, versatile and so good for you! Do you love cooking with it too ?
These are 5 ways that cauliflower is amazing : it it anti-inflammatory, it can help fight cancer, it is a natural detox food, it is easy to digest and helps your digestive tract work smoothly and it's packed with antioxidants (hello, long-lasting youth!). All great reasons to use it in your homecooking as much as possible.
We cooked this pizza for a romantic date night in but you could absolutely double the quantities and make a pizza for a family of 4.
We love knowing that not only is this wholewheat cauliflower pizza really good but it's packed with nutrients and a ton of health benefits. Enjoy!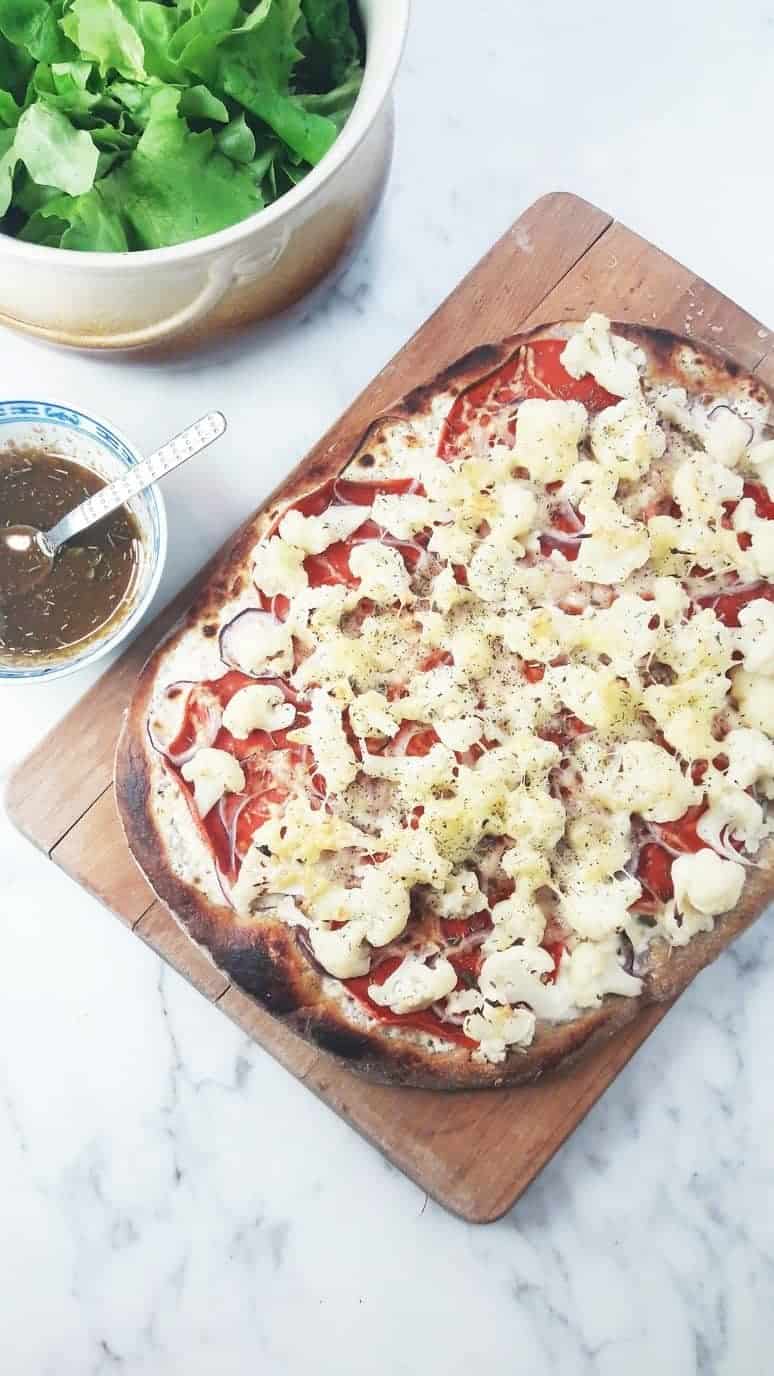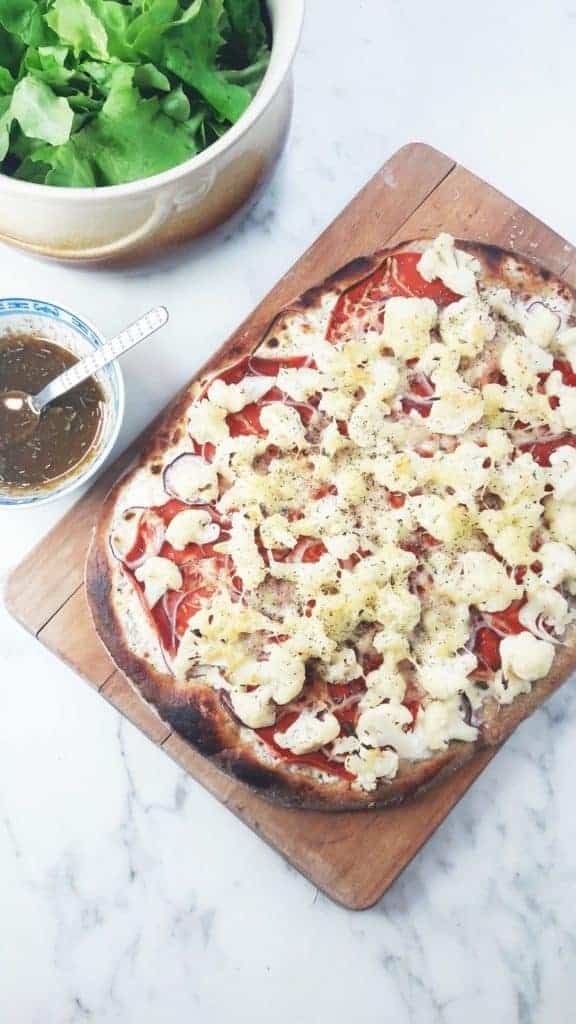 WHOLEWHEAT CAULIFLOWER PIZZA RECIPE
For 2 people / preparation time : 2 hours / Cook time: 15 minutes

2.25 cups (300g) of wholewheat flour
5oz (10 tbsp) of lukewarm water
1 tsp of salt
1 tsp of sugar
1.5 tsp of dried yeast
1oz (2 tbsp) of olive oil

1/2 cauliflower cut into florets
7 slices of veggie chorizo (or real chorizo or other sliced meat)
1/2 red onion (sliced)
1 cup of sheep's cheese
1/2 cup of grated cheese (emmental or your favorite cheese)
Salt, black pepper and chili pepper to taste
Prepare the leaven
Pour ¼ cup of flour, yeast, sugar and 2oz of lukewarm water into a bowl and combine the ingredients together.
Leave the mixture to rest for 10-15 minutes. The mixture is ready when it forms a brown dough with bubbles.
Prepare the pizza dough
Mix flour and salt using your stand mixer.
Pour the leaven into the bowl and continue to mix slowly.
Pour in the olive oil and continue to mix.
Pour the rest of the water in little by little and continue to mix slowly for 10 minutes.
The dough must be smooth and springy.
If the dough is too dry, add more water. If the dough is too wet, add more flour. Whether adding water or flour, make sure to add it little by little.
Cover the bowl with the dough inside and leave to rest in a warm place for at least one hour. (You can create a warm environment in your oven by heating your oven on low heat (80°F/30°C) for approximately 5 minutes, then turning it off and leaving the bowl to sit inside.)
The dough will double in size.
Preheat your oven on maximum heat. Our oven heats up to 570°F (300°C). If yours doesn't go up as high, that it fine but you may need to cook the pizza for longer.
Remove the dough from the bowl and place on an oiled sheet of baking paper or a silicone baking mat (such as a Silpat).
Roll out the dough with a rolling pin.
For the pizza toppings
Mix the sheep's cheese with 2 pinches of salt, a pinch of black pepper and a pinch of chili pepper.
Spread the sheep's cheese over the dough.
Add the slices of vegetarian chorizo.
Add the slices of onion.
Add the cauliflower.
Add the grated cheese.

Bake in the oven for 10 minutes.
Serve with salad and vinaigrette.
If you enjoyed this recipe, please sign up to have our real food recipes with a French twist sent to you by email. As an added bonus, we are currently offering a virtual tour of our Paris. When you sign up for our recipe emails, you will also receive 1 email per day for 5 days with photos of our favorite spots in Paris + a related recipe for each day. Sign up here
You can also grab a free spice guide here with 6 spices we love and their health benefits!
About Alix & Hugo :
Alix and Hugo develop their healthy, wholesome recipes with a French flair in their Parisian home. They share their creations on their food blog, A Hedgehog in the Kitchen. Sign up to receive recipes in your inbox here. Stay in touch on Facebook | Instagram | Pinterest | Twitter
Maat van Uitert is a backyard chicken and sustainable living expert. She is also the author of Chickens: Naturally Raising A Sustainable Flock, which was a best seller in it's Amazon category. Maat has been featured on NBC, CBS, AOL Finance, Community Chickens, the Huffington Post, Chickens magazine, Backyard Poultry, and Countryside Magazine. She lives on her farm in Southeast Missouri with her husband, two children, and about a million chickens and ducks. You can follow Maat on Facebook here and Instagram here.