Table of Contents (Quickly Jump To Information)
Now is the time of year that I get superpsyched – time to make pumpkin puree!
I get excited for the post-Halloween time not just because I can make pumpkin puree, but because those round orange squash become super cheap at the store – which means I can feed pumpkin to my chickens and pigs for a very low price.
But back to pumpkin puree (which you can feed to chickens too, by the way).
Pumpkin puree is really easy to make, and you won't believe how much better it tastes than the stuff in the cans.
And of course, as homesteaders, we like buying items we can use in multiple ways, and pumpkin is no different.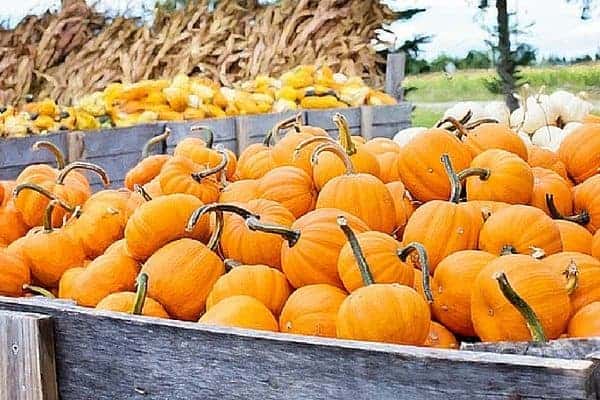 In addition to pumpkin puree, you'll also have seeds for toasting and the remaining guts to feed your chickens.
This method for making pumpkin puree works also for other squashes, like Hubbard, you name it, so feel free to become a puree making fool this fall!
So, let's look at how to make pumpkin puree for pies, soups, or whatever your imagination can think of!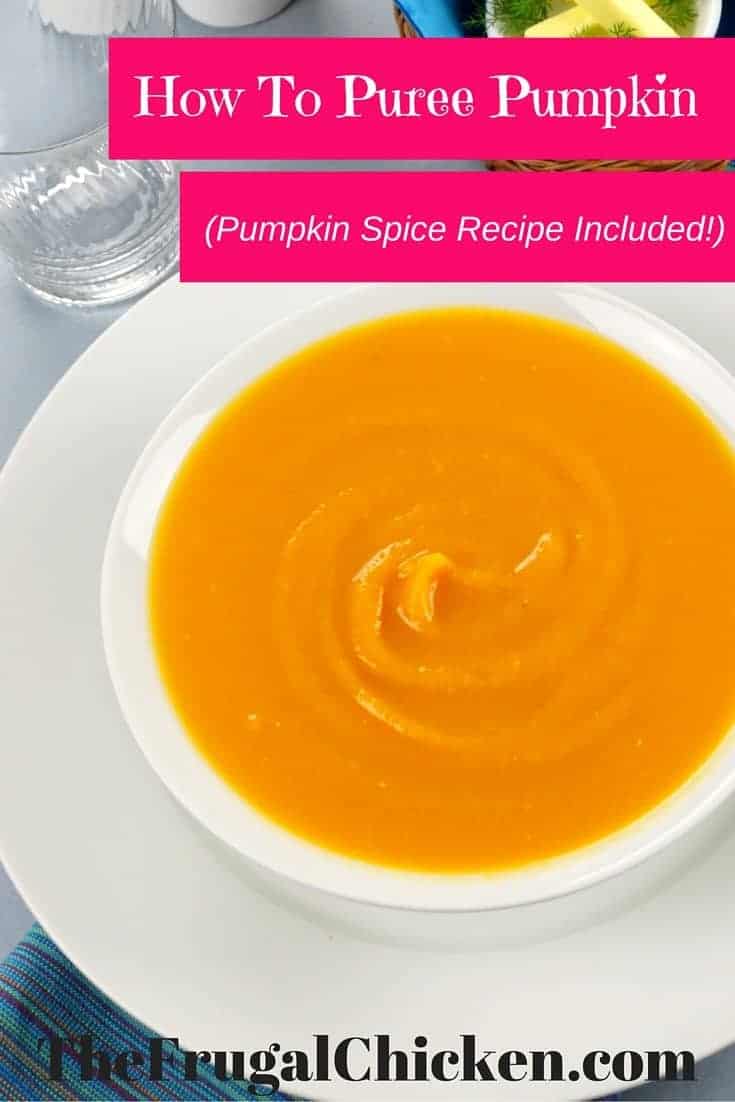 How to make pumpkin puree
For this recipe, we'll just use sugar pumpkins (also called a pie pumpkins) – they're the most commonly used for homemade pumpkin puree, and easily found at any market in the fall.
They're called sugar pumpkins for a reason: They're the best for baking and making pumpkin puree.
Typically, they're 6-8 inches in diameter, which is an easy size to lift and cut up without getting too overwhelmed, and you can expect about 16 oz of pumpkin puree.
Preheat your oven to 350 degrees (as you know, food should not ever be put in a cold oven or on a cold pan if you plan to roast, so pre-heating is a very important step.)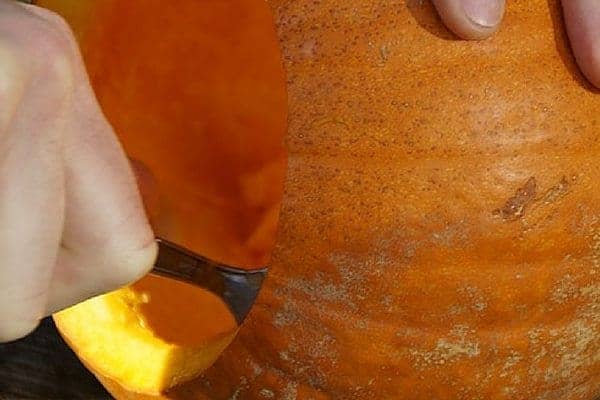 Remove the guts of the pumpkin, set aside to remove the seeds for roasting later.
Slice up your pumpkin into 1 inch size pieces.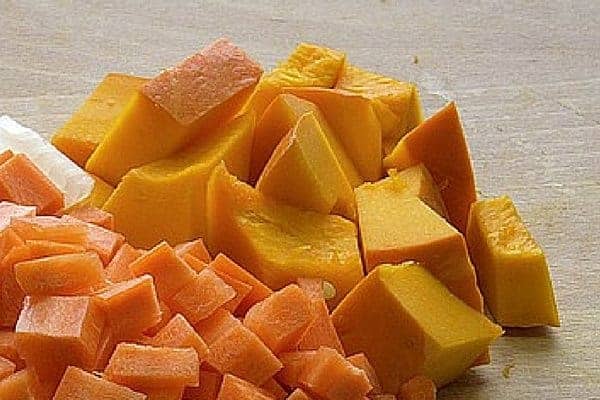 Place in a roasting pan that already has 1/2″ of water in it. The water is necessary to keep the pumpkin from burning.
Cook until done, which should be about 45 minutes. Pierce the pumpkin with a fork or knife to check if it's done – if it slides right off, it's ready!
Remove the pumpkin from the oven, and allow to cool.
Once the pumpkin is cool, scoop the flesh away from the peel. (The pumpkin peel should be relatively soft, so feel free to give it to your animals, or compost).
Blend the remaining flesh in your blender until a puree is formed.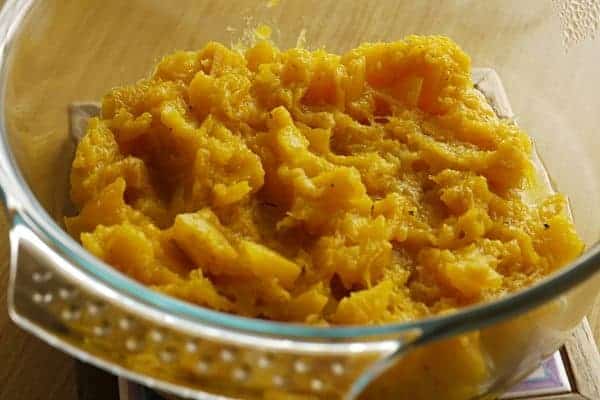 You can use the puree right away in your favorite recipe, or store in the fridge for 2 days.
If you're not going to use your puree right away, store it in the freezer.
You can also freeze enough pumpkin puree to last the year – just make sure to hit the sales after Halloween to grab pumpkin at a cheap price.
Now that we've made pumpkin puree…
Let's talk about spices.
Making your own pumpkin pie spice is as simple as…well…making pumpkin puree.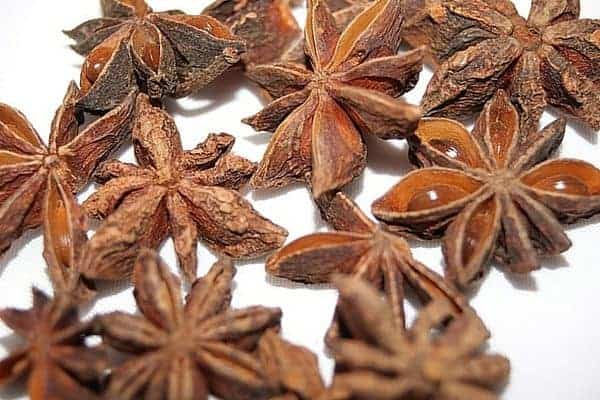 Grab the following (if you're not sure where to buy fresh spices, we'll talk about that in a minute):
Homemade Pumpkin Pie Spice
1 tbsp + 1 tsp ground cinnamon
2 tsp ground ginger
1/2 tsp all spice
1 star anise pod, ground
1/2 tsp nutmeg
Combine in a mason jar to store, or just immediately with any recipe using your pumpkin puree.
Now that wasn't hard, was it?
Okay, as promised, here's where to buy your fresh spices:
I'd like to hear from you!
How do you think you'll use pumpkin puree this season? How about the spice? Contact me at editor@thefrugalchicken.com or comment below!
Maat van Uitert is a backyard chicken and sustainable living expert. She is also the author of Chickens: Naturally Raising A Sustainable Flock, which was a best seller in it's Amazon category. Maat has been featured on NBC, CBS, AOL Finance, Community Chickens, the Huffington Post, Chickens magazine, Backyard Poultry, and Countryside Magazine. She lives on her farm in Southeast Missouri with her husband, two children, and about a million chickens and ducks. You can follow Maat on Facebook here and Instagram here.