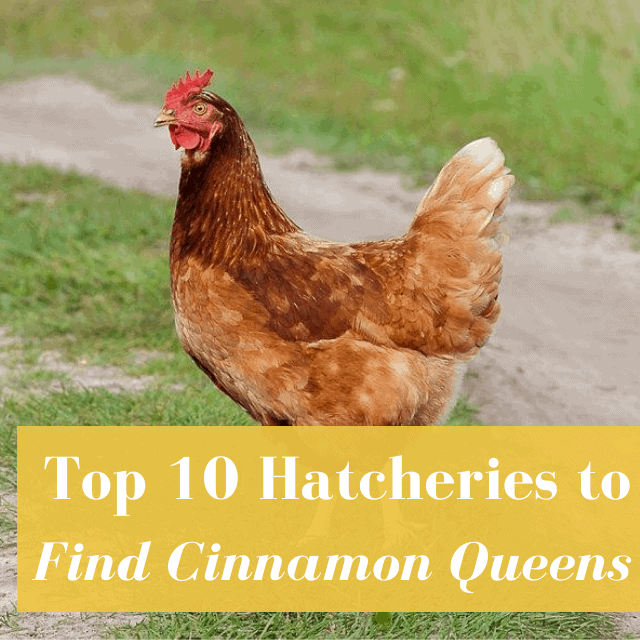 First and foremost. The Cinnamon Queen really isn't made of cinnamon. It's a chicken, but that doesn't mean that it isn't made of everything nice. Cinnamon Queens have made quite a name for themselves as amazing layers. These 6 pound hens produce a plethora of lovely brown eggs whose production starts early on in a hen's life. What's even better is that they are sex-linked, so even when they are downy little handfuls of fuzz, you will know what your batch will be: layers or roosters. These reddish brown chickens are quite friendly and are solid additions to any flock. Best of all, the abundance of eggs ensure that anyone wanting a self-sustaining diet will be most pleased.
So where can one go for these spicy girls? Below is a list of some of the most available locations where Cinnamon Queens can be found.
1. The Georgia Mad Hatcher (hyperlink name of hatchery to http://the-georgia-mad-hatcher.mybigcommerce.com/day-old-cinnamon-queen-pullets-hatching-may-30th/)
Cinnamon Queen Pullets: $5.00
The Georgia Mad Hatcher is based in Hawkinsville, GA, and provides a number of selections of the finest fowls under the sun or moon. Being based in the south, they provide high quality service and correspondence with famed Southern hospitality. They have been in the hatchery business for over a decade whose expertise runs the spectrum of chickens and a number of water fowl. Although they are based on the south side of the East Coast, they are a fantastic source of all chicken needs, considering they ship to ALL 50 States!
Advantages
Substantial bulk rates.
Free shipping on hatching eggs.
Live poultry available for pick up during first 72 hours of hatching
100% healthy guarantee.
Ships to all 50 States.
No minimum order limit.
Disadvantages
Live chickens are pick-up only.
2. Cackle Hatchery (hyperlink name of hatchery tohttps://www.cacklehatchery.com/cinnamon-queentm-chicken.html)
Cinnamon Queen Female Chicks Price: $3.81
Cackle Hatchery proudly boasts that they have been hatching and shipping since 1936. A third-generation hatchery based in Missouri, their mission is to provide customers with quality poultry for showing, meat, enjoyment, and eggs. They ship throughout the USA, including Alaska, Puerto Rico, and Hawaii. They offer nearly 200 different types of chickens at all stages.
Cackle also offers many other kinds of poultry including ducks, water fowl, game birds, turkeys, and other fowl. They are also a good source for supplies and book. Cinnamon Queens are available only as baby chicks, and they are a very seasonal bird, available only early March through July
Advantages
Discounts if you buy male or not-sexed day-old chicks.
Vaccinations available.
Only need 3 birds to ship (or just one for male birds).
Disadvantages
Limited availability.
Sold as baby chicks only.
3. Purely Poultry: (hyperlink name https://www.purelypoultry.com/cinnamon-queen-chickens-p-375.html)
Not Sexed Day-Old Cinnamon Queen Female Price: $4.53
As a family-owned business, Purely Poultry has some of the best customer service around. They pride themselves on their knowledge of their products, selection, and how-to details related to everything they offer, including ducks, chickens, geese, and lots of other birds!
Located in Durand, WI, they guarantee live birds with every order, which is a good promise, indeed!
Advantages:
Each order backed by live arrival guarantee.
Small order minimum on chicks with discounted shipping on bulk orders.
Other kinds of poultry offered, too.
Disadvantages:
Not a huge advantage to buying multiple chicks – discounts are minimal.
4. The Chick Hatchery.com (hyperlink name of hatchery to https://thechickhatchery.com/home/cinnamon-queen/)
Average Straight Cinnamon Queen Chicken Price: $2.85
The Chick hatchery is Michigan's "premier source for superior quality poultry." With a creed that revolves around the sharing and joy of raising chickens, they operate in no-kill facilities. They raise their chickens humanely, with any unsold chicks going to Amish farms. Much of the experience of raising chickens is the awareness of the individual chicken and the relationship between food and our own health.
Their Cinnamon Queen Chickens are available from February to September.
Advantages
Ships a minimum of 3 of each sex.
All poultry guaranteed live delivery.
Offers discounts on orders of larger quantities of birds*.
Disadvantages
Limited availability – February to September.
Does not ship to Hawaii or outside the USA.
5. Valley Farms Hatchery: (hyperlink name to https://www.valleyfarmshatchery.com/online-store/Black-Australorp-Chicks-p112829153)
Average Straight-Run Cinnamon Queen Chick Price: $2.45
Valley Farms Hatchery is located in Alabama and is one of the few large commercial chick hatcheries located in the southern United States. If you live in the south, that's one good reason to give Valley Farms a try – you won't have to ship your new Cinnamon Queen chickens long distances, which can cut down dramatically on shipping stress.
You can buy fertile hatching eggs along with Cinnamon Queen chicks from this hatchery. You'll find some of the lowest price, here, too, with a minimum order of just three chicks. If you buy males, interestingly, the order minimum is just one bird. Buying in bulk poses several advantages though, especially if you can buy more than 50 birds at once – you'll get significant savings.
Advantages:
Each order is backed by a 100% live delivery guarantee, no matter where you live.
One chick minimum order if you're buying males.
Optional Marek's vaccination.
Disadvantages:
6. The Chicken Depot (hyperlink name of hatchery to https://thechickdepot.com/products/cinnamon-queen)
Unsexed Cinnamon Queen Chick Price: $2.58
The Chicken Depot is a one-stop poultry shop that boasts the largest variety of poultry and fowl in Michigan. With its location in Gladwin, right in the middle of Michigan, it gives founder Roberta a great location through which to share her love of chickens with others all throughout the USA. When not taking and fulfilling orders, the staff is busy interacting with the abundance of fowl on the farm.
Advantages
Ships a minimum of 3 female or unsexed, or a single male!
Live arrival guarantee and replacement policies.
Disadvantages
Limited availability.
As of 7/14/2020, no longer booking shipped orders due to postal delays.
7. Hoover's Hatchery: (hyperlink name to https://hoovershatchery.com/cinnamonqueen.html)
Unsexed Cinnamon Queen Chick Price: $3.21
Hoover's Hatchery is a massive poultry production hatchery located in Rudd, IA. Hoover's supplies many farm and garden supply stores in the United States with their chicks, making them a smart choice if you want to skip the middleman and order from the hatchery directly.
Plus, Hoover's offers free shipping on practically everything you order. You'll have to buy at least 15 chicks; so Hoover's might not be the best option if you live in a city with chicken restrictions. However, as long as you're willing to buy in bulk, it's a smart choice. You can even mix and match your order by adding other birds of other chicken breeds along with poultry species like pheasants, turkeys, guineas, ducks, and more.
Advantages:
Excellent guarantee and refund policy in case of shipping problems
Hatches chicks during the winter, one of the few hatcheries to do so
Discounts on increased orders up to 25+.
Disadvantages:
Large minimum order (15 to 20 depending on size)
8. Country Max (hyperlink name of hatchery to https://www.countrymax.com/cinnamon-queen-chicken/)
Cinnamon Queen Chick Price: $2.99
If you are in New York State, chances are that Country Max, whose headquarters is in Victor, NY, is the place for you. They have 17 conveniently-located stores primarily in Central to Western, NY to help make all of your pet supply dreams come true. In addition to a diverse selection of chickens, they are home to hundreds of products relating to pets and homes, form dogs, to lawn and gardens, to horses. They got their start as a small farm supply and feed store in 1985, and have since branched out tremendously. It truly is a one-stop shop for all your out-of-house needs.
Advantages
Offers a 30-day full money back guarantee.
Free shipping for orders over $49.99.
Disadvantages
Minimum order of 6 units.
In-store pickup only.
Limited information about their poultry.
9. Mill Valley Chickens (hyperlink name of hatchery to https://www.millvalleychickens.com/chickens-for-sale.html)
Sexed Cinnamon Queen chick: $19.99
Holistic and humane, Mill Valley takes pride in the love they raise their chickens with. Indeed, they ensure that all bedding is devoid of metal wiring, that their chickens receive only the highest quality organic feed, and ensure plenty of natural lighting. With all this care and attention, they have a single goal: to get you the highest quality chicks in the best possible health. From their headquarters in Marin County, CA, they not only raise chickens, but they design coops, and offer courses on raising chickens.
Advantages
All chicks are a flat rate (unless otherwise noted).
Provides a number of hatching dates.
All chicks come vaccinated for Marek's Disease.
Offer a 90% sexing guarantee for all chicks.
Disadvantages
Cluttered product web page.
Pick up or limited shipping.
10. Abendroth's Hatchery (hyperlink the hatchery name to https://abendrothshatchery.com/birds/cinnamon-queen/)
Straight Run Cinnamon Queen: $1.95
Since 1965, starting with a single incubator and dreams of 4-H success, the Abendroth Hatchery has been producing high quality chicks. Then, in 2000, the hatchery really took off in the form that it is now, located in Waterloo, WI. Chickens have become the heart of multiple generations of the Abendroth family, and with this, they provide tremendous customer service and scads of knowledge to help answer all of your chicken questions.
Check out their pdf (https://abendrothshatchery.com/wp-content/themes/Hatchery/assets/images/ABENDROTH_CATALOG_final.pdf) for information about all of your family's poultry needs.
Advantages
All hatchery information is conveniently available in a single downloadable pdf.
Guarantees that all birds will arrive alive and healthy.
95% sexing accuracy.
Ship all over the USA.
Disadvantages
Maat van Uitert is a backyard chicken and sustainable living expert. She is also the author of Chickens: Naturally Raising A Sustainable Flock, which was a best seller in it's Amazon category.  Maat has been featured on NBC, CBS, AOL Finance, Community Chickens, the Huffington Post, Chickens magazine, Backyard Poultry, and Countryside Magazine. She lives on her farm in Southeast Missouri with her husband, two children, and about a million chickens and ducks. You can follow Maat on Facebook here and Instagram here.