With summer comes one of my favorite things….outdoor parties!
Whether it's a simple family barbecue or a massive neighborhood shindig, I LOVE outdoor parties! The combination of food, friends, and family is perfect! I absolutely love being able to spend time with friends and family, especially in the outdoors.
Personally I LOVE outdoor decorations, and since I love parties so much I'm kind of obsessed with DIY outdoor decorations for parties (I have a whole Pinterest board for it)
So obviously the décor at your outdoor party isn't the most important part, but it sure can make a huge difference! I LOVE outdoor decorations and I use them for all kinds of activities. I've even written an entire post about how you can use DIY outdoor decorations for sensory activities for your kids!
So here is some of my favorite DIY décor that that you can make for your next outdoor party
Tissue Paper Pom-Poms
Tissue paper pom poms are my go to for outdoor decorations. They're so easy to make (literally they only take like 2 minutes). Plus they're SO CHEAP! These look great hanging from trees or underneath a pergola, and they're a super fun project to make with your kids! Check out this tutorial on how to make simple tissue paper pom poms.
https://www.instagram.com/p/BY-pUSzHVO0/?utm_source=ig_embed
Herb Pot
So I recently made a DIY herb pot for my chickens. It's super cute and they absolutely love it! I just planted herbs in a simple coffee mug! Not only is this idea great for chickens, but it's also a super cute decoration idea for your backyard! It's so simple to make and it looks so cute!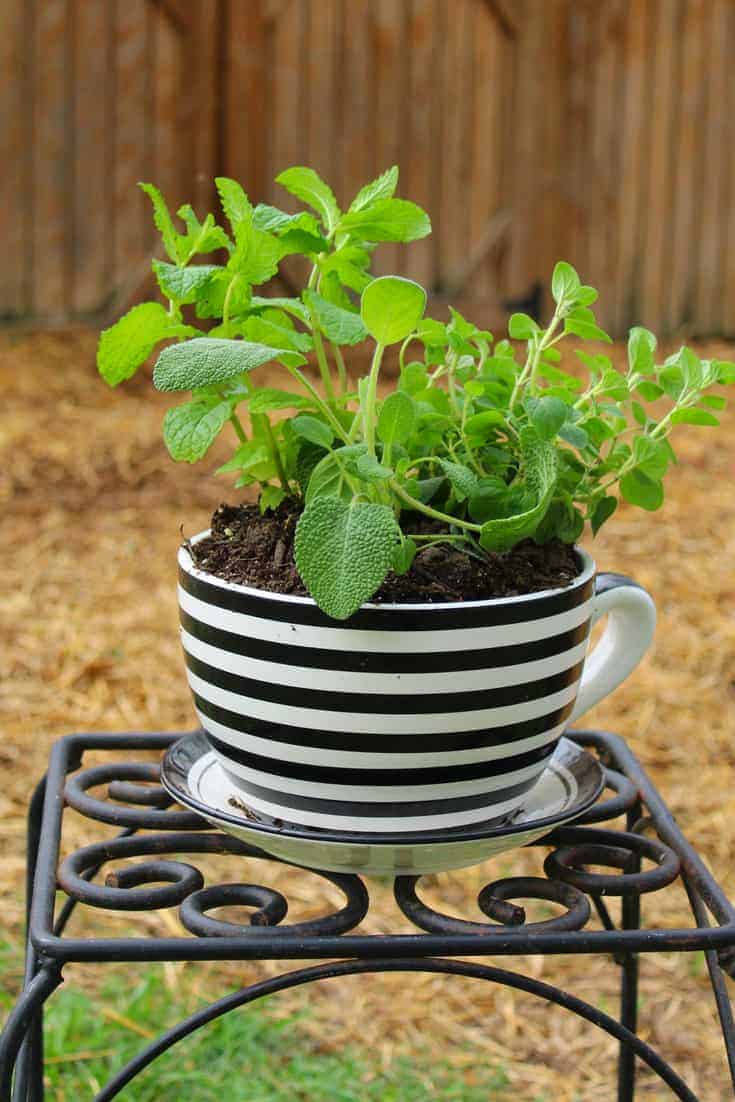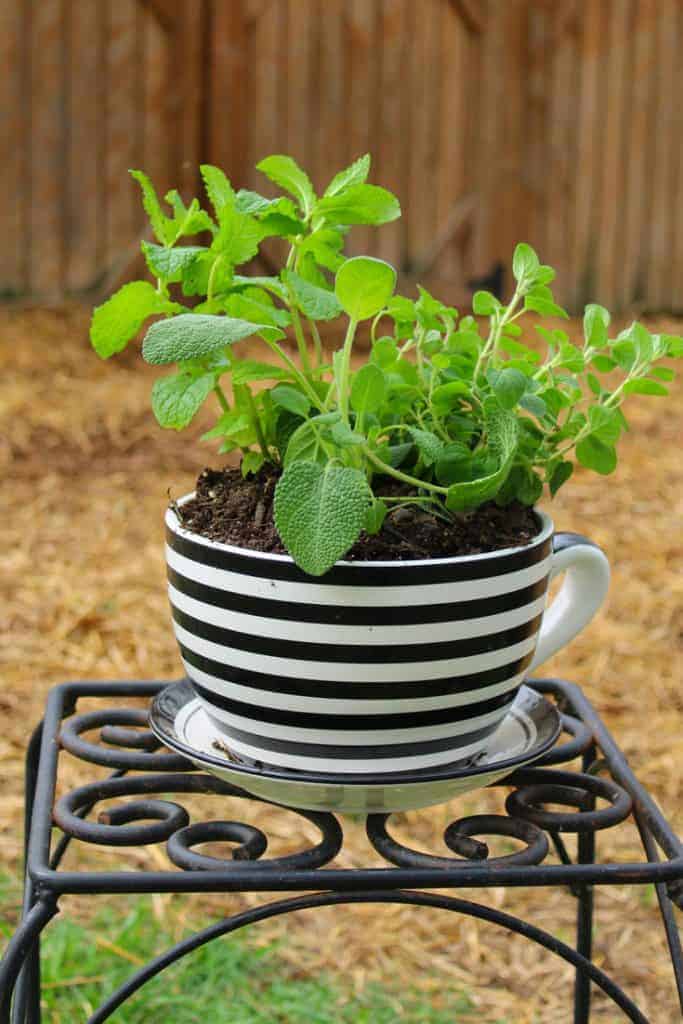 Tin Can Herb Garden
So one big thing for me is that my decorations are also functional. I love that this tin can herb garden is practically free and it is also a functional (and cute) decoration. Herbs are so useful and they smell AMAZING so they're the perfect addition for a backyard decoration.
https://www.instagram.com/p/BjqHsLhBECJ/?tagged=herbgarden
Sometimes though herbs can be tricky which is why I wrote an entire book about the best ways you can grow herbs in your backyard! You can learn how to grow 30 different types of herbs in your own backyard! It's a handy reference book to have around. If you're looking for more tin can herb gardens ideas check out this article! There are tons of different tin can herb garden ideas that you can use to decorate at your next party!
Planter ladder
I'm a huge fan of using planters for an outdoor decoration. They look so cute, but they're also so functional! Check out this awesome ladder planter that you can make for only $10! And the plans are free!
https://www.instagram.com/p/oLzRSDy5KF/?taken-by=shanty2chic
One of my favorite things about planters is they're great for gardening in small spaces! Check out my article about how I gardened when I lived in a small apartment! Also check out my book all about backyard gardening!
Outdoor games
So I'm a huge fan of outdoor games! I think they're so fun and they look great! They provide a fun activity for your guests, but they can also be really cute decorations as well!
Garden Checkers
I love this giant sized garden checkers. This version just evenly spaced tiles across the grass.
https://www.instagram.com/p/Zgpp2XsLb1/?tagged=gardencheckers
You could even just use bucket lids (like these ones) for the checker pieces (I always have a million lids hanging around). All you would need to do is spray paint half of the lids black and leave the other half white and you have a giant checkers game! It looks cute in your yard, but it also provides an awesome activity for people at your party!
If you aren't into redoing your yard for a checkers game (I don't blame you) you can also check out these checker board mats! They're super cute, but they're also easy to put away quickly.
DIY Cornhole
Cornhole is definitely a classic outdoor game. I love how beautiful these homemade cornhole boards are! I think they add a super cute decoration to any yard and they're a fun game for everyone to play!
https://www.instagram.com/p/BjiXHeeHzg1/?tagged=backyardgames
Check out this awesome tutorial on how to make your own cornhole board! It's free and it's a great tutorial!
If you're not into making your own you can also buy one here!
Giant Jenga
So I keep seeing giant jenga all over the internet and I keep meaning to try it out! I love that in this version they painted the wood different colors to make it a gorgeous backyard decoration!
https://www.instagram.com/p/BjmtawbAEEL/?tagged=backyardgames
DIY Backyard Pergola
I am a huge pergola fan. Building a pergola for my backyard has been on my list for a LONG time. I just haven't gotten around to it yet. These plans for a DIY Pergola are some of the most comprehensive pergola plans that I've seen. I love how thorough the plans are and how simple it is to build. Plus they're FREE!
Paper Triangle Garland
Paper garlands are some of my favorite outdoor decorations. They are a simple and easy decoration that are so easy to customize! You can choose any color or pattern that you want! You could even experiment with different shapes too! I found these chicken shape templates, and I'm thinking I might make a garland from paper chicken cut outs for my next outdoor party;)
Check out this tutorial on how you can make your own paper triangle garland.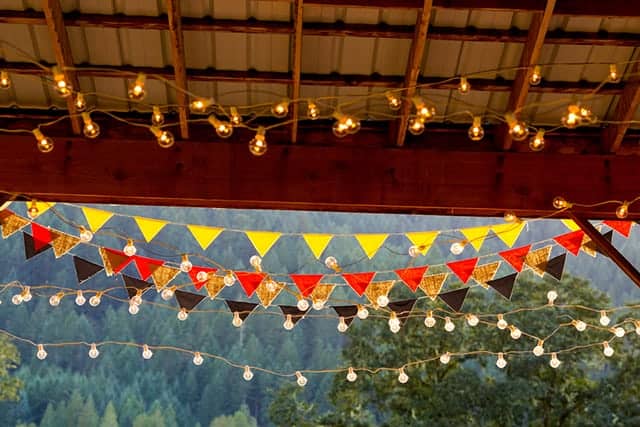 DIY Tree Stump Coasters
So I love coasters!!! These tree stump coasters are a super simple project and will look great on any outdoor picnic table! Check out the great tutorial for this project right here!
https://www.instagram.com/p/0kNCW2o1nt/?tagged=treestumpcoaster
DIY Backyard Table
And if you have coasters, then you have to have an outdoor coffee table right? I love this super simple tutorial for an outdoor coffee table. It would look amazing at your next outdoor party and it only costs about $15 to make this project! Bargain! Check out the full tutorial here!
DIY Outdoor Seating
One of the most important parts of an outdoor party is ensuring that their is enough seating for everyone! Plus all of these outdoor seating ideas look amazing and are perfect decorations for your backyard.
DIY Backyard Porch Swing
I LOVE porch swings. Some of my favorite childhood memories are sitting on my grandparents porch swing with my family. I'll admit though I've always been kind of intimidated by the thought of building my own porch swing. These DIY plans make the whole process so much easier. I love that this tutorial takes you through each step one by one (because my woodworking skills are definitely subpar).
https://www.instagram.com/p/pw5t1sy5N3/?utm_source=ig_embed
DIY Pallet Chairs
I'm a huge fan of using pallets because I always have a ton around the homestead. I absolutely love this tutorial for a DIY Pallet chair. It looks great and it's practically free! Using pallets to make furniture is the perfect way to maximize your seating space (and your funds!) Remember to check your pallets to make sure they haven't been treated with chemicals! Learn how to check in this article right here.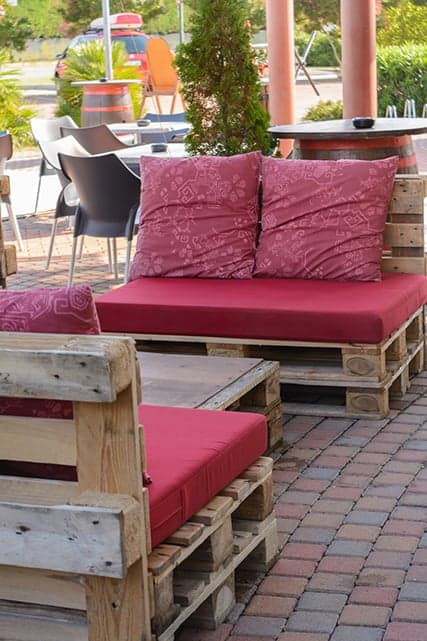 DIY Hammock
There's nothing better than relaxing in a hammock on a warm summer evening. I think hammocks are a great way to add additional seating to your backyard and the hammock chair in this tutorial looks AMAZING!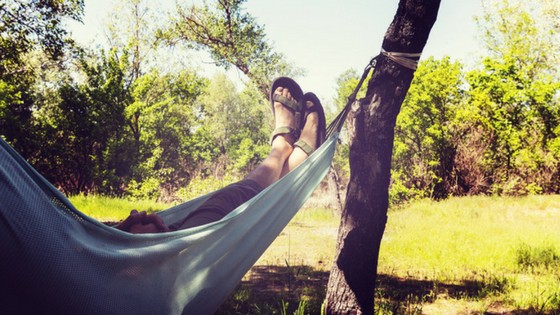 Hanging out in the shade in a hammock is a great way to stay cool during the summer. Check out my article about how you can stay cool this summer without power!
Hanging Vases
I'll admit it. I'm a sucker for flowers. I love ANYTHING with flowers. These cute hanging flower vases are so easy to make and they look so cute! These would be the perfect decoration for a party or even a wedding! All you need is some twine and some small vases like these ones (I highly recommend you get plastic ones!) and you can create your own hanging vases for your backyard.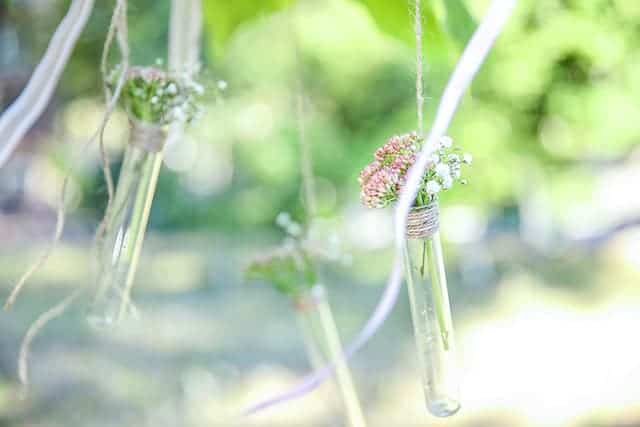 Ribbon Garland
Ok, so I might be a little bit obsessed with ribbon garlands. They're the perfect outdoor party decoration because they're so easy to make! This tutorial is awesome and I love that it breaks down exactly how you can make the perfect ribbon garland.
https://www.instagram.com/p/BimzbJ9llA5/?tagged=ribbongarland
Ribbon Tassel Garland
So this ribbon tassel garland is for those of you who want a ribbon garland that's simple and classic (or if you don't have a whole lot of ribbon). It's simple to make and it would look great for any outdoor party!
DIY fire pit
I love backyard fire pits. They bring an added charm to any backyard which makes them perfect for outdoor parties. Plus it simplifies the cooking for you if you just give everyone a roasting stick and have them cook their own hot dogs;) See what I'm saying? It's a win-win all around. So I'll admit this DIY project isn't for the faint hearted. It looks AMAZING! But it's pretty time intensive. Make sure you follow the directions for this tutorial because you don't want to make a careless mistake (especially when there's fire involved!) Check out the full tutorial here!
Not into building your own fire pit? You can buy one here.
Simple Backyard Teepee
Need somewhere for all of the kiddos to hang out during the party? Check out this awesome tutorial for a five minute backyard teepee. Your kids will love having this fun space to hang out in and it makes a super cute decoration.
https://www.instagram.com/p/BjXUGtfndlH/?tagged=diyteepee
Balloons on String
This might be the easiest decoration every. You just need to blow up some balloons and poke a need with thread through the bottom (the tied part, not the part filled with air;) of the balloons. This connects all of balloons together on the string! It looks great and it's one of the easiest decorations out there.
https://www.instagram.com/p/bumSKlv2Nu/?tagged=balloonsonastring
DIY Address Numbers Display
I love this cute front porch address display. This is a great way for your guests to be able to easily find your address! Check out the full tutorial here!
https://www.instagram.com/p/oQ3B9mS5B4/?taken-by=shanty2chic
https://www.instagram.com/p/qwREE3y5GN/?taken-by=shanty2chic
Need an extra hand with cleanup after your backyard party? Don't worry, I've got you. Head over to my store and check out my soap. It's organic and it's great for anyone with sensitive skin! Need something that's a little bit tougher? Check out my garden soap made with calendula! It smells amazing and it's great for your skin!
Are you having an outdoor party this summer? I'd love to hear about your decorations! Share them with me in the comments below!
Maat van Uitert is a backyard chicken and sustainable living expert. She is also the author of Chickens: Naturally Raising A Sustainable Flock, which was a best seller in it's Amazon category. Maat has been featured on NBC, CBS, AOL Finance, Community Chickens, the Huffington Post, Chickens magazine, Backyard Poultry, and Countryside Magazine. She lives on her farm in Southeast Missouri with her husband, two children, and about a million chickens and ducks. You can follow Maat on Facebook here and Instagram here.