It's summer time! One of the biggest struggles I have throughout the summer and even during the school year is finding healthy snacks for my kids.
It's so easy to just give them a cookie or chips (because that's what they want!) when they get home from school, but I'm trying really hard to help them develop healthy habits early on. So while some of these recipes aren't perfectly healthy, I think they are a step in the right direction.
Here is my collection of my favorite healthy snacks for kids!
Chocolate Popsicles
Ok, ok, so this recipe isn't healthy perse…but it tastes great AND you can make it using ingredients that you trust! I love making my own popsicles because I know exactly what ingredients are going to be in my food.
One great tip I have for healthy snacks is to disguise vegetables in other food. Growing up my sister would only eat macaroni and cheese and bread, so my mom had to get really creative to encourage her to eat vegetables. Kids often tend to avoid eating vegetables, so sneaking them into a yummy snack is a great way to get the the nutrients they need without them even knowing!
https://www.instagram.com/p/BhYTjoYjr2J/?tagged=homemadechocolatepopsicles
I love this recipe for chocolate popsicles because it uses avocado, so you're sneaking in some healthy food;) And if you're dealing with a kid who won't eat their veggies, you can blend up some spinach or kale and add it to this mixture. Trust me with the yummy chocolatey taste they won't even know there are vegetables in there! I love that you can make this recipe with simple ingredients and a popsicle mold!
Apple Chips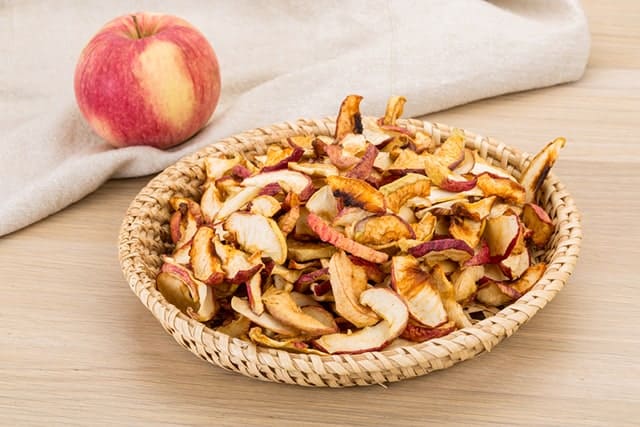 Apple chips are a great healthy snack for kids! They get a crunchy snack that's healthy and not full of added sugars! I love this recipe because it only takes 10 minutes of prep time. After you prep the apples you just stick them in the oven which makes this a super simple snack you can make for your kids!
If you aren't into making apple chips, here's my favorite store bought apple chips brand. I love that they're organic and have simple ingredients.
Homemade Popsicles
Homemade popsicles are a huge hit around here, especially in the summer because it is unbearably hot right now! Two of my favorite recipes for homemade popsicles are berry popsicles and pineapple popsicles. You can check out the recipes for the berry popsicles here and the pineapple popsicles here. They're so easy to make and they're a yummy and healthy snack for your kiddos!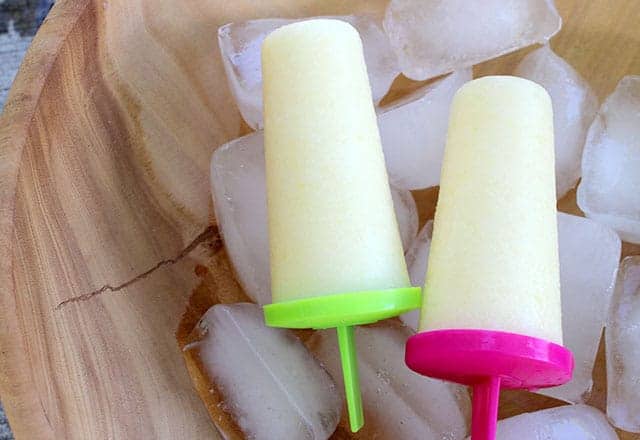 Watermelon Cut Outs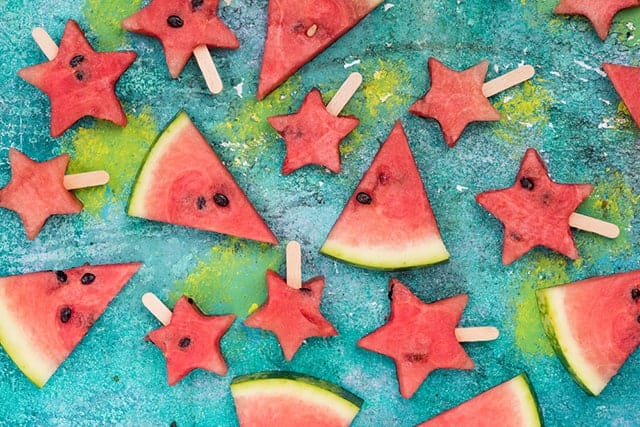 I'm a huge watermelon fan and I LOVE that watermelon are starting to show up at my local farmer's markets this month! Watermelon is a great treat for kids and you can make it even more fun by cutting out shapes in the watermelon. All you have to do is cut the watermelon into slightly thinner slices than normal (1/4 inch to 1/2 inch) and then use cookie cutters to cut out fun shapes in the watermelon. And you can use this amazing chicken shaped cookie cutter! I love this and I'll definitely be using this to cut out some watermelon for my kids!
Strawberry Lady Bugs
Ok so this is really cute! I love how this snack is a fun twist on chocolate covered strawberries! They're so cute and your kids will love them! I know this isn't the healthiest snack, but honestly sometimes I'll do anything to convince the kiddos to eat some fruits and vegetables. I love that it's a fun, sweet treat that you kids will adore!
https://www.instagram.com/p/ngP7v8GC8w/?tagged=strawberryladybugs
Bell pepper pizzas
I LOVE pizza. I always have and I always will. But even though I'm convinced that pizza is good for the soul, I'm pretty sure it's not the healthiest meal option. Which is why I love these bell pepper pizzas! All you have to do is put a layer of cheese (check out my recipe for homemade mozzarella) inside of a halved bell pepper and then put your toppings on it! You could even sneak in some more veggies, like kale, mushrooms, or tomatoes into these to try and get more vegetables in your kids diet! Check out the full recipe and instructions for these bell pepper pizzas here.
https://www.instagram.com/p/BSl8lIZg5cr/?tagged=bellpepperpizza
Watermelon Pizza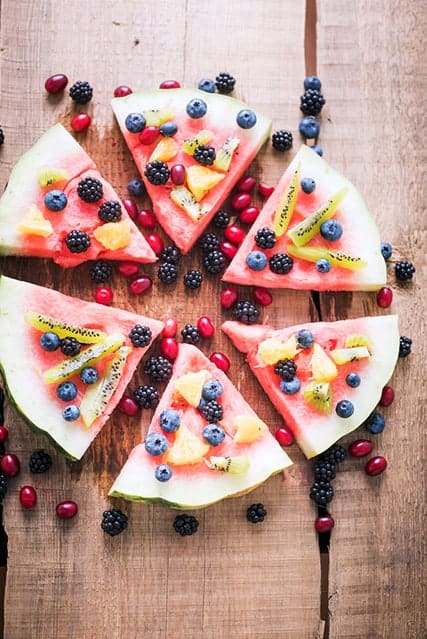 Like I said earlier, I love watermelon and I love pizza. So why not mix the two together? All you have to do for this yummy treat is top a round watermelon slice with sliced fruits such as kiwi, blueberries, and cantaloupe. If you want to make this treat extra yummy (but a little bit less healthy) you could spread a layer of homemade whipped cream on the watermelon (like it was pizza sauce) and then add the fruit on top.
And making your own whipped cream is so easy and it's a fun activity you can do with your kids! All you need is a mason jar and some heavy whipping cream. Fill the mason jar about halfway full of heavy whipping cream and then start shaking it! After about 10 minutes of shaking you should have your own yummy, homemade whipped cream!
Grape Caterpillar
https://www.instagram.com/p/dMwEEJDFsp/?tagged=grapecaterpillars
I love how cute these grape caterpillars are! One of my favorite things to do to make fruits and vegetables more appealing to kids is to make them fun! And making caterpillars out of grapes is a great way to do that!
Homemade Fruit Snacks
https://www.instagram.com/p/BKJLPPgjIon/?tagged=homemadefruitsnacks
If there's one universal truth I've seen about parenthood it's that most (if not all) kids love fruit snacks. So while they might not be the healthiest snack choice, I prefer to make my own fruit snacks at home. That way I know exactly what ingredients and products are going into the food that I'm feeding my kids. I love this recipe because it's SO EASY to make! Check out the full recipe and tutorial here. You'll need silicone molds to put the fruit snacks in and you can find those right here!
Peanut Butter Snail
This might be one of my all time favorite snacks for kids. It's like a glorified version of the classic ants on a log snack. I love how cute this snail is and I think it is such a fun way to get your kids to eat some healthy fruits and vegetables.
https://www.instagram.com/p/8T2mP4iaqj/?tagged=peanutbuttersnail
What healthy snacks do you give your kids! Help this momma out and share them with me in the comments below!
Maat van Uitert is a backyard chicken and sustainable living expert. She is also the author of Chickens: Naturally Raising A Sustainable Flock, which was a best seller in it's Amazon category. Maat has been featured on NBC, CBS, AOL Finance, Community Chickens, the Huffington Post, Chickens magazine, Backyard Poultry, and Countryside Magazine. She lives on her farm in Southeast Missouri with her husband, two children, and about a million chickens and ducks. You can follow Maat on Facebook here and Instagram here.