Table of Contents (Quickly Jump To Information)
As you probably know, we raise rabbits on our homestead, which means we have a LOT of rabbit manure.
What you may not know is that rabbit manure is one of the easiest to use, yet super healthy, fertilizers for your garden. In this article, I'm going to show you how to use rabbit poop to improve your harvest.
Garden compost made from animal manure does two amazing things for your garden. First, it's a free byproduct of your animals, so it'll save money on topsoil and fertilizer. Second, it is a nutrient rich way to help your garden grow and thrive.
Why Rabbit Manure?
Great question! Unlike other manures which have to be well composted before you can even think of using it in your garden, rabbit poop can be immediately applied to your soil. It won't burn crops, and can be used as a stand-alone planting medium or mixed with topsoil (although your best bet is to mix it with soil.)
As rabbit manure decomposes, it helps build up the structure of the soil, and injects valuable nutrients and organisms into your garden that will promote strong, speedy plant growth.
Rabbit manure, in particular, is rich in potassium, nitrogen, zinc, and calcium, and it's one of the most nitrogen-rich manures out there – so you'll get lush, green, well-fertilized growth. The potassium will also improve the quality of the fruit your vegetable plant sets.
Finally, unlike cow, horse, or pig poop, rabbit manure is odorless – so as you collect it and incorporate it into your garden, your nose (and your neighbors!) will thank you.
---
Want more awesome gardening tips? Check out my book, Organic By Choice: The (Secret) Rebel's Guide To Backyard Gardening.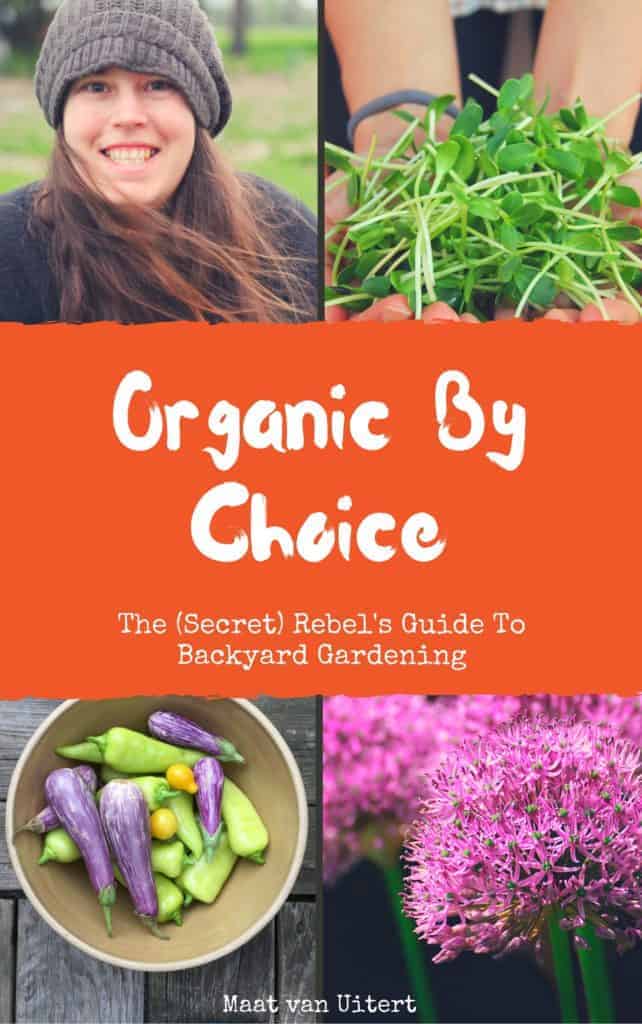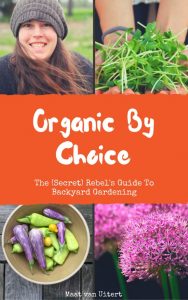 ---
How to Use Rabbit Manure In Your Garden
First decide on the source of your rabbit manure. If your kids have pet rabbits, have them collect the rabbit's waste each day. If you already raise bunnies on your homestead, then what are you waiting for? Go start collecting rabbit manure for the garden!
Collecting it is relatively easy, and everyone has their own "system." One of the simplest methods is to place plastic tubs under your rabbits' cages and dump them out every day (don't wait on this – flies WILL lay eggs which will hatch into maggots – GROSS.)
You can dump them into a compost pile, or directly into your garden. If you haven't planted anything in your garden yet, then till the rabbit manure to a 2-inch depth.
If your garden is already established, then side dress your plants with the manure – it's usually best to do this as your plants are flowering and setting fruit. They'll need all the nutrients they can get during that time!
If you just got your rabbits, or don't want to raise any but definitely want to use bunny poop in your garden, then you might also be able to find rabbit manure to buy. Check with neighbors or even Craigslist in your area.
How to Make Rabbit Manure Compost
Not everyone is enchanted with the idea of directly applying manure to their garden. That's ok – you can compost the rabbit poop.
To make rabbit manure compost, mix the poop with other compost ingredients that will decompose, such as fruit peelings (like bananas), bits of leftover food, coffee grounds, and grass clippings, and leaves.
Add equal parts of wood shavings and straw, then blend all these things (and other kitchen waste) thoroughly, then add enough water to moisten. Be very careful not to completely saturate the compost pile.
Cover with a protective tarp and turn every two weeks. If you're hot composting (which is unlikely with rabbit poop but, hey, stranger things have happened!), then water regularly to maintain heat and humidity levels. Keep adding to the pile and turning and blending it until it fully composts.
If you're cold composting, then simply turn the pile until the manure and other ingredients have turned to sweet-smelling soil.
Making Rabbit Manure Tea for A Larger Garden Harvest
A third option, other than putting rabbit manure on your garden directly or composting it, is to make a tea fertilizer. Luckily, this is pretty simple.
In a 5 gallon bucket, place a burlap bag. Fill the bag about half way with rabbit manure (or however much manure you have on hand), and close it tight with string.
Add water to the bucket until the burlap bag is full submerged. Allow your tea to "brew" for 5-7 days, stirring daily. Once the allotted time has passed, simply remove the bag of manure from the bucket.
You can use the tea directly on your garden, and compost the rabbit manure, or use it on your garden as well.
I'd like to hear from you!
Do you use rabbit manure in your garden? Leave a comment below!
Check Out My Other Rabbit Articles:
---
Do you love gardening, herbs, natural remedies, self sufficiency, and/or homesteading? Learn how to grow 30 different herbs in this encyclopedia! Herbs In Your Backyard is a digital book, delivered to you INSTANTLY!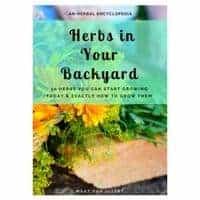 ---
Maat van Uitert is a backyard chicken and sustainable living expert. She is also the author of Chickens: Naturally Raising A Sustainable Flock, which was a best seller in it's Amazon category. Maat has been featured on NBC, CBS, AOL Finance, Community Chickens, the Huffington Post, Chickens magazine, Backyard Poultry, and Countryside Magazine. She lives on her farm in Southeast Missouri with her husband, two children, and about a million chickens and ducks. You can follow Maat on Facebook here and Instagram here.