Yes, it's that time of year – pumpkin spice time.
You knew it was coming! Soon, everything will be coming up pumpkin spice, and you won't be able to get away from it.
Pumpkin spice lip balm combines two of my favorite things – healthy, all natural lip balm made with beeswax and essential oils!
When making lip balm with essential oils, though, do me a favor – don't buy oils off Amazon or oils that might have synthetic ingredients in it.
You're putting this stuff on your lips and into your body, and you work hard to live a healthy life – don't blow it on the easy stuff like essential oils.
I personally use Young Living essential oils – they're high quality, pure, and smell great. I get the oils I need sent to my home every month – super convenient, and makes living a green, organic life super simple.
I love this lip balm because it contains a hint of fall while also keeping your lips moisturized (we all know how the chill air can be – it loves to dry our skin!)
You'll love the scent also – it definitely will remind you and help you celebrate all the wonderful smells and freshness of fall!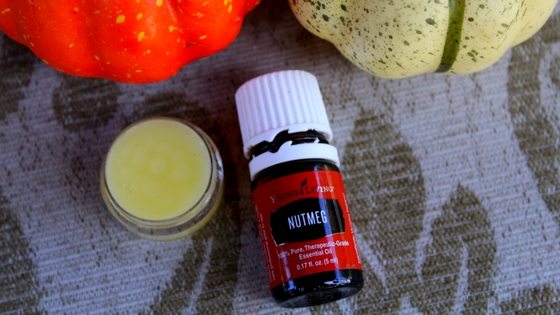 Making Pumpkin Spice Lip Balm
The oils you'll need for your lip balm are:
2 drops Clove

4 drops Nutmeg

2 drops Ginger
You can get these essential oils here: https://thefrugalchicken.com/YL
Other ingredients you'll need:
2 tablespoons olive, avocado, or grapeseed oil (THIS is the oil I use)
1 teaspoon beeswax pastilles (I like this brand)
Lip balm tubes like these or lip balm pots like these
Funnel like this one to make filling the tubes or pots easier.
I use both pots & tubes when I make lip balm. The pots are a bit easier to fill when the mixture is melted, but the tubes are easier for application. Both work well, so choose the best one for you.
Directions
In a mason jar, combine the oil and beeswax.
Make a double boiler by placing the mason jar in a pot of water. Heat until the beeswax is melted, stirring occasionally so the ingredients mix well.
Once melted, remove from heat & add the essential oils. Stir a couple times to evenly distribute the oils.
Next, use a funnel to pour the mixture into tubes or other lip balm container. Allow to cool undisturbed. When cool, cap the containers & use as needed.
Maat van Uitert is a backyard chicken and sustainable living expert. She is also the author of Chickens: Naturally Raising A Sustainable Flock, which was a best seller in it's Amazon category. Maat has been featured on NBC, CBS, AOL Finance, Community Chickens, the Huffington Post, Chickens magazine, Backyard Poultry, and Countryside Magazine. She lives on her farm in Southeast Missouri with her husband, two children, and about a million chickens and ducks. You can follow Maat on Facebook here and Instagram here.