Table of Contents (Quickly Jump To Information)
I'm so excited about this week's treat for backyard chickens because it contains one of my favorite superfoods: BEE POLLEN!
Yep, you can feed bee pollen to chickens, and as I discuss below, it's very healthy for your hens.
One of my favorite ways to share this treat with my hens is by offering it in the spring, when my flock starts to consistently lay again.
The ground is muddy (yuck), which means the amount of parasites and bad bacteria that flourish in wet environments SKYROCKETS.
As your chickens hunt and peck (and poop), they're going to naturally pick up parasites. (They need to invent chicken shoes.)
It's gross, and even grosser when you look at it under a microscope.
Who wants a mouthful of eggs teeming with salmonella and who knows what? Not me!
That's why I included bee pollen in this week's treat for backyard chickens. You'll be surprised how healthy it is!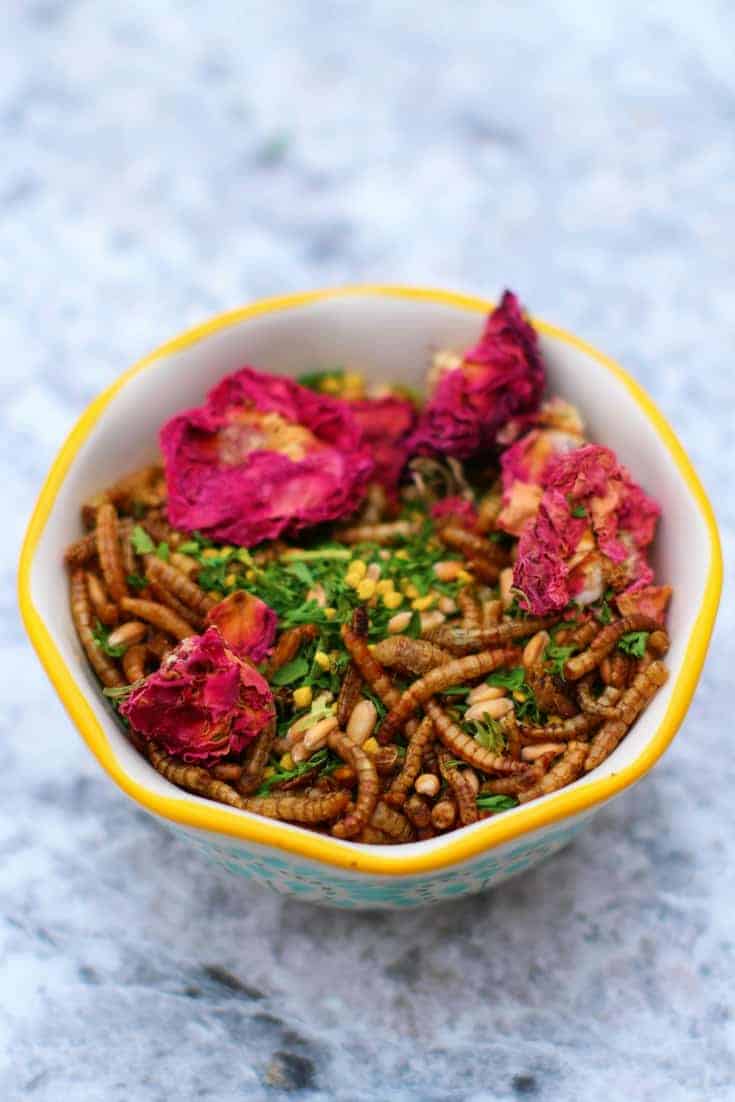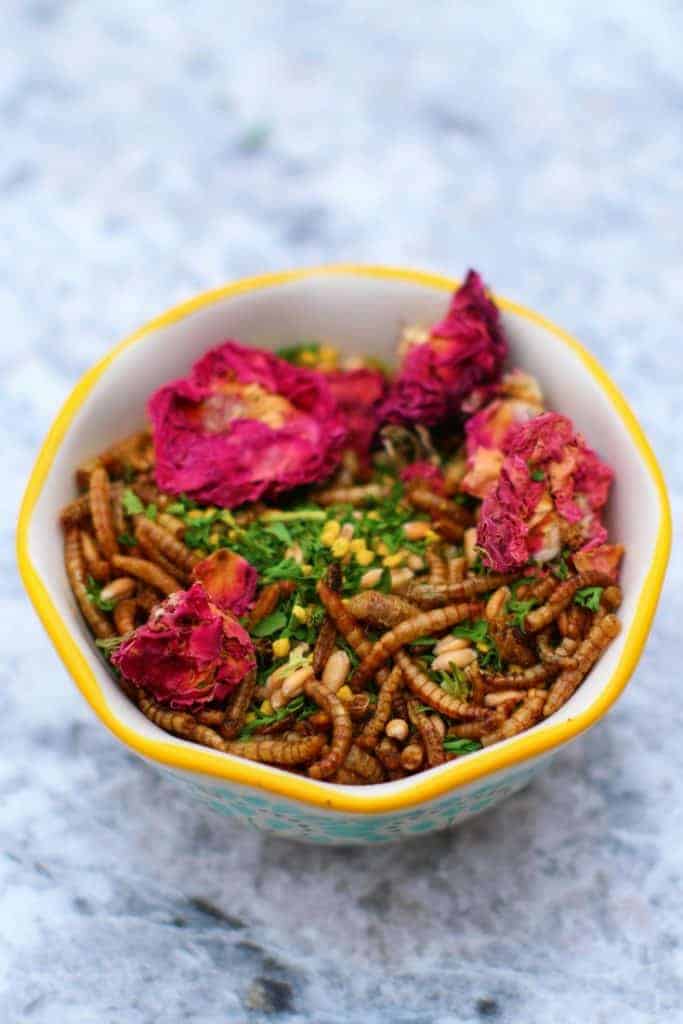 Bee Pollen for Backyard Chickens
We're just starting to recognize the health benefits of bee pollen for humans, but believe it or not, it's been pretty well studied for chickens.
In case you didn't know, bee pollen is one of those "superfoods" that contains not just a ton of vitamins and minerals, but also more protein than meat!
Multiple studies have been done to examine the health impacts of feeding bee pollen to chickens.
And the results are pretty interesting (if you want to fast version: it's really healthy.)
As a feed additive, bee pollen shows signs of being a powerful way to prevent parasites and bad bacteria while increasing the overall health of the chicken.
In one study, chickens fed 35 grams of bee pollen per 1 kilo of feed showed more beneficial bacteria in their guts – which means a healthier bird overall.
This same study also showed that bee pollen reduced the amount of bad bacteria – meaning that bee pollen showed antibacterial properties.
In particular, bee pollen was shown to reduce the amount of K. oxytoca, a bacterium that can cause sepsis and colitis in people.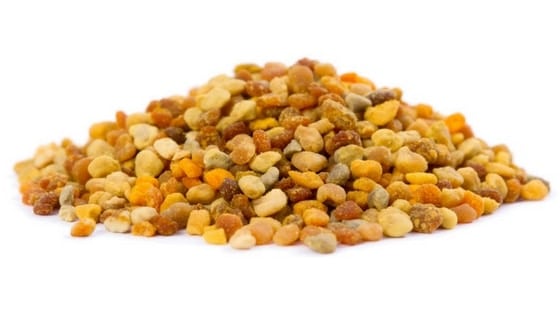 Multiple studies have shown that chickens with higher amounts of beneficial bacteria not only GREW better (because they weren't battling bad bacteria like campylobacter as much) but LAID healthier eggs (because the eggs were less likely to be transmitters of bad bacteria like salmonella).
In another study, bee pollen was shown to increase the length of villi in the digestive tracts of chickens.
In case you didn't know, the villi in digestive tracts allow people and animals to absorb nutrients as we digest.
So, longer villi have more surface area, which can mean it's easier for your chicken to absorb nutrients – which means she'll be healthier.
It's a small difference, but a crucial one.
It helps that chickens LOVE to peck at the tiny bits of bee pollen!
Peppermint, Rose, and Parsley, Oh My!
I've also included peppermint in this treat for a similar reason: Peppermint has strong antibacterial qualities while also helping to settle tummies.
Rose, as well, is known for it's soothing and skin-healing properties (that's why you see it in so many lotions for people).
My chickens particularly love rose because it's red — for some reason, red is a popular color with hens!
Parsley is one of my favorite "hidden gems" — it's a humble herb we've relegated to garnish status, but it's full of vitamins!
So, as your hens enjoy eating the bee pollen, they'll also get lots of extra nutrients from the parsley.
Don't Forget The Mealworms!
And, of course, mealworms! You might find that your hens go for the mealworms first, but rest assured, they'll finish off the rest of the ingredients as well!
If you're ready to make this treat, then grab the recipe below!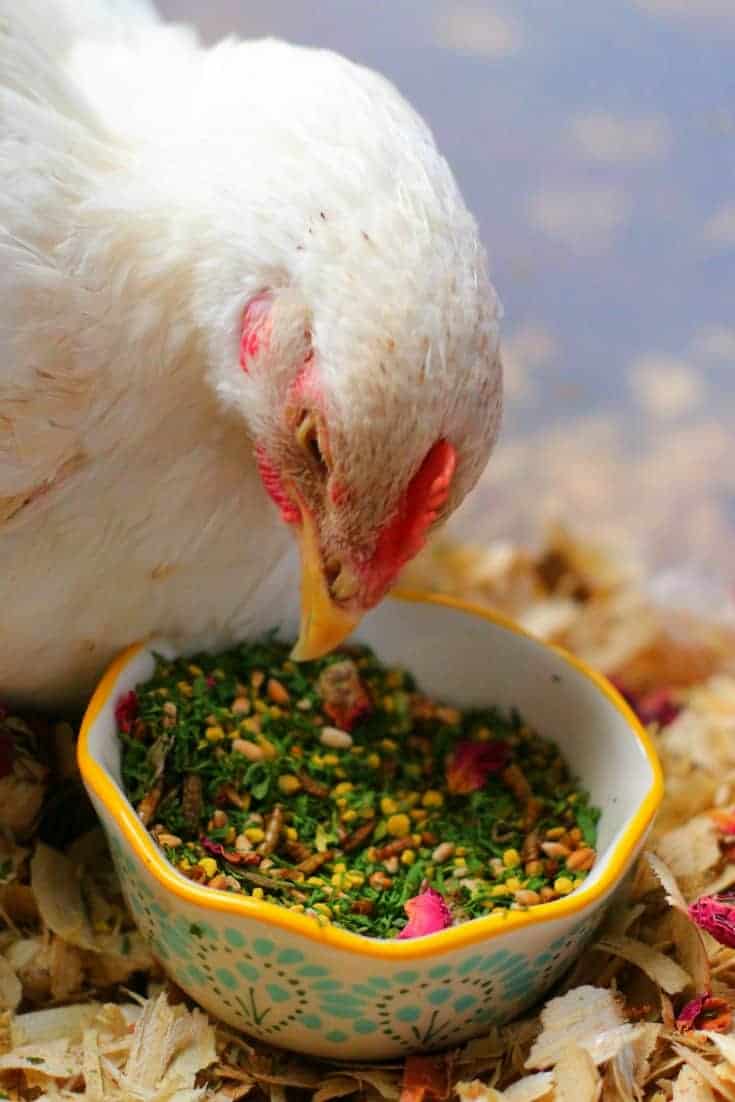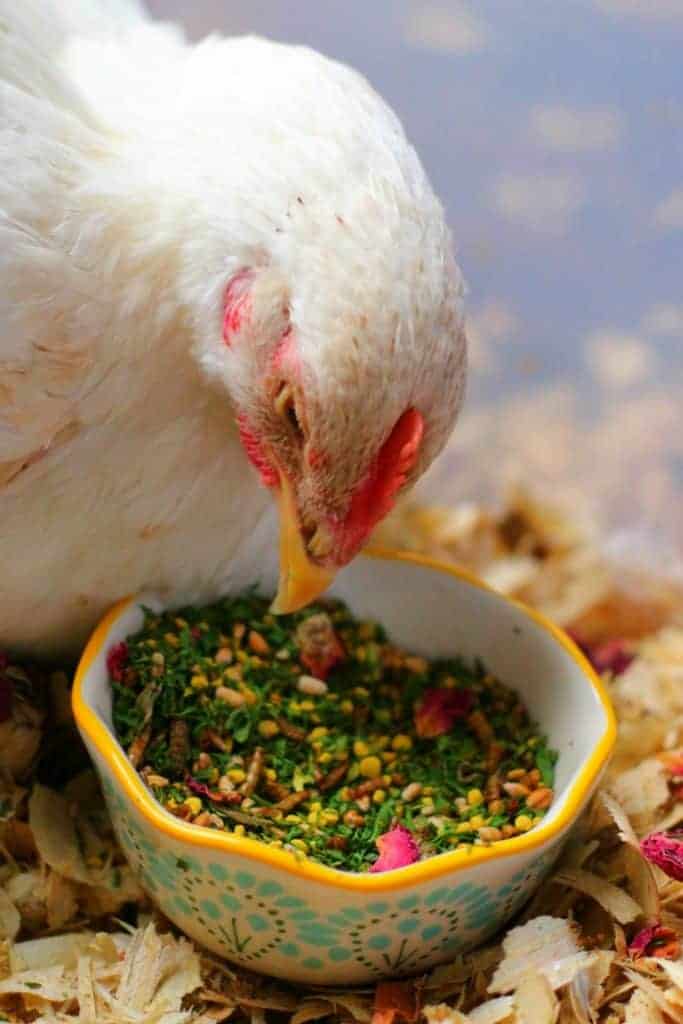 Bee Healthy Backyard Chicken Treat
Ingredients (per chicken):
½ tsp Bee pollen (buy in the store here)
1 tablespoon Peppermint (buy in the store here)
1 tablespoon Parsley (buy in the store here)
¼ cup Mealworms (buy in the store here)
1 tablespoon Rose buds (buy in the store here)
¼ cup Non-GMO Wheat Berries (buy in the store here)
Directions:
Combine ingredients in a bowl and offer immediately. Serve as part of a complete diet alongside grit.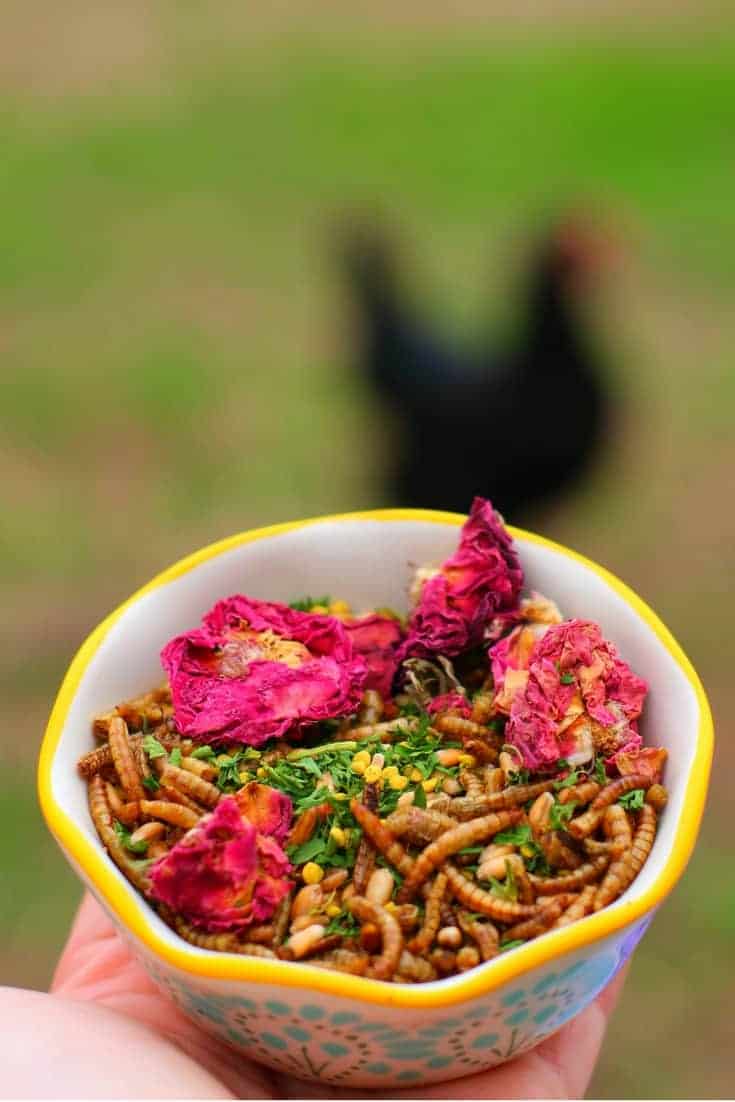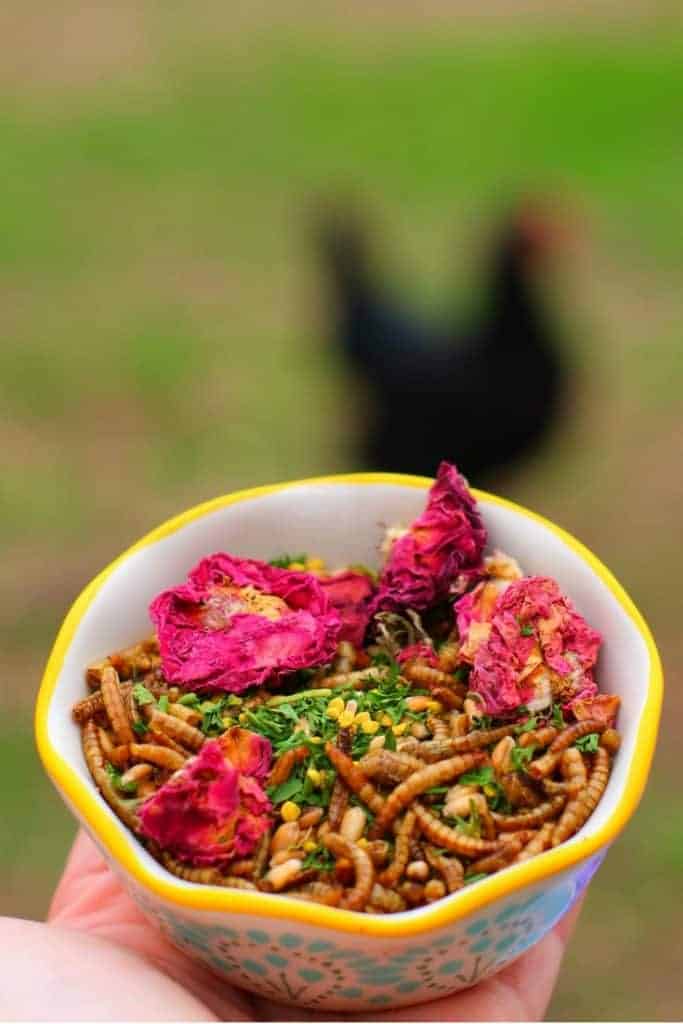 Maat van Uitert is a backyard chicken and sustainable living expert. She is also the author of Chickens: Naturally Raising A Sustainable Flock, which was a best seller in it's Amazon category. Maat has been featured on NBC, CBS, AOL Finance, Community Chickens, the Huffington Post, Chickens magazine, Backyard Poultry, and Countryside Magazine. She lives on her farm in Southeast Missouri with her husband, two children, and about a million chickens and ducks. You can follow Maat on Facebook here and Instagram here.