It's summer, so let's chat about essential oils you should never wear in the sun.
You're probably thinking "What? I thought oils were safe…." And they are. BUT like anything in life, you need to use them the right way.
I learned this lesson the hard way (luckily, I caught myself in time).
Certain oils contain furanocoumarins, which is a long scary word for a naturally-occurring chemical compound that some plants produce as part of their defense mechanism.
These essential oils have a chemical reaction to UV light which can potentially result in some pretty serious skin problems, including:
severe redness

darkening

swelling

blisters
The effects are uncomfortable, and can last for weeks: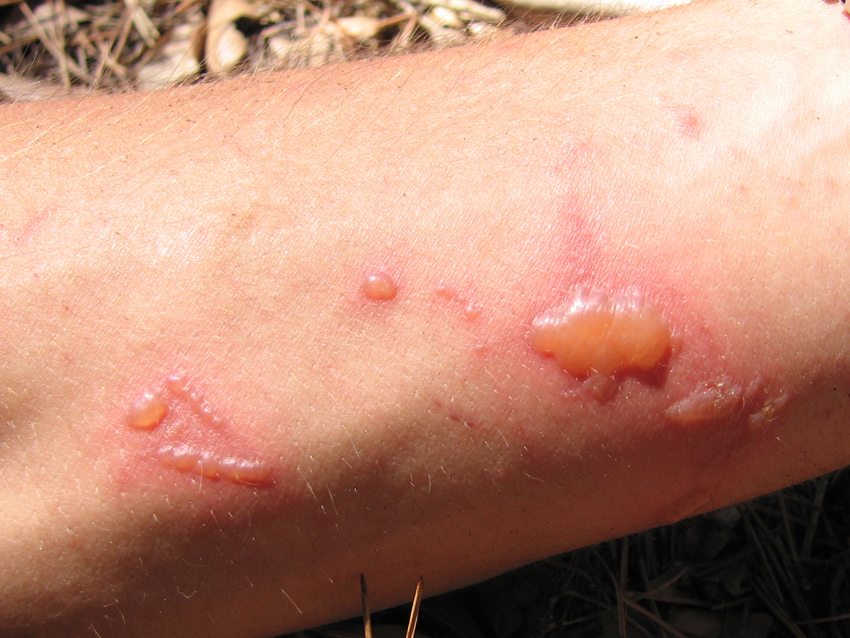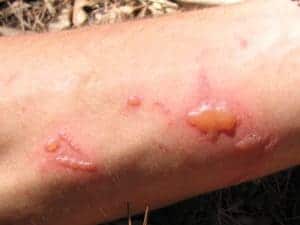 In this article, I'm going to show you which oils you shouldn't use before you head outside to work in your garden or care for your flock. I'll also show you how you can safely use them if you DO want to use them before going outside.
11 Essential Oils You Should Never Wear In The Sun
Before we get started with our list, sometimes some of these oils are ok to wear in the sun depending on how they were distilled (cold pressed, steam distilled, etc).
For the sake of simplicity, I'm not going to get into all that in this article. Just generally understanding which oils you shouldn't apply before going into the sun makes it easier to remember what's safe and what's not.
If you want to use any of the oils in the list below, just do it 12 hours before you go outside, or keep the area of application completely covered. It's simple enough to do.
Here's the list of oils you should avoid outside:
Bergamot

Orange

Lemon

Lime

Grapefruit

Kumquat

Cumin

Tangerine

Mandarin

Petitgrain

Rue

Lemongrass
So You Want To Use One Of These Essential Oils You Should Never Wear In The Sun…What Now?
I personally didn't follow my own advice one day (honestly, I used a blend and didn't read the label – whoops!) and walked outside to feed my rabbits.
After a few minutes I noticed my neck and throat were getting kind of hot….much hotter than they should have. That's a sign that phototoxicity was setting in – and it happened on my body after only just a few minutes. Not good!
I ran inside and checked the blend, and sure enough, orange was listed on the label.
To stay safe, after applying one or more of the oils listed above, you should stay out of the sun for at least 12 hours.
If you accidentally applied one of these oils, or really need or want to use one, and plan to go outside, just make sure you keep the area covered. Applying it to a place under your clothing is an option, and you can apply it to the bottom of your feet if they will remain covered.
If you're going to be outdoors without shoes, you're running the risk of feeling really, really hot, and possibly really uncomfortable. So, learn from my mistake!
Use your best judgement and stay safe. I want you with all your skin on.
Maat van Uitert is a backyard chicken and sustainable living expert. She is also the author of Chickens: Naturally Raising A Sustainable Flock, which was a best seller in it's Amazon category. Maat has been featured on NBC, CBS, AOL Finance, Community Chickens, the Huffington Post, Chickens magazine, Backyard Poultry, and Countryside Magazine. She lives on her farm in Southeast Missouri with her husband, two children, and about a million chickens and ducks. You can follow Maat on Facebook here and Instagram here.