So summer is coming up and I am ready for barbecuing! Bring on the BBQ!
Barbecue sauce is one of my favorite things! I'll eat BBQ sauce on anything! And there is absolutely nothing better than homemade BBQ sauce. It is seriously the best!
Our grill gets A LOT of use during the summer because I love grilling. My favorite foods are hamburgers, grilled chicken, and grilled salmon, so clearly our grill gets used pretty frequently all summer long. Personally, I don't think there's anything better than eating a delicious barbecued meal on a summer evening with family and friends.
Over the years I've found some pretty amazing BBQ sauce recipes that will blow you away! I love making homemade barbecue sauce because it tastes ten times better than buying it from the store. Check out these AMAZING homemade barbecue sauce recipes that will be a hit at your next summer party!
So Sweet Baby Ray's BBQ sauce is really good. But I prefer to make my own sauces so I know exactly what is going into my food. So I LOVE this amazing homemade BBQ sauce recipe that tastes EXACTLY like Sweet Baby Ray's BBQ sauce. Plus it only takes 10 minutes to make. Seriously I would just eat this sauce plain it's so good!
Ok, so sometimes my cupboards get a little bit bare. I just HATE going grocery shopping. Plus we live on a homestead so a trip to the grocery store isn't quite as easy as driving down the street to the local grocery store. So this 3 ingredient barbecue sauce is the perfect solution for when you are out of BBQ sauce and need some BBQ chicken wings. I'll admit that this situation has happened to me more than a couple of times and this recipe always comes in handy.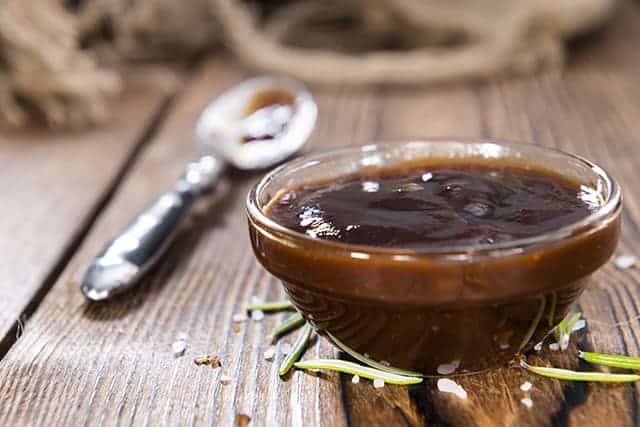 I'll admit it, I'm licking my chops just thinking about this recipe. It's THAT good. This recipe is a sure hit for the family too. It has just the right balance of tangy and sweet and it makes a perfect sauce for your next summer barbecue.
So I'm normally not a spicy food person. My husband is, but not me. I like to think of my taste buds as delicate (but I'm really just a wimp with spicy foods). But I'll eat this spicy smoky barbecue sauce on anything. This sauce is perfect for dipping your fried chicken in, or just eating it plain. I'm not judging. I would do it too.
So this barbecue sauce tastes like you just stepped into the bayou. It's SO good. And it's sugar free which is even better! I also love this Louisiana Cajun Style Baby Back Ribs recipe that goes great with this BBQ sauce.
So a golden BBQ sauce is a must have for every summer BBQ. I love that this recipe has the perfect sweet taste. This stuff is seriously SOOO good. And it goes perfectly with chicken nuggets. Just saying.
So this recipe is PERFECT for a chicken sandwich. I could eat a pulled chicken sandwich with this stuff EVERY DAY. It's so good. It has a nice fruity flavor because it has pineapple and oranges in it, and I love that this recipe has the perfect sweet taste.
This stuff is so good on burgers. Seriously. The only disadvantage of this recipe is if you made it your friends and family will make you bring it to every summer party. It's that good.

So I'll admit I was a little bit hesitant when are first saw this recipe for Dr Pepper BBQ sauce. I thought there was no way that it could be good (I'm a Coke fan myself) But you've got to give this recipe a try. It's sweet and delicious. Plus it's a nice change from a traditional BBQ sauce recipe.
So sometimes I just need some classic, sweet, honey BBQ sauce. It brings me back to barbecues at my grandma's house as a kid. And this recipe is perfect! It's easy to make and it tastes pretty great with some chicken nuggets. Your kids will eat this up!
I hope you enjoyed these homemade BBQ sauce recipes. I'm ready to go pull out my grill and try them all. Do you have a homemade BBQ sauce recipe that's to die for? I'd love to hear about it (and try it out!) Let's talk about barbecue sauce in the comments below!
Maat van Uitert is a backyard chicken and sustainable living expert. She is also the author of Chickens: Naturally Raising A Sustainable Flock, which was a best seller in it's Amazon category. Maat has been featured on NBC, CBS, AOL Finance, Community Chickens, the Huffington Post, Chickens magazine, Backyard Poultry, and Countryside Magazine. She lives on her farm in Southeast Missouri with her husband, two children, and about a million chickens and ducks. You can follow Maat on Facebook here and Instagram here.