The Runner duck breed is a super popular breed for many reasons. Practical, useful things you need to know about Runner ducks.
Admittedly, I am a critter lover. There's probably not an animal I wouldn't have if my hubby didn't rein me in from time to time. One animal I'd love to have is none other than a penguin. Yes, it's true. If I could set up an arctic barn and fill it with those adorable birds – you bet I would. Obviously, that is not reasonable and it will always be a crazy bird lady's dream. But what if I told you there is a respectable substitute in the duck world?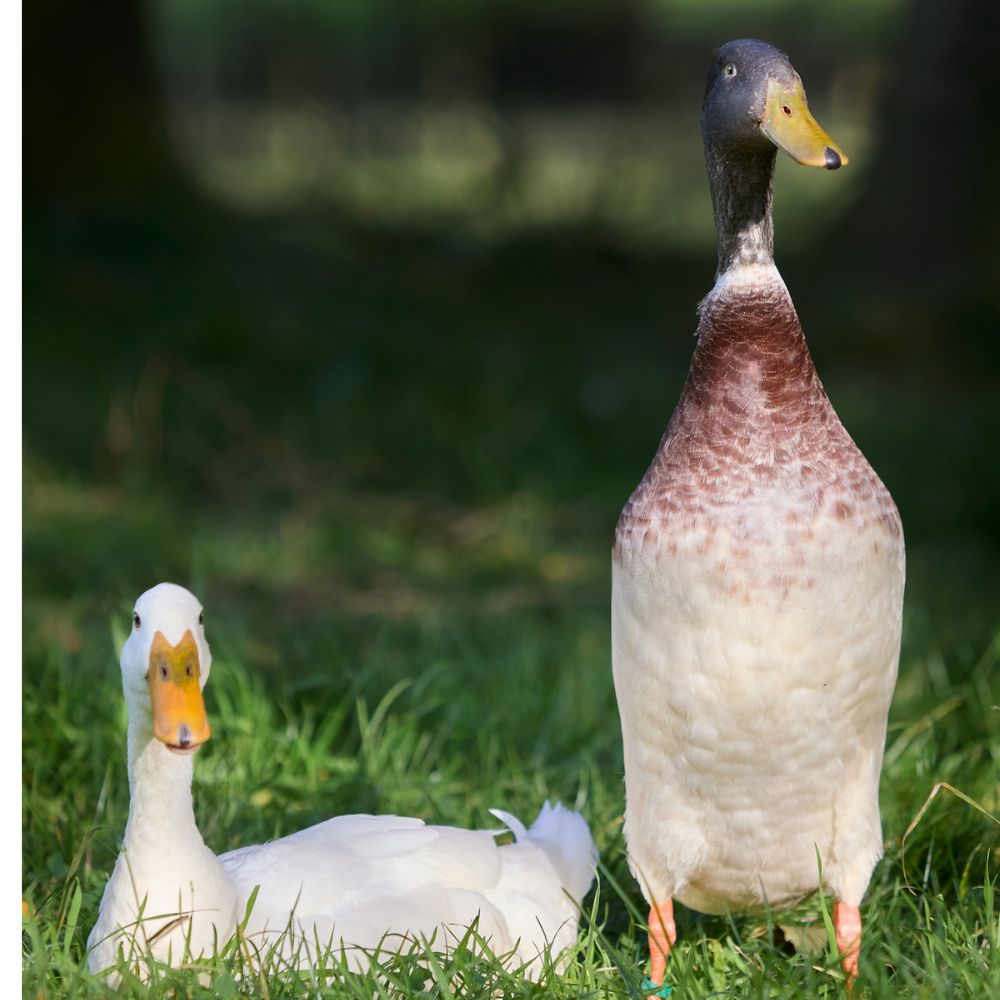 Table of Contents (Quickly Jump To Information)
INDIAN RUNNER DUCK BREED
I proudly introduce you to the Indian Runner duck breed. In addition to their irresistible appearance, there are so many interesting things about this unique duck breed.
Indian Runner ducks are known for resembling adorable penguins because of the way they stand upright, the placement of their feet, and their unique body shape. Not to mention they are super playful ducks that will be sure to keep you smiling.
INDIAN RUNNER DUCK HISTORY
These ducks originate from the East Indies. They've been around for at least a couple hundred years, some even think thousands based on ancient stone sculptures that resemble them. There are several theories about the history of these ducks, including whether or not they actually originate from India – but one thing for sure is that they have always been the most unique of all the breeds out there.
WHY ARE THEY CALLED RUNNER DUCKS?
The most surprising thing about these comical birds is that they don't waddle! Isn't saying that a duck doesn't waddle the same absurdity as saying a rooster doesn't crow? Nope, not in this case. The duck is aptly named Indian Runner precisely because they RUN instead of waddle. It's because of the placement of its legs that this duck is a one-of-a-kind runner. It's also the reason these ducks are just so entertaining to watch.
IS AN INDIAN RUNNER DUCK A GOOD PET?
Okay, okay…I've made the point that this non-waddling duck is adorable, but what about all the details you need to know if this breed of duck is for you? Just because the Indian Runner duck is unique doesn't mean it fits all your long desired duck needs. Let's dive in.
QUICK FACTS ABOUT INDIAN RUNNER DUCKS
Excellent egg layers
Life span 8 – 12 years
300 or more eggs a year
Do not need water to breed
Great foragers for pesky bugs
Independent
WHAT'S GOOD ABOUT INDIAN RUNNER DUCKS?
INDIAN RUNNER DUCK EGG PRODUCTION
Want an omelet? How about a yummy custard cake? Yes, please! In that case, an Indian Runner duck might just be for you. The Indian Runner duck is sure to produce at least 300 or more eggs per year. And they lay jumbo-sized eggs, so factor that into your egg calculations.
AT WHAT AGE DO INDIAN RUNNER DUCKS LAY EGGS?
They can start as early as 4 months old but typically start at about 6 or 7 months old.
WHAT DO THEIR EGGS TASTE LIKE?
You may be a little scared to eat a duck egg if you've never been exposed to such a thing. Many of us are used to the "normal" things we see in a typical grocery store and that's what we are comfortable with. Eggs are no exception.
I remember the first time I tried a duck egg. You would have thought I was asked to try boiled possum meat. I knew I already had a preconceived idea that I wouldn't like duck eggs, so I had my daughter fry up a chicken egg and a duck egg without me knowing which was which. Can you guess what happened? Yup! I very timidly tasted each egg with fear and trembling. But, I lived to tell the story and it was completely uneventful. I couldn't tell the difference between the eggs.
You would be hard pressed to tell the difference between duck eggs and chicken eggs when it comes to taste. They are usually larger and some people claim they have a stronger flavor and seem more creamy. Unless you are a french baking connoisseur, I doubt you'd notice a difference.
INDIAN RUNNER DUCK EGG COLOR?
Something pretty cool about Indian Runner duck eggs is that they range from white to blueish green. Because their eggs can be colored, they are a kid favorite.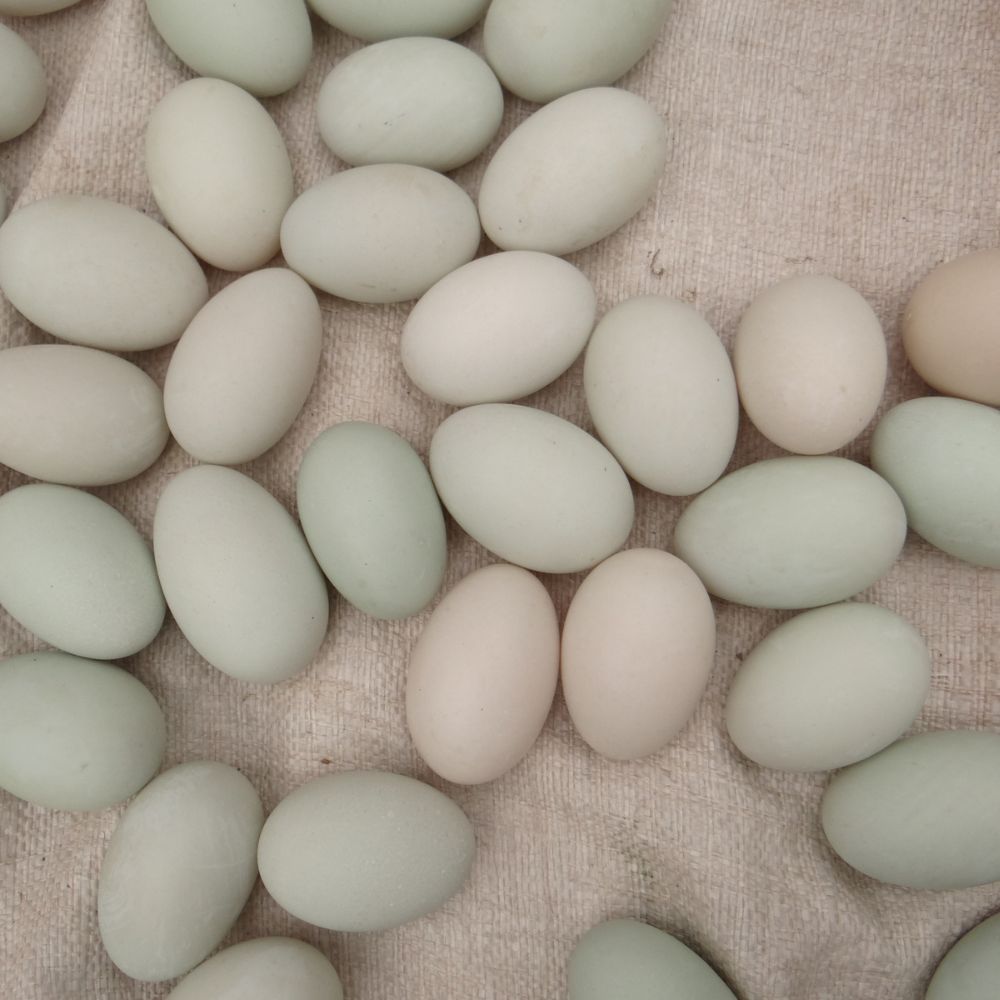 ARE DUCKS EGGS NUTRITIOUS?
When a nutritional analysis is done, there isn't a ton of difference between duck eggs and chicken eggs. The most notable difference is that duck eggs appear to have a lot more vitamin B12. That's a win in my book. Probably the coolest thing about duck eggs is that many folks who are allergic to chicken eggs can tolerate duck eggs. This has to do with the protein makeup of the duck egg. We wrote an article on the nutrition of duck eggs here.
INDIAN RUNNER DUCK MEAT PRODUCTION
Although Indian Runner ducks are great for laying lots of yummy eggs, they are more of a lightweight when it comes to meat. I've never personally tried Indian Runner duck meat, but the word on the street is that it's a tasty little bird if you like the flavor of wild ducks. The keyword being little. Their body build is the culprit, they only provide about a two-person serving per bird. The fact that they are not a meat bird isn't the end of the world if you are looking for a high egg producer, but it's something you might find important to consider if you are wanting a dual purpose bird.
ARE INDIAN RUNNER DUCKS BROODY?
First, I have a story. I have a bird that is absolutely driving me batty because she is broody. She MUST sit on the eggs. She's angry every time I take her eggs. And don't for one minute that I can simply reach under her and steal her precious gems.
I have to gear up with gloves and a stick, hold my breath, cringe, and do business. Then I find myself feeling guilty for interfering with her dreams of being a mother hen. Oh, the guilt!
But…Indian Runner ducks are not the broodiest of ducks. That's a good thing if you are stingy (like me) and want to use ALL of their eggs for your own purposes – such as eating, selling, incubating, and so on. And you won't have to gear up and fight the battle. However, if you are dreaming of letting your pet duck be a mother by hatching her own eggs and watching a train of little running ducklings, then Indian Runners won't be your thing.
ARE INDIAN RUNNER DUCKS GOOD AT PEST CONTROL?
Mosquitoes, slugs, grubs, and beetles – oh my! There never seems to be a shortage of pests around my little farmstead. I don't have any bug free friends either, so I'd place my bets on you having the same lot in life.
Indian Runner ducks are excellent foragers for insects of all kinds, but especially the pests we despise. And hey, if I can have a pet that provides my breakfast, is incredibly entertaining to watch, AND they do an important pest control job, then I'm in. I love farm animals with a purpose, and that's a requirement for my husband. Not to mention, you can save money on harmful pesticides and protect your health while you're at it.
A friend of mine spent all kinds of money, time, and effort searching out all the ways to rid her garden of slugs. She made many of the well known homemade slug traps and repellents, she bought off the shelf remedies, and she even tried praying those slimy little party poopers away – all to no avail. Little did she know that she could have reduced her problem with an adorable Indian Runner duck. There are some other things that can help in conjunction with duck duty, check it out.
WHAT ARE SOME OF THE PESTS AND INSECTS THAT INDIAN RUNNER DUCKS LIKE TO EAT?
Slugs
Beetles
Grasshoppers
Snails
Grubs
Mosquitos
Worms
ARE INDIAN RUNNER DUCKS NOISY?
We all know Old MacDonald had a farm…with a quack, quack here and a quack, quack there. But all ducks are not alike in the noise department. Yes, Indian Runners do quack, the hens more than the drakes, and they can be vocal at times – but they are not nearly as noisy as call ducks. Runner ducks fall in more with Khaki Campbell ducks when it comes to noise. They will not make the list of the top noisiest ducks.
HOW MUCH SPACE DO INDIAN RUNNER DUCKS NEED?
As for space, they need it! They are great for a free ranging situation and thrive with this freedom. They are not going to thrive in a tiny, little coop. These sweet ducks want to run and forage all of their waking moments. If you do coop them up, they need a good amount of space. They do not need roosting bars, but it's a good idea to have a place with about 4 to 6 square feet that they can call their own to bed down at night and (hopefully) lay their eggs in the same place every day. They can be trained to go into a duck house at night, but it's not natural for ducks (like it is for chickens).
DO INDIAN RUNNER DUCKS NEED A POND?
They enjoy swimming in a pond and they are graceful swimmers, but they don't have to have a pond. Some ducks pretty much need water in order to mate, but not Runner ducks.
ARE INDIAN RUNNER DUCKS MESSY?
All ducks are considered to be messy. However, if you let them free range and they have plenty of space, the mess is not a nuisance. If you plan on having a little pool for duck fun (instead of a pond) or if you plan on keeping them in a coop, the mess will be more apparent.
CAN INDIAN RUNNER DUCKS FLY?
They do not fly well because of the size of their wings, so they won't be flying the coop if you choose to keep them in a roomy coop. They do, of course, run a lot.
CAN INDIAN RUNNER DUCKS LIVE ALONE?
Indian Runners also like to run in groups or flocks, so I would recommend at least two. In fact, they run around together in unison like a well trained dance team. You can even herd them if needed. They can also be mixed with other types of ducks and fowl as well, even chickens.
WHAT DO INDIAN RUNNER DUCKS EAT?
They really love to forage for bugs and plants, and as long as they have enough room to forage properly, they may not even need supplemental feed except for winter time. When they do need feed, they can just eat regular chicken feed as they do not have any special food needs. Find some special treats to keep them extra healthy here.
WHAT KIND OF ILLNESSES ARE INDIAN RUNNER DUCKS PRONE TO?
This breed is a pretty hardy breed. They do not usually get sick, but they can be prone to worms. It's important to keep an eye on this and deworm them as needed. One of the most important things is to keep their living quarters fresh with clean bedding.
HOW DO I KNOW IF MY DUCK HAS PARASITES OR WORMS?
You can sometimes see worms in their poop, they might lay down more than usual or be completely off their feet (lame), drop in egg production, lose weight, or they may cough.
WHAT DO I DO IF MY DUCK HAS WORMS?
There are several medications out there that you can buy to treat your duck if it has worms. However, I prefer to use natural methods that are good for them and do not have bad side effects. A great remedy that is worth trying is WormBGone Nesting Herbs. Check out this article about chickens and worms, most (if not all) of the information is applicable to ducks as well.
INDIAN RUNNER DUCK PERSONALITY
This breed is friendly and docile for the most part. Their personalities are not aggressive or hostile. They are independent and great foragers. These ducks are also known for being birds of routine. They will likely run through the same self-made routine every day if you don't interfere. All these personality traits make them a fairly low maintenance duck to keep.
Indian Runners are really quite a hoot to watch as they run and rush around all over the place. I could honestly watch these ducks for hours at a time. Runners have a special enthusiasm for life, or so it seems. Their entertaining spirit is one of the most loveable things about them.
HOW DO I MAKE MY RUNNER DUCKS FRIENDLY?
They are friendly, but they can tend to be a little on the nervous or high-strung side – especially if they don't have a lot of consistent human interaction. They need love and attention on a regular basis or they could become skittish. They aren't necessarily a duck that will sit in your lap while you watch TV.
INDIAN RUNNER DUCK APPEARANCE
Colors, colors, and more colors. Fawn and white, gray, blue, black, chocolate, and many more. There is a big variety of colors to choose from. That's a fun fact about this particular breed.
They are the most unique duck in appearance because of their bone structure, their upright stance, their short wings, and their resemblance to penguins or bowling pins. They are often endearingly referred to as penguin ducks or bowling pin ducks.
Drakes, or males, usually weigh anywhere from about 3.5 pounds to 5 pounds. Hens, or females, weigh about 3 pounds to 4.5 pounds.
SHOULD I GET INDIAN RUNNER DUCKS?
Are these entertaining, penguin look-alikes for you? If you want a fun duck that runs, not waddles, provides a lot of eggs, that eats a bunch of pests, and is pretty independent – then you should run on over to your local hatchery and snatch up some of these cuties. This is the pet for you.
If you are craving Christmas duck meat for a big crowd, want a duck that snuggles in your lap, or simply want a duck that waddles (instead of runs) – then you might consider some of our other feathered friend breeds.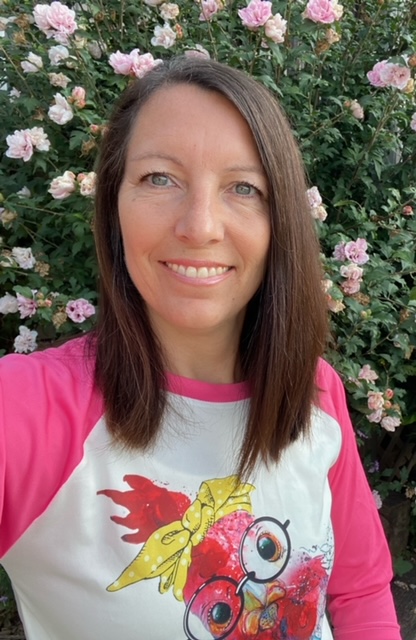 A happy wife, mother, teacher, writer, hobby farmer, lover of chickens, and contributor to Pampered Chicken Mama!