Thinking of living full time in an RV in winter? Learning how to keep a camper warm in the winter is easy!
I know many of you are pioneering winter travelers or committed to living full time in an RV in winter.
While I'm not a huge camper, ever since we got our cabin, I've been discovering all sorts of "off the beaten path" ways to stay warm without using conventional ideas like gas, oil, or electricity.
(Discover how we avoided propane and saved money this winter by installing a wood stove.)
If you own an older camper (or live in a cabin) and plan to be outdoors a lot in the colder months, then you're going to want to know how to keep a camper warm in the winter.
Here are some tips to keep your mobile home warm and cozy.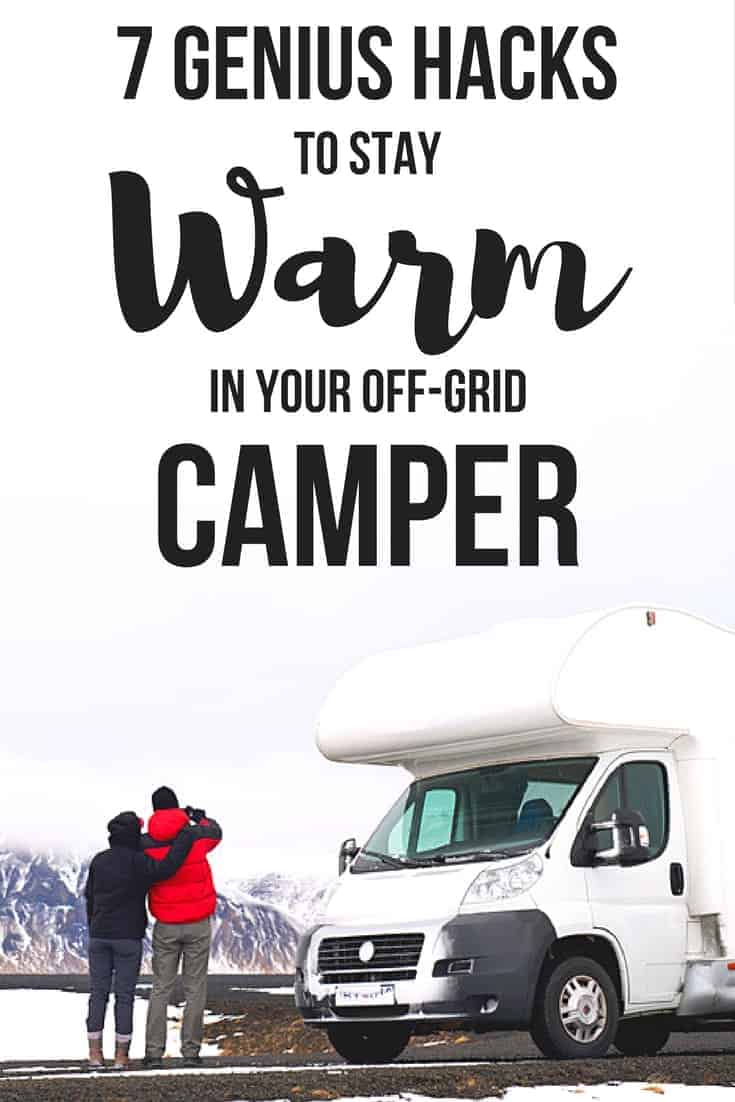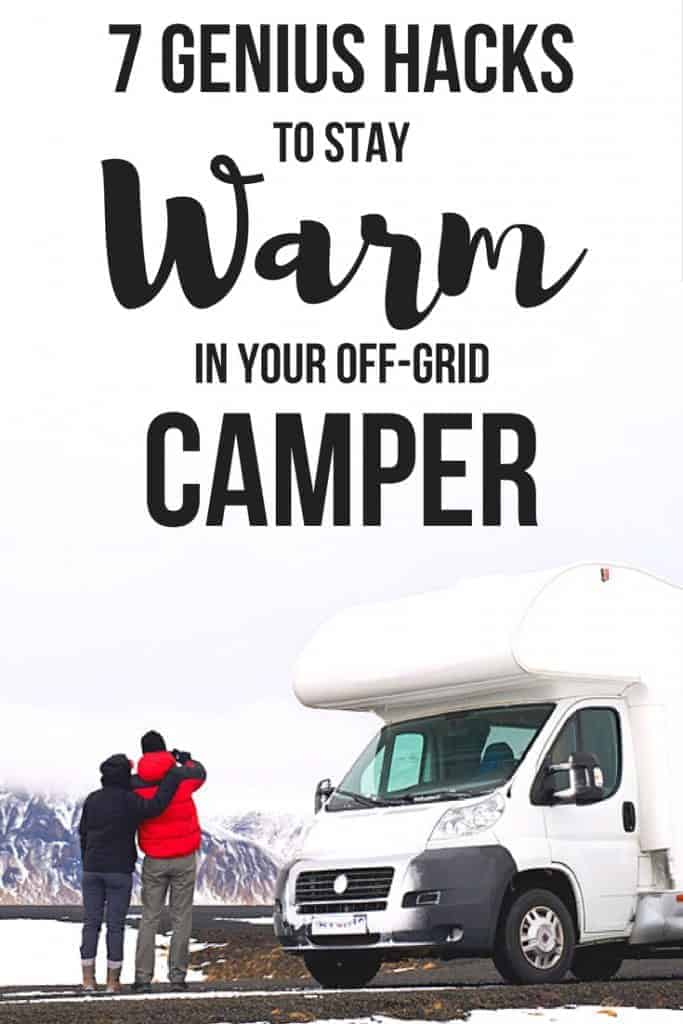 Insulate your camper
Although most campers have some sort of insulation, this can be effected by several factors such as make, model, and maintenance. (Yes, maintenance. If you don't do upkeep on your mobile home, you're pretty much SOL.)
As we all know, an ounce of prevention is worth a pound of cure, so do periodic checks for leaks around windows, doors, and anywhere with rubber seals.
Any ideas about how to keep a camper warm in the winter that we talk about in this article are useless if your RV is drafty and not well insulated.
Of course, extra insulation is essential in subzero temperatures. Nobody likes to be frozen when the North wind blows.
In addition to fixing any drafts, you can insulate the windows and doors of your camper with insulation panels like these. You can also use spray foam to fill in any gaps.
Insulate the roof, walls, and especially the floor with heavy blankets (see this article about how to stay warm in winter for additional ideas).
While this idea is very simple, it's also very effective, and will help keep any warmth inside the camper.
Also be sure to insulate your hot water pipes since, if you're cold, a warm bath can help you heat up. Use foam covers, (these have saved our butt many winters), spray foam, or even old clothes (this is one we use a lot, and a good use of ripped and old clothing you'd otherwise throw away).
How to keep a camper warm in the winter off grid
So, on to how to keep a camper warm in the winter if your heating system sucks.
Ask me how I know these tips (hint: I refuse to use the central heat in our home because I think the cost of propane is highway robbery. We use a wood stove instead).
Gas heaters are one option for a camper that's off grid and doesn't use electricity. Here's one option for propane heaters you can use indoors (just remember: you'll have to pay high prices for that propane AND you'll blow through it quickly.)
Electric heaters are another option. Your best bet, as far as electricity goes, is to get a solar generator, and plug an electric heater into it.
They're not cheap, but they're still affordable and because they use a renewable energy source, your camper can stay warm in the winter longer. You can buy a regular electric heater at any dollar store.
Pro Tip: Choose an energy-efficient electrical heater to avoid surges.
If a solar generator just isn't an option, you can buy adaptors to turn a cigarette lighter into an electrical socket and run the engine of your car. Check out one option here.
Bring the right items so you stay warm in the winter
Getting the right items to keep you warm throughout the winter nights is essential. After all, you can insulate your camper but still feel cold, especially if temperatures reach extremely low numbers in your area.
Here's my best tips for staying warm in winter without heat, and if you're cold, then one of the easiest ways to warm up is to walk around, weather permitting.
There's been many a morning where I've groused about the freezing weather only to quickly warm up when I started feeding our chickens.)
Learning how to keep a camper warm in the winter is easy as long as you make the right preparations.
Maat van Uitert is a backyard chicken and sustainable living expert. She is also the author of Chickens: Naturally Raising A Sustainable Flock, which was a best seller in it's Amazon category. Maat has been featured on NBC, CBS, AOL Finance, Community Chickens, the Huffington Post, Chickens magazine, Backyard Poultry, and Countryside Magazine. She lives on her farm in Southeast Missouri with her husband, two children, and about a million chickens and ducks. You can follow Maat on Facebook here and Instagram here.