Table of Contents (Quickly Jump To Information)
Hoss Tools Double Wheel Hoe is one of those items you need to have in your garden shed.
Trust me on this.
If you love to garden, want to start cultivating your own food source, or just want to make establishing a new vegetable bed easier, you will be able to do it with the Hoss Double Wheel Hoe, and do it faster.
If you're somebody who can't spend a lot of time outdoors for health reasons, or you haven't started a backyard garden because you're worried your health might limit you, then this cultivator is for you.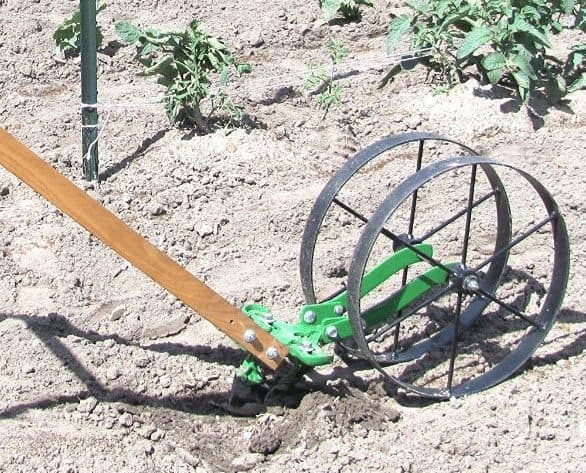 Hoss Tools sent me the double wheel hoe, as well as several attachments, including:
Cultivator Teeth

Plows

Oscillating Hoes
I was sent the Hoss Tools Double Wheel Hoe and attachments just in the nick of time.
This year, one of our goals is to grow more food for our livestock, in order to reduce our feed bill.
Wanting to plant corn, but not wanting to use a traditional hoe to dig up the ground and create beds, I was really, really excited to receive this tool to review.
What's even better?
Not only was I able to establish a bed for my corn, but I did it, literally, in a 10th of the time it normally would have taken me.
In this review, I'll cover the hoe itself, the cultivator attachment, and the plows. I'll continue my review with the oscillating hoes next week.
Product Description:
The Hoss Double Wheel Hoe is a hand-held gardening tool meant to make tasks such as cultivating ground, removing weeds, and creating garden beds easier.
The item consists of a double wheeled tool with handles so you can use it comfortably standing up.
The different attachments can be added or removed as needed.
The cultivator attachment allows you to dig up the ground to aerate it, create beds, or loosen the soil.
The plow attachment allows you to dig up the soil or create garden beds (for corn, for example).
When the package arrived, it came with detailed instructions about what was included and how to put it together, so we were able to assemble the hoe in a few minutes.
The Hoss Double Wheel Hoe is sold for $209. The cultivator teeth attachment (which includes 3 teeth) is $13. 99, and the plow attachment we received runs $39.99.
The Hoss Tools website (HossTools.com) sells replacement parts as well, should the need arise.
The Good:
I love this tool. Putting it together took just minutes, and the instructions were clear and detailed enough that even I could figure them out.
Creating a garden bed for my corn was so simple and fast compared to using a standard hoe.
It used to take me hours to dig up the ground to correctly aerate the soil and establish the bed.
We have a large garden, and now that we're increasing the amount that we're planting to better meet our livestock's needs, it's important that we are able to do it quickly and without a ton of effort.
Imagine trying to hoe a half acre by hand—it can be done, but if it can be done faster, so much the better!
The double wheel hoe was easy to use, and light—pushing it didn't take any effort, yet with the cultivator teeth, it created straight rows deep enough to plant large seeds such as corn.
In about 5 minutes, we had a decent size bed finished.
To store the Hoss Tools Double Wheel Hoe, we just placed it upright in our greenhouse.
Removing the cultivator teeth and adding the plow attachment was simple.
Although it's light, the double wheel hoe is sturdy, and the wheels are securely attached.
The handles are comfortable to hold, and made of smooth wood, so you won't get any splinters. If necessary, they would be easy to replace.
Using the tool to create a new bed for our corn was comfortable, and made a hard job much, much easier.
The Bad:
There really isn't any bad about the Hoss Tools Double Wheel Hoe.
The price is easily accessible, and since we were able to establish a new garden bed faster, which will save us money on animal feed, the price is well worth the investment.
If pressed, I would say that if you're a person of smaller stature, you might need to alter the handles to your height.
Otherwise, I think this is an overall incredible tool for anyone to have in their garden shed.
The Bottom Line:
The Hoss Tools Double Wheel Hoe is a good investment for any homestead.
You'll save time, energy, and likely yield a better crop because your bed will be prepared better.
I cannot recommend it enough!
You can buy the Hoss Double Wheel Hoe at HossTools.com or on Amazon by clicking here.
I'd like to hear from you!
Do you think you'll try the Hoss Tools Double Wheel Hoe? Why or why not? Leave a comment below!
Maat van Uitert is a backyard chicken and sustainable living expert. She is also the author of Chickens: Naturally Raising A Sustainable Flock, which was a best seller in it's Amazon category. Maat has been featured on NBC, CBS, AOL Finance, Community Chickens, the Huffington Post, Chickens magazine, Backyard Poultry, and Countryside Magazine. She lives on her farm in Southeast Missouri with her husband, two children, and about a million chickens and ducks. You can follow Maat on Facebook here and Instagram here.