Table of Contents (Quickly Jump To Information)
Nothing is worse than bug bites, except watching your kids be really, really unhappy! In this article, I'm going to show you how to make an all-natural, bug bite relief stick.
When things get a bit creepy crawly on your skin, you CAN grab a bottle of over-the-counter stuff….but you're taking your chances. We're trying to lead all-natural lives right?
There are all-natural options, and you can use essential oils to bring some bug bite relief to yourself and your little ones with a bug bite relief stick.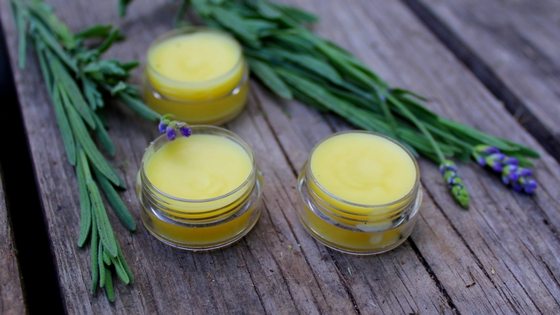 What essential oils will we use?
In our house, we rely on lavender essential oil for lots of things – including bug bite relief. It's soothing, promotes healthy skin, and smells good.
(The scent especially can provide relief to small children who might be unhappy because of their itchy bug bite.)
In this stick, we also will use melaleuca, which promotes healthy skin and has cleansing properties should any dirt or other nasties get into the bite (especially if your child has been scratching at it.)
Ingredients To Make Your Own All-Natural Homemade Bug Bite Relief Stick
1/2 oz pure beeswax pastilles, about 1 tablespoon (I use this brand)
4 oz carrier oil, about 3 tablespoons (such as olive, coconut, or almond oil)
20 drops lavender essential oil
10 drops melaleuca essential oil
Empty lip balm containers (I like these or these)
Directions To Make Your Own All-Natural Homemade Bug Bite Relief Stick
To make your bug bite relief stick, you want to melt the carrier oil and the beeswax together, then add the essential oils before everything cools and hardens.
The carrier oil works to make the mixture easily spreadable, while the beeswax gives it some structure. The essential oils do the job of helping your little ones with their bug bite.
To make the bug bite relief stick, combine the carrier oil and beeswax in a heatproof container, such as a mason jar.
Fill a small pot ½ way with water and place your mason jar with the carrier oil and beeswax in it, creating a double boiler. Heat the water slowly, until the beeswax is completely melted.
Stir gently to combine, and remove from the heat. Immediately add the essential oils, and stir gently to combine.
While the bug bite relief stick mixture is still completely melted, pour into the lip balm containers, and allow to cool until the mixture is completely solid.
Once cool, store and apply as needed. If the bug bite relief stick is too soft, you can melt it again and add more beeswax, or simply adjust this bug bite relief stick recipe when you make it again.
If desired, you can also add a few drops of peppermint to the mixture; it's cooling and some kids love it on their bug bites.
Roses and calendula, as well, promote healthy skin. One option is to infuse the carrier oil with rose or calendula petals for 2 weeks before making your homemade bug bite relief stick.
Maat van Uitert is a backyard chicken and sustainable living expert. She is also the author of Chickens: Naturally Raising A Sustainable Flock, which was a best seller in it's Amazon category. Maat has been featured on NBC, CBS, AOL Finance, Community Chickens, the Huffington Post, Chickens magazine, Backyard Poultry, and Countryside Magazine. She lives on her farm in Southeast Missouri with her husband, two children, and about a million chickens and ducks. You can follow Maat on Facebook here and Instagram here.