Ok, so I LOVE popsicles. They're the perfect treat for any hot summer day and they satisfy my sweet tooth.
As a kid popsicles were a huge part of summer time. After hours of playing outside, we would go get a popsicle to help us cool down after a full day of summer fun.
As much as I love popsicles, I'm not a huge fan of all of the ingredients that are in store bought popsicles. So I decided that I could make my own delicious popsicles from home! With just 4 simple ingredients that you probably already have at home, these yummy treats are sure to be a huge hit with the kiddos (and adults with love these too!)

So one of the first things that you will need is a good popsicle mold.
I use one like this one but there are also tons of really great options out there as well! I also love this popsicle mold because it's made of silicone which makes it SOOO much easier to get the popsicles out of the mold.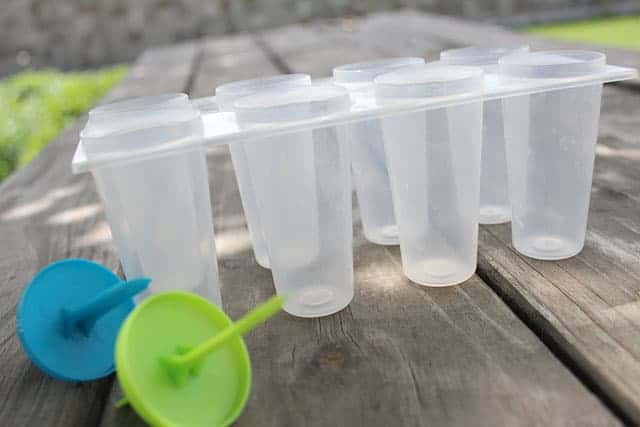 Don't have a popsicle mold on hand? No worries, you can also make one out of a plastic cup! Instead of pouring your popsicle mixture into a mold, you can just pour the mixture into a plastic cup!
After that you just cover the top of the cup with plastic wrap and poke a popsicle stick through the plastic wrap and into the cup. The plastic wrap keeps the popsicle stick in place, so that you can easily remove and eat your popsicle after it's frozen!
So let's get into this delicious recipe. Here's what you will need
½ cup of yogurt
¼ cup of berries
1 Tablespoon of honey
2-3 Tablespoons of milk (dairy, coconut, almond, it's really up to you!)
Popsicle mold of your choice
Since berries are starting to come into season in June in my area I decided to use berries for this recipe. I used a variety of berries including strawberries, raspberries, blackberries, and blueberries because I love the mixed berry taste!
You really can throw in as many berries as you want into this recipe. I just eyeballed about ¼ a cup (because I'm too lazy to measure things) but you can add more or less depending on how you want your popsicle to taste!
I didn't have fresh berries on hand, so I just used some frozen berries I had in the freezer, but you could definitely use fresh berries as well!
I used plain greek yogurt for this recipe, but you can just use whatever yogurt you happen to have around! I love using plain greek yogurt because there are no added sugars!
I also used about a tablespoon of raw honey for this recipe. Raw honey is my favorite because it tastes AMAZING and personally I think it's a great substitute for using processed sugar. It's also really great for your backyard chickens! Learn more about how to use honey for your chickens here.
Anyways, you can use the sugar substitute of your choice or you could just leave it out altogether! The natural sugar in the berries makes these popsicles really sweet on their own! (Honestly, I just have a crazy sweet tooth, so I add the honey to keep my sweet tooth under control)
I added the milk to this recipe at the last minute because I felt the mixture was a little bit too thick. So I just added enough milk to thin out the mixture enough to pour it into the popsicle molds (around 2-3 tablespoons). You could use regular dairy milk (I used whole milk) or you could also use coconut or almond milk!
After you have all of your ingredients all you need to do is combine them all in your blender. I blended it on medium for about a minute because I wanted there to still be chunks of the berries in the popsicles, but you can blend it for longer if you want smooth popsicles.
Then I just poured the mixture into the popsicle molds and put them in the freezer! I left them in for about 5 hours and they were perfect! This only made about 4 popsicles which the perfect amount for me, but you could easily double or triple this recipe if you want more!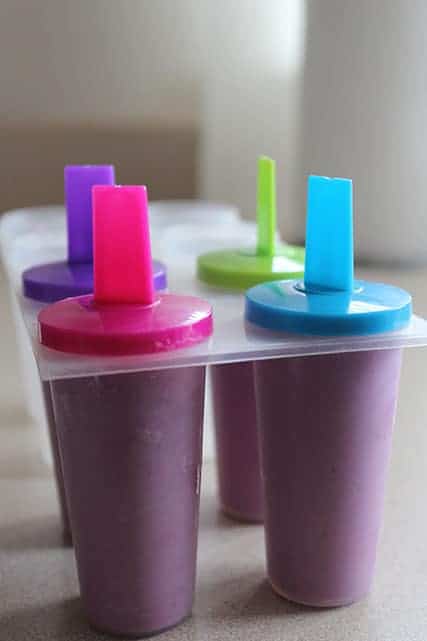 Sometimes, depending on your popsicle mold it can be a little bit hard to get the popsicles out once they're frozen. If you're struggling to get them out, run them under hot water for a couple of seconds. The popsicles will melt just enough so that you can get them out of the mold.
These popsicles are SOOO easy and make the perfect treat for any warm day! Do you have an amazing homemade popsicle recipe? I'd love to hear about it! Share it with me in the comments below!
Easy Homemade Berry Popsicles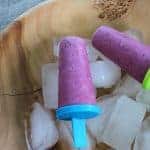 These delicious berry popsicles are a healthy snack for any hot summer day! And they only take about 5 minutes to make!
1/2 cup Plain Greek Yogurt
1/4 cup Fresh or Frozen Berries
1 tbsp honey
2-3 tbsp milk
Combine all 4 ingredients together in a blender

Blend on medium for 1 minute or until mixture is fully mixed together

Pour mixture into popsicle molds and put in freezer

Freeze for 5 hours and then enjoy!
Looking for more ways to stay cool this summer? Check out my article about 10 ridiculously easy ways you can stay cool this summer without power!
Maat van Uitert is a backyard chicken and sustainable living expert. She is also the author of Chickens: Naturally Raising A Sustainable Flock, which was a best seller in it's Amazon category. Maat has been featured on NBC, CBS, AOL Finance, Community Chickens, the Huffington Post, Chickens magazine, Backyard Poultry, and Countryside Magazine. She lives on her farm in Southeast Missouri with her husband, two children, and about a million chickens and ducks. You can follow Maat on Facebook here and Instagram here.