Popsicle are one of my absolute favorite snacks. They're perfect to help keep you cool on a warm day AND they taste amazing!
I'm always on the hunt for new homemade popsicle recipes because I'm not a fan of all of the ingredients that are in store bought popsicles.
One of my favorite popsicle recipes uses berries and I love the delicious fruity taste.
But today I was craving something that tasted a little bit more tropical. Maybe I'm just wishing I was on a warm sandy beach right now instead of at home typing away on my computer.
So I decided that I wanted to try and make some pineapple flavored popsicles. And they turned out AMAZING! So I decide to share the recipe with all of you!
This recipe only takes 2 ingredients!!! And I literally whipped it up in about 2 minutes.

Here's what you'll need:
½ cup of milk
1 can of sliced pineapple
Popsicle mold
You can use whatever type of milk you want for this recipe. I used regular whole milk, but I think almond or coconut milk would also taste AMAZING in this recipe.
I used canned pineapple (because cutting a fresh pineapple is a lot of work). I used the canned pineapple that comes in round slices, but you could use any type you have on hand. Whenever I get canned fruit I always make sure that there isn't added sugar and that the pineapple is canned in pineapple juice. Pineapple is sweet enough on its own so I don't think it needs added sugar.
You could add some honey or sugar to this recipe, but I decided to just leave it out. Honestly it tasted great without it because pineapple is so sweet by itself!
I just combined all of the ingredients into a blender. I only used about 5-6 slices of pineapple and I broke up the slices into smaller pieces to make it easier to blend. I also poured in a little bit of pineapple juice that was leftover in the can (probably about ¼ cup) to add some extra pineapple flavor.
Then I just blended it up until it was mixed together and poured it into my popsicle molds. My popsicle mold is similar to this one, and I really like it! It works great for me! Make sure you blend it really well otherwise your popsicles could be a little stringy.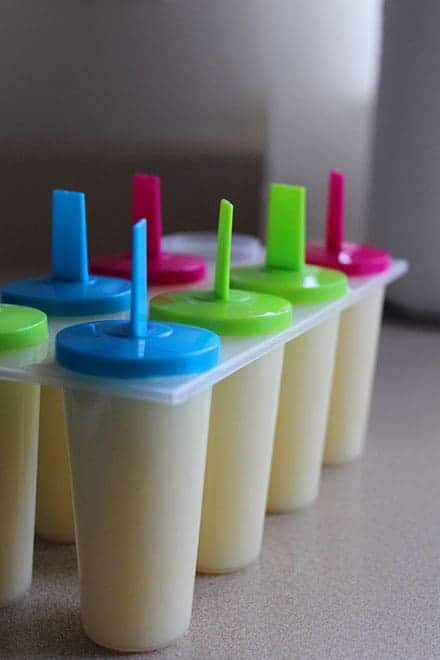 I left the popsicles in the freezer for about 5 hours and wallah! I had a delicious, tropical treat that made me feel like I was relaxing on a warm beach (even though I was really just hanging out in my kitchen)
With the leftover pineapple slices I also decided to make another popsicle! This one was even easier! I just put a popsicle stick through the pineapple slice, placed it on a small piece of tinfoil and stuck it in the freezer for 2 hours!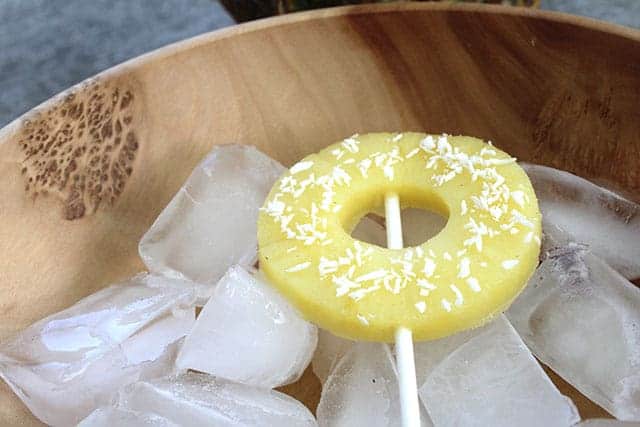 It was SOO good! And it took me about 30 seconds to do! I had one and it was so good I had to make another one! This time I sprinkled coconut over the top and it made it the perfect summer treat!
Easy Homemade Pineapple Popsicles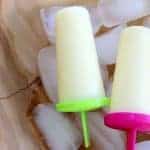 These easy pineapple popsicles only take about 5 minutes to make and taste like a tropical summer dream!
1/2 cup milk
1 can sliced pineapple
Combine milk and sliced pineapple (I used about 5-6 slices) into the blender

Add pineapple juice (from can) into blender (I used about 1/4 cup, but you can add as much or little as you want!)

Blend ingredients well and then pour mixture into popsicle molds

Freeze for 5 hours and then enjoy!
Do you have any homemade popsicle recipes? Share them with me in the comments below!
Maat van Uitert is a backyard chicken and sustainable living expert. She is also the author of Chickens: Naturally Raising A Sustainable Flock, which was a best seller in it's Amazon category. Maat has been featured on NBC, CBS, AOL Finance, Community Chickens, the Huffington Post, Chickens magazine, Backyard Poultry, and Countryside Magazine. She lives on her farm in Southeast Missouri with her husband, two children, and about a million chickens and ducks. You can follow Maat on Facebook here and Instagram here.