Table of Contents (Quickly Jump To Information)
So I LOVE pallets. They are so handy to have around and they are an inexpensive way to build things around the homestead!
I love creating DIY projects out of pallets. So I've compiled a list of my favorite pallet projects that are handy for any homestead!
Before I get into the list of projects keep it mind that it is very important that you make sure you are using pallets that are NOT treated with chemicals.
Back in the day many pallets were treated with a chemical called methyl bromide (MB) that is dangerous for humans and animals! Now pallets are no longer treated with this chemical, they are heat treated, but you want to make sure that you know how your pallet has been treated! Most pallets will have a stamp that will tell you how they were treated. Check out this blog post I wrote about how to tell if your pallets are safe to use.
So here are my favorite DIY pallet projects for your home and garden.
DIY Pallet Vertical Herb Garden
I love this Pallet Herb Garden! This project is so easy because you don't even need to take your pallet apart to create this project! Check out more detailed instructions here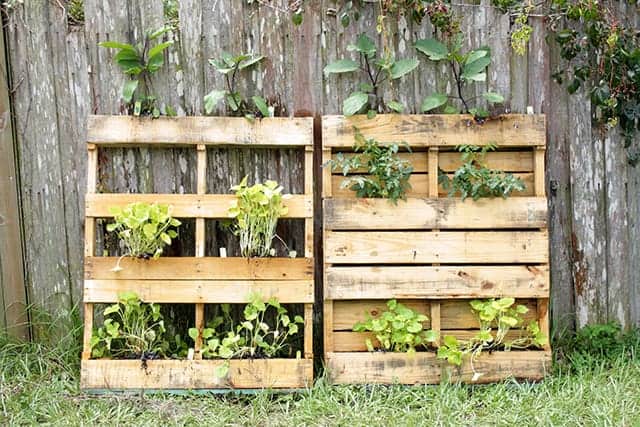 You can also build a barn out of pallets!
Garage Storage Space
I love this idea of using an old pallet to store all of your garden tools! There is no work required for this project! All you need to do is set up your pallet and stow your tools inside! Easy!
This project is amazing! I love that this shed is built out of pallets because buying a shed (or even buying the materials to build a shed) can be really expensive! This project is a great way for a homesteader who is just starting out to save some money!
Pallet Hanging Chair
My favorite thing during the summer is to take a nice break in the shade, relaxing and enjoying the outdoors. So I am definitely going to make this Pallet hanging chair this summer so I have a nice chair to relax in. All you need is one pallet and some paracord and you can create an amazing chair that you can relax in all summer long.
I love this cute pallet fence. It can be painted any color you want and it is a great way to create a closed in area for your chickens to roam.
This project creates a simple walkway out of pallets that adds a beautiful decoration to your yard! Plus it's pretty easy (Bonus!)
DIY pallet planter box
This planter box is a quick and easy project that you can create for free out of any pallets you have hanging around. I love using planters for herbs and they make a fun indoor or outdoor decoration.
Another DIY planter box
Ok so here's another one. I really love all of these planter box ideas and I can't choose which is my favorite! This one is a bigger planter box that is so cute and easy to make. Planter boxes are great for those who are just starting out gardening or have limited space so check out this awesome tutorial!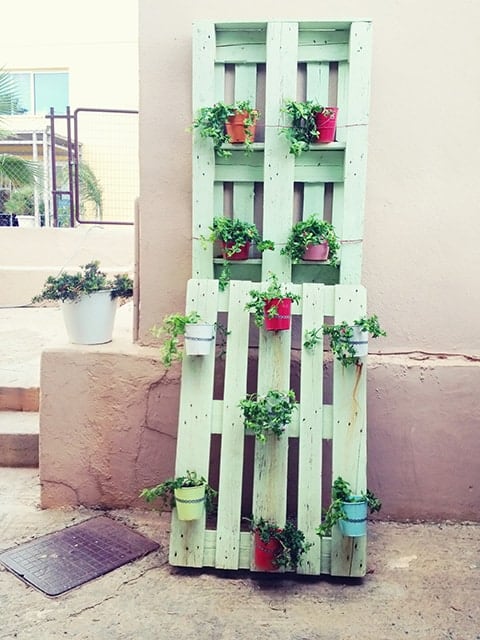 Pallet Shoe Rack
So as a mom I deal with finding my kids' and husband's shoes ALL OVER the place. So I love this simple DIY pallet shoe rack that you can place right next to your door so everyone's shoes end up in the same place! Check out the tutorial here
So here's another lifesaver project for all of my moms out there. This DIY pallet blanket ladder is a cute and easy way to store blankets! I love how easy this project is and how cheap it is to make! I've definitely seen ladders just like this online for about $100 so this DIY project is awesome!
This for all my dog lovers out there! This easy dog bed looks really nice and it creates a nice space for your furry friend! It'll work in summer AND help your dog stay warm all winter!
Ok so this is awesome! Some of my favorite memories are from sitting on a swing chair in my grandma's backyard when I was a kid. So this one was a little bit nostalgic for me! I'm definitely going to be trying this project out this summer!
So it's always the worst when you don't have any trees to hang your hammock from. So I love this DIY hammock stand! This project looks ten times nicer than any hammock stand I've seen in the store and it's practically free!
Pallet Bench
So I love this DIY Pallet bench! It's so simple and it helps create an amazing place to relax outdoors this summer.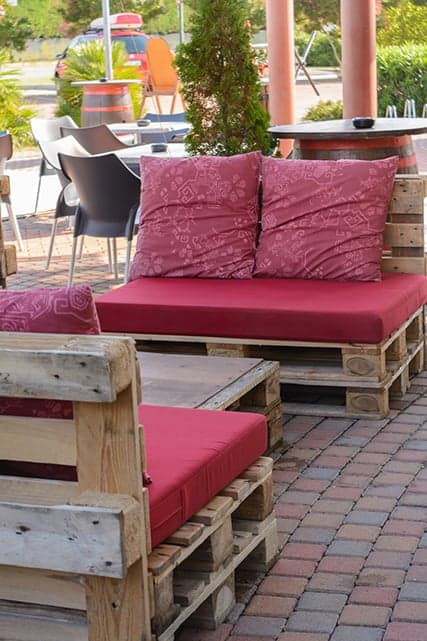 Pallet Adirondack Chairs
Ok, so I clearly love outdoor furniture. I love the outdoors and an adirondack chair is the perfect excuse to spent a little extra time outside this summer! Check out this awesome pallet wood adirondack chair tutorial!
Pallet Garden Tools Organizer
Ok, ok. So my shed is a little bit disorganized. It's a work in progress. But when you have so many awesome gardening tools it can get a little bit messy. That's why I love this DIY gardening tool organizer! It's a simple project, but there are so many ingenious ideas included in the plans! Check out the tutorial here!
Pallet Bookshelf
I love this pallet bookshelf idea! It's a simple project that looks amazing in any home!
So baby gates you get from the store just aren't that cute. But this DIY Pallet wood baby/pet gate is adorable! I love that it looks like a barn door and it only takes about 3 hours to make! Be sure that you triple check your pallet to be sure it is heat treated and not chemical treated for this project though!
Pallet wood coffee table
This pallet wood coffee table is pretty cool! I love the hairpin legs that give it a little bit of a modern touch! Check out the full tutorial here!
Pallet Pot Rack
Last but not least we have this amazing pallet pot rack! My pots and pans drawers can be a little bit disorganized sometimes (i.e. I normally have to grab something out and quickly shut the cabinet before everything falls out) So I love that this DIY pallet pot rack allows everything to be easily accessible and keeps things organized!
Are you going to use your spare time this summer to make some awesome pallet projects? Share your ideas with me in the comments below!
Maat van Uitert is a backyard chicken and sustainable living expert. She is also the author of Chickens: Naturally Raising A Sustainable Flock, which was a best seller in it's Amazon category. Maat has been featured on NBC, CBS, AOL Finance, Community Chickens, the Huffington Post, Chickens magazine, Backyard Poultry, and Countryside Magazine. She lives on her farm in Southeast Missouri with her husband, two children, and about a million chickens and ducks. You can follow Maat on Facebook here and Instagram here.