So I tend to go a little bit overboard with Christmas decorations every year.
I love Christmas, so I have to try and reign myself in every year when I want to decorate my house all out for the holidays. I've been looking at Christmas decorations on Pinterest all week (obviously) and I realized that I need to start decorating my chicken coop for the holidays! I think having holiday decor on the chicken coop might motivate me to leave my warm house to go check on my chickens. Or at least it would make a trip out to the coop more enjoyable right?
So today I thought I would share some of my absolute favorite DIY Christmas decorations for the chicken coop with all of you. Most of these DIY decorations you can make for cheap, or maybe even for free! So let's get going, here are my favorite DIY Holiday decorations for your chicken coop.
Pine Cone Wreath
Wouldn't one of these pine cone wreaths look fantastic on your chicken coop? If you have a pine tree in your backyard you could make this simple DIY wreath practically for free. You can find the tutorial here: Making Pine Cone Wreaths
Chicken Coop Garland
I love this adorable chicken coop garland for your hens made from fruit and chicken treats! Not only is this garland adorable, but it's also a great boredom buster for your hens during the winter months. You can find the tutorial here: Festive Garland for a Chicken Coop
Holiday Herb & Berry Wreath
I've made this adorable wreath for my chicken coop, and my chickens love it. It looks adorable, and yes your chickens are supposed to eat it! It's a great way to feed your chickens herbs in a fun and festive way! Tutorial here: Holiday Herb & Berry Wreath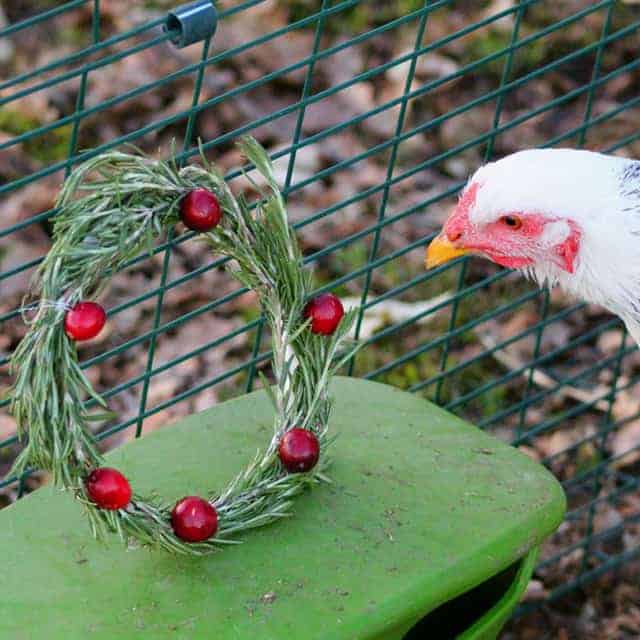 Hot Chocolate Bar
Ok, so this isn't exactly for your chicken coop, but after running out to the coop to check on my chickens in freezing weather, I definitely need some hot chocolate. So this DIY decoration is for the chicken owner:) I love the idea of creating an everyday hot chocolate bar because who doesn't want hot chocolate everyday? This DIY project is super simple and I love how fun and festive it would make a small corner of your kitchen feel. Tutorial: Everyday Hot Chocolate Bar
Feed Bag Stocking
Isn't this a great idea to use your leftover feed bags? You can make feed bag stockings to hang on your chicken coop for free using your empty chicken feed bags. Tutorial here: Feed Bag Stockings
Edible Christmas Garlands
Here's another fun Christmas garland idea for your chicken coop. This one is made from radishes, cranberries, Brussels sprouts, and boiled eggs! This probably wouldn't last long in my chicken coop, but it's a fun and simple Christmas decoration! You can find the tutorial here: Edible Christmas Garland
Cookie Tin Water Heater
This cookie tin water heater is festive and practical! It keeps your chickens' water from freezing! I love that this project is festive and useful at the same time! Here's the tutorial: Cookie Tin Water Heater
Festive Chicken Coop
Don't you love this coop? It looks STUNNING and it would be fairly simple to replicate! You can see more pictures of this adorable coop here: Holiday Chicken Coop
Do you decorate your chicken coop for the holidays? What chicken coop decorations do you love?
Maat van Uitert is a backyard chicken and sustainable living expert. She is also the author of Chickens: Naturally Raising A Sustainable Flock, which was a best seller in it's Amazon category. Maat has been featured on NBC, CBS, AOL Finance, Community Chickens, the Huffington Post, Chickens magazine, Backyard Poultry, and Countryside Magazine. She lives on her farm in Southeast Missouri with her husband, two children, and about a million chickens and ducks. You can follow Maat on Facebook here and Instagram here.