Ok, so I'll admit. I eat way too much chips and salsa.
It's one of my absolute favorite snacks and it's one of my favorite things about summer because there are tons of fresh fruits and vegetables around for me to make my favorite types of salsa! There are so many amazing salsa recipes out there, so today I wanted to share 5 of my favorite salsa recipes that you can use for your next summer barbecue!
Fruit salsa with cinnamon chips
So making my own cinnamon chips is a personal favorite. I LOVE them. And they taste amazing with any fruit salsa recipe! This recipe is simple and easy and will be an immediate hit with your kids.
Ingredients:
For the cinnamon chips:
3 white flour tortillas
½ cup sugar
1 ½ t cinnamon (more to taste)
For fruit salsa
1 cup strawberries (chopped)
½ cup raspberries (cut in halves)
½ cup blueberries (cut in half)
1 kiwi chopped
1 tablespoon of lemon juice (more to taste)
1 lime slice (to squeeze over salsa, lime juice would also work)
1 cup of fresh pineapple (or 1 can)
1 teaspoon brown sugar (optional)
1 cup grapes (cut in half)
To make the cinnamon chips:
Get 3 white flour tortillas and brush with melted butter. Cut tortilla into 8 chip shaped pieces. Mix cinnamon and sugar together in a small bowl and dip tortilla slices in the cinnamon sugar mixtures. Bake in the oven at 350 for 5-7 minutes or until tortilla slices are crispy
To make the salsa:
Chop all of the ingredients to the desired size. Combine fruit, lemon juice, and brown sugar together in a bowl and mix together. Squeeze lime slice over the top of salsa and gently mix together again. This salsa tastes best when you refrigerate the salsa for about 20 minutes before serving.
https://www.instagram.com/p/Bih8wpXBRzF/?tagged=cinnamonchips
Salsa Fresca
This recipe is so yummy! I love this recipe for summer because I can use all fresh ingredients that I buy at the farmers market
Ingredients:
2 med tomatoes (1 ½ cup once chopped) (I prefer to use roma tomatoes but you can use any type
1 jalapeno (seeded)
2 T lime juice (if you don't like lime you could substitute it with olive oil)
½ cup cilantro (finely chopped)
1 red onion (⅔ cup chopped)
1 garlic clove (diced)
Salt and pepper to taste
Cut all of the ingredients to the desired size. Don't think too hard about this, I just roughly cut everything to about the size I want. For this recipe I mix the cut onion and jalapeno in lime juice and let it sit for 5-10 minutes. The onion and jalapeno soak up the lime juice and it tastes so good! Then I mix all of the ingredients (including the leftover lime juice) in a bowl and refrigerate for 20 minutes.
Regular Tomato Salsa
Tomato salsa is classic and a must have for any summer barbecue. This recipe is quick and easy to make. One thing I love about salsa recipes is that you can adjust them based on how you like your salsa! If your family doesn't like onions, just take them out of the recipe! You really can create a custom salsa that you and your family will love!
Ingredients:
1 28 oz can whole tomatoes (with juice for thinner salsa, without for thicker salsa)
1/4 cup fresh cilantro , chopped (add more if you love the cilantro taste, I LOVE cilantro, but my family doesn't so I don't put as much in)
1/4 cup onion (chopped) I prefer red onions, but you can use any kind
1 clove garlic (minced)
1 1/2 jalapeño , chopped (add less for milder salsa, more for spicier) (if you want really mild salsa skip the jalapeno and just put in the bell pepper)
½ bell pepper chopped
1/2 teaspoon cumin
1/4 teaspoon salt (more to taste)
Lime (half), to squeeze into salsa or you can also use a tablespoon of lime juice if you don't have fresh limes
I cut all of the ingredients and then I put all of the ingredients for this salsa in my manual food processor (like this one) and turn the handle until it reaches the consistency that I like. I like my salsa to be a little bit thicker and chunkier, so I only turn the handle about 5 times. You can also use a food processor or a blender to mix your ingredients, just be careful not to blend it too much! Refrigerate before serving for the best taste!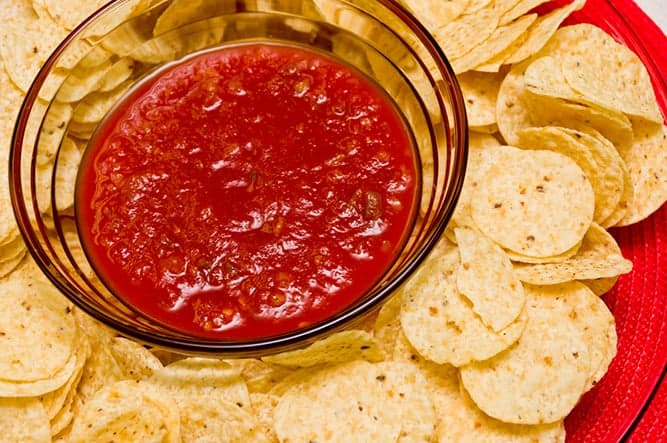 Pineapple Salsa
Ok, so if you can't tell I'm a huge fan of fruit salsa. This recipe tastes great with fresh pineapple (but you can use canned as well if you don't have any fresh pineapple around)
Ingredients:
1 cup of fresh pineapple (chop to desired size, I prefer mine smaller)
1 cup red bell pepper (or you can do ½ red pepper ½ green) finely chopped
1 can of black beans (you'll want to drain and rinse them, I cut them in half but you don't have to)
¼ cup red onion (finely chopped
1 jalapeno finely chopped
3 tablespoons of orange juice (or lime or lemon juice whichever you prefer-I like lime)
1 can (8 oz) of corn kernels (you could use fresh as well, just cook corn like you're make corn on the cob and then cut kernels off the cob)
½ t cumin
3 tablespoon of cilantro leaves(chop, into small pieces)
⅛-¼ teaspoon of salt and pepper (add to taste-I typically add ¼ of pepper and less salt)
2 roma tomatoes chopped into small pieces
Simply cut all of the ingredients to desired size and mix them together in a medium bowl. Let sit in fridge for 20-30 minutes and then serve!
Mango Salsa
Mango salsa is a personal favorite (who am I kidding though, really all salsa is my favorite). This recipe is great because it's really simple and it tastes amazing!
Ingredients:
3 ripe mangos (chopped, I prefer smaller pieces, but you can cut to desired size)
1 red bell pepper (finely chopped)
½ cup red onion (finely chopped)
1/3 cup fresh cilantro leaves (You can use more or less depending on how much you like cilantro (don't use stems! It's gross! Roughly cut leaves into as small of pieces as you can)
1 teaspoon of lemon juice (optional)
½ cup of chopped cucumber (you could also use zucchini)
1 jalapeño finely chopped
1 large lime, to juice (or 2 tablespoons of lime juice)
⅛ teaspoon salt (add more to taste)
½ cup cherry tomatoes (cut into ¼ or smaller, optional)
I cut all of the ingredients to desired size and mix them together in a small bowl. It will taste best if you allow it to sit in the fridge for 20 minutes before you serve it! What I love about this recipe is that it tastes great on top of grilled fish or it is really yummy with chips too!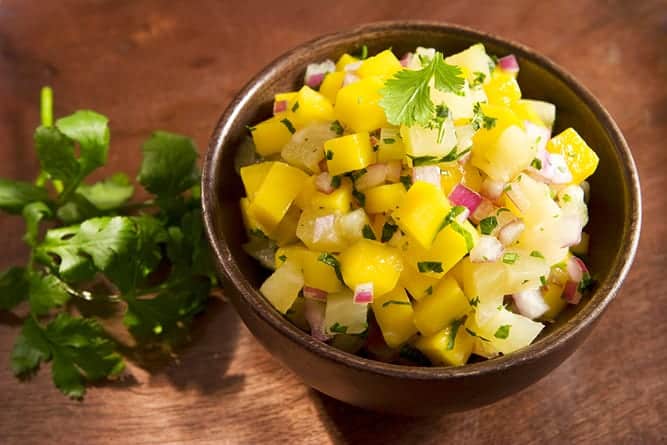 I love this stuff. It's so easy to make and I use to add yummy flavor to a ton of my meals.
1 can Best Choice canned tomatoes with green chilis
1/2 vidalia onion, diced
Enough cilantro to satisfy you, diced (I use scissors to cut my herbs and garlic, and sometimes frozen meat. Makes things easier)
Mix everything together, and eat with tortilla chips.
You can also put this in the crock pot with chicken for a good chicken dish. The broth from the chicken mixes with the pico, making it more complex. I add a little butter to that mixture to give it more body and make it richer. You can also add it to chicken/beef tortillas. It brightens up pretty any meal. Enjoy!
What is your favorite kind of salsa? Share it with me in the comments below!
Maat van Uitert is a backyard chicken and sustainable living expert. She is also the author of Chickens: Naturally Raising A Sustainable Flock, which was a best seller in it's Amazon category. Maat has been featured on NBC, CBS, AOL Finance, Community Chickens, the Huffington Post, Chickens magazine, Backyard Poultry, and Countryside Magazine. She lives on her farm in Southeast Missouri with her husband, two children, and about a million chickens and ducks. You can follow Maat on Facebook here and Instagram here.