So the Fourth of July is one of my favorite holidays! I love celebrating our country and I love all of the fun activities that happen leading up to the Fourth of July!
Sometimes it can be a little bit overwhelming to figure out what to do with your kids on holidays. When I was growing up my family and I would spend so much time trying to decide what we wanted to do that by the time we chose an activity, the day was almost over.
So I decided to create a list of fun activities that you can do with your kids this Fourth of July.
Make some Fourth of July Treats

I'll admit it. I love making holiday themed treats. And it's a great excuse for me to make my favorite treats, so mom can get a little snack.
I think making fun Fourth of July treats with the kids is a fun way to spend some time together and teach your kids more about cooking and baking! If you're making cupcakes with red, white, and blue icing (my personal favorite) I also recommend that you make your own food dye for your projects!
My personal favorite treat to make with kids is 4th of July ice cream sandwiches with sprinklers. This treat is easy and kids love it! All you need to do is get some red, white, and blue sprinklers and sprinkle them over your ice cream sandwich. Carefully push the sprinklers into the ice cream and then put them back in the freezer on a cookie tray for a couple minutes. I love how easy and festive this treat is!
Popsicles are my favorite, especially for hot summer days. So I love these homemade coconut berry popsicles. This recipe is super easy to make and your kids can help you add the berries into the popsicle mold!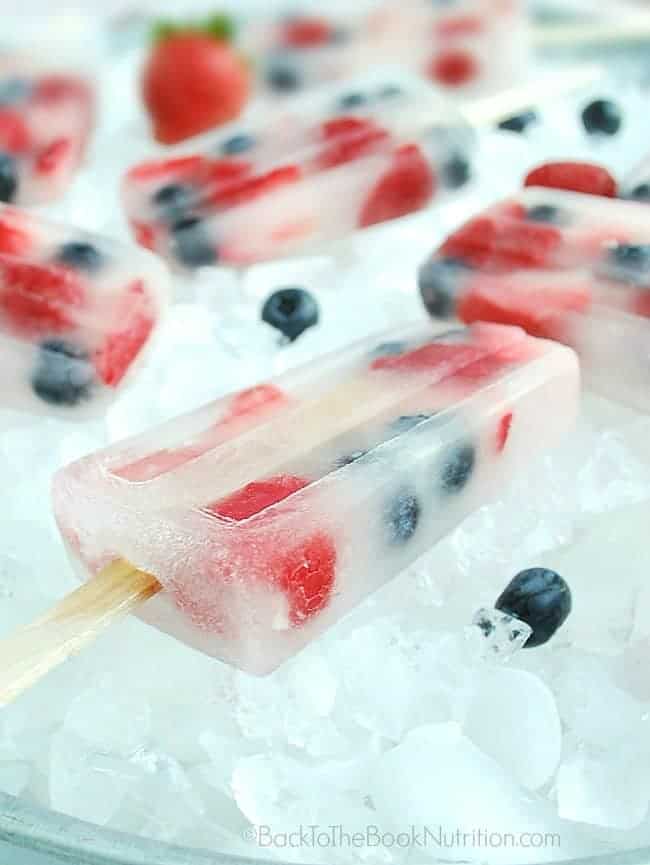 If you're going for a healthier option you can also make star shaped watermelon pops. For some reason every kid I know loves using cookie cutters. So this recipe will be a definite hit with the kids. All you need to do is slice a watermelon into large rounds. Then using a star shaped cookie cutter you can have your kids cut out star shapes. And you have an easy, fun, and healthy Fourth of July treat.
Do some DIY face paint
So getting your face painted at the fair was a classic activity as a kid. But it's actually kind of expensive sometimes. And honestly, sometimes I don't want to brave the hoards of people at the local fair just so I can get my kids' faces painted.
Doing face paint yourself isn't that difficult. Honestly, your kids will just be thrilled they got their faces painted. They probably won't notice or care that their face isn't a perfect masterpiece. Check out this awesome homemade face paint recipe that is non toxic! Or if you're not into making your own here's some great non toxic face paint you can buy!
Make Balloon Fireworks
Do you live in an area where fireworks are banned? Check out this awesome tutorial for making DIY Balloon Fireworks. Your kids will love them and they're cheap and easy to make!
Ok, so I love this idea. All you need is some shaving cream and food dye and your kids will be thrilled for hours. Keep in mind though this project could get pretty messy, so I would make sure you do it outside.
DIY Fourth of July Paper Lanterns
So I love these cute Fourth of July Paper Lanterns. They are really easy for kids to make (all you have to do is fold a piece of paper in half and makes cuts in it) and they are so cute! Your kids can help you make these fun decorations for your Fourth of July barbecue.
This idea is so fun! You get toilet paper rolls, wrap them in card stock, and then attach streamers to one end. Then your kids can blow through the toilet paper roll and fun ensues! These would be a great craft for your kids to take to a Fourth of July parade.
Go to a parade
So this one is a classic, but kids love parades! They get free candy and get to see beautiful floats!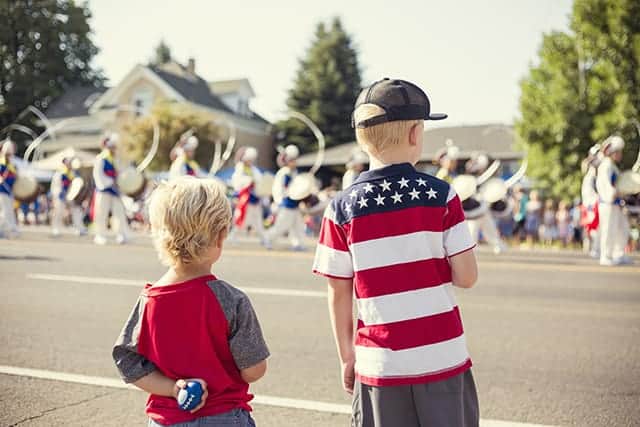 DIY Parade
So when I was a kid, there were definitely a couple of Fourth of Julys where my mom did not want to go out and deal with the thousands of people at the parade. So she would go to the store and buy taffy and throw it to us, so we got our parade thrill. Parenting win.
Chalk the walk
So if your looking for a simple, at home activity for you and the kids try doing a chalk the walk. Give each child some chalk and try to fill your entire driveway with chalk drawings!
Make a stock tank pool!
This is the good ol' redneck version of a home pool. I have an entire list of DIY stock tank pool plans and ideas that you can use to create a stock tank pool for you kids on the Fourth of July.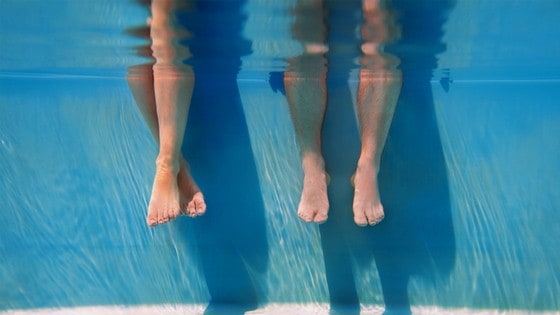 Water Balloon Dodgeball
There's nothing better than a water balloon fight on a hot summer day. Blow up a bunch of water balloons and have a water balloon fight! As a kid we would play a game where you divided up into teams of two and each held one end of a towel. You then had to throw the water balloon back and forth between teams and try to catch it in your towel without it popping! It was a fun (and wet) activity that was perfect for the Fourth of July. Check out these water balloon fillers that will make filling hundreds of water balloons up a breeze.
Watch an outdoor movie
I love this idea! All you need is a white sheet and a projector and you can watch a movie outside! We have a fence in our backyard that we drape the sheet over, but you could also tape it to the side of your house! Check out this great projector that has great reviews, and is affordable!
Create Fourth of July Exploding Pop Rockets
So these exploding pop rockets are a fun and simple science experiment that you can do with your kids on the Fourth of July. Your kids will love these fun rockets that "blast off" using antacid tablets.
These super easy windsocks are a fun and easy craft for the Fourth of July!
For this project all you need are a couple of tin cans and some red, white, and blue paper. Have your kids decorate each can with the paper and then stack them in a pyramid and play some bean bag toss!
Get a water slide
Water slides are a great way to cool down on a hot summer day!
Have a bike parade
Don't want to face the crowds at the parade in your town? Me either. I love the idea of having your kids decorate their bikes and doing a bike parade through your neighborhood!!! You could even give them candy to throw out (to you of course)
Patriotic Scavenger Hunt
Check out this free printable patriotic scavenger hunt! This is a great way to help remind your kids of the importance of this holiday!
What fun activities have you done with your kids on the Fourth of July! Share them with me!
Maat van Uitert is a backyard chicken and sustainable living expert. She is also the author of Chickens: Naturally Raising A Sustainable Flock, which was a best seller in it's Amazon category. Maat has been featured on NBC, CBS, AOL Finance, Community Chickens, the Huffington Post, Chickens magazine, Backyard Poultry, and Countryside Magazine. She lives on her farm in Southeast Missouri with her husband, two children, and about a million chickens and ducks. You can follow Maat on Facebook here and Instagram here.