Not sure what to buy for your chickens to help them pass the time? You might want to consider investing in some toys for chickens from Omlet, one of the best places to buy chicken supplies.
If you raise your chickens only for their egg or meat producing capabilities, you're missing out. Scientists are just beginning to uncover the many ways in which chickens are similar to humans in their capacity for intelligence, feeling emotions, and other characteristics.
Therefore, you might want to consider raising chickens as pets. Not sold on the idea? Check out our article on why you should keep chickens as pets – we'll change your mind!
Even if you don't invite your chickens inside all day, providing them with plenty of toys is a great way to keep them busy. These top toys for chickens from Omlet will provide your flock with a way to stay entertained, something that's beneficial particularly if you want to avoid negative flock behaviors like feather pulling and egg-eating (and during the long, dull days of winter, to boot!).
Consider these top toys as you get started on your journey toward building a fun-filled (and healthy!) chicken coop.
Table of Contents (Quickly Jump To Information)
4 Top Toys for Chickens from Omlet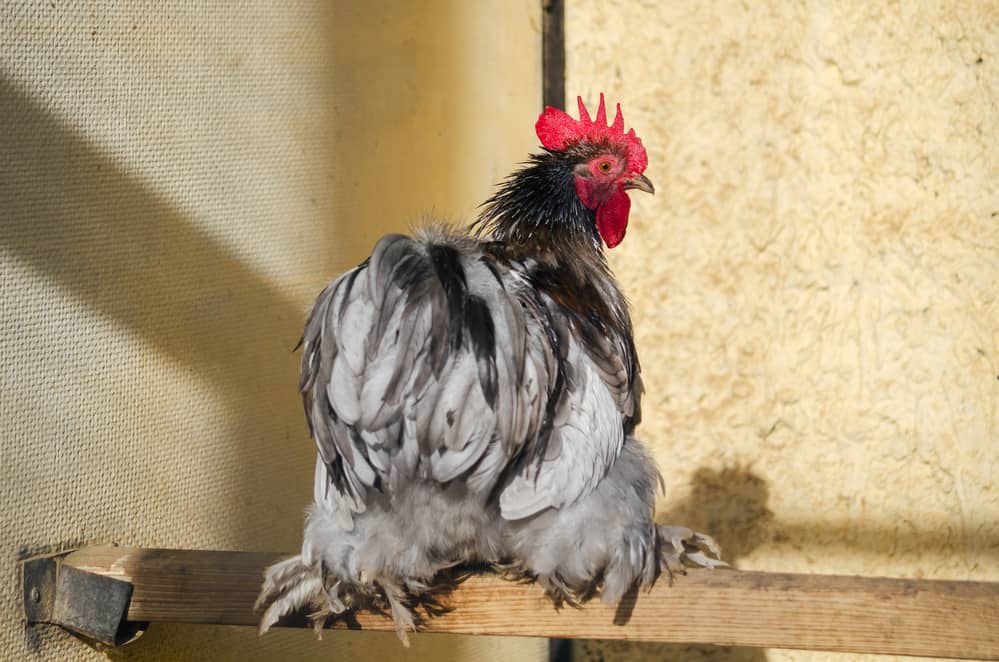 1. The Omlet Peck Toy
What It Is
The Omlet Peck Toy comes with two options – you can buy the Poppy or the Pendant. Both are super fun, interactive feed toys that your chickens will absolutely love. Combining enriching entertainment with a steady flow of treats, these toys can be installed in any coop or run (don't worry – they're waterproof). Fill it with treats and watch as your chickens enjoy pecking at this toy all day long.
The Poppy Peck Toy is meant to be pushed into the ground, like a garden stake, and allows your chickens to peck at the dispenser via the holes. The Pendant Peck Toy works in a similar way but comes with an adjustable string so it can be hung in a coop or run.
Not sure how to finish setting up the rest of your coop or run? You can find more tips here.
Where to Buy It
You can purchase this toy by visiting Omlet's website here.
What the Company Claims
Provides an engaging, interesting challenger or playful hens
Has a slow-release format so it prevents dominant hens from enjoying all the treats
Can help encourage natural and healthy chicken behaviors, like foraging and pecking
Comes with two legendary designs – both hold the same amount of treats
Quick and easy to tall
Measures 15cm x 8.5cm
Holds 300 g of corn
Dispenser is easy to refill and dishwasher safe
Our Experience
Does the Omlet Peck Toy Live Up To Its Claims?
The Omlet Peck Toy does live up to its claims. Although there were a few issues that I found with the toy – like the slots that allow the rain in – it's a good treat dispenser if you're using feed that won't mold quickly.
What Don't We Like
It may take some time for your hens to get used to this product. Some chickens need to be shown how the device works before they use it.
Is it Useful for Chicken Owners?
The Peck Toy from Omlet is useful for chicken owners. Not only can you use it as a regular treat dispenser for your backyard hens, but you can also use it to provide mental stimulation. It will help you control portions when dispensing treats and can also provide your flock with essential exercise. After all, there are so many benefits associated with free-ranging and proper exercise!
What to Watch Out For
There are some slots in the top of the Poppy Peck Toy that let the rain in. You may want to use this one only in a covered run or inside a coop so that the feed does not become moldy.
If you're looking for treats to fill your feeder, you should take a look at our non-GMO cracked corn. It's delicious and nutritious and fits perfetly in this feeder.
Summary
These peck toys are absolutely phenomenal, providing your chickens with a source of sustenance as well as hours of entertainment. They can also help you control the portions of your chickens' feed so you don't have to worry about them filling up on unhealthy treats like scratch grain.
If you're in the market for a better way to feed your chickens, you might want to consider these low-waste feeder ideas.
2. The Omlet Chicken Perch
What It Is
Chickens need places to perch, and this chicken perch by Omlet provides your hens with the perfect spot! Naturally weather-resistant, this perch can be put anywhere inside or outside of the chicken coop. Most chicken keepers will put it outdoors in the run so that it can help your chickens perch at the highest point for a great view at any time of the day.
Where to Buy It
You can purchase this toy by visiting Omlet's website here.
What the Company Claims
Fits directly into Omlet prefabricated chicken coops
Two bars can be attached together for a longer perch
Can be extended to fit just about any size run
Connector clamps around mesh or chicken wire for a secure, neat finish
Can be attached directly to any surface
Made out of durable eucalyptus
Easy to install
Our Experience
Does the Omlet Chicken Perch Live Up To Its Claims?
It's a pretty basic perch, but it does live up to its claims. It's easy to install and your chickens will likely take to it immediately.
What Don't We Like
Although this chicken perch is sturdily built, it's made out of wood so is prone to some natural splitting along the length. This isn't necessarily a dealbreaker, but you'll want to stain it or use a varnish to prevent it from cracking anymore.
Is it Useful for Chicken Owners?
Chickens like to perch, as it mimics the behaviors they would display in the wild when searching for predators and potential sources of food. By putting one of these Omlet perches in your chicken run, you'll be helping your chickens express their most natural, wildest selves.
What to Watch Out For
Just keep in mind you may have to do some finagling to get this perch to fit inside your coop or run. Although it can fit most sizes and styles of runs and coops, you might have to extend or add on to it to get it to fit perfectly.
Summary
While some reviewers claimed that this product seemed like a "glorified broom handle" at first, you'll likely find that to be anything but the case when you invest in this product (as did most reviewers after submitting their initial reviews). Not only is it sturdy and durably built, but it will give your chickens the perfect vantage point no matter the size or design of your run.
3. The Chicken Swing
What It Is
If your chickens are constantly on the move, you won't find a better product than this chicken swing by Omlet. It's a toy that will not only allow your chickens to perch, but also to get some much-needed exercise. It has a unique patented design that enables the chickens to move the swing themselves rather than needing to be pushed by the owner.
Where to Buy It
You can purchase this toy by visiting Omlet's website here.
What the Company Claims
Has a corn-like texture for added grip
Can be used by chickens of most breeds and sizes
Requires no pushing by the owner
Made from safe, high-quality parts that are durable and weather-resistant
16.25" in length
Comes complete and ready to hang
Our Experience
Does the Omlet Chicken Swing Live Up To Its Claims?
Yes and no. I found that this swing was a great way to acquaint your chickens to the idea of playtime, but you'll have to invest some time in getting them used to how to use it. Start young!
What Don't We Like
If you don't take the time to train your chickens to this swing, they might not ever get the hang of it (or like using it). It's best to start using this chicken swing when your birds are young. That way, they will get used to it being in the run and won't be spooked when it moves on its own in the wind.
Is it Useful for Chicken Owners?
When you buy this chicken swing, you won't just be providing your chickens with hours of entertainment – you're also likely to find yourself giggling away as you watch chicken butts flying in the air! This swing is a great way to give your girls some exercise as they stretch their legs and wings, and it's made from high-quality parts that are sure to last.
What to Watch Out For
You may want to introduce this swing to your chickens when they are young. Although adult chickens can (and do!) easily get the hang of it, it's easier for young chicks to learn how to use the swing first.
Summary
The Omlet Chicken Swing is a great accessory for any chicken coop, pen, or run. Your birds will likely get the hang of it quickly, and they don't want to stop swinging once they do!
4. Caddi Chicken Treat Holder
What It Is
One final product from Omlet to consider as you're on the lookout for the top toys for chickens is this chicken treat holder. Like the other chicken treat toy reviewed earlier in this article, this toy is a great way to keep food secure, off the ground, and portion-controlled – while also entertaining the heck out of your chickens!

You can hang this swinging feeder by its adjustable nylon strap and plastic hook. You can hang it in any chicken enclosure, in fact, and it's a great compliment to the Peck Toys reviewed earlier in the article. You will be sure to meet all of your chickens' treat-feeding needs with this combo!
Where to Buy It
You can purchase this toy by visiting Omlet's website here.
What the Company Claims
Measures 7.9" x 3.1"
Built from heavy-duty welded steel with a waterproof rain cap
Keeps hens' treats off the ground for neat and tidy dispersal
Great source of entertainment that can be used with all kinds of treats (like leafy greens)
Nylon string is adjustable so you an hang it in any setting
Easy to detach the plastic hook for quick cleaning and refilling
Our Experience
Does the Caddi Chicken Treat Holder Live Up To Its Claims?
Yes. This chicken treat holder should be at the top of your list! And if you're looking for ideas of what to fill it with, be sure to check out our huge line of non-GMO treats for your chickens, like these mealworms!
What Don't We Like
There's very little we don't like about this product – it's made out of durable materials and is easy for your chickens to use.
Is it Useful for Chicken Owners?
The Caddi Chicken Treat Holder is super helpful for chicken owners. Not only will it help you provide your flock with a bit of exercise as they peck and nibble around the treats in the feeder, but it will also keep the foods safe, secure, and off the ground – no more wasting food!
What to Watch Out For
When you hang this chicken treat holder, be sure it's at a height that's accessible to your chickens. You may need to watch them for a while and adjust to make sure they can get at the food with ease, or they won't use the feeder.
Summary
With very little assembly required, this chicken treat holder is the perfect chicken toy from Omlet. It's a combination feeder and plaything that's sure to delight your flock!
Related Articles
Maat van Uitert is a backyard chicken and sustainable living expert. She is also the author of Chickens: Naturally Raising A Sustainable Flock, which was a best seller in it's Amazon category. Maat has been featured on NBC, CBS, AOL Finance, Community Chickens, the Huffington Post, Chickens magazine, Backyard Poultry, and Countryside Magazine. She lives on her farm in Southeast Missouri with her husband, two children, and about a million chickens and ducks. You can follow Maat on Facebook here and Instagram here.